If Walls Could Talk: Must-See Murals in North Carolina
Most cities and towns have something to say, and murals have become an increasingly popular expression of art, community and involvement – and North Carolina's cities and towns have a lot of history, moments and stories to share.
From miles of murals to stroll through in Asheville, to a collection of wall poems in Charlotte, to a humongous farm scene painted on our state's first microbrewery on the Outer Banks, public art and murals bring joy to those who stumble upon them. Here is just a sampling of some of the public art you can see – for free – while you're here.
Mountains
Piedmont
5

When Tobacco Was King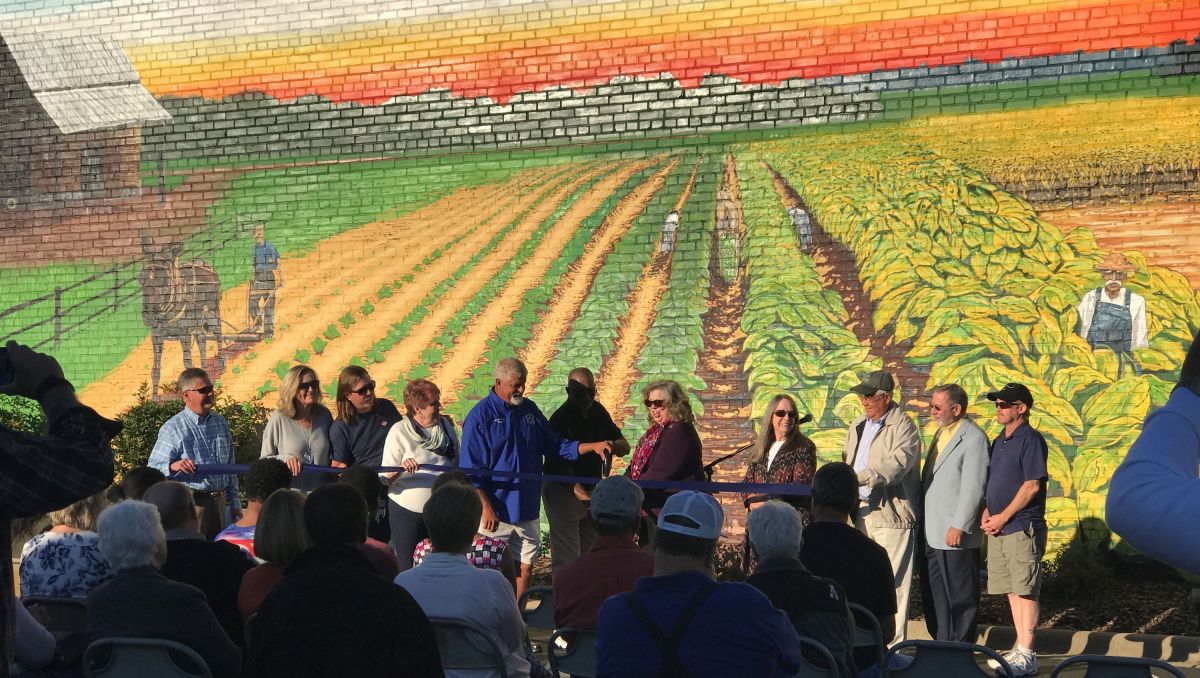 5

When Tobacco Was King

Carthage

See on map
A dedication to the town's agricultural roots, "When Tobacco Was King" pays homage to the rich tobacco history in our state. Triangle-area artist Scott Nurkin completed the work, which was the third addition to the Carthage Mural Project, in 2018 – and drew inspiration from conversations with local residents and visits to old tobacco farms to home in on what life was like in the 1900s. Find it on the the Luke Marion Building, then order up some jumbo smoked wings at The Pik-n-Pig, one of the 21 stops on the North Carolina Barbecue Society's Historic Barbecue Trail, less than 2 miles away.
6

Wall Poems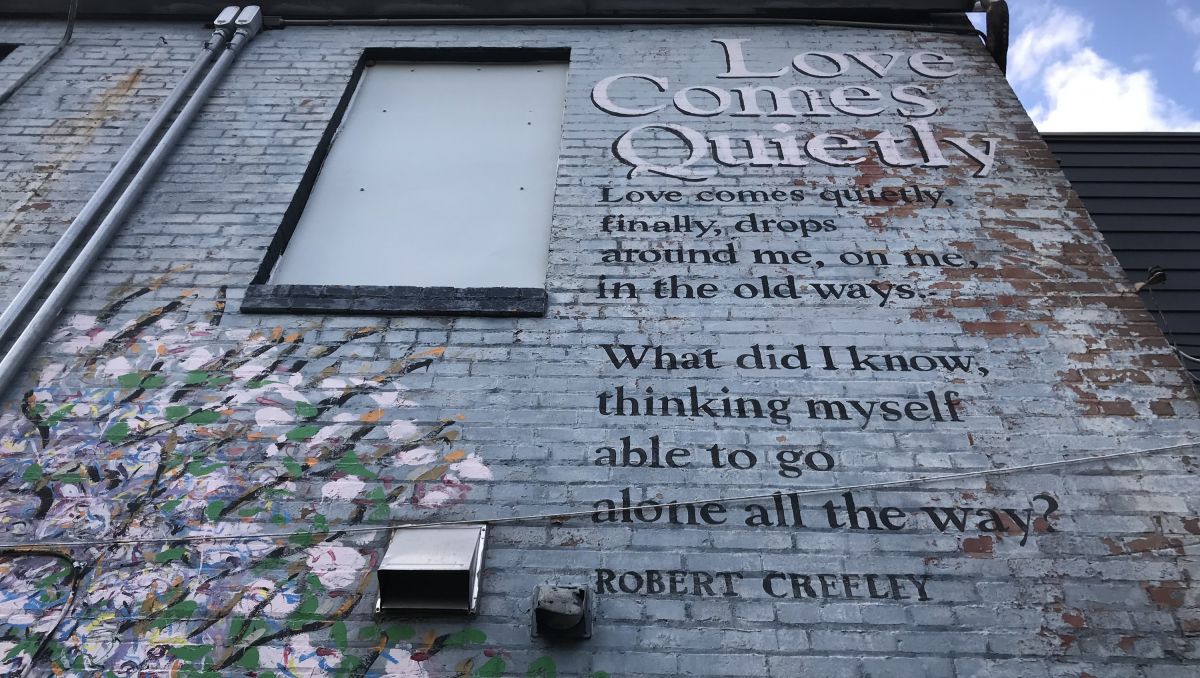 6

Wall Poems

Charlotte

See on map
You can find about 10 examples of "Wall Poems" nestled in Uptown Charlotte and neighborhoods such as South End, NoDa and Elizabeth. Some are permanent, some are temporary, but all are beautiful displays of creativity. Meant to connect people to poetry, this collection of murals – funded by Knight Foundation – all feature poems written by North Carolina writers, including Carl Sandburg's "The People, Yes" mural on 9th Street. Check out "Love Comes Quietly" on the side of Soul Gastrolounge (try the sashimi tuna tacos) on Central Avenue in Plaza Midwood.
7

Durham Civil Rights mural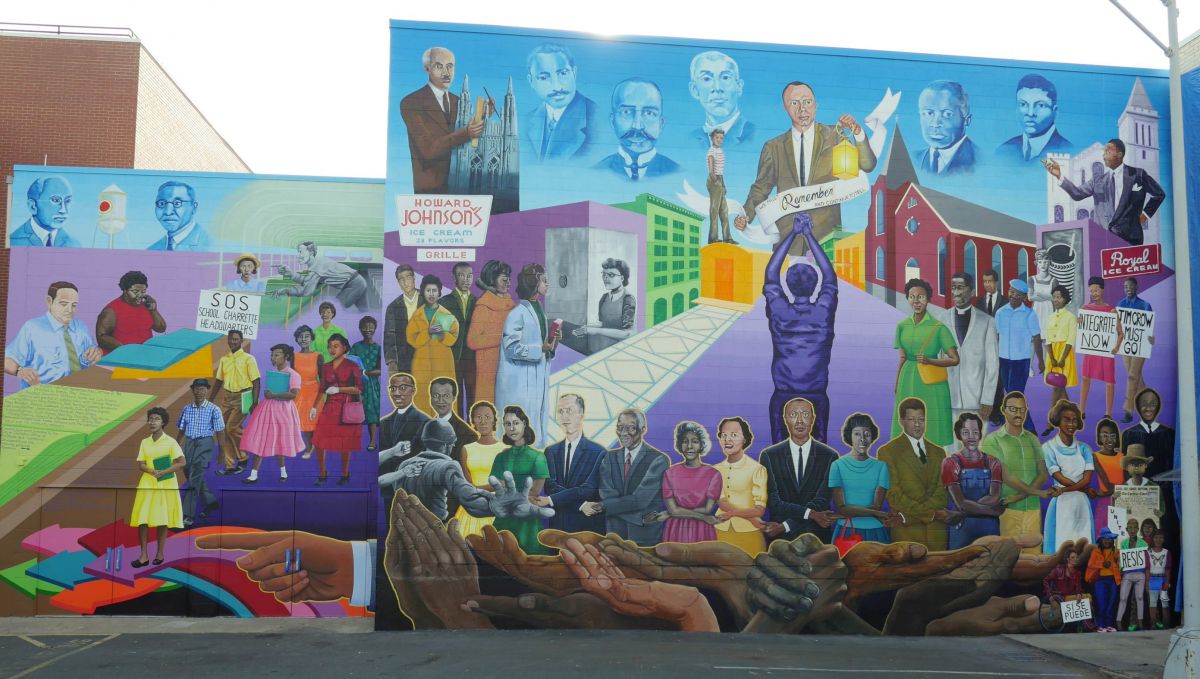 7

Durham Civil Rights mural

Durham

See on map
Over a two-year process, artist Brenda Miller Holmes and Dr. Benjamin Speller led the development of this mural that brought Durham's Civil Rights history to life. Early on, the two enlisted 30 community members to take part in lectures and workshops, and to share memories, news clippings, and photographs to determine the important and powerful stories that needed to be told. The final product has lived on Morris Street since 2015. Be sure to take a swing by the visitors center on Main Street to pick up a murals handbook to expore the other 20-plus murals in Durham.
8

Love, Graham
8

Love, Graham

Graham

See on map
The "Love, Graham" mural is a perfect representation of how a sense of community can create something beautiful. Members of the community flocked to the first Love, Graham Festival in May 2018, where they had the opportunity to help fill in the mural with hand-painted hearts and messages. Local volunteer artists then painted in the middle of the mural with a colorful garden. Find the mural on the side of HiFi Records on Main Street, where you can shop for vinyl and enjoy a craft beer on tap in a relaxed living room setting.
Coast
Updated July 17, 2019