Go Urban Hiking: Reconnect with the Energy of These 9 Outdoor Museums, Parks and Paths
Feel recharged by urban hikes through lively landscapes filled with beauty, artistry and whimsy in central North Carolina.
Attractions you'll find in this article:
ARTivity on the Green | Dorothea Dix Park | Durham Central Park
Freedom Park | LeBauer Park | Museum Park at North Carolina Museum of Art
N.C. Veterans Park | Quarry Park | Romare Bearden Park
1

ARTivity on the Green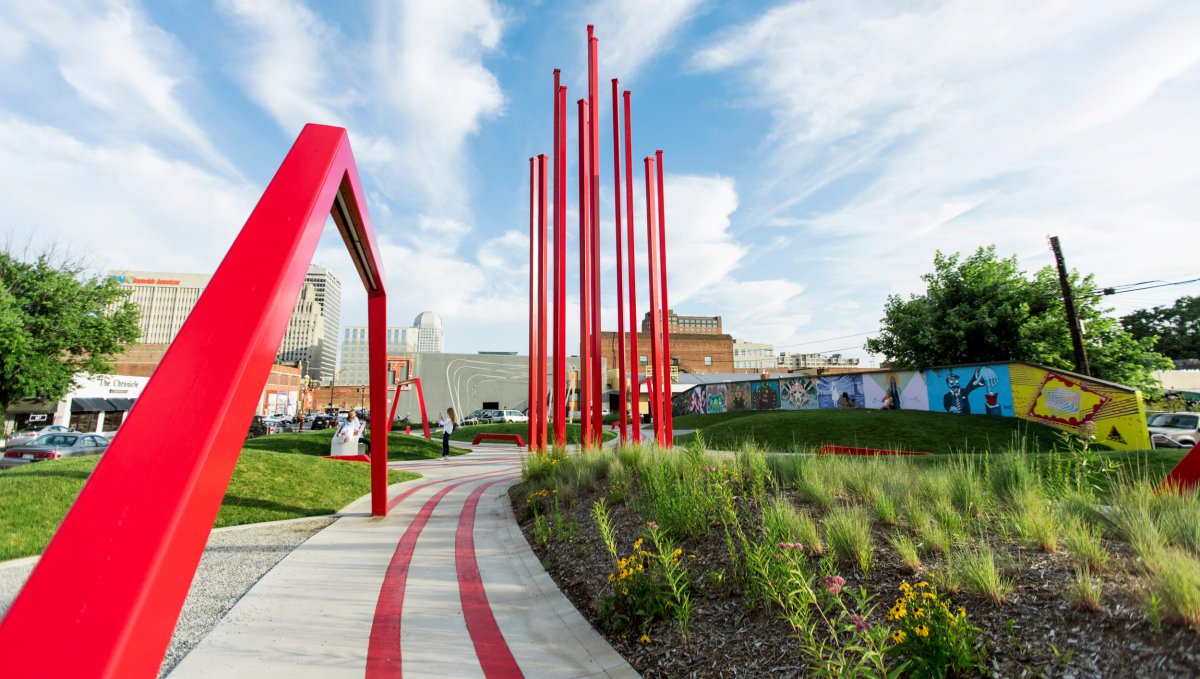 1

ARTivity on the Green

Winston-Salem

See on map
Follow the stark red lines from the surrounding sidewalks to ARTivity on the Green. Lined by murals from local and international artists, this half-acre park celebrates Winston-Salem's creativity and innovation. Steel ribbons representing musical notes form a stage for musicians and DJs in a park that welcomes various festivals, pop-up performances and children's art projects. But the crown jewel is the Tower Cloud structure of 13 red beams of varying heights that nod to the top of the RJ Reynolds building in the distance. Open since 2015, the park connects the city's arts district and the lively Innovation Quarter.
2

Dorothea Dix Park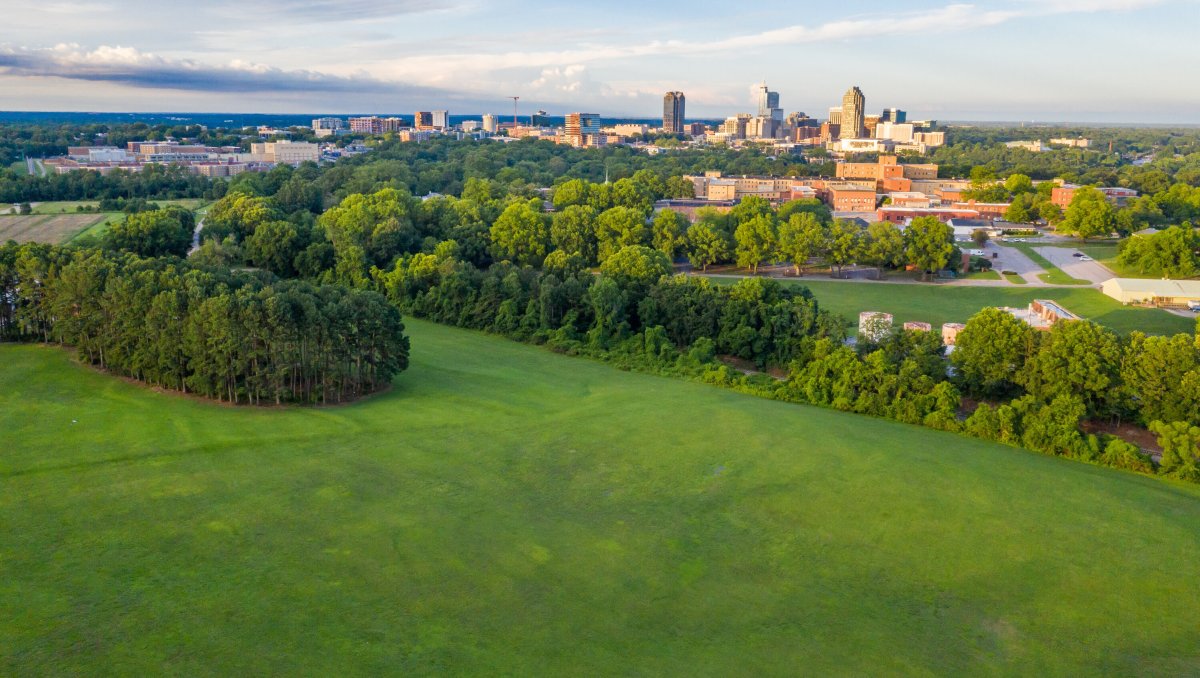 2

Dorothea Dix Park

Raleigh

See on map
Dorothea Dix Park invites everyone to walk, jog or bike through 308 acres of oak trees, wide-open meadows and rolling hills while taking in incredible views of the Raleigh skyline. Each field offers different types of play whether it's flying kites, bird-watching, yoga, disc golf or picnics. While the daffodils and sunflowers really put on a show in spring and summer, pups are welcome year-round at the Dix Park Dog Park. Keep an eye on its calendar, as the park also hosts large-scale events such as a drive-through holiday light show and rapper J. Cole's Dreamville festival. Coming soon: a 12-acre "Gipson Play Plaza" area with art, gardens and fountains.
3

Durham Central Park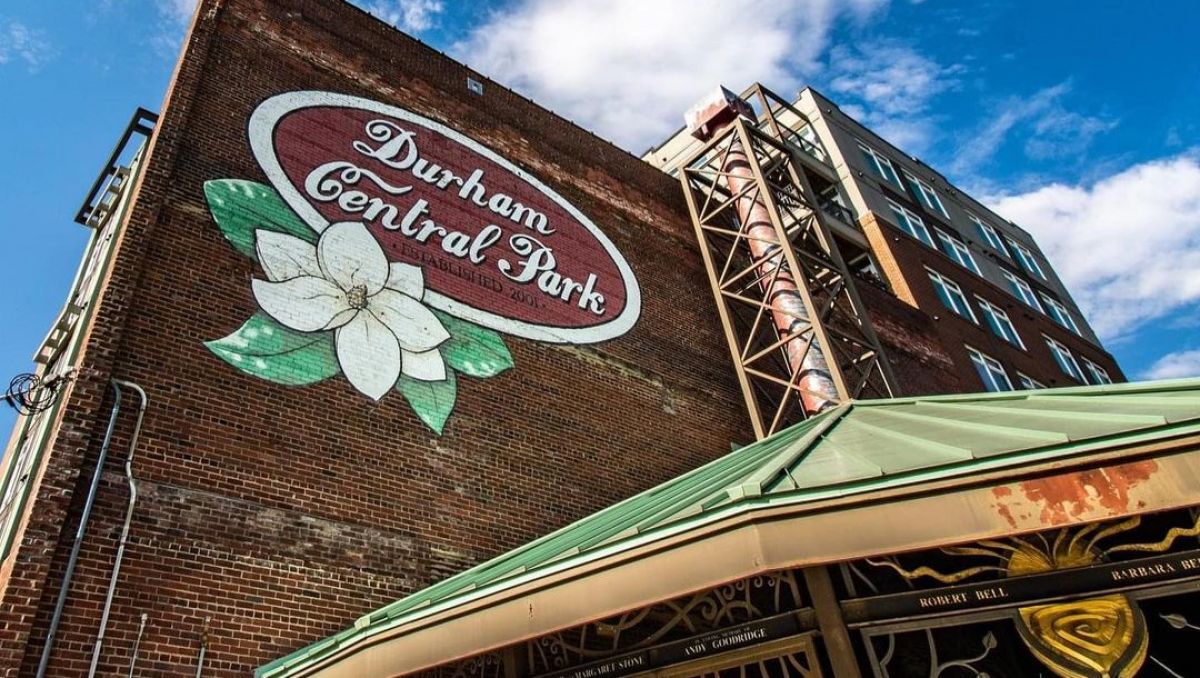 3

Durham Central Park

Durham

See on map
Five-acre Durham Central Park is the city's social heartbeat. From the weekly Durham Farmers Market to summertime food truck rodeos and concerts, it's long been a gathering place for friendship and community. For children, the Troll Trail features 250 boulders along Ellerbee Creek and a climbable troll named Barnaby D. Troll. Of course, visitors of all ages can make their own art with colorful blocks on the Pixel Wall; pick fruits, veggies and herbs at the Garden of Eatin'; or stroll through the Butterfly Garden.
4

Freedom Park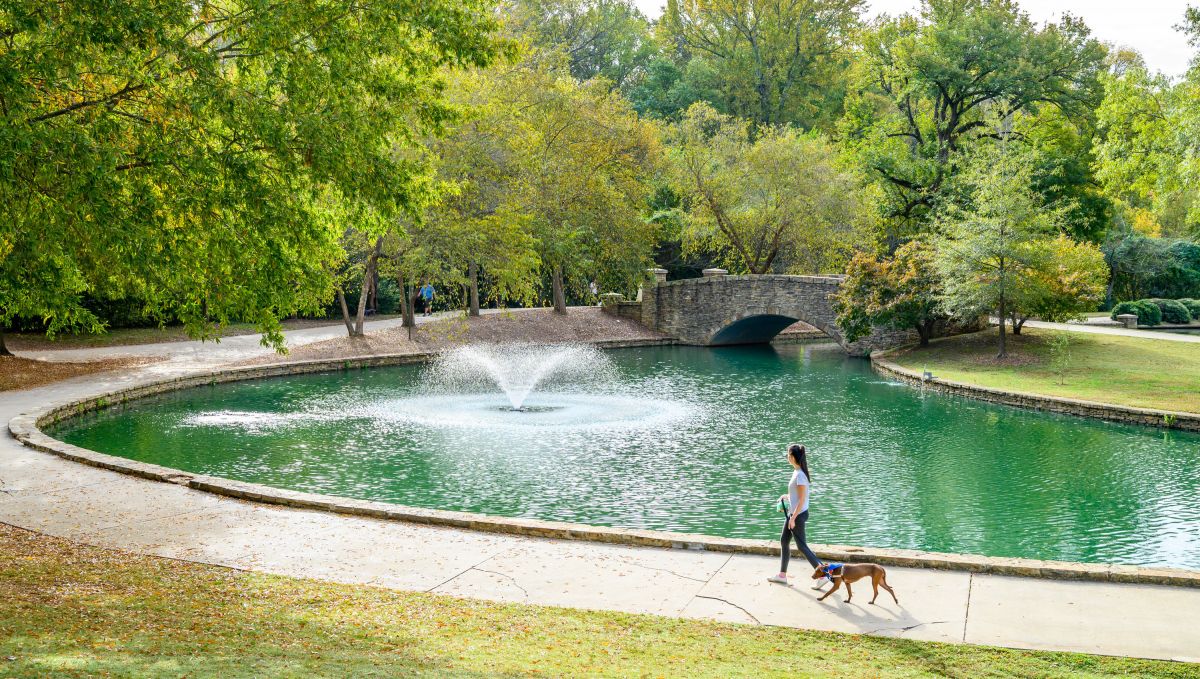 4

Freedom Park

Charlotte

See on map
Built after World War II to honor Charlotte's veterans, 98-acre Freedom Park is a dream setting for those looking for rejuvenation in an active sense. Located just outside Uptown, the park's centerpiece is a 7-acre pond with a stone bridge and nearby fountain that makes for an irresistible photo opp. Trails wind past tennis courts, soccer fields, volleyball courts, a full basketball court, baseball fields and batting cages. Children especially love the two playgrounds and the NFL Play60 KidZone, which includes a 40-yard dash. Film and TV buffs should keep an eye out for Shallow Hal and Homeland sites.
5

LeBauer Park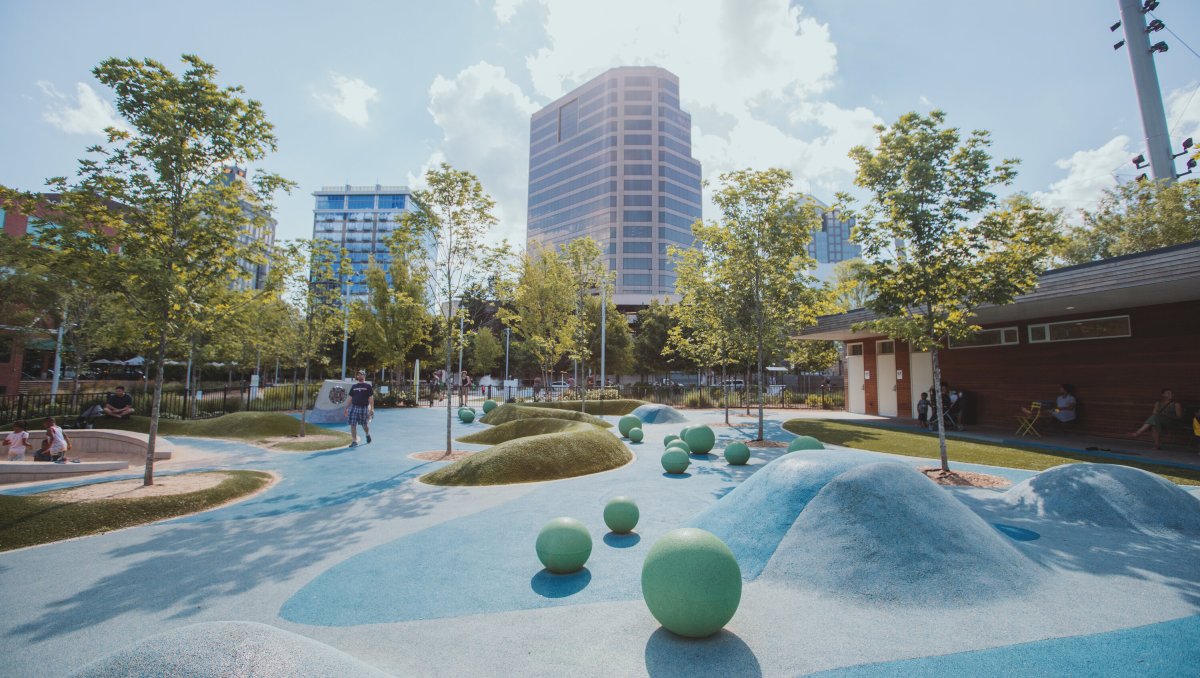 5

LeBauer Park

Greensboro

See on map
With the aerial sculpture Where We Met crafted from 35 miles of technical fiber, LeBauer Park made a dazzling debut at the 2016 National Folk Festival. The 4-acre park remains a downtown destination with festivals and movie nights unfolding on the Great Lawn under Janet Echelman's whimsical art. Kids love the 15,000-square-foot play area with artificial turf, climbing features, a merry-go-round and sensory wall. At the VF Seasonal Plaza's splash pad, everyone's inner child comes to play in the fun fog and water jet blasts. For more entertainment, try the three-hole putting green and Games Table section with cornhole, table tennis and foosball.
6

Museum Park at North Carolina Museum of Art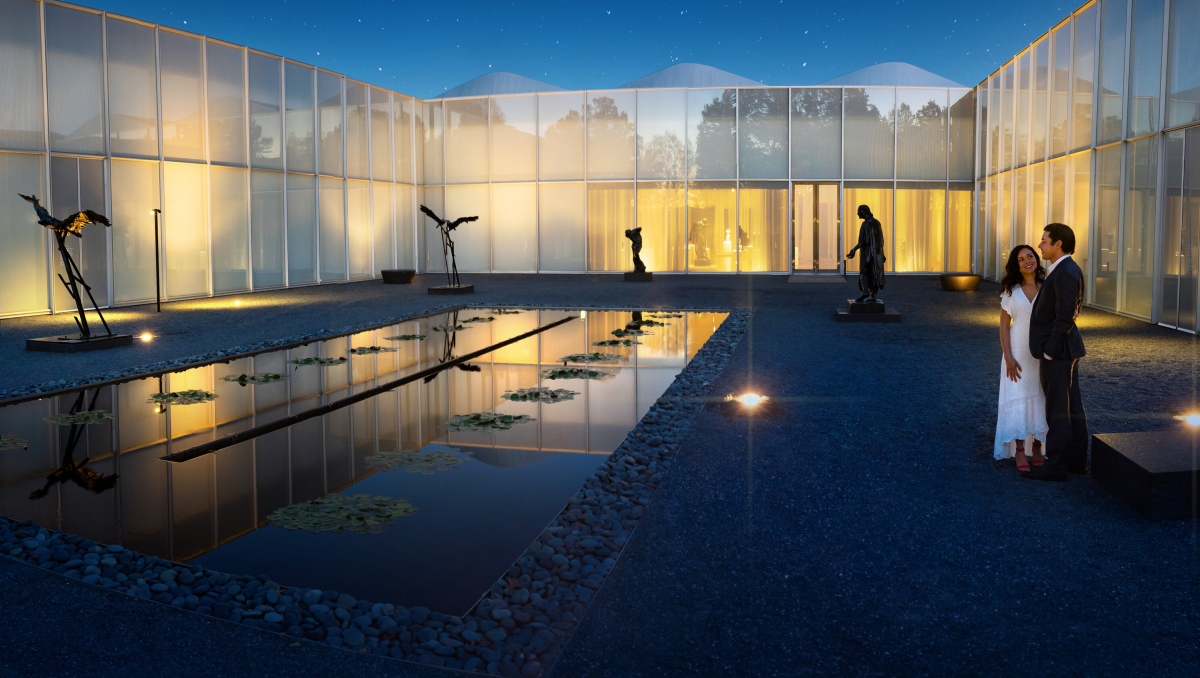 6

Museum Park at North Carolina Museum of Art

Raleigh

See on map
Art meets nature at the nation's largest museum park, the Ann and Jim Goodnight Museum Park. The 164 acres of dog-friendly trails lead to gardens, sunflower fields, renowned sculptures, reflecting ponds and public art installations. The park features works from famed artists such as Auguste Rodin, Joan Miró and Barbara Kruger. One iconic photo you'll see all over Instagram is Gyre by local artist Thomas Sayre: three enormous steel and concrete rings that seem to rise from the grass. Pose in each circle to see the full vortex-like effect of the sculpture. With a setting that calls for both awe and contemplation, those who visit will feel as inspired as the works of art.
7

NC Veterans Park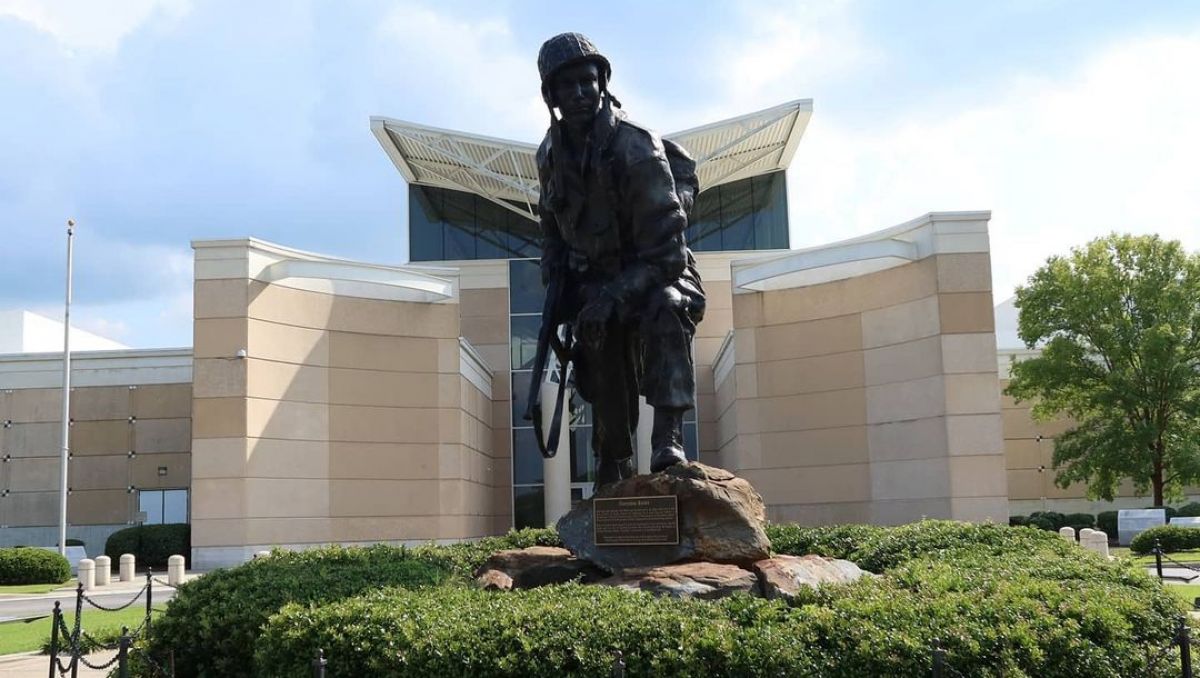 7

NC Veterans Park

Fayetteville

See on map
Prepare to be moved with a visit to this 5-acre park next to the Airborne & Special Operations Museum. Dedicated in 2011 to honor veterans state-wide, NC Veterans Park offers a touching message with features that include a 3,500-square-foot chandelier made from 33,500 service member dog tags. Veterans' handprints cast in bronze adorn a wall, and you can listen to personal accounts of military members' experiences with a visit to the Story Garden. The amphitheater, reflection garden and interactive water features add to the experience in the newly re-envisioned downtown Fayetteville.
8

Quarry Park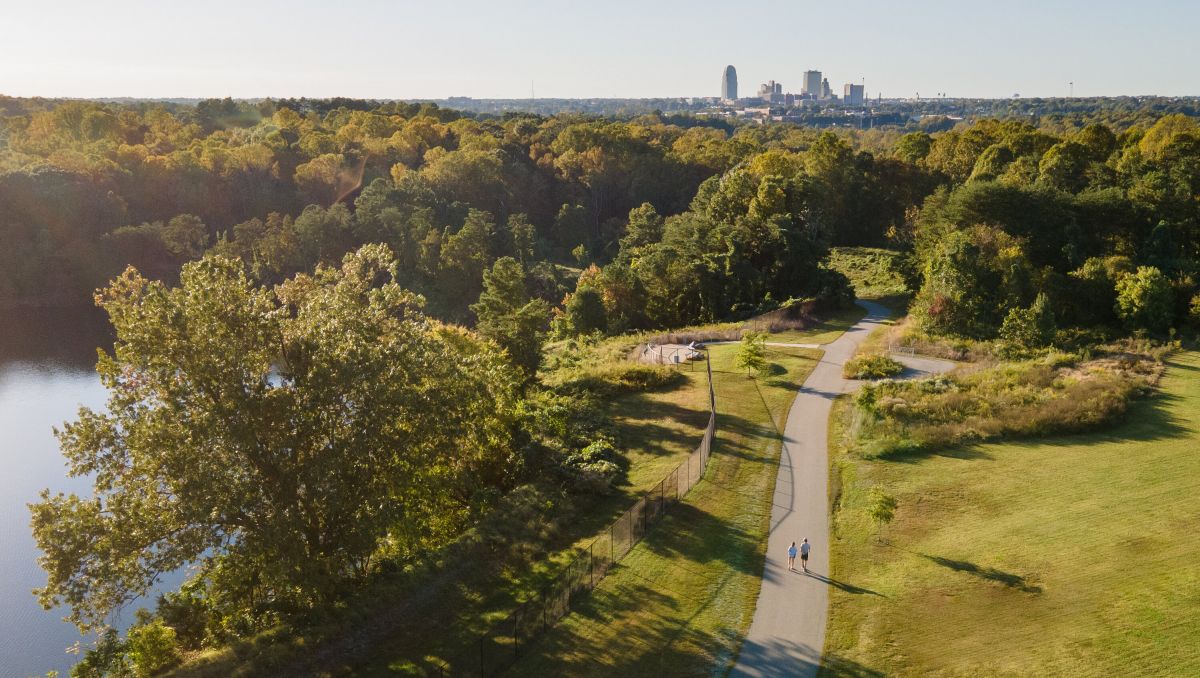 8

Quarry Park

Winston-Salem

See on map
If not for the sight of the Winston-Salem skyline, you might forget Quarry Park is anywhere near a city. The granite quarry emerged as the centerpiece of this oasis park in 2017, with walking and biking trails surrounding the water and connecting to the city's greenways. An observation platform extends over the water's edge with overlooks that can open up new perspective. More amenities are planned, but the sweeping views and 200 woodland acres offer reason enough for a visit to this peaceful escape.
9

Romare Bearden Park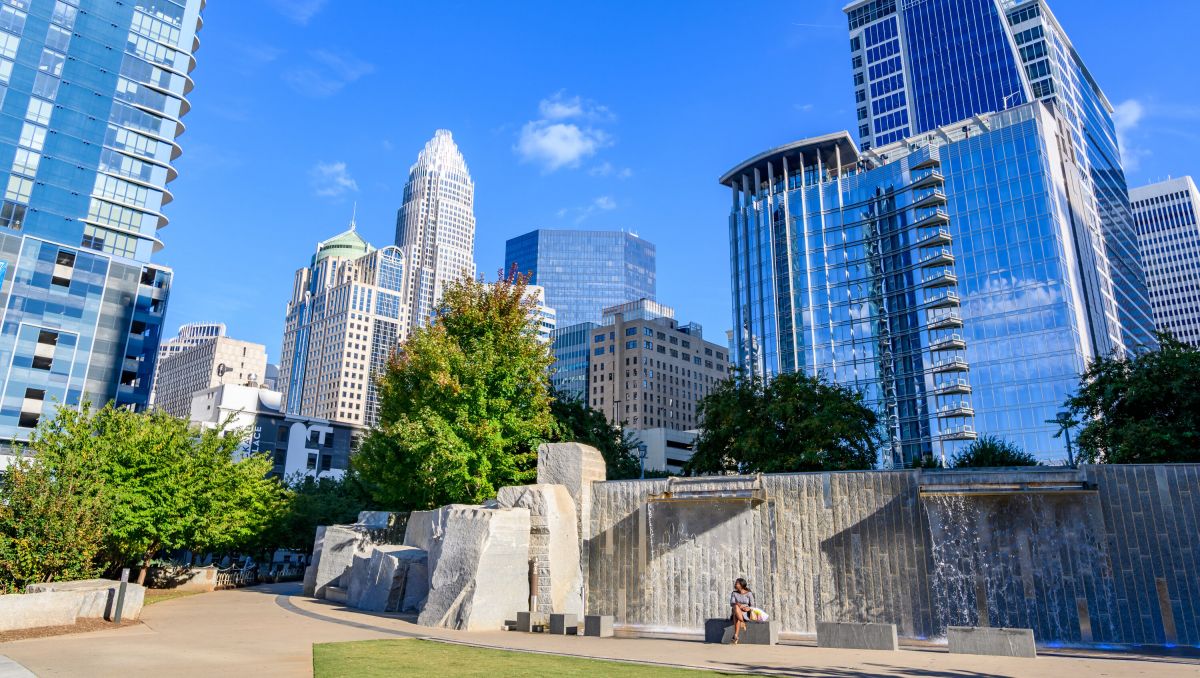 9

Romare Bearden Park

Charlotte

See on map
Inspired by the Charlotte-born artist who gained renown in the Harlem Renaissance, Romare Bearden Park offers a tranquil retreat among the buzz of Uptown. One of the Queen City's most interactive settings, the 5.4-acre park features a Childhood Muse Plaza with climbing rocks, spray towers and a color-changing waterfall fountain for splashing. Colorful pavements in the Paris Memory courtyard and along the Memory Walk evoke Bearden's paintings, while Madeline's and Maudell's gardens honor the plots tended by the artist's mother and grandmother. Across the street from the park is Brevard Court, which leads to what's known locally as "The French Quarter," a must-see cobblestone alley that hums with energy from outside diners.
Connect with nature like never before by following the 7 Principles of Leave No Trace, which help ensure you have the knowledge to protect North Carolina's natural beauty so others can experience it in the same way.
Updated June 5, 2023