Imaginations Come to Life at These Children's Museums
The mystery of travel inspires every one of us. As you drive the scenic highways, hike the mountains, paddle the rivers and stroll the shores of North Carolina, it's not uncommon to ponder: What's over that hill or around that bend? What's that flower, butterfly or bird? For a moment, travel allows us to see the world with the inquisitiveness of a child.
And when it's children on the trip, whether with their family, summer camp or school group, the excitement of discovery is palpable. With a visit to one of our many children's museums and science centers, you can help foster the curiosity and active imagination in your youngest traveling companions.
1

Greensboro Science Center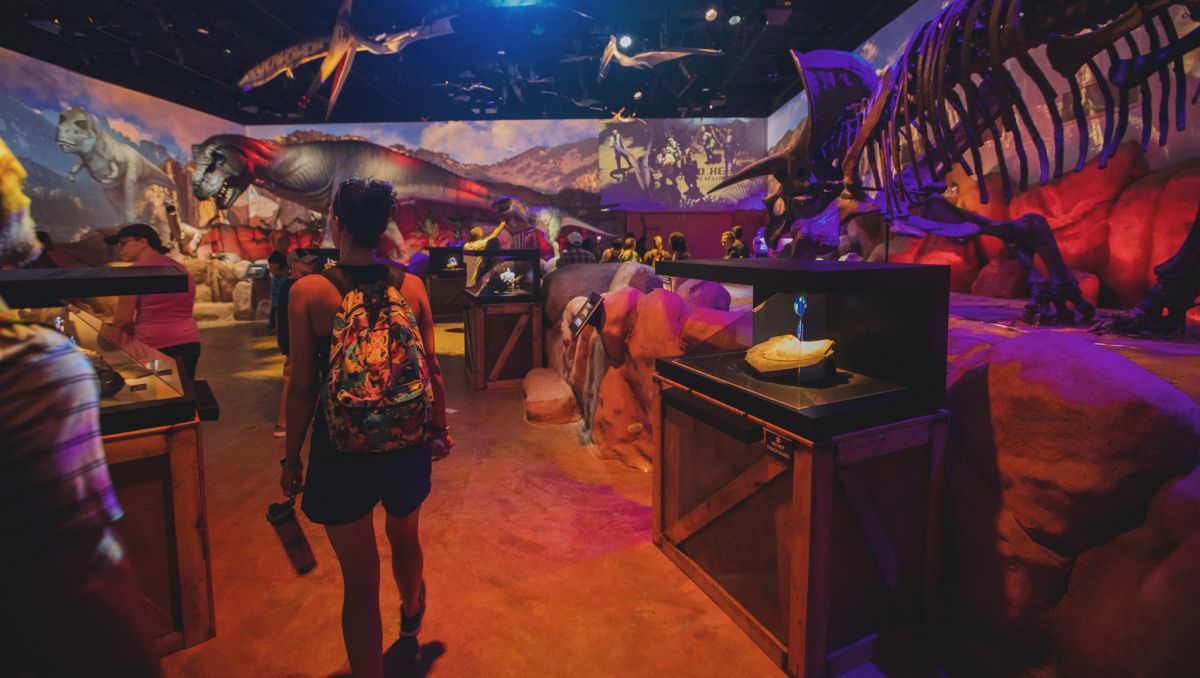 1

Greensboro Science Center

Greensboro

See on map
Families will literally spend the whole day here, as the destination is home to a museum, aquarium and zoo (parents should be happy to know it's all included in one general admission fee). In the museum, kids are blown away by the size of the dinosaur models and from the winds of hurricane forces in the Extreme Weather Gallery. The aquarium features penguins, sharks, otters, eels, stingrays and a variety of fish. And the zoo offers up-close views of tigers, meerkats, lemurs, crocodiles, a red panda, farm animals and more.
2

Asheville Museum of Science
2

Asheville Museum of Science

Asheville

See on map
In the midst of Asheville's vibrant downtown is the Asheville Museum of Science. Here, kids and adults can see galleries of gemstones, minerals (hundreds from across the state) and fossils; the history of mining in North Carolina's mountains; volcanoes, earthquakes and more. Programs on space exploration, fossils, physics and building with LEGO keep things exciting.
3

Children's Museum of Wilmington
3

Children's Museum of Wilmington

Wilmington

See on map
Kids can climb aboard a playful pirate ship, complete with pirate costumes and props, a cannon, a ship's wheel to steer, buried treasure and a cave hidden behind a bead "waterfall." Along one wall, a miniature version of Wilmington's port lets little captains pilot ships up the river to load and unload with the cranes. Other activities include an art studio, the Toothasaurus dental exhibit and a toddler treehouse.
4

Kaleideum North

Winston-Salem

See on map
The exhibits and environmental park combine to create a scientific playland where kids can explore and get hands-on. Your inquisitive students will be drawn to the planetarium, interactive exhibits on the human body, a hall filled with physics experiments, and the many opportunities to build and dress up. In the Mountains to Sea exhibit, they'll learn more about the state's geology, flora and fauna. And the environmental park's gardens, farmyard and river otters let kids get close to nature.
5

North Carolina Museum of Natural Sciences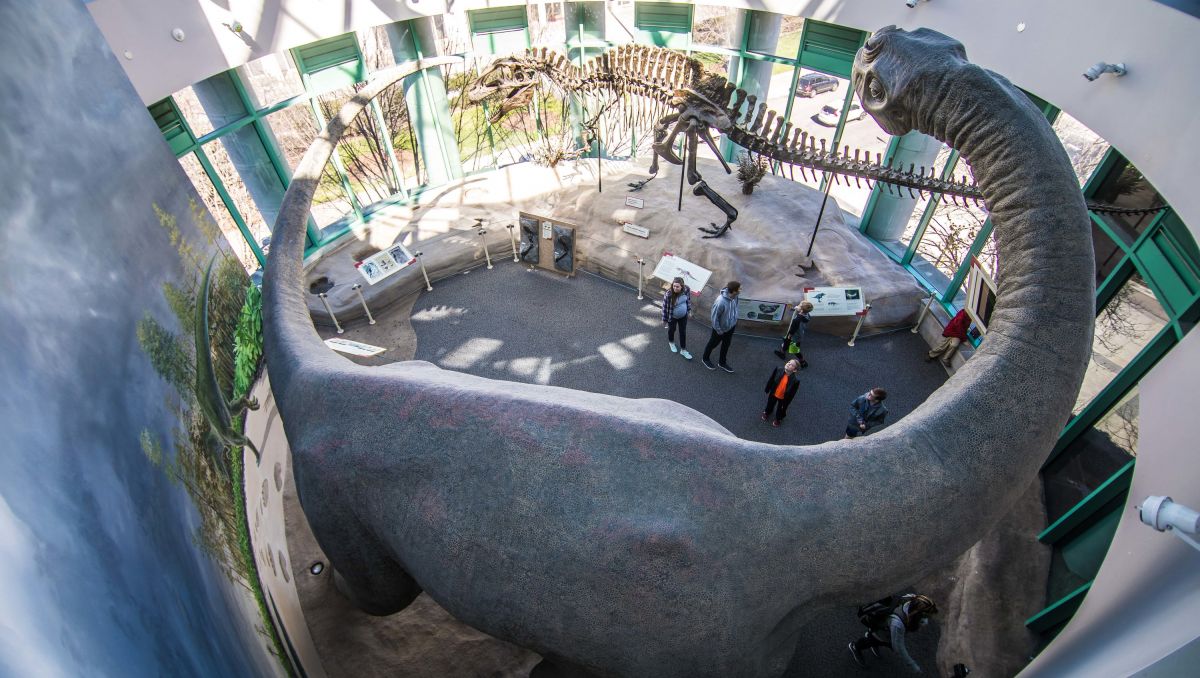 5

North Carolina Museum of Natural Sciences

Raleigh

See on map
Kids and families can explore North Carolina's natural history from dinosaurs to the Living Conservatory, where live butterflies flit the days away. Enormous whale skeletons and prehistoric fossils, a 20-foot waterfall modeled on Linville Falls, and a three-story theater are some of the things to take in here. Adjacent to the Museum of Natural Sciences is the 80,000-square-foot Nature Research Center where more interactive displays – including scientists conducting research in view of visitors – await. Want the fun to continue? Marbles Kids Museum is just a couple of blocks away and invites you to play with hands-on exhibits and award-winning programs, including the innovative "Ready Set Vet" exhibit that opened in 2022.
6

Hands On! Children's Museum
6

Hands On! Children's Museum

Hendersonville

See on map
The slogan says it all: "Where learning comes into play!" and at this mountain museum, kids ages 1 to 10 will have a blast as their fun comes with a side of knowledge. A veterinary hospital, music room, museum-wide scavenger hunt, huge mountain model and plenty of art projects will have kids begging to come back tomorrow.
7

Graveyard of the Atlantic Museum
7

Graveyard of the Atlantic Museum

Hatteras

See on map
Fact: Kids love pirates. Good thing the Graveyard of the Atlantic Museum has a few things dedicated to pirates like Blackbeard and Ann Bonny, and the naming of another Outer Banks town, Nags Head. In addition to pirates, this branch of the North Carolina Maritime Museums has displays on the maritime history of the Outer Banks, from the fishing fleets to the German U-Boats (early submarines) prowling the coast here during World War II.
8

Fascinate-U Children's Museum
8

Fascinate-U Children's Museum

Fayetteville

See on map
This hands-on children's museum has a complete and functional kid city inside. They'll enjoy role playing in the WNUZ News station, on the ambulance or in the police car; being a judge or a soldier; or playing as a dentist, farmer or grocer in the interactive exhibits. Be sure to pay a visit to the extensive model trains on the third floor. There, the Cape Fear Railroaders are open on the first and third Saturday afternoons of the month to show off their trains.
9

Greensboro Children's Museum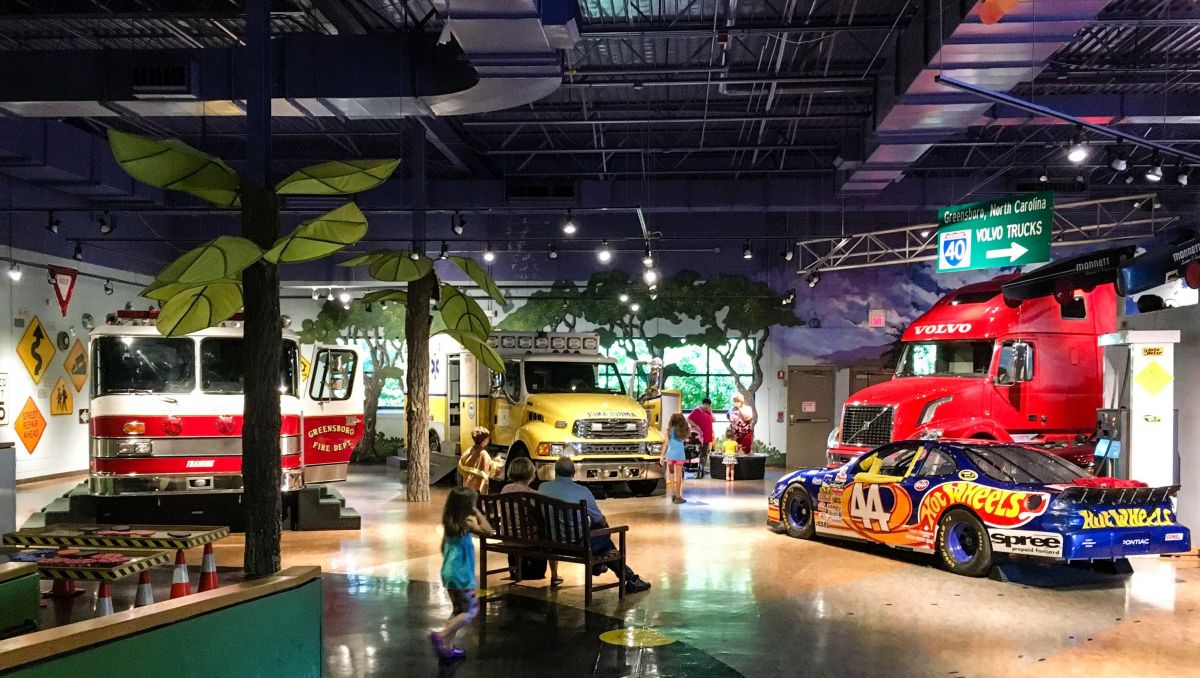 9

Greensboro Children's Museum

Greensboro

See on map
Kids can get a taste of grownup life on Main Street in the museum's Our Town exhibit. Here, a street winds through child-sized shops and restaurants where kids can role-play as chefs, grocers and more. A life-size fire truck, big rig, police car and airplane cockpit allow kids to explore some of their favorite vehicles, while the campsite lets them get familiar with spending an evening outdoors. Also outdoors, you'll find an edible schoolyard and teaching kitchen where kids and parents can learn about growing and preparing your own food.
10

KidSenses Children's Interactive Museum
10

KidSenses Children's Interactive Museum

Rutherfordton

See on map
Just east of Lake Lure, this interactive museum has the usual offerings of art, crafts and educational play stations, but it also has a fun display that allows children to climb between two floors of exhibits. At KidSenses, children can report on what they've done at WFUN, a play TV station. One thing they'll want to report on is blowing bubbles, something else they can do at the World of Bubbles exhibit where they can blow bubbles big enough to stand in.
11

Discovery Place Science
11

Discovery Place Science

Charlotte

See on map
With more than 160,000 square feet of activities, exhibits, aquariums and learning labs, this Uptown Charlotte science museum will bring out the playfulness and curiosity in all its visitors. Every part of Discovery Place Science was made to stimulate the creative and problem-solving minds of kids, so when your young traveling companions are conducting a physics experiment, resting on a bed of nails or watching an eye-popping demonstration, they'll be completely immersed in the experience. Displays and demos change frequently, as do the film offerings in the IMAX Dome Theatre. There are also Discovery Place Kids locations north of Charlotte in Huntersville and east of it in Rockingham.
12

Discovery Place Nature
12

Discovery Place Nature

Charlotte

See on map
The nature museum of this Queen City institution gives kids and adults the chance to get close to the environment with a Nature Pavilion, exhibits featuring all sorts of insects and the Paw Paw Nature Trail, which leads through a century-old forest. See wildflowers, barred owls, squirrels, turtles and more as you stroll the Nature Trail.
13

North Carolina Museum of Life + Science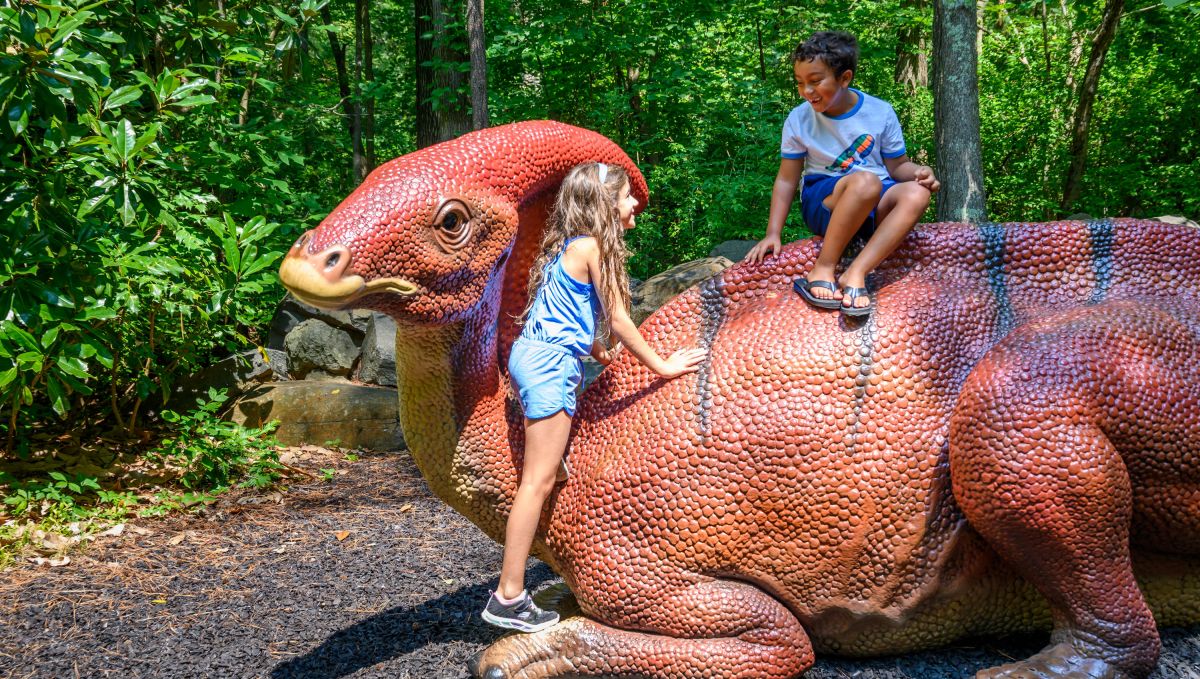 13

North Carolina Museum of Life + Science

Durham

See on map
This 84-acre interactive science park has a large butterfly conservatory; lemurs, red wolves, black bears and more than 60 species of animals; and that's just the outside. There's a two-story science center where kids can get a hands-on feel for outer space by climbing on board a command module, spend time investigating exotic insects and they can visit the Sound Garden, where their movements are turned into sounds. If this isn't enough, there's also the Dinosaur Trail, a train, farmyard and special exhibits.
14

Children's Museum and Science Center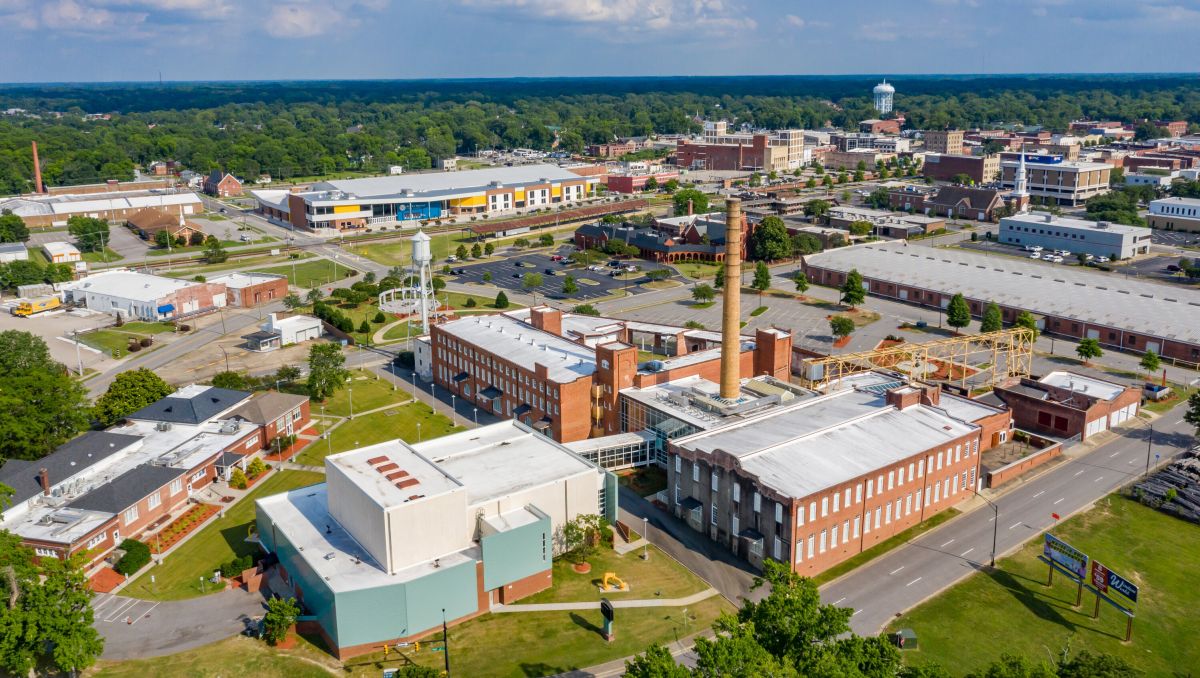 14

Children's Museum and Science Center

Rocky Mount

See on map
Rocky Mount's Imperial Centre for the Arts & Sciences is home to the Children's Museum and Science Center, where activities range from a digital planetarium to live animal displays. Discover the range of habitats that make up North Carolina in Willy's Crab House, which stands over a 2,800-gallon saltwater aquarium and living marsh. The second floor caters to the youngest visitors (up to age 5), featuring displays and activities like a costume area, farmers market and kid-sized exercise equipment.
Updated April 27, 2022