Top 10 Things to Do at Pinehurst Resort
Pinehurst Resort is synonymous with excellence. While its well-established place in golf always pushes it to the top of published rankings, its numerous activities and amenities receive an equal amount of praise. Golfweek, for example, recently named Pinehurst Resort's internationally known No. 2 course the third best in the country and first in North Carolina, and AAA gave two of its accommodations and one of its restaurants Four Diamonds. Choosing which ones to experience can be daunting, so here are the 10 things you must do during your stay in the Cradle of American Golf.
Experience Legendary No. 2 with a Caddie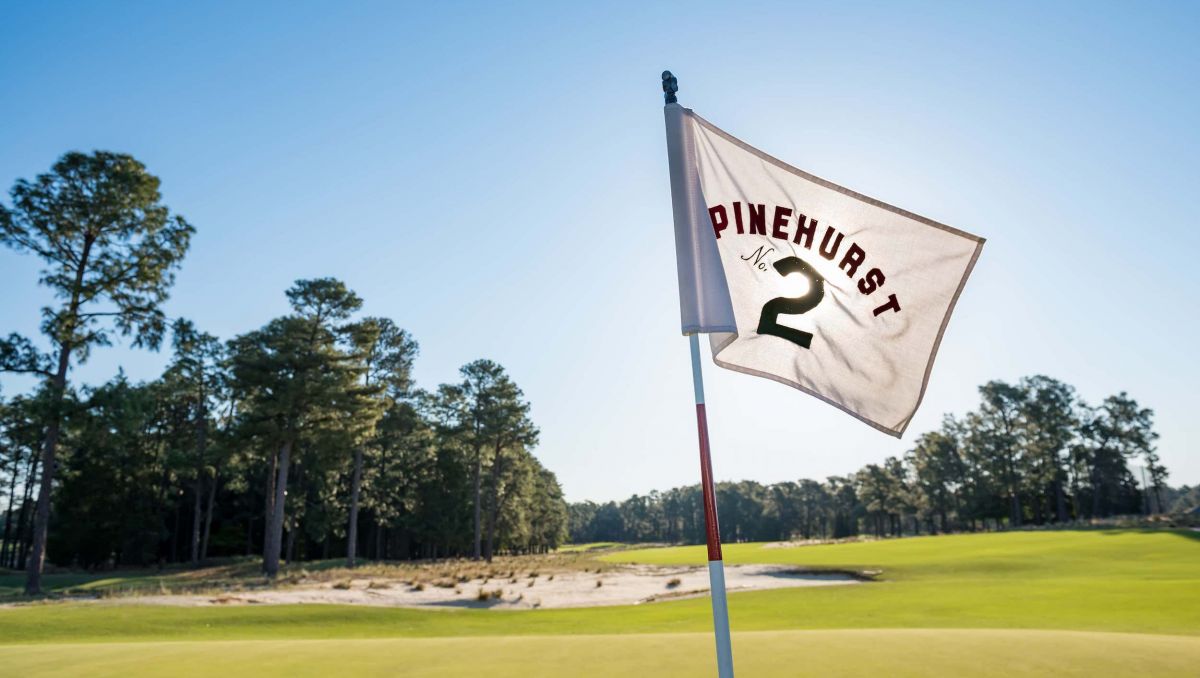 Experience Legendary No. 2 with a Caddie
Playing No. 2 can be overwhelming, especially for first-timers. It's easy to be distracted by its more than 100 years of history, which includes hosting the most single championships of any U.S. course. Or its beauty, with a 2010 restoration preserving its tricky turtleback greens while returning bunkers and fairways to what its beloved designer and one-time Pinehurst resident, Donald Ross, intended for "the fairest test of championship golf." Stay on task with help from the resort's stable of experienced caddies. Available for individuals, pairs and foursomes, caddies suggest hole approaches, provide yardages and share stories, all making your round more memorable.
Take a Swing at The Cradle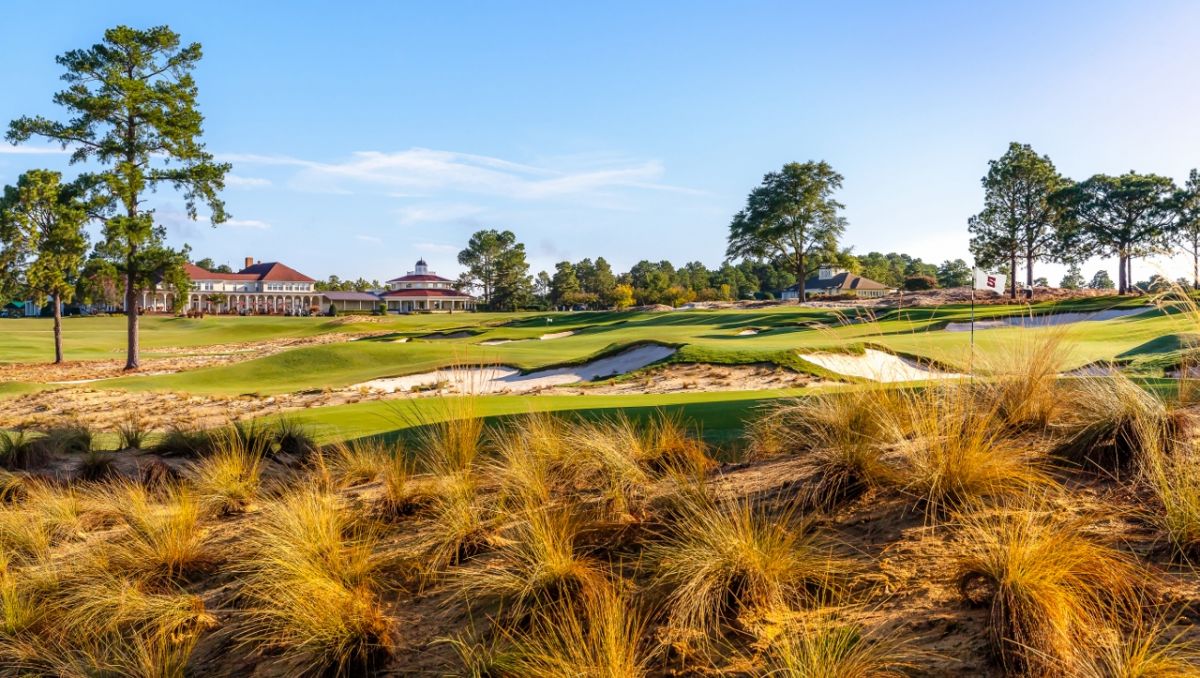 Take a Swing at The Cradle
Pinehurst's youngest course, the Cradle, opened in 2017, and Golf Channel labeled it "the most fun 10 acres in all of golf." Its nine par-3 holes – ranging from 56 to 127 yards – were designed by Gil Hanse, creator of Rio de Janeiro's 2016 Olympics golf course. He incorporated topography following bunkers and natural grasses, matching the look and feel of the resort's other courses. The daily greens fee includes free replay rounds and admission for one player, age 17 or younger.
Snap a Picture at the Payne Stewart and Putter Boy Statues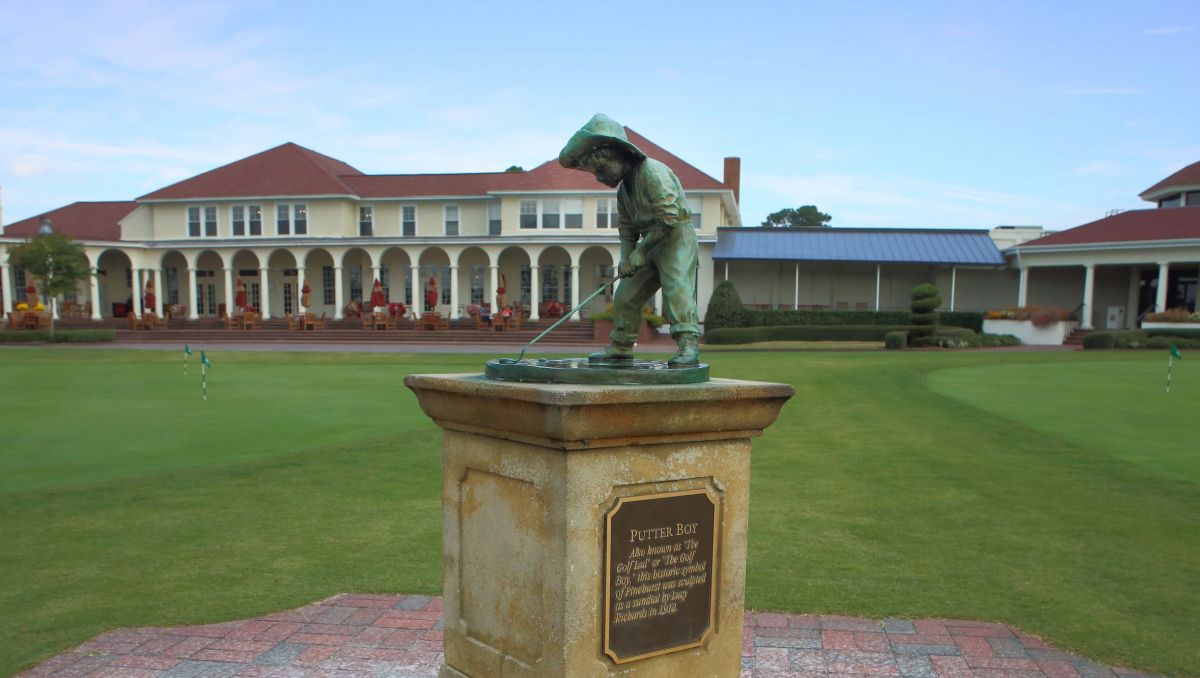 Snap a Picture at the Payne Stewart and Putter Boy Statues
Remember your Pinehurst stay with a picture at what's likely its most visited spot. Behind No. 2's 18th green, you'll find a bronze statue of Payne Stewart that memorializes his jubilance after sinking the winning putt at the 1999 U.S. Open. But there's another statue that you'll want to photograph too. Putter Boy, which stands in front of the Resort Clubhouse, was sculpted more than a century ago, the artist supposedly modeling its grip after Donald Ross' hands.
Walk the Carolina Hotel's Hallway of History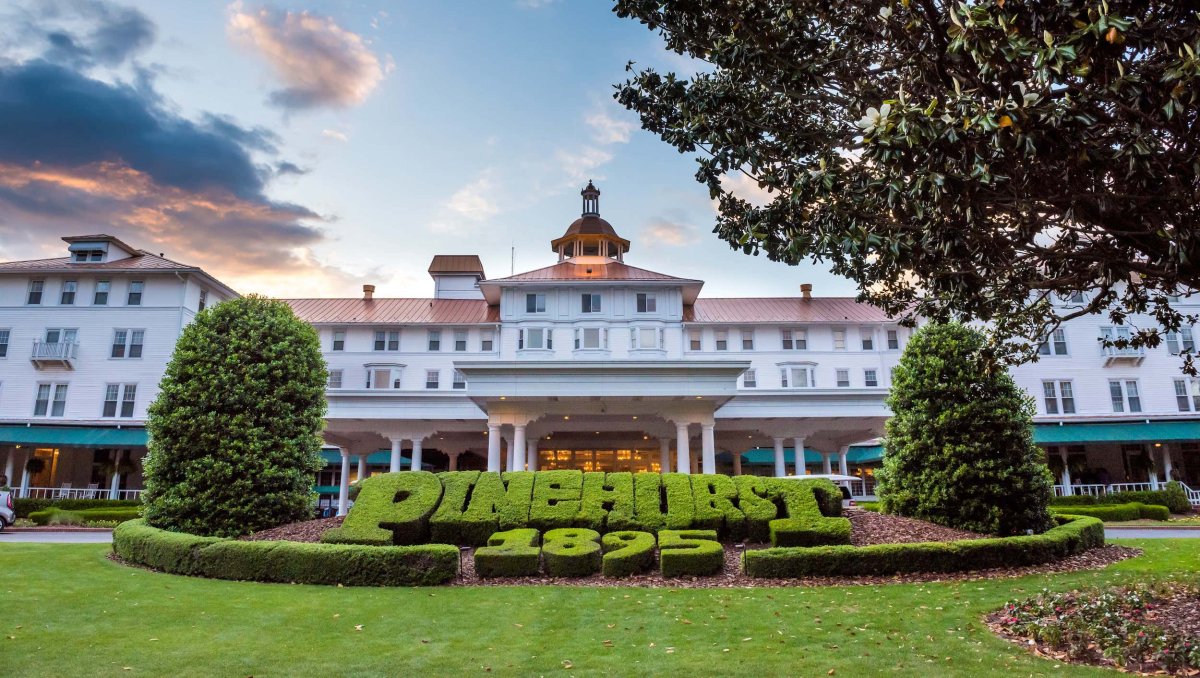 Walk the Carolina Hotel's Hallway of History
The Carolina Hotel, which has more than 200 Four Diamond guest rooms (including suites), opened in 1901 as North Carolina's largest frame hotel. During the years, it has stood witness to countless memorable moments in golf. Relive many of them by strolling its long hallway, which is filled with artwork, maps and other treasures from days past.
Savor the 'Best Breakfast in Golf'
Savor the 'Best Breakfast in Golf'
Every morning from 6 to 10 a.m., Carolina Hotel's dining room offers a buffet Golf Channel calls the "Best Breakfast in Golf." Pancakes and omelets are made to order, and there's plenty of other breakfast offerings, fresh seasonal fruits and juices, and Southern staples such as biscuits smothered with sausage gravy. And while piano music and chandeliers add ambiance, golf attire is welcome, making it the perfect stop before your early tee time.
Tackle the Mile High Key Lime Pie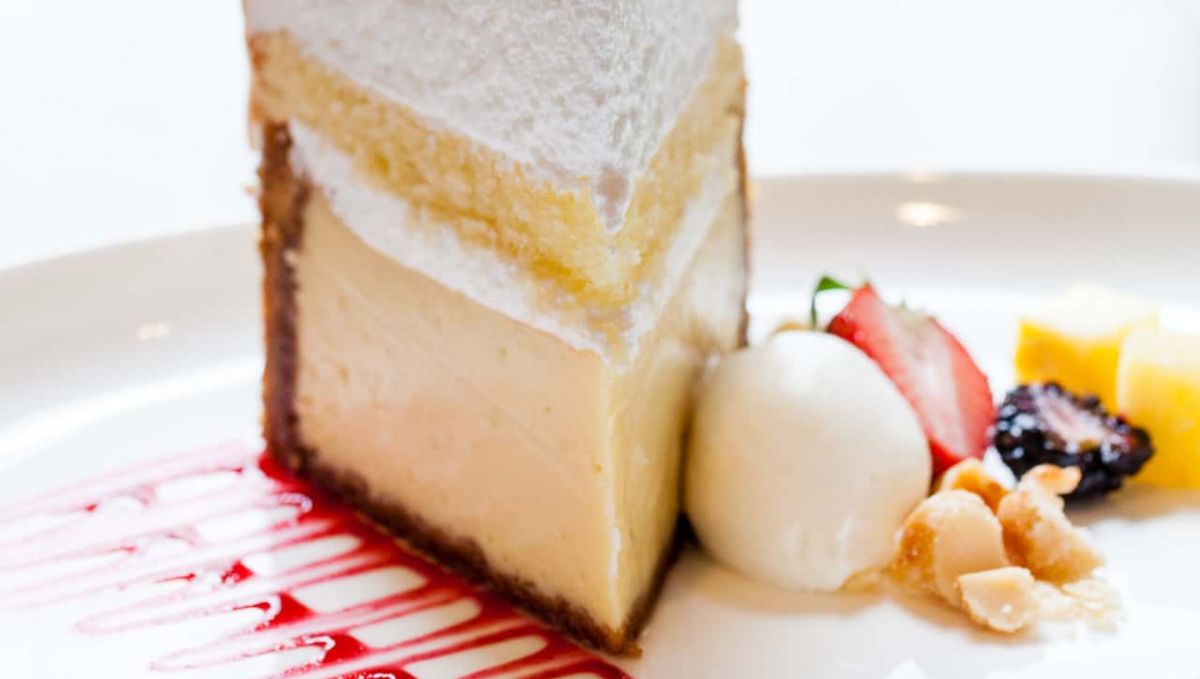 Tackle the Mile High Key Lime Pie
The toughest part of ordering the resort's legendary Mile High Key Lime Pie is contemplating your first bite – the tender crust, sweet and tangy filling, or tower of pillowy merengue. You'll find it at Carolina Hotel's Carolina Dining Room, whose lunch and dinner menus feature twists on American fare. Its signature cocktails – such as Carolina Peach Tea, a take on the Long Island version – and large-screen TVs make it an inviting after-golf spot.
Explore Pinehurst and Tufts Archives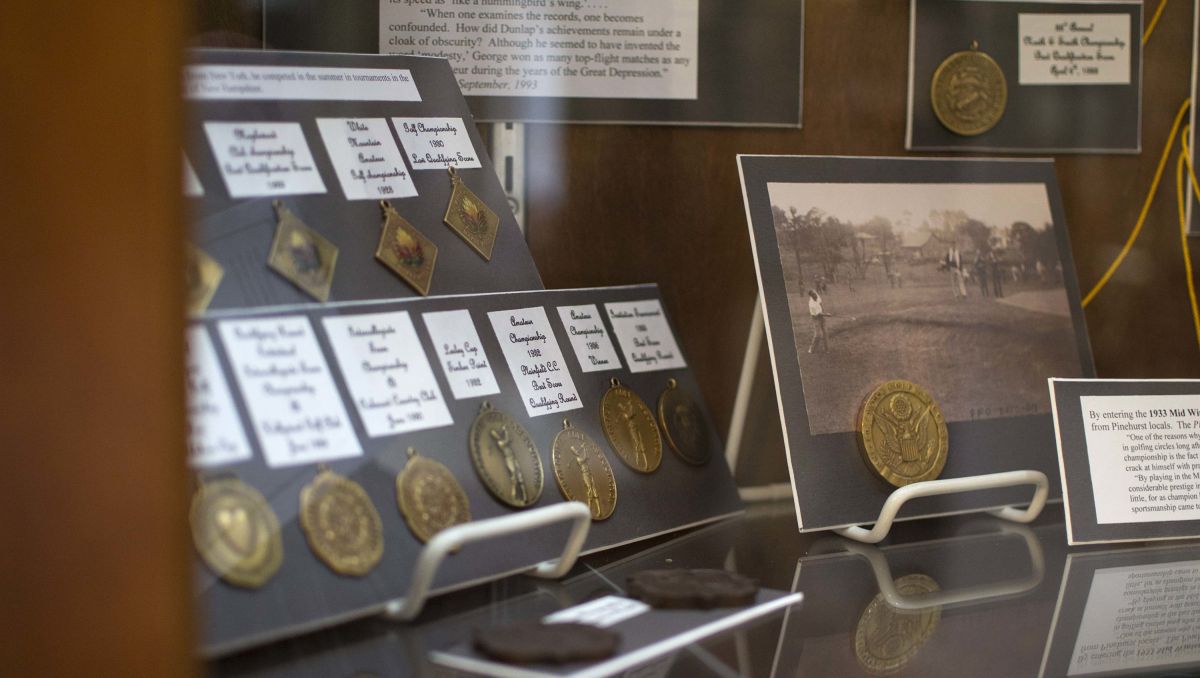 Explore Pinehurst and Tufts Archives
Experience Pinehurst's quaintness with a walking tour. Pick up directions, or schedule a guide, at the Carolina Hotel's Resort Services desk. You'll follow meticulously landscaped streets designed by Frederick Law Olmsted – the architect behind New York City's Central Park – and past homes and buildings that reflect the community's New England roots. Even if you're a golf history novice, stop at Given Memorial Library to sift through its Tufts Archives. You'll find Donald Ross' course sketches, photos and artifacts that date to Pinehurst's 1895 founding.
Sip Craft Beer at Pinehurst Brewing Co.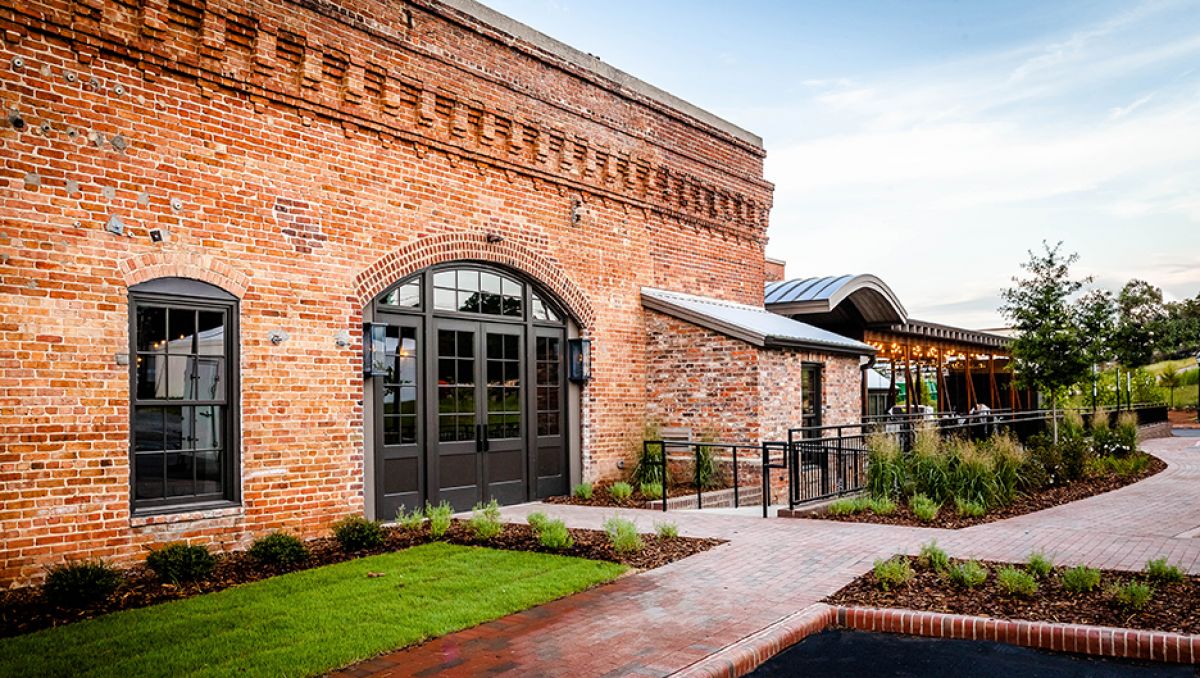 Sip Craft Beer at Pinehurst Brewing Co.
The village's steam plant provided heat and power for homes, hotels and businesses for almost a century. Saved from impending demolition, a full renovation transformed it into Pinehurst Brewing Co., a 10-barrel microbrewery that started pouring in October 2018. Eric Mitchell, whose reputation extends from Charlotte to the World Beer Cup, creates the craft selections. Enjoy them inside with dinner, in the beer garden or under the outdoor trellis, designed to resemble the trolley tracks that brought coal to the plant.
Play the Redesigned No. 4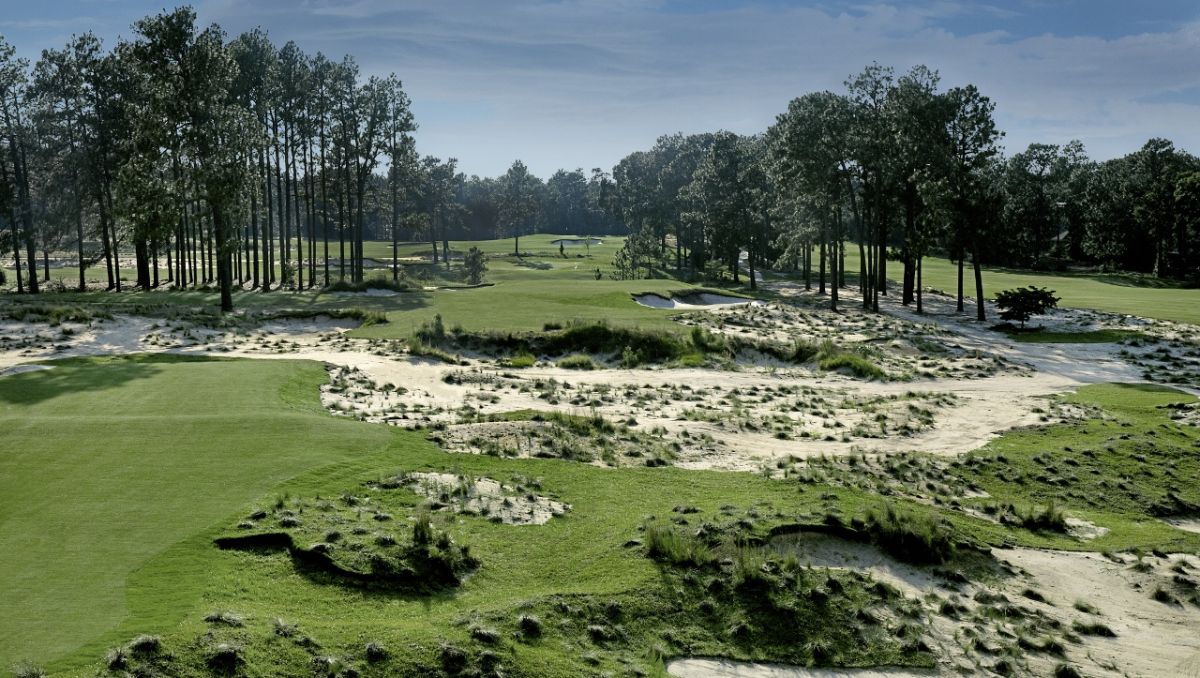 Play the Redesigned No. 4
Gil Hanse recently worked his magic on golf course No. 4 too. He pulled inspiration from No. 2, lowering sand bunkers to match a landscape planted with native wire grasses. He incorporated several approaches to each hole, an ode to Ross, who believed enjoyment for the game came from contemplating its choices. After its September 2018 opening, it and No. 2 co-hosted the 2019 U.S. Amateur Championship.
Relax at The Spa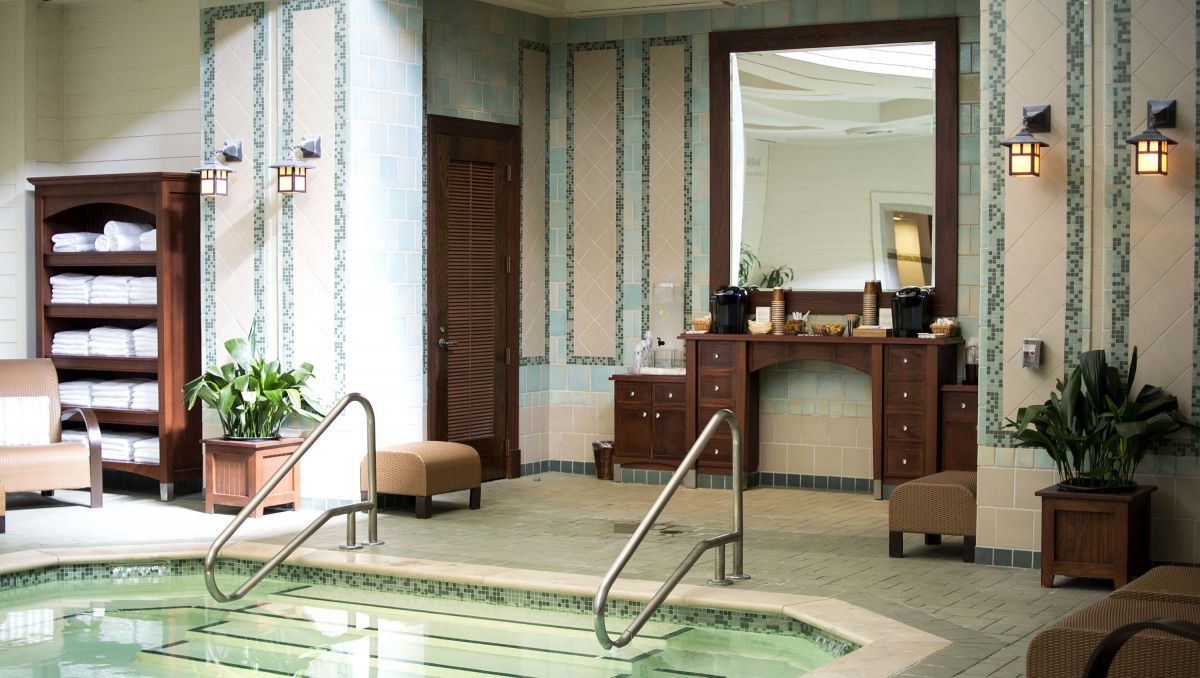 Relax at The Spa
While most of the resort's amenities will keep you on the move, there is one where you can slow down. Its 31,000-square-foot spa offers a variety of services, from salon to fitness. A newer offering – cryotherapy – uses blasts of sub-zero air to ease aches and pains. A pleasant and attentive staff fosters a laid-back atmosphere, whether it's during a treatment or while enjoying a complimentary smoothie or ordering lunch poolside. Its services include The Golfer's Massage; Swedish in style, it targets muscles that athletes use most.
This list was produced in partnership with Pinehurst Resort.
Updated August 23, 2021