The Cradle: Pinehurst's Par-3 Short Course Is Long on Fun
Famed golf architect Gil Hanse would find himself at a stopping point while working at one of the most prestigious golf destinations in the country. He'd shut down the canary-colored bulldozer he was driving, hop down to the upended turf and take a walk.
Hanse would stroll about 30, 40, maybe 50 feet from the dozer, and with his dusty golf cap pulled down far, nearly obstructing the view of his stylish sunglasses, he'd fold his arms and gaze over the land. After a few minutes, he'd nod to himself, unfold his arms and slowly walk back and up into the cockpit of the dozer, his eyes focused on the ground immediately in front of him.
This was Hanse's daily process in the weeks after he broke ground on what can only be described as a monumental moment in Pinehurst history. After all, even with nine golf courses already, building a new course at Pinehurst will always be a big deal.
But this course is different. This is The Cradle, Pinehurst Resort's nine-hole par-3 short course. And it's another example of the myriad ways Pinehurst continues to evolve and adapt for today's travelers and guests.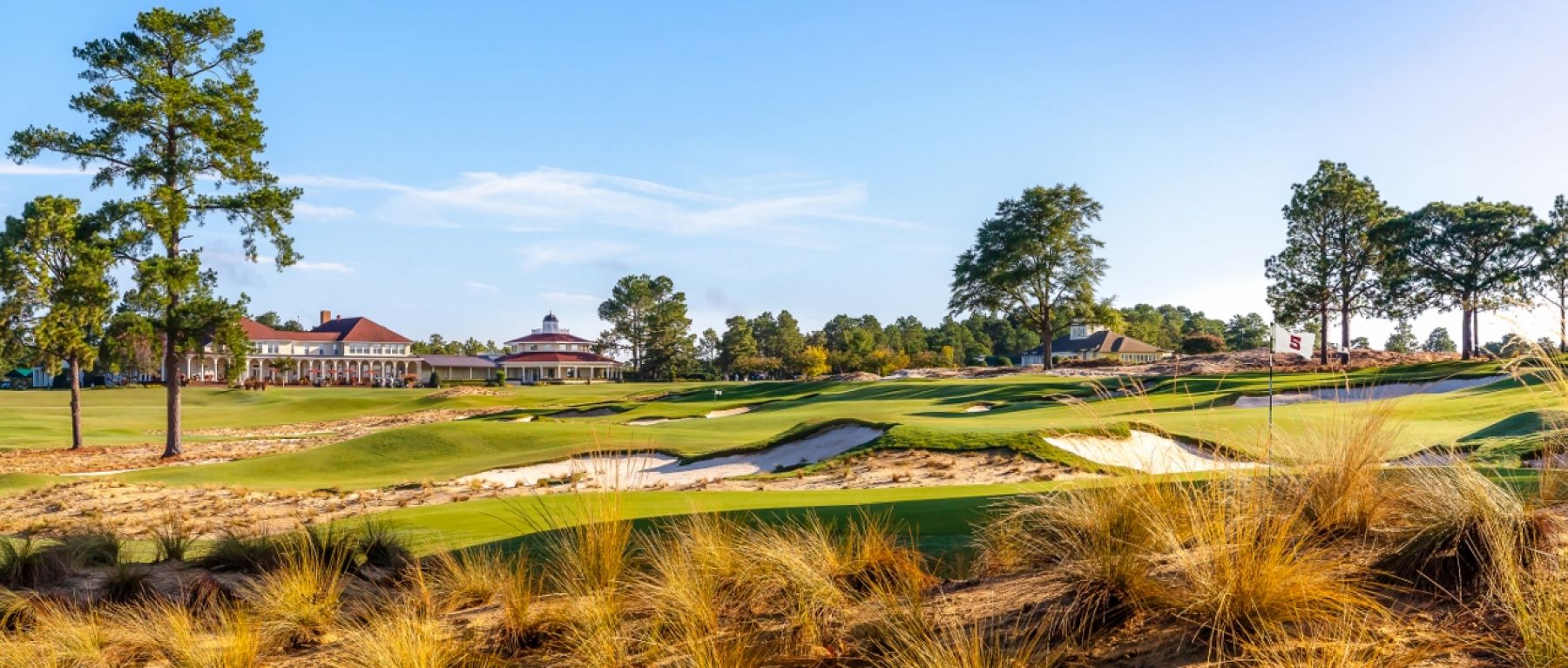 "When people ask me what the short course is going to be, it's first and foremost going to be fun," says Hanse, whose acclaimed restoration work includes such iconic golf courses as Winged Foot, Merion and Los Angeles Country Club. He also designed the Olympic Course in Brazil. "It's going to be a fun place to go out and hit shots and just enjoy the game of golf. We hope it'll also be a place where people will come to learn to play and love the game. And to do that at a place like Pinehurst is wonderful."
While it's been a few years since the golf world descended on Pinehurst for the unprecedented back-to-back playing of the U.S. Open and U.S. Women's Open in 2014, it continues to be about more than just its most famed course, Pinehurst No. 2, where more single golf championships have been played than any other site in America.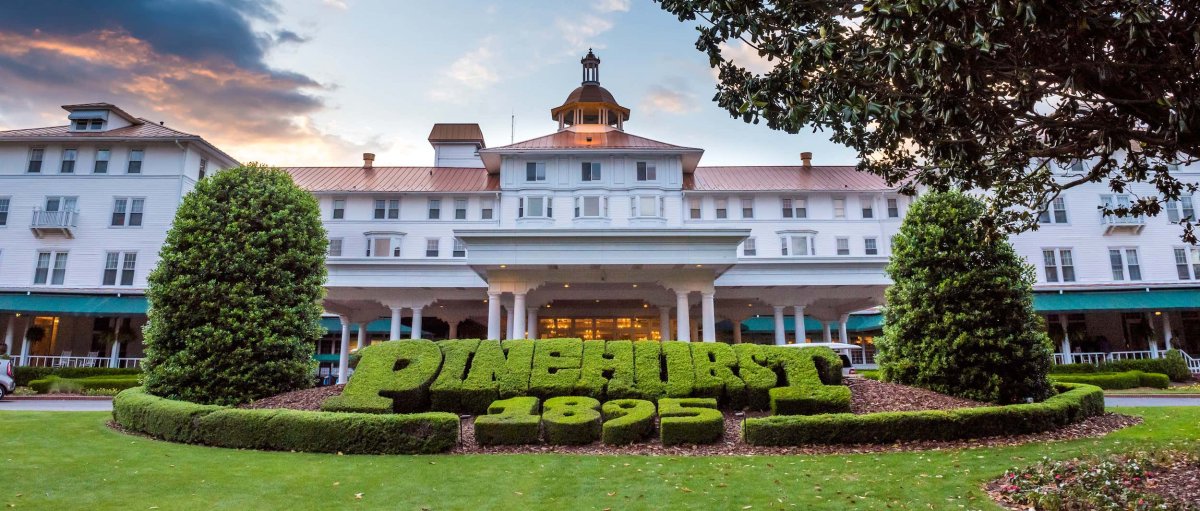 The resort can boast nine championship golf courses, some of which are ranked by multiple publications as among the best in the United States. But Pinehurst Resort is also home to Spa at Pinehurst, several eclectic and varied restaurants, and the charming New England-style Village of Pinehurst, making for an elegant oasis amid the towering pines of the North Carolina Sandhills.
Pinehurst Resort isn't just for golfers looking to check off a big item on their bucket lists. With its 200-acre lake, a wide variety of activities, and the fact that kids 17 and under can stay and play golf for free with an accompanying parent or guardian, Pinehurst has been welcoming families looking to get away and relax and rejuvenate together since its founding in 1895. Plus, the resort adds a roster of activities around every holiday, especially Thanksgiving and Christmas, when the storied Carolina Hotel is trimmed with festive lights, garland, a gingerbread village and more than 25 Christmas trees along its halls. Keep an eye out for winter package specials every year.
The golf experience at Pinehurst has long been one of the best in the world, but it continues to evolve. In 2016, for example, Pinehurst opened The Deuce, a sporty tavern overlooking the 18th green of Pinehurst No. 2. Just a few months after opening, Golf Inc. Magazine named The Deuce the "Best New Restaurant in Golf."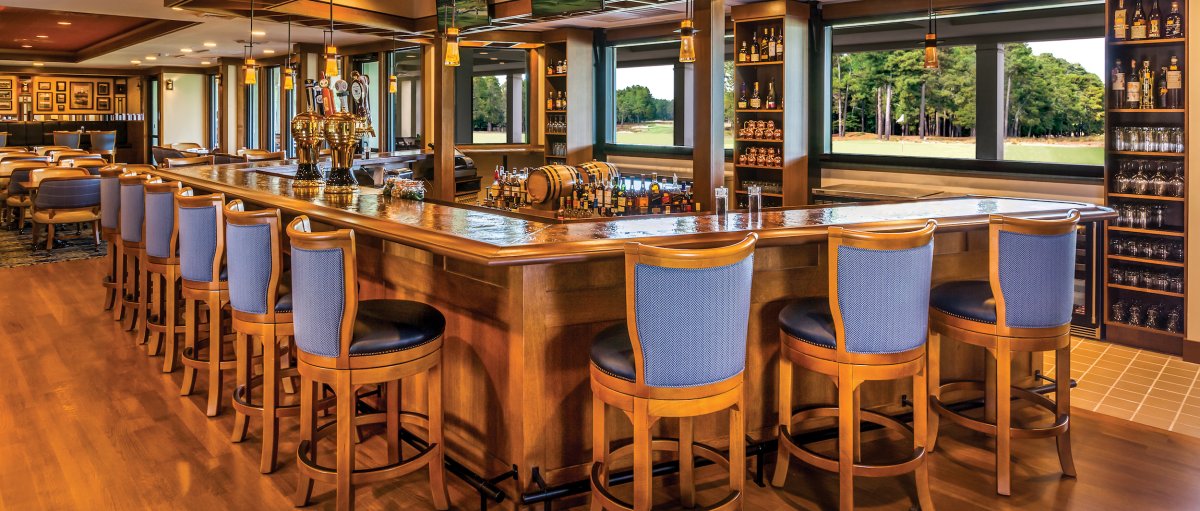 The Cradle isn't the only course at Pinehurst Resort on which Hanse's made his mark. He also completely redesigned Pinehurst No. 4 in 2018, incorporating native sandscape and wire grass that was natural to the original design. Its redesign further enhanced its reputation alongside other Pinehurst heavyweights such as Pinehurst No. 8 and Pinehurst No. 7.
That's not all, though. Pinehurst also restored the historic steam plant building in the heart of the quaint village and built a microbrewery and restaurant, which opened in 2018. In addition to the rotating draft list, it also serves up pulled pork, beef brisket, ribs and smoked chicken on site.
So whether it's a bucket-list buddies trip, a romantic getaway to the spa or a family-friendly adventure, Pinehurst Resort remains and continues to evolve as a natural fit.
This article was produced in partnership with Pinehurst Resort.
Updated August 23, 2021