Fun and Unique Camping Spots in North Carolina
It's hard to beat the sound of the surf soothing you to sleep at a seaside campsite, unless of course waking to the sound of a babbling brook as the sun climbs over the Great Smoky Mountains is more your speed.
Whether you prefer to pitch a tent in the mountains or by the sea, paddle to your campsite or drive there, rough it or be pampered in a glamping experience you won't forget, North Carolina has the campsite for you. When planning your visit, just remember to check the camping rules and regulations of your site.
1

Johnston County Camping

Featured by: Johnston County Visitors Bureau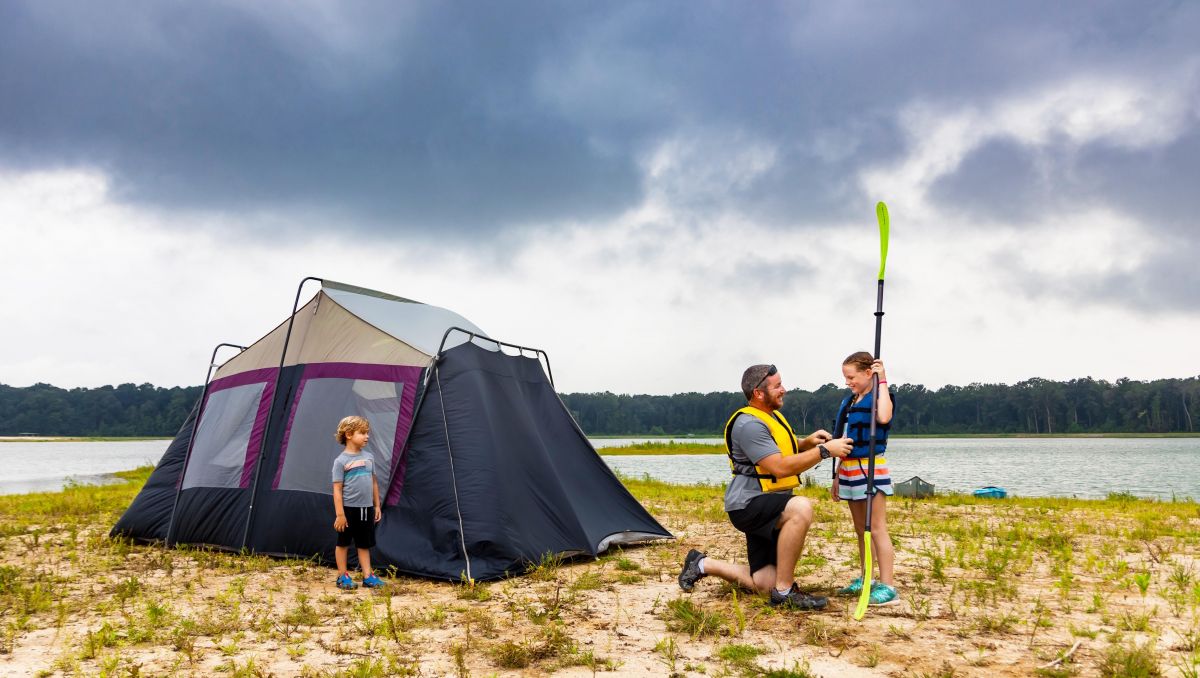 1

Johnston County Camping

Johnston County

See on map
At Johnston County's Raleigh Oaks, there are two rules: The camper is always right, and if you think the camper is wrong, read the first rule again. At this staycation destination, enjoy amenities like swimming pools, a spa, pickleball courts, a fitness center and miniature golf. Or spend the night in a tent or cabin at Howell Woods after a day of hiking, biking, horseback riding, hunting or fishing. Explore the outdoors while learning a bit of the area's history on the Johnston County Heritage GeoTrail, a geocaching trail where participants can find 50 hidden containers using GPS coordinates. And don't miss the delicious barbecue along the JoCo BBQ Trail or snacks from Stanfield's General Store to help fuel all your adventures.
2

Roanoke River Platform Sites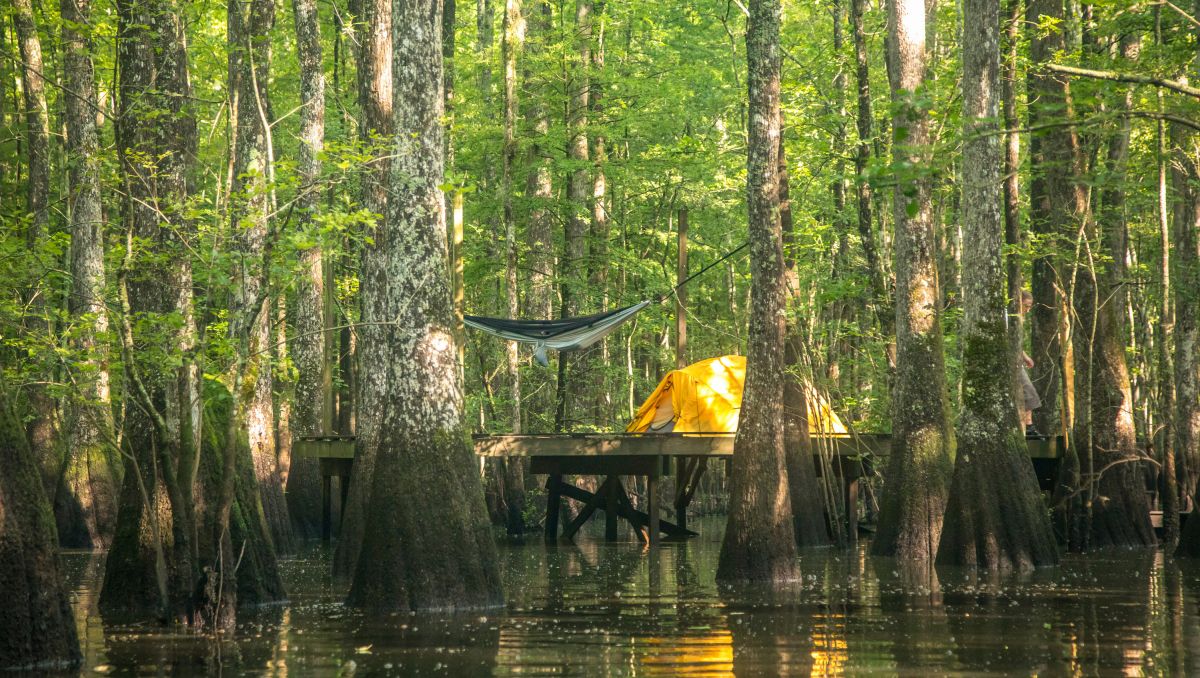 2

Roanoke River Platform Sites

Inner Coastal Plain

See on map
Pack your gear into your kayak or canoe and take your pick of about 15 riverside camping platforms linked by 140 miles of water on the Roanoke River. Each campsite offers a unique vibe with differing amenities including screened-in platforms, group platform options, fire pits and privys – but all boast beautiful views that'll make you one with nature.
3

Panthertown Valley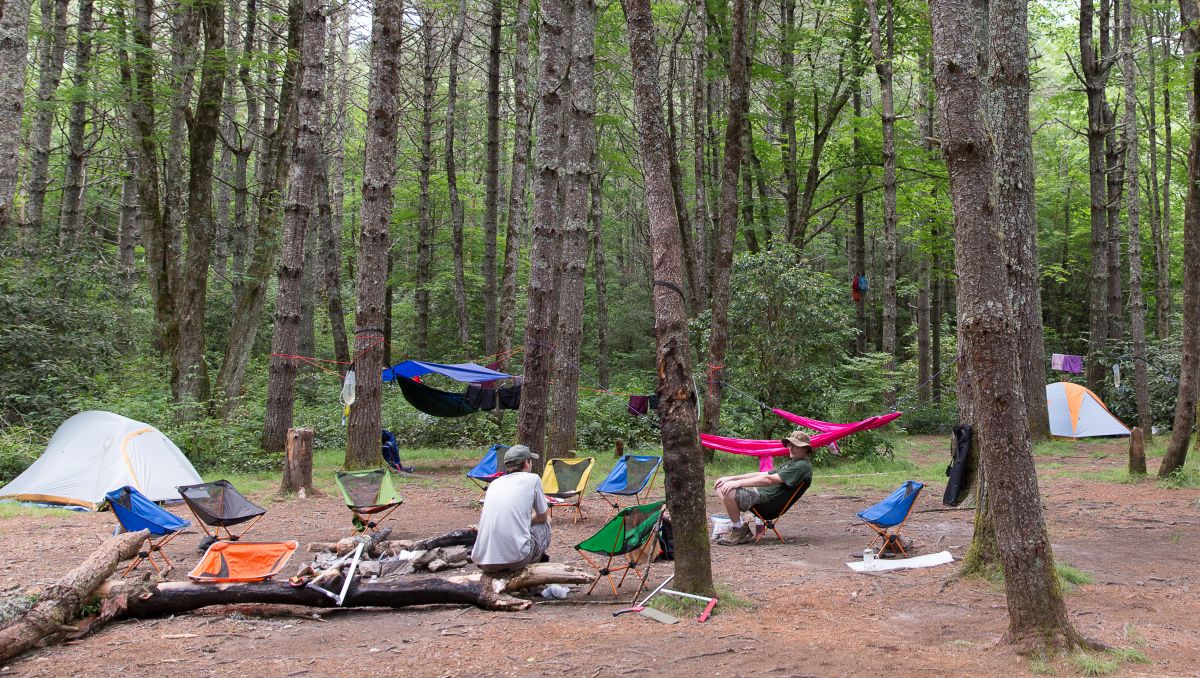 3

Panthertown Valley

Nantahala National Forest

See on map
Just northeast of Cashiers, Panthertown Valley might have a fearsome name, but rest easy, it's about as peaceful a place as you'll find. This 6,300-acre wilderness recreation area in the Nantahala National Forest has more than 25 miles of trails, waterfalls galore and all the solitude you could want. It also offers hikers, backpackers, and equestrian enthusiasts plenty of fresh mountain air and primitive camping. More information is available through Friends of Panthertown.
4

French Broad Paddle Trail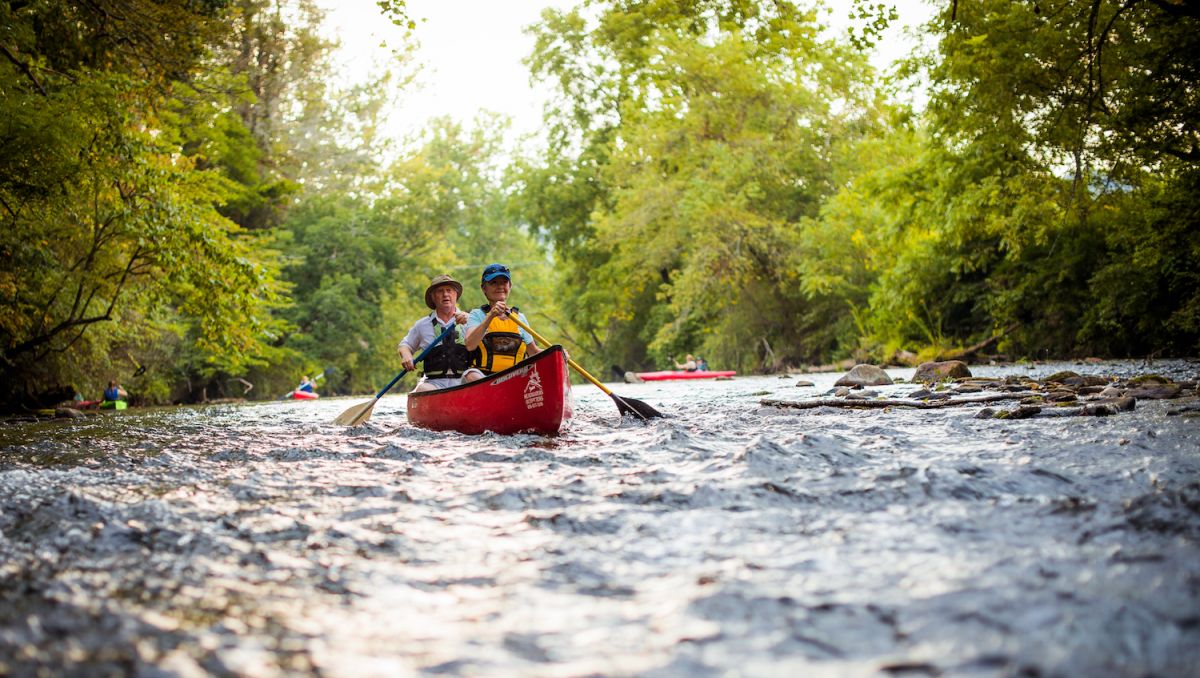 4

French Broad Paddle Trail

Asheville

See on map
Paddle one of the oldest rivers in the world on the French Broad Paddle Trail and camp in a different riverside spot every night. Along a 140-mile section of the French Broad River beginning in Rosman, there are campsites every 15 miles on islands in the river and along the banks, making for days of spectacular paddling and nights of well-earned rest spent in bucolic bliss. Check out an overnight paddling and camping trip with Rosman's Headwaters Outfitters – they make it easy for you by providing gear and transportation to and from the river.
5

Cape Lookout National Seashore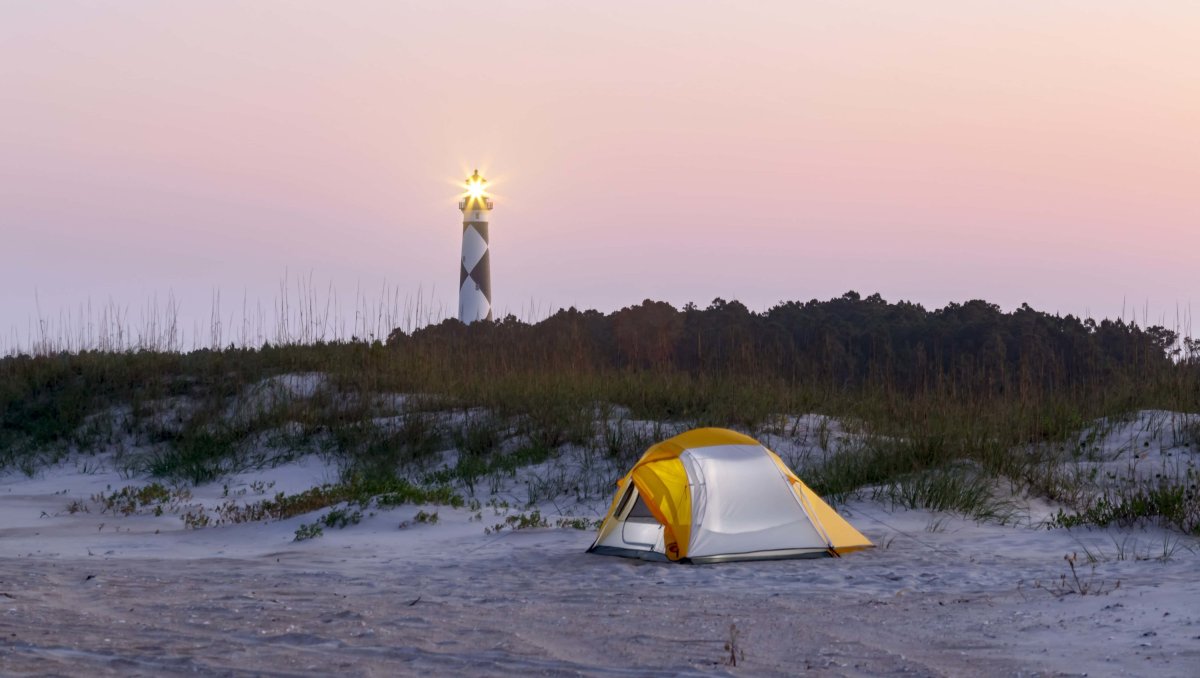 5

Cape Lookout National Seashore

Crystal Coast

See on map
What would you do if you had miles of beach to yourself? At Cape Lookout National Seashore, you can find out. Rustic cabins at Great Island and Long Point make the perfect home base for fishing, shelling and exploring the National Seashore, and they include hot water, private bathrooms, bunk beds, a stove and a grill. At Long Point, there's even electricity and air conditioning in a few cabins. But if your idea of roughing it has a little more "rough" to it, you can also take your tent out on the National Seashore, setting up within shouting distance of Cape Lookout Lighthouse and camping among the dunes and grasses on the island.
6

Long Cove Resort & Country Club
6

Long Cove Resort & Country Club

Charlotte

See on map
Long Cove Resort & Country Club offers camping of a different flavor on the banks of Lake Wylie on our southern border. Seventeen tiny cabins, each with designer touches and an unexpectedly elegant look and feel, give couples and families the chance to camp in style. With amenities such as Wi-Fi, Starbucks coffee, TVs outfitted with streaming services and a private beach area, you'd better make your reservations fast.
7

Blue Bear Mountain Camp
7

Blue Bear Mountain Camp

Todd

See on map
Just 10 minutes outside of Boone, Blue Bear Mountain Camp offers up the typical tent and RV campsites and even ups the ante with solar-powered cabins. But the most unusual – and most luxurious – place to stay at Blue Bear is in its tepee. That's right, a hand-painted, 22-foot-tall tepee gives you another way to experience nature at its finest. The tepee, like the cabins, is solar-powered and eco-friendly. Best of all, the arrangement of the tent sites, cabins and tepee here offers ample privacy.
8

Treehouse Vineyards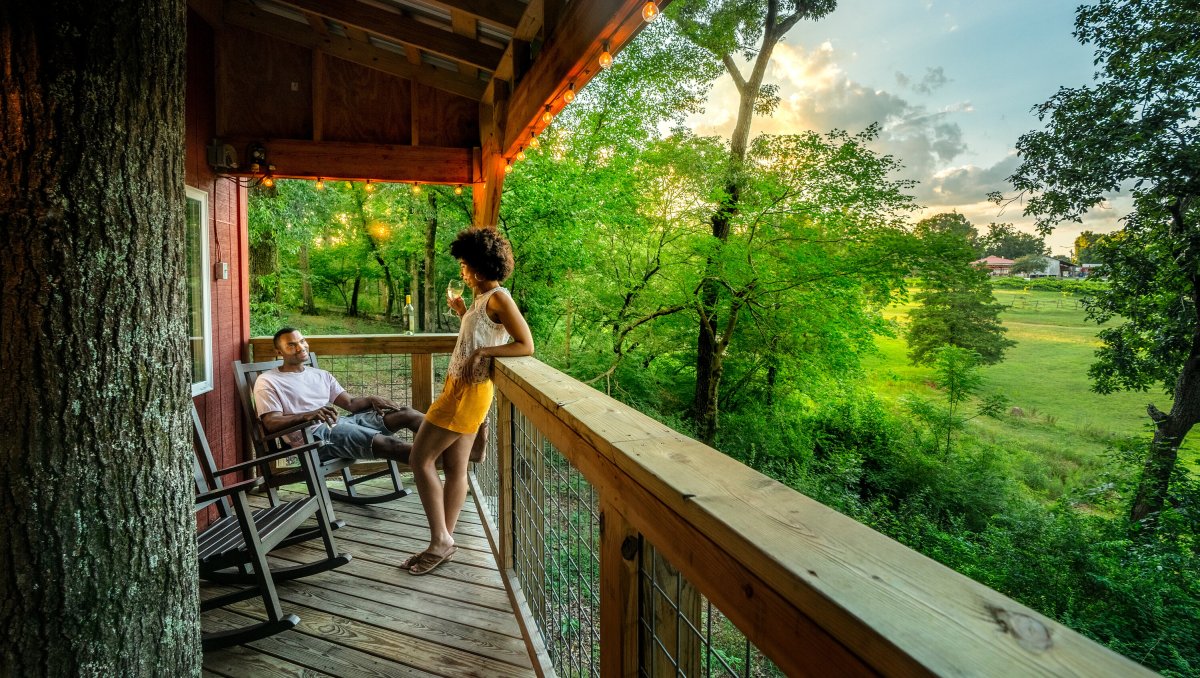 8

Treehouse Vineyards

Monroe

See on map
Indulge your inner child and stay for a few nights in a treehouse overlooking a working vineyard. In Monroe, the aptly named Treehouse Vineyards has a pair of treehouses for overnight guests and one more for "date nite." These are no slipshod, dad-built-a-treehouse-last-weekend treehouses – these are substantial homes perched in and surrounded by trees. Spending the night there is about comfort and relaxation. And wine. You are at a winery after all, so enjoying a glass or two on the huge deck and watching night fall on the vineyard seems like the perfect way to end the day.
9

Lake James State Park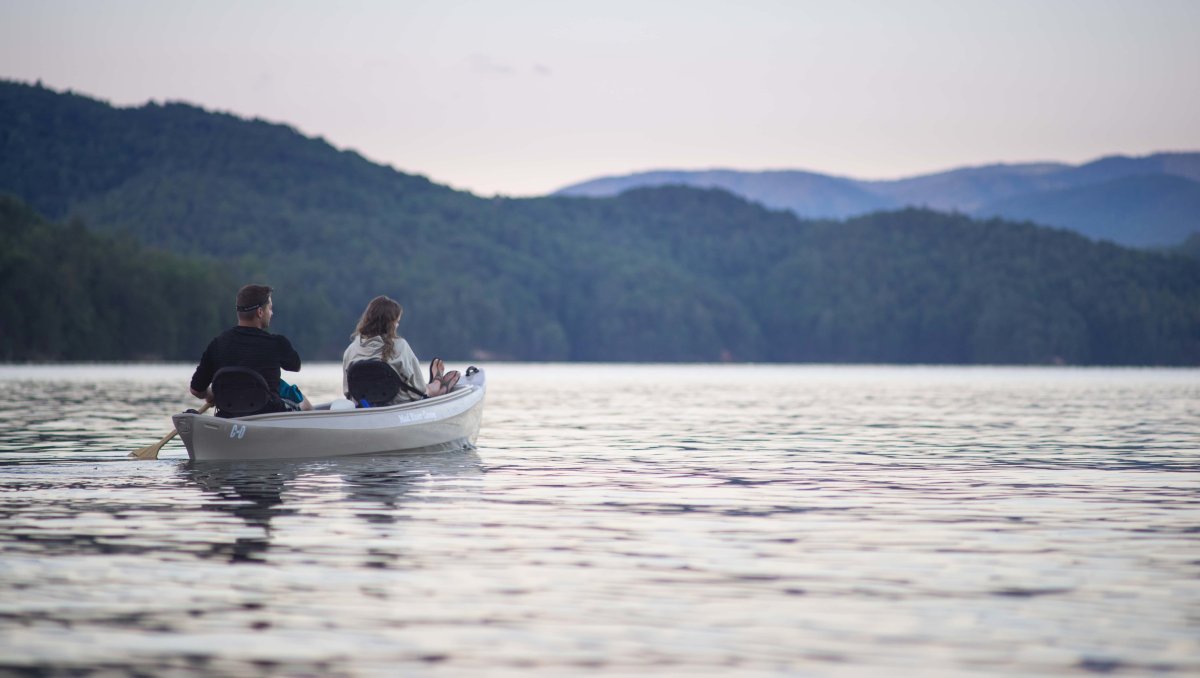 9

Lake James State Park

Nebo

See on map
There are 30 boat-in campsites at Lake James State Park, less than a half hour from Morganton. Spend the morning hiking or mountain biking the park's trails, then load up your kayak or canoe and head over to the camping areas on the Long Arm Peninsula. The campsites sit overlooking Lake James from hidden coves, making for a fabulous sunset. In the early morning, a quiet paddle around the lake will bring you close to shorebirds before you paddle back in to make a stack of pancakes over your campfire.
10

Sky Ridge Yurts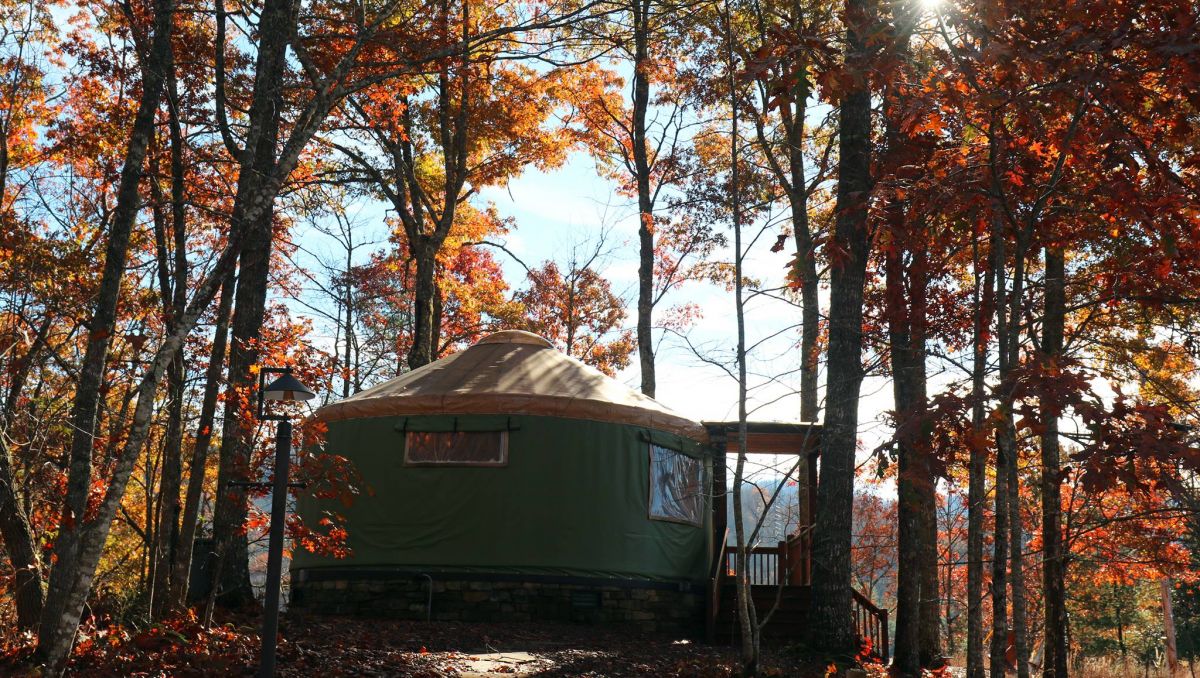 10

Sky Ridge Yurts

Bryson City

See on map
Not far from Bryson City and the Nantahala Outdoor Center, Sky Ridge Yurts adds a bit of glamour to camping with its exotic and well-appointed yurts. Yurts are traditional Mongolian tents, but that doesn't do them justice; what they are is amazing. These circular houses come in a variety of sizes and have private bathrooms, kitchenettes or full kitchens, and slate-lined walk-in showers. Add to that their Smoky Mountain setting, fire pits and all the whitewater rafting, hiking, and outdoor adventures at your fingertips thanks to Nantahala Outdoor Center and Great Smoky Mountains National Park, and you have a not-to-be-missed glamping experience.
11

Asheville Glamping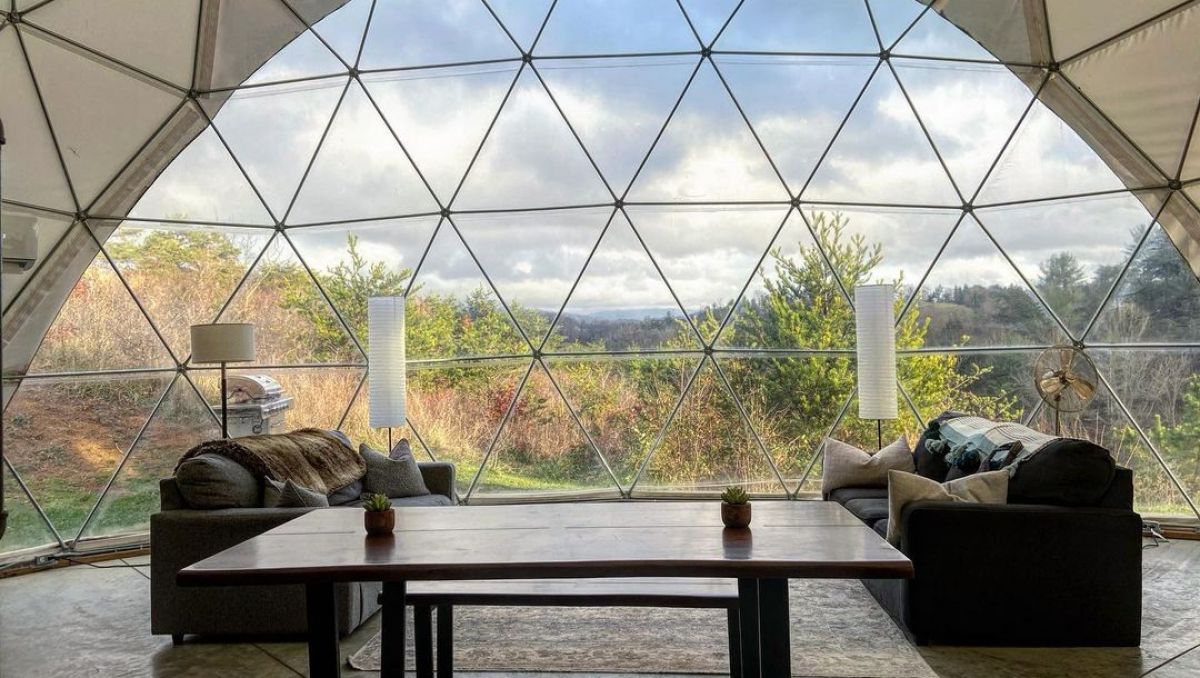 11

Asheville Glamping

Asheville

See on map
At Asheville Glamping, there's everything from treehouses and tents to vintage trailers and domes. And they're all glamorous. Like, ready-to-be-your-most-popular-Instagram-post-for-the-year glamorous. Beautiful and outdoorsy, the tents, domes, treehouses and trailers here are built for comfort. Air conditioning, running water, electricity and even hot tubs make for a luxe stay that will convince just about anyone that camping is indeed their thing, as long as it's done right. And here, they do it right.
Updated May 20, 2021