Color the Town: Public Art to Admire in North Carolina
Explore these pieces of art across our state, and learn about the region's history and culture that inspired them.
1

Music-Focused Art in Uptown Shelby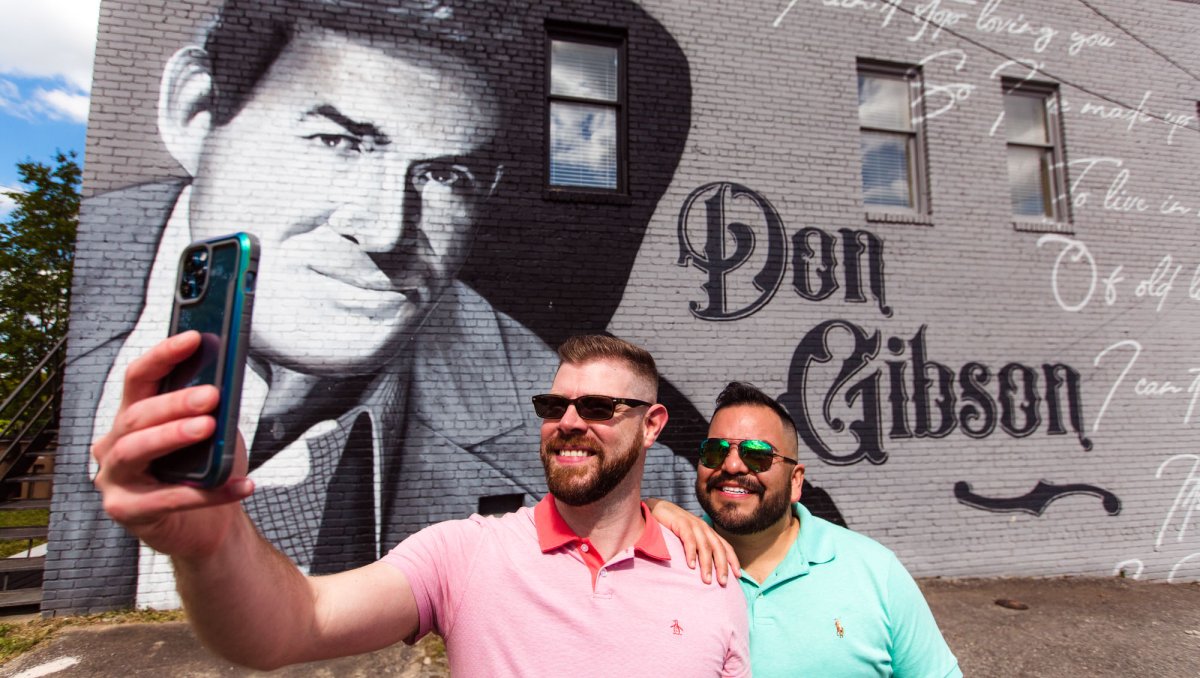 1

Music-Focused Art in Uptown Shelby

Shelby

See on map
Uptown Shelby boasts rich musical roots and a thriving arts scene. Take one look around, and there's a chance you'll spot a 3-foot record painted by a local artist on one of the street corners. These vinyls are part of the Don Gibson LP Project and represent significant songs by the Shelby local who's famous for writing top hits and helping define country music's sound. A mural of Gibson – one of Shelby's two NC Musician Murals honoring local musicians and their impact on the industry – can also be found on the side of Miss Molly's Boutique. A mural depicting Earl Scruggs is the other, serving as the patio backdrop at Newgrass Brewing Company.
2

Valle Crucis Community Park
2

Valle Crucis Community Park

Valle Crucis

See on map
In 1983, the Valle Crucis community preserved a 12-acre piece of land along the Watauga River that was slated for development. That piece of land is now recognized by locals and visitors as the Valle Crucis Community Park, a public outdoor gathering space for recreational activities. The park features amenities such as a beautiful trail loop, a playground and picnic shelters. But along the trail are several dead trees that local artists brought back to (wild)life, including reptiles and fish. Time your visit on a Friday from July through October and enjoy live music under the High Country sky.
3

Metal Zoo Animals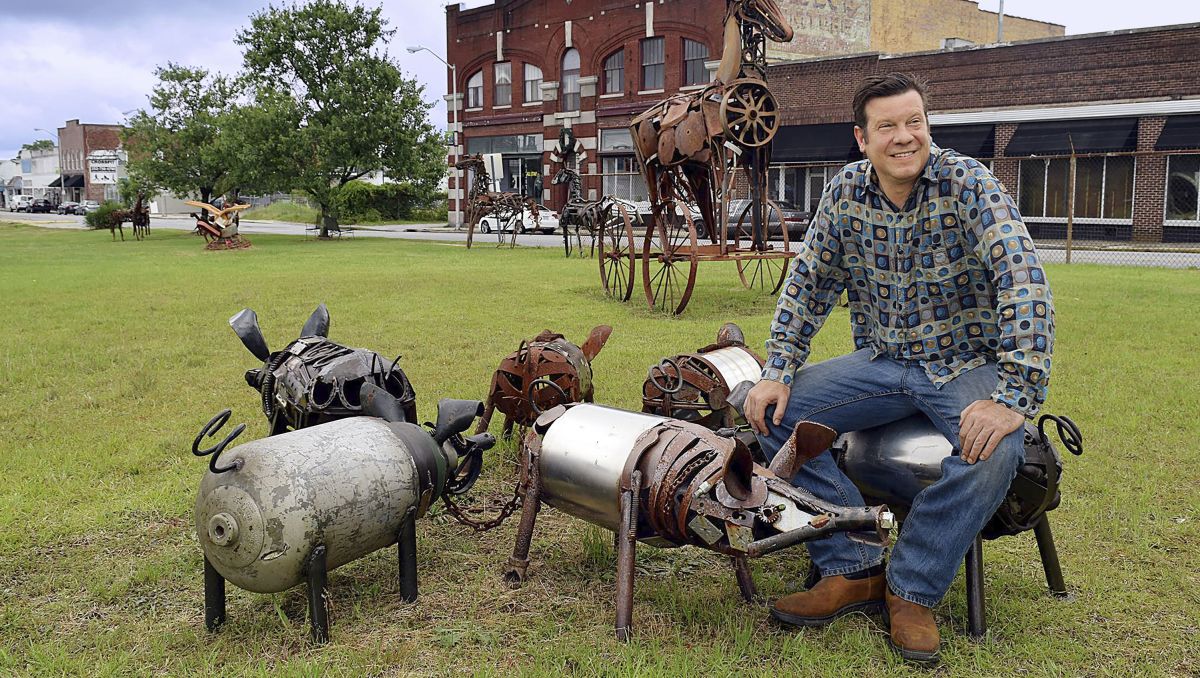 3

Metal Zoo Animals

Greenville

See on map
There's a zoo in Greenville full of animals – but it's not the kind you might think. Local sculptor Jonathan Bowling is a skilled craftsman who created the creatures, both farm-raised and exotic, using repurposed metal. Check out the "Metal Zoo," down the street from his studio on Dickinson Avenue, where you can admire static wildlife living its second life and snap a few photos. You can also find many of his sculptures scattered throughout the Greenville area.
4

Mural Trail and Painted Trout Statues
4

Mural Trail and Painted Trout Statues

Bryson City

See on map
Murals and street art give Bryson City a bit more color, showing off local creativity and the area's history. Take a self-guided tour to see downtown murals that celebrate Bryson City's connection to the railroad, which made its first expedition in the late 1800s. While perusing, keep an eye out for decorated trout statues. These painted fish serve as a reminder of the area's river ecosystems and how the trout was the main food source for previous generations.
5

Clayton Sculpture Trail
5

Clayton Sculpture Trail

Clayton

See on map
Take a free self-guided stroll to get a glimpse of Clayton's unique sense of community through the arts. Start at the Clayton Center and check out the displays and murals in the lobby, then take off outdoors to see the bold, colorful sculptures lined along the trail. Many of the displays rotate, so you'll want to come back each year to see the new pieces added to the mix. The added bonus here is you'll pass plenty of stops for treats (pizza, cupcakes or a local beer, anyone?) along the way.
6

Fiberglass Bears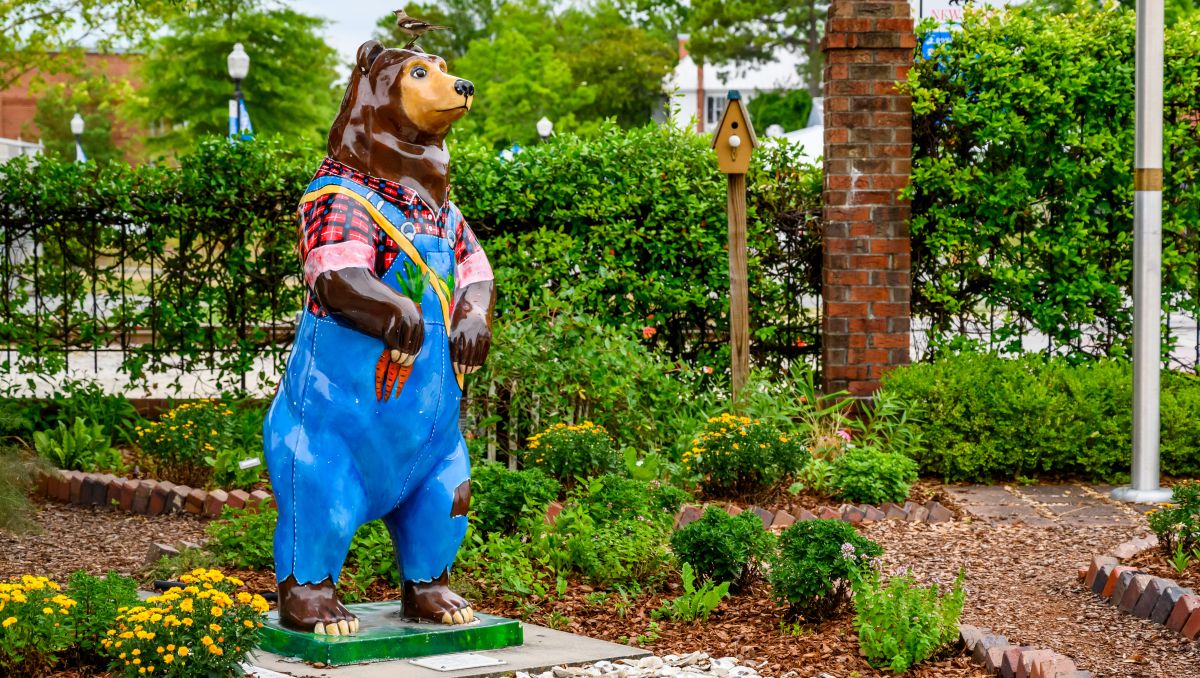 6

Fiberglass Bears

New Bern

See on map
Decorated fiberglass bears have made tracks all over New Bern. The town (which is named after Bern, Switzerland – whose symbol is a bear) celebrated its 300th anniversary in 2010. To celebrate, local businesses sponsored several ceramic bears and selected a local artist to design each bear's theme. Now, more than 70 sculptures stand throughout the town, painted with different colors and patterns. Stop into the New Bern-Craven County Convention and Visitors Center or other supporting businesses to pick up a free map detailing the bears' locations.
7

Pedestrian Art Walk

Wilmington

See on map
Walk the streets of Wilmington's Historic District and see various sculptures, from animals to abstract arches. These structures remind passersby that Wilmington is so much more than a beach destination; rich opportunities to indulge in the arts are woven into the community, where museums, galleries and theaters also flourish in abundance. Revel in the permanent structures on the trail along with the 10 new installations added in 2021.
8

Western NC Sculpture Center Park & Trail
8

Western NC Sculpture Center Park & Trail

Lenoir

See on map
On 1,400 acres of land is a park and trail lined with more than 60 sculptures created through blacksmithing, metal foundry, welding, woodworking and environmental installments. The Western North Carolina Sculpture Center created the park and walking trail as a free and inclusive opportunity to connect people with the arts. The sculptures are swapped out occasionally, but you can always see what is currently on display before planning your visit. The center is also working on building an interior gallery space and community studio.
9

Wall Poems
9

Wall Poems

Charlotte

See on map
Walk around Uptown Charlotte and several of its surrounding neighborhoods (including NoDa, Plaza Midwood and Elizabeth), and you'll see many murals. Peruse carefully and you might notice that some of these murals contain two art forms: painting and poetry. These Wall Poems were created with the goal of making poetry more accessible to people in their everyday lives. Each poem – some long, some short, some temporary, some permanent – is credited to its respective North Carolina writer.
10

Carthage Mural Project
10

Carthage Mural Project

Carthage

See on map
Take a self-guided mural tour in Carthage, just 20 minutes north of Southern Pines. The members of the Carthage Mural Committee wanted to showcase the town's historical significance in a way that also made downtown visitors stop in their tracks. Artist Scott Nurkin painted his first mural in town called The Tyson & Jones Buggy Company, a historical tribute to the former local business. He is also the painter behind Carthage's remaining murals When Tobacco Was King (a nod to the plant that put North Carolina on the map in the 20th century), James R. McConnell and Water Towers.
Updated March 24, 2023