7 Winter Adventures Other than Downhill Skiing
Why waste the winter months hibernating indoors? Snow, ice and frosty temperatures provide plenty of fodder for outdoor adventure. When winter weather rolls into the Southeast, North Carolina's wild spaces are briefly and beautifully transformed – with much more to offer beyond black diamond downhill runs.
Snowshoeing
Requiring far less finesse than downhill or cross-country skiing, snowshoeing is ideal for ski school dropouts, and sturdily built snowshoes can go places skis can't. In the High Country just north of Boone, Elk Knob State Park consistently gets a more-than-generous dusting of snow. Even better, the park remains open throughout the winter, meaning after a coating of fresh powder, Elk Knob's trails are prime for exploring by snowshoe.
In Beech Mountain, the loftiest town in the eastern United States (sitting at 5,506 feet), visitors can explore 30 miles of maintained trails, and snowshoe rentals are available at the local Buckeye Recreation Center. Novices can warm up on the recreation center's 1/3-mile loop, while pros can head for the nearly 7 miles of alpine tracks at the Emerald Outback, the town's picturesque trail park. Tentative snowshoe converts can ease into the sport with a guided tour at Sugar Mountain Resort outside Banner Elk.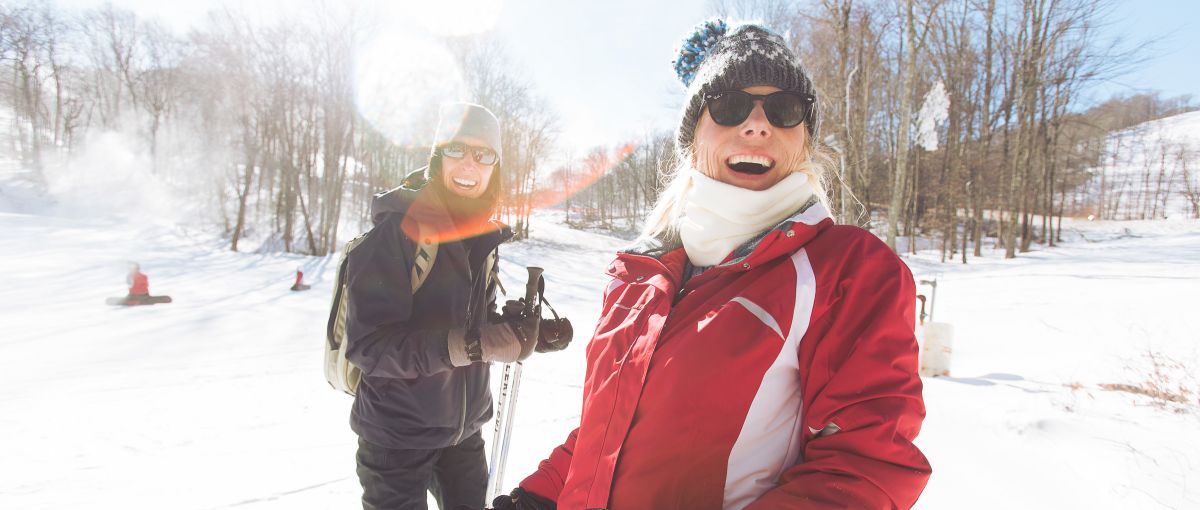 Cross-Country Skiing
While snowy forecasts might keep drivers off roadways, predictions of wintry weather will have cross-country skiers chomping at the bit. When snow and ice render North Carolina's most stunning roadway – the Blue Ridge Parkway – inaccessible (at times) for vehicles, the thoroughfare is transformed into an extensive Nordic track for cross-country skiers. The High Country section of the parkway skirting Grandfather Mountain between Blowing Rock and Linville is beloved by local Nordic enthusiasts.
Near the parkway's southern terminus, the stretch of roadway around Soco Gap can also become skiable, and it's loaded with close-ups of the frosty peaks of the Great Smoky and Plott Balsam mountains. Just off the Blue Ridge Parkway (milepost 292.7), the 20+ miles of carriage-roads lacing the 3,500-acre Moses Cone Memorial Park morph into Nordic wonderland with a blanketing of snow.
Rock Climbing
Some crags are better in winter, including some of our state's premier routes, which are best tackled after autumn's crisp chill arrives. Slopes that are too toasty in spring and summer become climbable. Rising dramatically above a thickly wooded expanse of the Pisgah National Forest, Looking Glass Rock, just a few miles outside Brevard, is one of the largest monoliths in the country, providing unparalleled climbing opportunities. The massive granite dome is best climbed in fall and winter. For bouldering aficionados, Looking Glass also has plenty of problems, primarily collected along the base of the North Side of the monolith, accessible along the North Side Trail.
Southeast of Asheville in Chimney Rock State Park, the southern cliffs of Rumbling Bald make for another ideal winter climb, and the Rumbling Bald Trail also meanders past three boulder fields loaded with nearly a thousand problems.
Winter Hiking
Head for our most popular trails when temperatures plunge, and less hearty hikers have gone home to roost for the winter. Waterfalls are among our state's most popular hiking destinations, and in winter, most cascades are equally stunning, transformed into gravity-defying ice sculptures. Outside Brevard, head for Moore Cove Falls, in the Pisgah National Forest, accessible after a brief 0.7-mile hike. Or strike for the state's most popular flume, Linville Falls. You can hike there via the trails that begin along the Blue Ridge Parkway (milepost 316). Even when the parkway is closed for winter weather, the falls are still accessible courtesy of trailhead located off NC 183 (on Wiseman's View Road, NC 1238), outside the town of Linville Falls.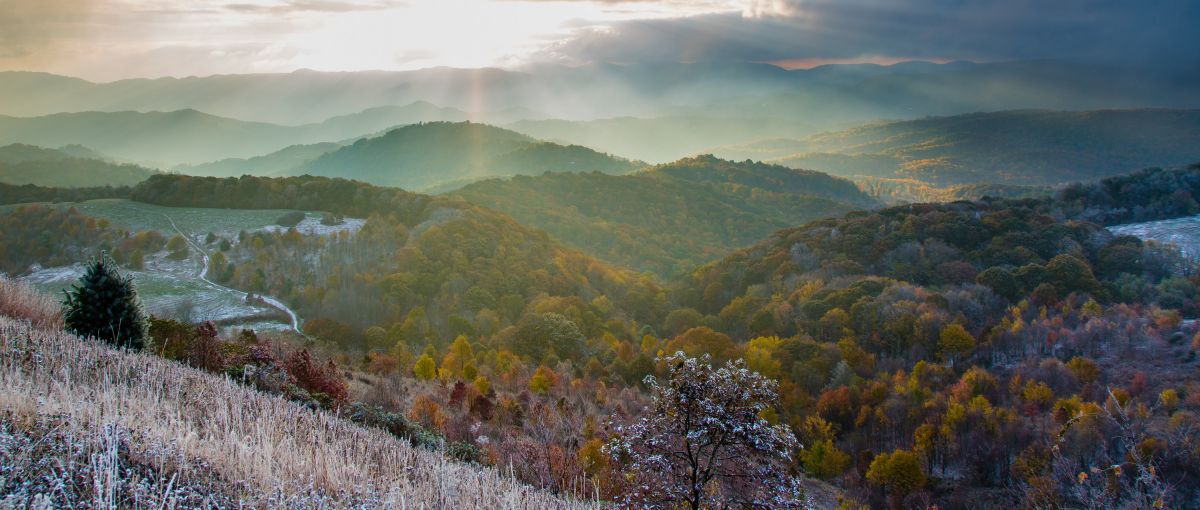 Ice Climbing
During icy winters, the land of waterfalls becomes a frozen wonderland, making North Carolina one of the best ice climbing destinations in the South. For novices, Fox Mountain Guides operates in the Pisgah National Forest and offers expert-led trips. North Carolina is just one of two states where the climbing school offers ice-scaling expeditions.
For experts, when wintry conditions prevail along the Blue Ridge Parkway, the ice-glazed bluffs and crags of Doughton Park (milepost 238), provide an abundance of climbing options, including tackling the rock ledges framing the iconic roadway (climbing is permitted when the parkway is closed to vehicles). In the Nantahala National Forest, just outside Cashiers, the soaring cliff faces of Whiteside Mountain appear glazed with ice year-round. However, when the cliffs truly are iced over, Whiteside is transformed into one of the East's top destinations for unflappable, peak-bagging pros – with options like Starshine, an iconic 200-foot route.
Canopy Tours
North Carolina's stunning landscapes become even more spectacular when viewed from above, and for outdoor-lovers immune to frosty temperatures, canopy tours aren't just limited to spring or summer. Soar above the snow-frosted landscape in the North Carolina High Country with the Snowbird Tour at Hawksnest outside the town of Banner Elk.
Backpacking
Winter camping makes for a singular outdoor adventure. Familiar landscapes can take on a different dimension – and present new challenges. Tackle a bite-sized thru hike in western North Carolina on the 30-mile Art Loeb Trail, rambling through the Shining Rock Wilderness and over some of the loftiest peaks in the Black Balsam mountains. The trail can be broken up into shorter sections for backpackers wanting to cut their teeth with a quick winter overnight.
For ambitious backcountry snow bunnies, the Bartram Trail – named for 18th-century naturalist William Bartram – winds through North Carolina and Georgia for 100 miles, mingling with the Appalachian Trail several times. The western North Carolina stretch rambles through pristine expanses of the Nantahala National Forest, culminating at the summit of 5,062-foot Cheoah Bald.
North Carolina offers the perfect settings for many outdoor adventures. Please exercise caution and heed all safety warnings and regulations when engaging in strenuous activities.
Updated November 17, 2022