Beyond the Guidebook: The Wonder of Grandfather Mountain
With rock formations more than a billion years old, Grandfather Mountain in North Carolina's High Country is an icon that has captivated generations of visitors. Take a trip beyond the guidebook – but not off the trail map – with these smart tips that will make for an unforgettable first visit or an exceptional next visit.
Must-See Merits
Taking its name from its iconic landscape (which, from a distance, looks like the profile of an old man), Grandfather Mountain draws serious hikers and casual day travelers alike with its spectacular views and incredible biodiversity. Topping out at more than 5,280 feet above sea level – the exact spot on the bridge that hits the mile-high mark is even labeled – the mountain's famed Mile High Swinging Bridge is America's highest suspension footbridge and offers breathtaking 360-degree panoramas while drawing spirited reactions from visitors.
Plan Your Visit
Whether you're looking for a rugged outdoor adventure, a peaceful getaway, some much-needed family bonding time or an epic shot for your social feed, there's never just one way to experience Grandfather Mountain. Although your visit can be as long or as short as you choose, we recommend arriving before 11 a.m. or after 3 p.m. on summer weekends, holidays and fall color weekends, and that you budget about three hours to see it all.
Mile High Swinging Bridge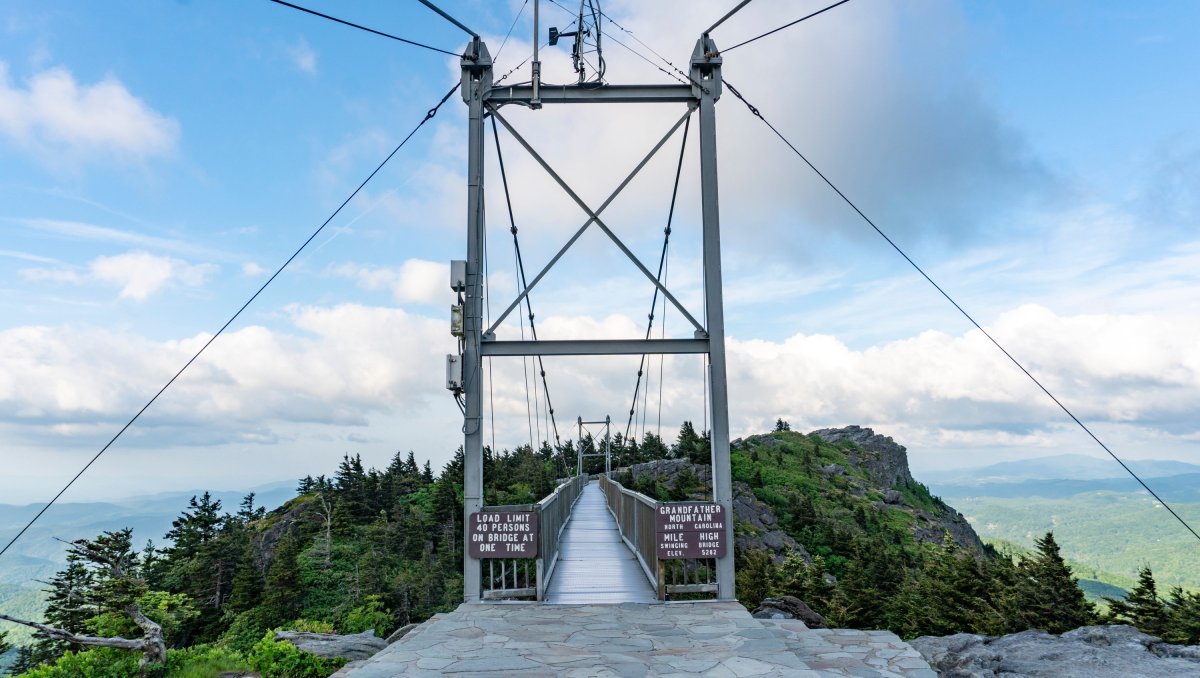 Mile High Swinging Bridge
A must-visit on your trip, the Mile High Swinging Bridge sways and even sings when the wind picks up, which can make the experience intimidating but ultimately thrilling. But don't worry, the walk isn't too wild. The bridge is safe and accessible for people with disabilities – take the elevator in the Top Shop up to the third floor for a level walk out to the bridge – kids, parents with strollers and dogs on a leash. Once you've crossed the bridge, climb up to the summit of Linville Peak and be rewarded with spectacular vistas unlike any you've seen before. Don't forget to pack a jacket; even in the summer, it can be up to 10 degrees cooler up here than at the bottom of the mountain.
Back on the other side of the bridge, the Top Shop also offers restrooms, snacks, drinks and souvenirs.
Walking and Hiking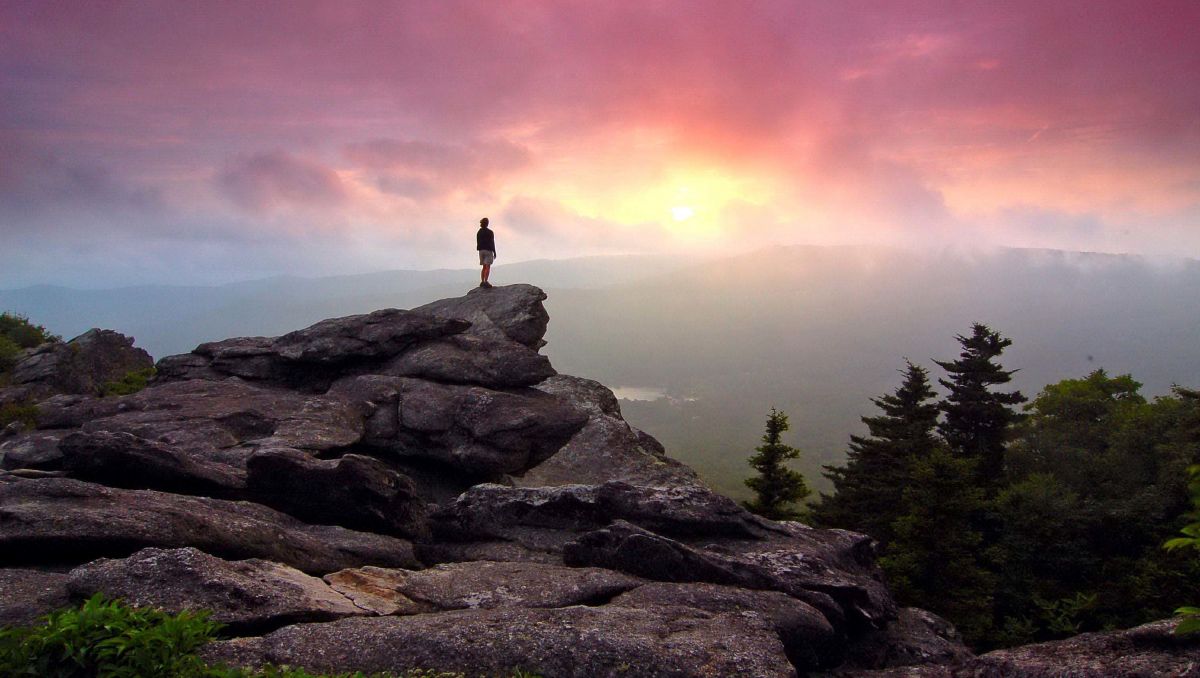 Walking and Hiking
Hiking is included in the price of admission, but you can still explore Grandfather Mountain's 11 trails – which vary from an easy stroll for families to a difficult trek for adventurers – for free if you'd prefer. Start your hike at the Daniel Boone Scout Trail on the Blue Ridge Parkway (use U.S. 221 in winter) or at the Profile Trail at N.C. 105 on the western side of the mountain.
For a challenging and adrenaline-inducing trek for experienced hikers, try the popular Grandfather Trail that starts in the parking lot near the Mile High Swinging Bridge and brings you to MacRae Peak after using cables and ladders to climb boulders and cliffs. Take in the breathtaking 360-degree views once you've reached the summit. You've earned it.
Wildlife Habitats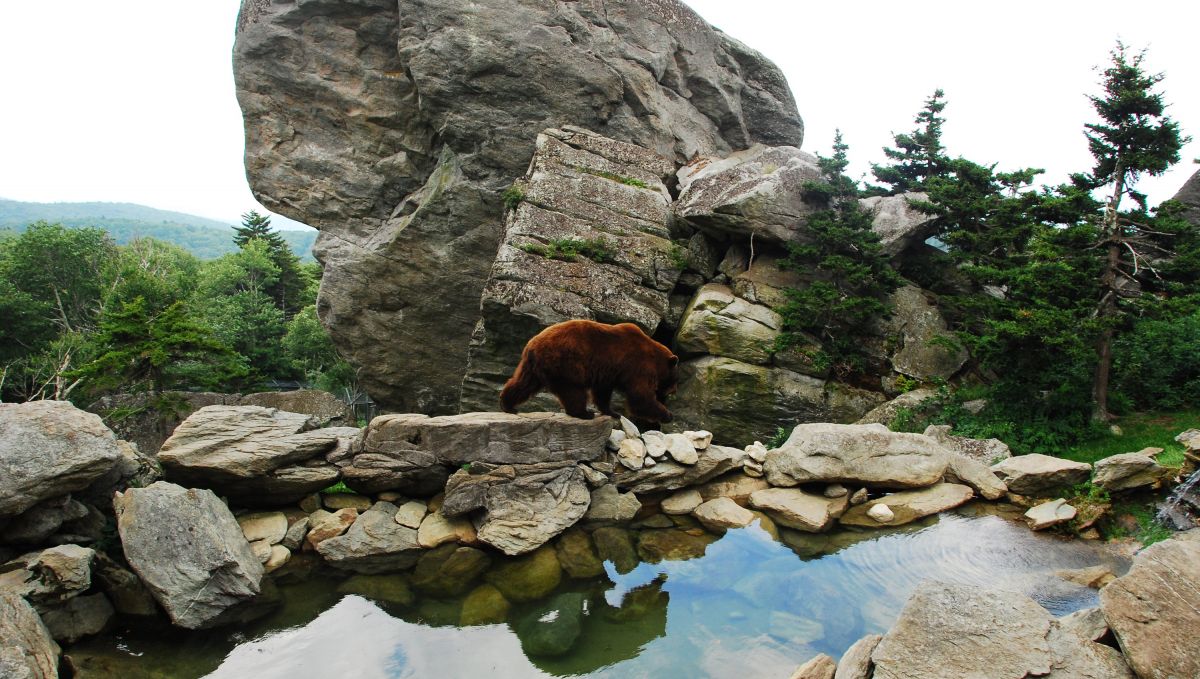 Wildlife Habitats
Even off the trail, there are plenty of animals you might not expect to find at Grandfather Mountain. Check out the wildlife habitats and daily programs and find yourself just steps away from black bears, bald eagles and elk, and nose-to-nose with river otters below water. Want an animal of your own? Stop by the gift shop at the Nature Museum where you can "adopt" an animal in Grandfather Mountain's care, such as Kodiak the Black Bear or Doc the Bull Elk. The different levels start at $25 and include extra goodies like a photograph and description of the animal being adopted, a plush stuffed animal and a certificate of adoption – all the while supporting the Grandfather Mountain wildlife habitats and bringing your child smiles at the same time.
When you leave this area to head up to the Mile High Swinging Bridge, you'll drive around Forrest Gump Curve, a portion of road that Tom Hanks' character Forrest Gump actually ran in the Academy Award-winning film.
Nature Museum
Nature Museum
At the Nature Museum, you can immerse yourself in the history of Grandfather Mountain and the surrounding region to feel even more connected to this unique area you've been exploring. From a large collection of North Carolina gems and minerals on display – including the largest amethyst ever discovered in North America – to Native American artifacts found on Grandfather Mountain, there's plenty to explore. The museum is located near a covered picnic area and Mildred's Grill, named after the mountain's most famous bear who was brought to Grandfather Mountain to breed in the wild and became a celebrity instead with her human-like demeanor. It's the perfect spot to grab some knowledge along with a bite to eat.
Picnics and Snacks
Picnics and Snacks
All that fresh mountain air will work up an appetite. With more than 100 designated picnic spots around the park, there are plenty of places to make a normal meal suddenly unforgettable thanks to panoramic views. But if you'd rather not pack a lunch, Mildred's Grill has a wide selection of food and an indoor dining area along with specially made picnic meals you can take to go. For dessert, grab a slice of pie at Mildred's – try the strawberry rhubarb – or stop by the Grandfather Mountain Fudge Shop for a decadent treat. Sample seasonal flavors such as pumpkin pie or peppermint candy.
Go Beyond the Guidebook
Keep an eye on Grandfather Mountain's special events, too, including Grandfather by Night, a guided tour that brings you to the most significant sites in the park after hours. Or don your kilt and celebrate the largest gathering of Scottish clans in the world at the annual Highland Games in mid-July.
Outside the park, nearby Beech Mountain and Sugar Mountain draw an active crowd for downhill skiing in the winter, but there's plenty to do at both spots even during summer when you're looking for a more easy-going getaway. Explore activities from hiking and mountain biking to serene mountaintop yoga and, yes, even a warm-weather ride up to the top on the ski lift. And when you get thirsty, make sure to sample a picture-worthy wine flight from nearby Grandfather Vineyard as you relax by the river, or enjoy the beautiful 25-minute drive from Grandfather Mountain to Linville Falls Winery – part of the High Country Appalachian American Viticultural Area – in Newland.
Updated June 18, 2019