Enjoy Uptown Shelby in Three Acts: Music, Art and Food
Uptown Shelby has always had a distinctive rhythm, whether as a textile-industry powerhouse or busy shopping destination between Charlotte and Asheville. It still hums along, a place where rich musical roots, a thriving arts scene, and unique restaurants and craft brews move your feet.
As one of North Carolina's first Main Street Communities, Uptown includes the nationally registered Central Historic District. Experience it all on a walking tour, starting with the stately former Cleveland County Courthouse, now the Count On Me NC-certified Earl Scruggs Center.
Born in Shelby in 1924, Scruggs' three-finger picking revolutionized banjo and bluegrass music. The center explores and preserves his life, worldwide influence and the story of where he grew up. You'll find the Common Threads interactive table that lets you explore musical styles and milestones; special, limited-run exhibits; an oral history recording booth; the Great Hall, which hosts performances, meetings and events; and more. Helpful volunteers are on hand to answer any questions while safely accommodating your visit by disinfecting exhibits and requiring everyone to wear masks.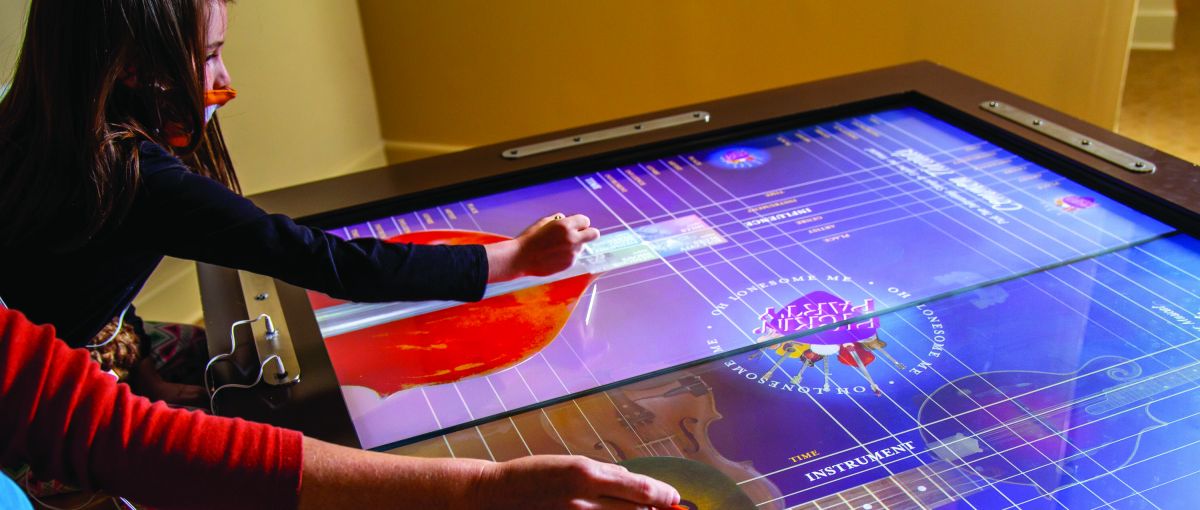 Scruggs' influence is still heard today, as is Don Gibson's – Shelby's other native son and Country Music Hall of Famer. A self-proclaimed songwriter who sings, Gibson penned "Sweet Dreams," which is forever connected to Patsy Cline, and "I Can't Stop Loving You," which Ray Charles made famous.
The Don Gibson Theatre is just a few blocks away from the Earl Scruggs Center and welcomes many music genres, films and comedians. Thanks to top-notch light and sound systems, every seat offers a front-row experience for mainstream artists and up-and-comers alike.
Scruggs and Gibson are also honored along Uptown Shelby's tree-lined streets. You can't miss the larger-than-life records, each painted by a local artist, of the Don Gibson LP Project. Measuring 3 feet wide, they represent significant Don Gibson songs interpreted by visual artists. And be sure to stop and admire the building-size murals of the two musicians painted by Scott Nurkin, part of his statewide North Carolina Musician Murals Project.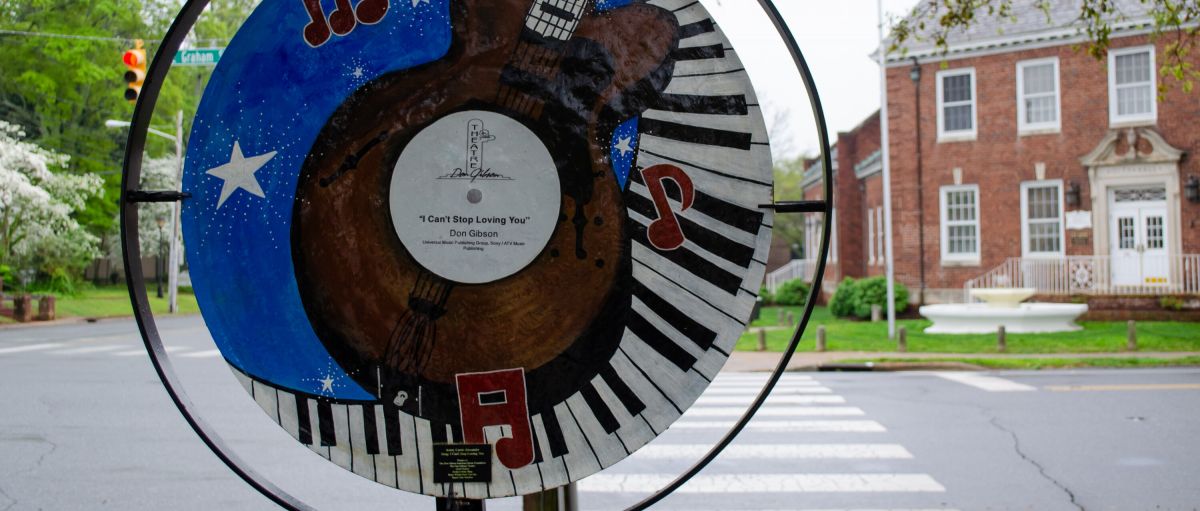 While Uptown Shelby's musical connections make it a Blue Ridge Music Trails of North Carolina hub, its palette is diverse. Six artists work at A. Griffin Pottery (certified), opening its doors whenever they're creating. Step inside to learn how they turn drab clay into beautiful treasures you can buy as souvenirs.
Browse and purchase jewelry, handmade cards and more at Buffalo Creek Gallery (certified), a co-op staffed by more than 50 local artists whose work is sold in the gallery. It's across from the court square, where events are held year-round, including Mush, Music and Mutts in October. The celebration highlights liver mush, the locally made and beloved food that tastes best with grape jelly or mustard, depending on the person you ask. Give it a try yourself at Shelby Café, which has been serving Southern favorites for lunch and dinner for about 100 years. Its big breakfasts, served all day with a smile, are favorites among locals.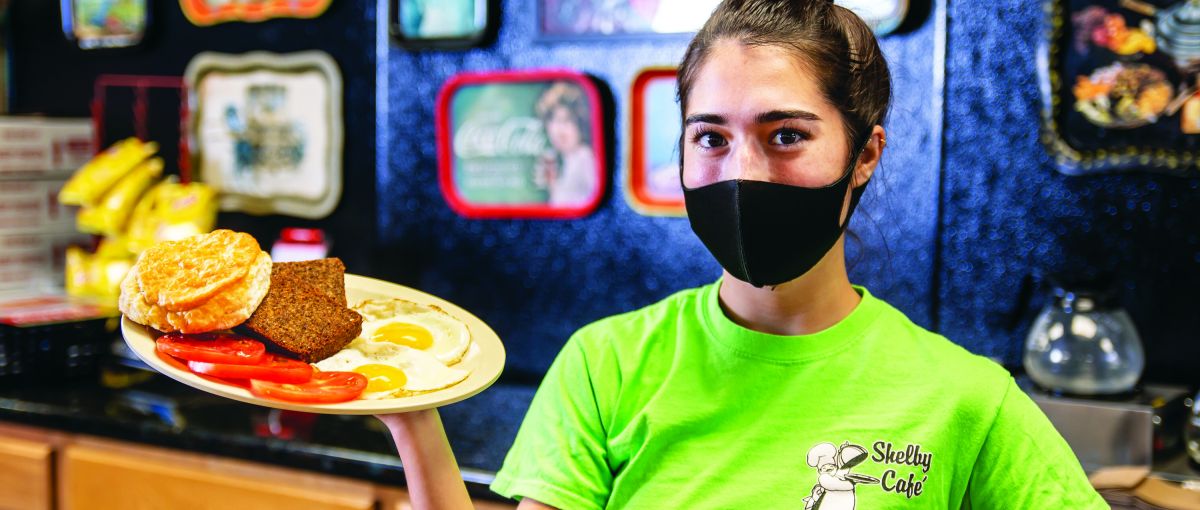 Enjoy more local ambiance at Newgrass Brewing Company (certified), where Nurkin's Scruggs mural overlooks the open-air patio. Fresh North Carolina-sourced ingredients are used in the brewery's food and rotating beer selection, which includes the raspberry-flavored Forced Laughter and the American light lager Shelby Y'allstars, a nod to the city's annual American Legion World Series-hosting duties. Match one with a sandwich, such as the Yardbird – chicken, Swiss cheese, mushrooms and house-made honey-Dijon mustard.
Kick back at LilyBean Coffee & Creamery, whose signature iced coffee or espresso pairs great with a fresh pastry. The coffee beans are ground locally, as are those at Hannah's Coffee House, where you can enjoy your drink on the patio.
You'll have to save Bistro 214 for dinner, where the warm and inviting atmosphere makes it one of the best spots for casual fine dining in Shelby. Start with Cha Cha Shrimp, served with a citrus sriracha sauce, or the popular pot stickers. Main courses of seafood, beef or the chef's special come next, and most diners save room for Bananas 214 – assorted fruit and vanilla bean ice cream served in a crepe with bourbon-butter sauce.
Check out the strong selection of draft and bottled craft beer at J-Birds Deli, where locals love the family-friendly atmosphere and scratch-made food. Black bean hummus, served with tortilla chips and pico de gallo, makes a great snack. But the stacked sandwiches, including The Pioneer – roast beef, white cheddar cheese, red onion and rosemary horseradish on French loaf – satisfy bigger appetites.
From reliable national chains to cozy bed and breakfasts, Shelby's lodging options can extend your Uptown visit to an entire weekend. That creates time to visit nearby notable attractions, including what USA Today calls North Carolina's best barbecue. Red Bridges Barbecue Lodge, which has been family run since the 1940s, upholds the low-and-slow tradition of cooking pork over hickory wood. But don't dawdle; once its daily batch is sold, it closes, sometimes well before the time posted on the door. Whether you eat in the dining room or order from its curbside car hops, you'll get generous portions, crispy hush puppies and tangy slaw.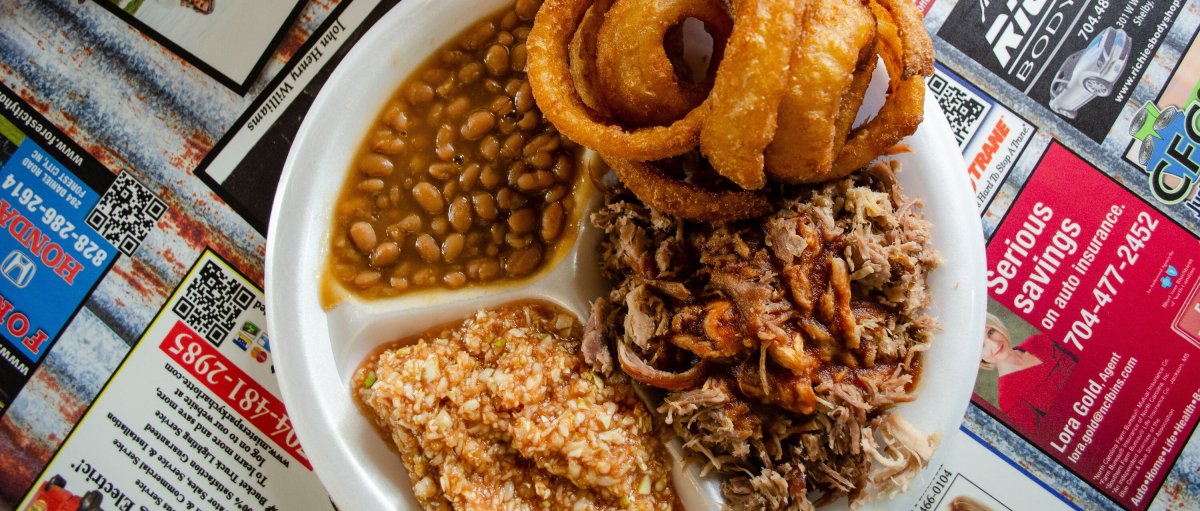 A short drive north of Uptown Shelby is Baker Buffalo Creek Vineyard and Winery (certified), where the rolling landscape is perfect for relaxing afternoons or picnics, even with your dog. Sample a crisp chardonnay, oak-barrel-aged cabernet sauvignon and seasonal favorites such as summery Milk House White and holiday-hit Merry Berry, which features cranberries.
This article was produced in partnership with Visit Cleveland County.
Updated September 13, 2021