Ultimate Trip for College and Pro Sports Fans
Sports fans know North Carolina is a place where legends are made. Whether it's the storied rivalry between the North Carolina Tar Heels and Duke Blue Devils, the #KeepPounding mantra of the Carolina Panthers, or the thrill and speed of NASCAR, fans will find plenty of opportunities to celebrate their victories and sports heroes.
No matter which sports are in season, there are several museums, halls of fame and other notable attractions, particularly in the central region of North Carolina, that honor our state's rich sports heritage and create excitement year-round.
Day 1: Tobacco Road Rivalry
Start your trip in Raleigh at the North Carolina Sports Hall of Fame. Housed in the North Carolina Museum of History, the Sports Hall of Fame celebrates some of the most storied athletes in our state's history with jerseys, gloves and bats, helmets, and other game-worn or race-worn gear on display. Photos and write-ups of each inductee give you an overview of their career and insight into what they've contributed to our state's sports history.
After your visit here, it's time to take sides in one of college basketball's biggest rivalries by deciding whether you'll visit the Carolina Basketball Museum at UNC Chapel Hill or the Duke Basketball Museum at Duke University in Durham.
If you're headed to Chapel Hill, stop by Time-Out Restaurant – a place where Tar Heel greats from Michael Jordan to today's players stop in for a chicken 'n cheddar biscuit sandwich – before you set foot on campus. Once on the beautiful grounds of UNC, make your way to the Ernie Williamson Athletics Center to spend a little time reliving the greatest moments in UNC men's basketball history.
Tar Heel fans seeking refreshment after their visit should stop by The Crunkleton for high-end cocktails or Top of the Hill Restaurant and Brewery for in-house brews and more. Cap off your UNC experience by staying at The Carolina Inn, an elegant spot right in Chapel Hill.
Blue Devil fans will want to skip Chapel Hill and make a beeline for nearby Durham and have lunch at a spot like Dame's Chicken & Waffles or Bull City Burger and Brewery. Once you're fed, you'll find the Duke Basketball Museum and Duke Athletics Hall of Fame in the Schwartz-Butters Athletic Center. Between the trophy case, jerseys, and tributes to players and teams from the past, there's plenty for Dukies to see here.
After your stop, check into the Washington Duke Inn & Golf Club, which is adjacent to campus, or Unscripted. Go for sushi at M Sushi, or tavern fare and craft beer at Fullsteam.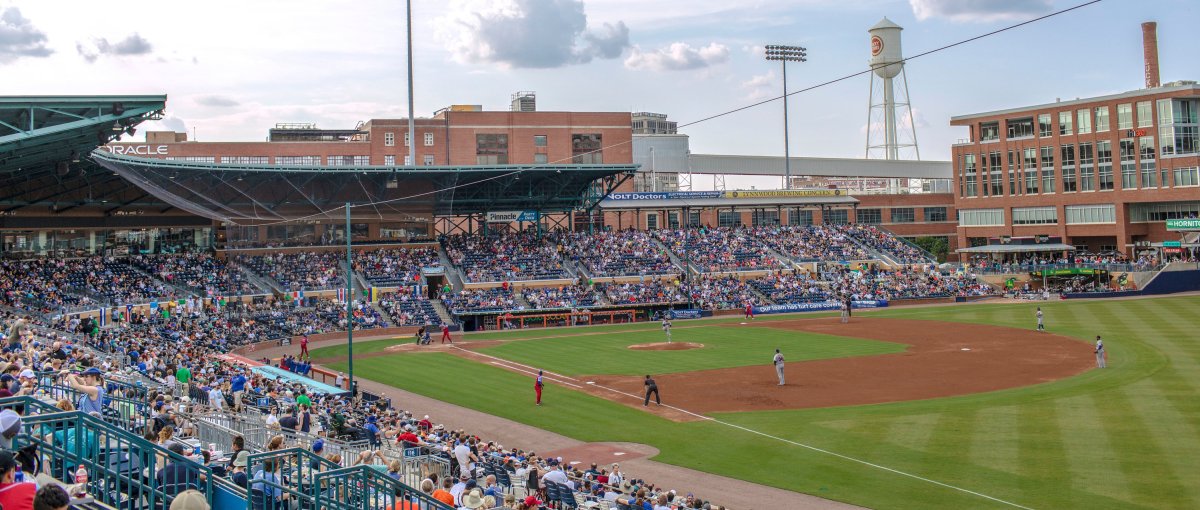 Depending when you visit, you can catch a Durham Bulls game in spring and summer. Or if you're lucky enough to grab a ticket to either a UNC or Duke game (from November to March) – or better yet, a UNC versus Duke game – throw on your team colors and show your pride in the stands.
If you're coming in winter or spring and you can't score college basketball tickets, the NHL's Carolina Hurricanes play in Raleigh's PNC Arena.
Day 2: In the Presence of Champions
Typically only the most hardcore of basketball fans know this, but the ACC – the Atlantic Coast Conference – was founded in Greensboro in 1953, so naturally Greensboro is your next stop. Plan an outing to the ACC Hall of Champions. This beautiful facility tells the story of the founding of the ACC and highlights both the academic and athletic accomplishments of member schools. Many of the schools have dedicated exhibits, there are a number of full-sized mascots, and there's an interactive broadcasting booth where you can find out firsthand just how hard it is to call a play.
Hops Burger Bar is a great choice for lunch. Here you can get an array of fantastic burgers, but the Wall of Fries – which has sweet potato, parmesan jalapeño, sweet thai chili and Buffalo fries, to name a few – is the real treat.
Spend the afternoon with the Greensboro Grasshoppers, the High-A affiliate of the Pittsburgh Pirates, provided they're in town. You'll get a kick out of watching Willie Mae Mays, the team's resident bat dog, retrieve bats and participate in skits.
Check into your room at Proximity Hotel, one of the greenest hotels in the nation, and enjoy dinner at its restaurant, Print Works Bistro. If you're more in the mood for beer and burgers, try downtown's Natty Greene's Brewpub.
Day 3: Where Racing Lives
Get on the road early to head to the Charlotte area, and stop by the 1950s-themed Punchy's Diner in Concord for breakfast. After you've eaten your fill, make your way to to Uptown Charlotte to the NASCAR Hall of Fame.
The NASCAR Hall of Fame is a sight every motorsports fan should see. The showpiece is the Glory Road exhibit, which is in its fifth rendition and showcases 19 race-used cars while celebrating NASCAR's 75th anniversary. Equally impressive are the activities available here. You can practice your skills as a driver in a racing simulator, tour a mock garage and even compete against other visitors in a pit stop game. When you're done touring the hall, grab a bite to eat – try one of the lauded barbecue sandwiches – at the on-site Pit Stop Café before venturing out for the afternoon.
This afternoon, focus on paying a visit to one of your favorite race teams. With 90% of all NASCAR racing teams having headquarters in the Charlotte area, it's an easy task. Cabarrus County, Charlotte's northern neighbor, maintains a list of racing team shops you can visit, and a list of racing attractions and activities from the Charlotte Regional Visitors Authority has a breakdown of race team shops and other motorsports attractions to see.
When your tank is full of NASCAR memories, grab a bite to eat at Red Rocks Café, Bar & Bakery in Huntersville.
Day 4: Riding the Pine
On the last day of your trip, consider taking in another sport. Since the return of the Charlotte Hornets NBA team in 2014 (after a decade as the Charlotte Bobcats), the fan base has been vocal in the support of its team, owned by NBA legend Michael Jordan, who often sits courtside. Go catch a game (October through April) at Spectrum Center, also Uptown.
The Carolina Panthers play just a few blocks away at Bank of America Stadium (August to December), and any of their home games are a guaranteed good time. Plus, the Uptown stadium plays host to two major college football games each December: the ACC Football Championship and the Duke's Mayo Bowl. Heading to Charlotte in spring or summer? Charlotte FC – which set an MLS attendance record with its inaugural home match in 2022 – plays at BoA Stadium from late February through October while the Triple-A Charlotte Knights offer one of the best skyline views in all of baseball April through September. And if watching pros tee off is more your speed, the Wells Fargo Championship is held at Quail Hollow Club each year in May.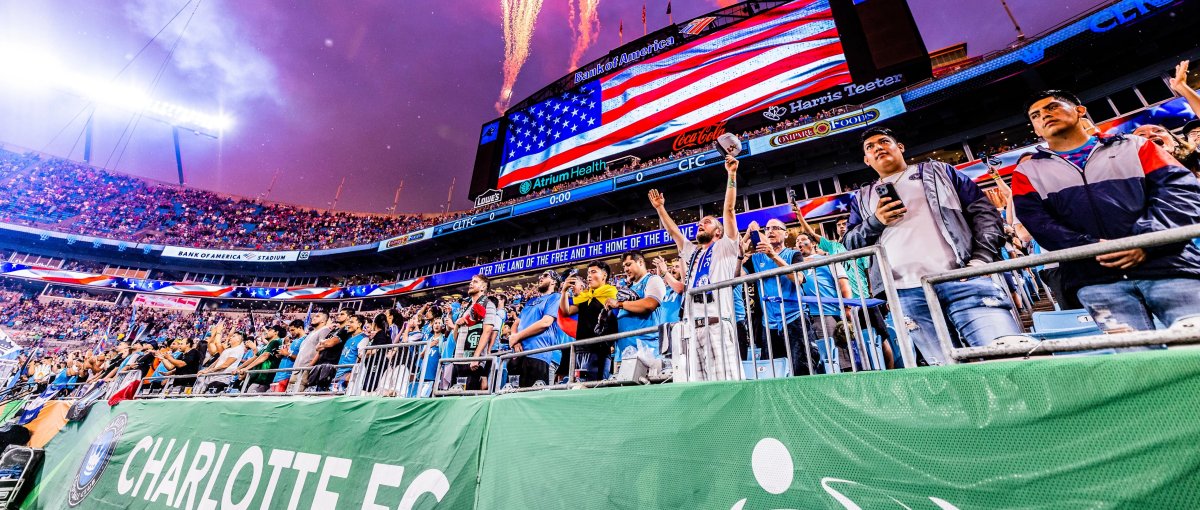 For your final meal in Charlotte, go where many of the pro players do: Cowbell Burger and Whiskey Bar. The monstrous burgers and icy cold drafts at Cowbell have appeared on more than one player's Twitter or Instagram feed, and if you're around near a home game, you stand a good chance of dining in the presence of some prime athletes. Or, on the same street, you'll find Church and Union, where the decor is stunning and you might also encounter a celebrity or two.
Now, if you want to celebrate one more night out in the Queen City – say after your team's victory – there's plenty of great nightlife. Try AvidXchange Music Factory – a renovated former mill on the edge of Uptown that's home to The Comedy Zone, The Fillmore Charlotte, VBGB Beer Hall & Garden, and several other late-night venues. Plus, the South End and NoDa neighborhoods are filled with popular bars and craft breweries.
If you're up for even more and want to explore North Carolina's coast while you're here, the spectator-friendly Carolina Pro-Am SUP Surf takes place every April in Wrightsville Beach, drawing world-class competitors. And Carolina Cup, also in April in Wrightsville Beach, is the largest SUP race on the East Coast and offers additional days of expos, demonstrations and clinics.
Updated March 1, 2023