Fun, Food, Fandom: Minor League Baseball in North Carolina
There's never been a better time to catch a ballgame in North Carolina than this season. With 11 ballparks across our state, you have plenty of places to experience America's pastime. Intimate venues, catchy promotions, lovable mascots, unique food and beverages, and affordable prices mean the minors serve up major fun.
Of the Minor League Baseball "classifications," North Carolina currently hosts Class A, Class A Advanced, Rookie Advanced and Triple-A teams, and only one other state has more ball clubs than we do.
Here's why you should try to catch a game at as many ballparks as possible this season.
1

Asheville Tourists

Class A affiliate of the Colorado Rockies

See on map
The Tourists play in historic McCormick Field, which was built directly into the side of a mountain and features stunning views from the stands and a 42-foot wall in right-center field (the highest in professional baseball). Asheville is a four-time "Beer City USA" winner, and the Tourists accommodate locals and visitors with more than 30 different brews.
2

Burlington Royals

Rookie Advanced affiliate of the Kansas City Royals

See on map
The Burlington Royals take the mascot of their parent club. Another historic tie, to a different area, is that Burlington Athletic Stadium was originally built in Danville, Virginia, when the ballpark was purchased for $5,000 in 1958 and reconstructed at its current location for the 1960 season. Home of many classic Carolina League games, the stadium enjoyed a brief appearance in the film Bull Durham.
3

Carolina Mudcats

Class A Advanced affiliate of the Milwaukee Brewers

See on map
Hailing from Zebulon's Five County Stadium, about 30 miles east of downtown Raleigh, this team has one of the most popular names, logos and mascots (Muddy the Mudcat) in the entire league. Its Cattails Restaurant features a club-style setting and is a great place to catch all or part of a Mudcats game.
4

Charlotte Knights

Triple-A affiliate of the Chicago White Sox

See on map
Situated in bustling Uptown Charlotte, BB&T Ballpark is the Knights' home, opening in 2014 and since then becoming one of the most-visited venues in all of Minor League Baseball. Popular theme nights include Thirsty Thursdays, featuring $3 draft beer, and Friday Night Fireworks, which light up the Uptown skyline.
5

Down East Wood Ducks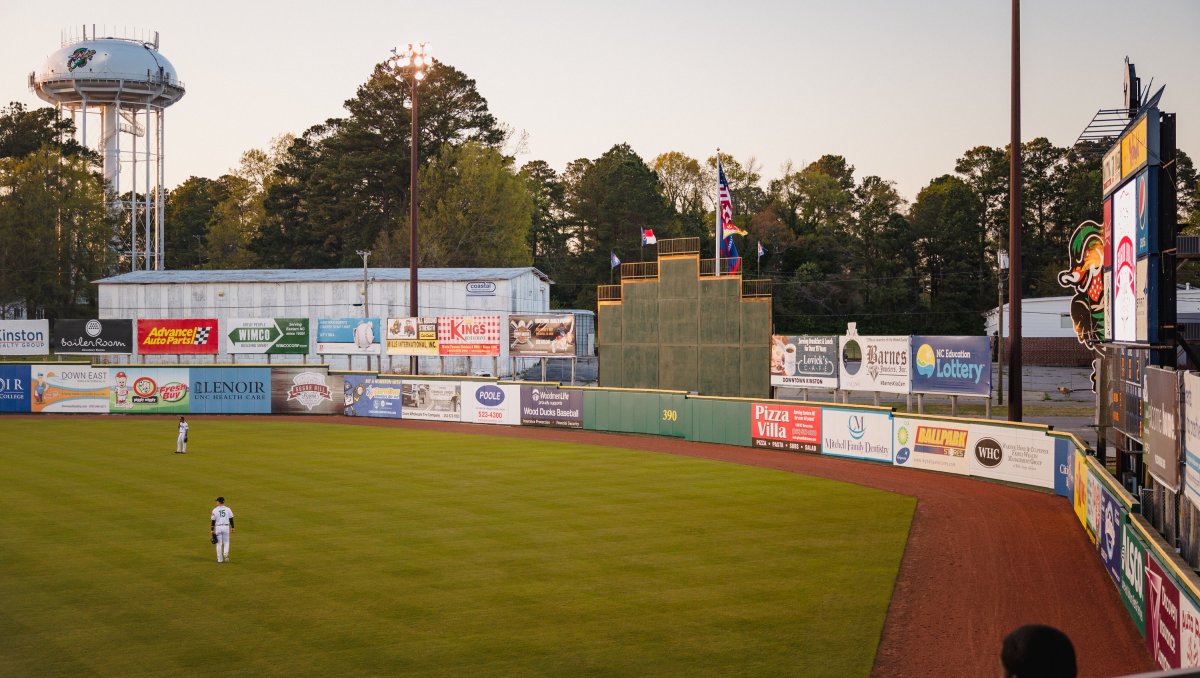 5

Down East Wood Ducks

Class A Advanced affiliate of the Texas Rangers

See on map
After playing their inaugural season in 2017, the Wood Ducks brought Minor League Baseball back to Kinston after a five-year hiatus. Look for innovation and creativity on the field and off. During Friday home games, the team hosts Food Truck Friday, where a local food truck will be on site dishing out tasty food. Kinston's Mother Earth Brewing is the official beer of Food Truck Friday, offering $3 off a game ticket if you bring an empty Mother Earth can with you to the ticket booth.
6

Durham Bulls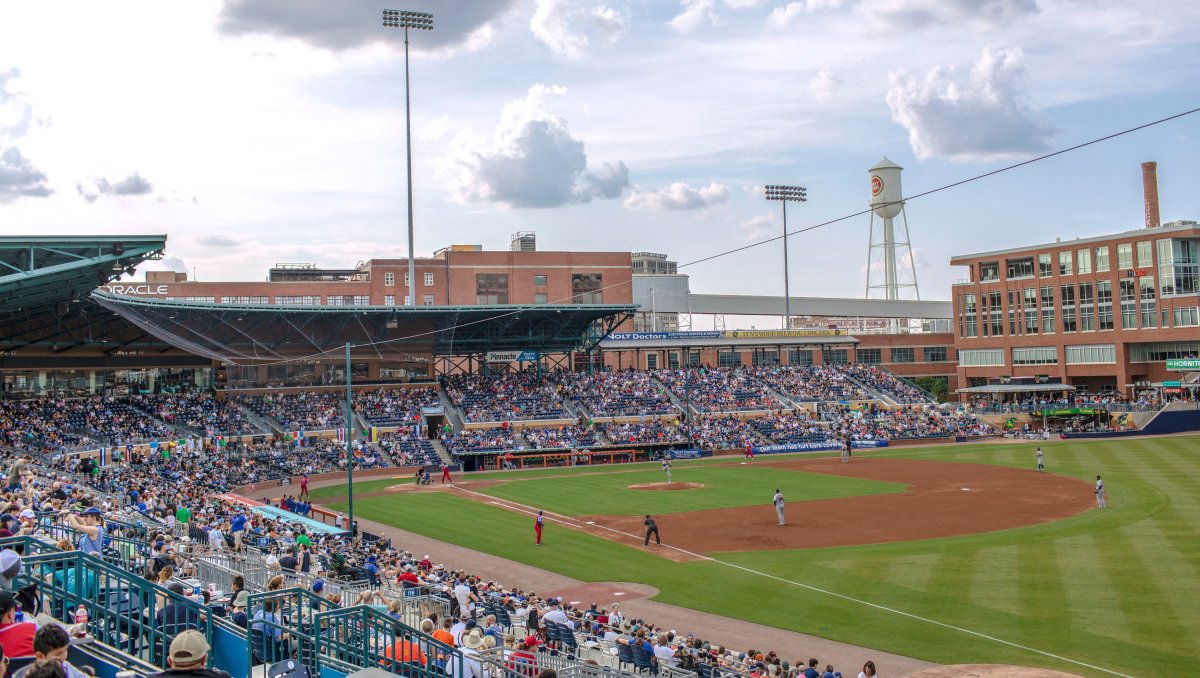 6

Durham Bulls

Triple-A affiliate of the Tampa Bay Rays

See on map
In many ways, the Durham Bulls define all that's good about Minor League Baseball. The team has played in Durham Bulls Athletic Park since 1995. Every night, the team plays a welcome video that features clips from the 1988 hit movie Bull Durham (it was filmed at the team's previous ballpark). The ballpark features an iconic 20-foot bull – beloved by fans and athletes alike – above the left-field wall, where it invites players to "Hit Bull Win Steak." Bull Durham Beer Co., located inside the stadium, is also the first brewery in the country owned by a Minor League Baseball team.
7

Fayetteville Woodpeckers
7

Fayetteville Woodpeckers

Class A Advanced affiliate of the Houston Astros

See on map
After spending their first two seasons as the Buies Creek Astros, the Woodpeckers were introduced in November 2018 after a "Name the Team" contest, and they play in the brand-new Segra Stadium, which opened in April 2019. With Fayetteville also being home to Fort Bragg, the world's largest military installation, the Woodpeckers' name and colors pay homage to those who serve.
8

Greensboro Grasshoppers
8

Greensboro Grasshoppers

Class A affiliate of the Pittsburgh Pirates

See on map
While several Minor League teams have dogs who take plate umpires' spare balls and more, the Greensboro Grasshoppers have historically taken barking at the park to another level. They currently have two black Labradors who are a big part of the stadium experience: Miss Lou Lou Gehrig and her half-sister Little Jackie Robinson retrieve bats, take balls to the ump and participate in in-game skits. The Grasshoppers play in downtown Greensboro's First National Bank Field.
9

Hickory Crawdads

Class A affiliate of the Texas Rangers

See on map
The Hickory Crawdads are one of the most popular brands in baseball, thanks to a great logo and two fun mascots: Conrad the Crawdad and Candy the Crawdad, who were happily married on the field in 2018. Weekly promotions include $1 hot dogs on Tuesdays (bonus: Bring your dog to the game for just $1), Thirsty Thursdays, Fireworks Fridays, and Super Saturdays filled with post-game concerts, celebrity appearances and great giveaways.
10

Kannapolis Cannon Ballers
10

Kannapolis Cannon Ballers

Class A affiliate of the Chicago White Sox

See on map
Renamed the Kannapolis Cannon Ballers (previously the Kannapolis Intimidators) after the 2019 season, the new team name pays homage to Kannapolis' mill history, adventurous spirit and the family that gave rise to the city. Along with a fresh name, logo, jerseys and mascot (his name is Boomer), the Cannon Ballers will also play in a brand-new ballpark: the Sports and Entertainment Venue in downtown Kannapolis, which is expected to open in time for the beginning of the 2020 season.
11

Winston-Salem Dash

Class A Advanced affiliate of the Chicago White Sox

See on map
Sporting a new logo in 2020, the Dash call downtown Winston-Salem's BB&T Ballpark home, with amenities such as the Flow Club that features an all-inclusive ticket including great seats, food, beverages (beer, wine and more) and parking. The ballpark also offers up a unique concession item with the Cheesy Pig Dog: a hot dog topped with macaroni and cheese and barbecue. The mascot Bolt makes his rounds, entertaining fans.
Updated January 28, 2020