5 Off-the-Slopes Activities at North Carolina Ski Resorts
The North Carolina mountains are a sight to behold year-round, but in winter, our mountaintops become snow and ice-covered playgrounds. Six ski areas call western North Carolina home, and all are so much more than just places to ski or snowboard. Planning a ski trip with friends or family means everyone can have a fun time, including those who aren't actually interested in skiing.
You'll also enjoy tubing, ice skating and even winter zip lining when you explore the snowier side of our state, with a fireplace waiting each night in your cozy mountain retreat. Add in adult beverages paired with sweeping mountain views and plenty of amenities, and you'll want to make a trip to North Carolina's ski destinations an annual getaway.
Tube Like You're a Kid Again
Try to tube without giggling – we dare you. The whole family can have a blast together slipping and sliding at five of our ski destinations. Those seeking the longest tube runs should visit Sugar Mountain Resort and Beech Mountain Resort, both located near Boone and boasting 700-foot runs. Three places – Sugar, Wolf Ridge Resort and Cataloochee Ski Area – also offer night tubing until 10 p.m., and all five feature "magic carpets" so you can spend more time tubing and less time climbing back up to the top for another go-round.
Have a Drink on Top of the Mountain
Après-ski (social activities around skiing) has a nice ring to it that sounds even better when it includes local craft beer. Beech Mountain's 5506' Skybar is the state's highest watering hole, resulting in a panoramic view of the Blue Ridge Mountains. And if it doesn't already sound too good to be true, this sky-high bar features brews made right on the resort by Beech Mountain Brewing Company alongside state and regional guest taps.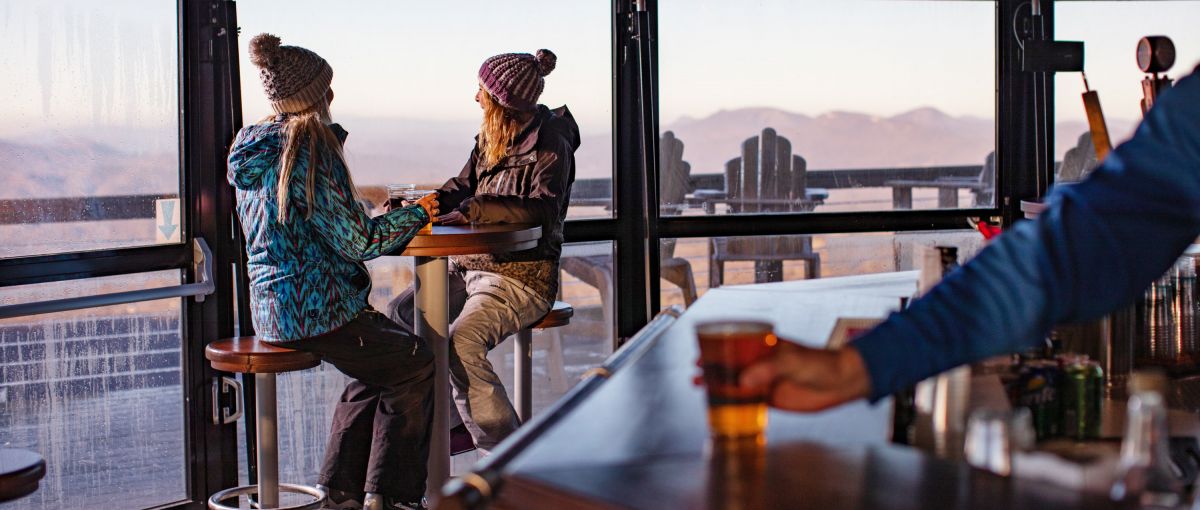 When visiting Sugar Mountain, check out The Last Run Lounge with a lively atmosphere befitting its name, located on the third floor of the base lodge. And for a super casual vibe overlooking the main lift, visit Cataloochee's café and deck, with eight taps featuring North Carolina brews.
Ice Skating for All
Nothing spells winter fun quite like ice skating, and three of our ski resorts offer a chance to lace up your ice skates. Grab your partner by the hand and take a few spins around the outdoor rinks at Appalachian Ski Mountain, Beech Mountain or Sugar Mountain. The first two offer two-hour skate sessions, while Sugar permits 1.5-hour slots. Bonus: Appalachian also features a rinkside bonfire for those who would rather watch than skate or simply warm up between loops.
Zip Through Brisk Winter Air
Sapphire Valley Ski Area presents another way to sail through the air without strapping on ski equipment. At its Frozen Falls Tube Park, guests soar through the trees for three hours, soaking in the wintery views for miles. The zip line tour starts near the chair lift before whisking flyers back and forth across Sapphire Valley and ending near the tube park. In addition to our ski destinations, several of North Carolina's tube parks, such as Zip 'N Slip and Hawksnest, also offer winter zip lining, with Hawksnest featuring one of the longest zip lines in the U.S.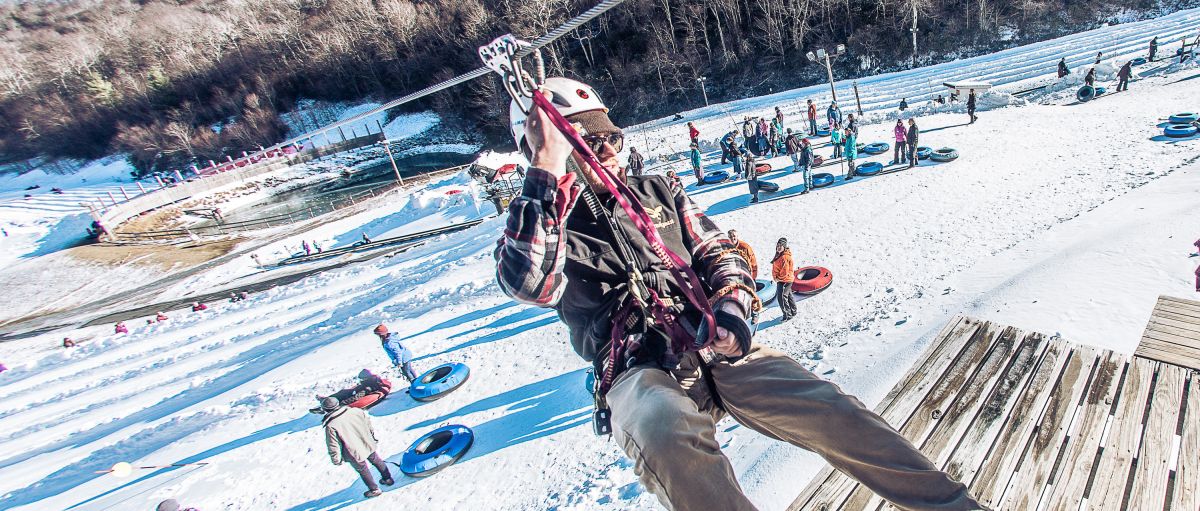 Cozy Up in Your Fire-Lit Lodge
One of the best parts of a winter getaway is curling up in front of the fireplace after a day of playing in the snow. Four of our ski destinations offer on-site lodging, some with ski-in/ski-out options. At Wolf Ridge, guests can stay in luxury townhomes, where each unit can sleep 12-14 people. At Sugar, stay right on the mountain between ski runs at a chalet, or book a room at the condominium resort located at the top of Sugar Mountain with views over the ski slopes. Beech Mountain also has plenty of slope-side cabin or condo choices. Visitors to Appalachian Ski Mountain will be in the lap of luxury when staying at one of its four chalets, all located just a mile or less from the ski lodge.
Updated November 5, 2019