Sanderling Resort: The Ultimate Outer Banks Experience
While it might look narrow on a map, the Outer Banks of North Carolina packs a lot along its nearly 200-mile stretch of coast. There are sights to behold, places to relax and adventures to experience. You'll find them all nearby when you stay in one of the guest rooms, suites or vacation homes at Sanderling Resort in Duck.
Day 1: Immerse Yourself
Start this full day with a hearty breakfast at the Lifesaving Station, one of three dining options at Sanderling Resort. Its Sanderling Blue Crab Benedict is a barrier island-inspired version of eggs Benedict, replacing Canadian bacon with Carolina crab cakes topped with a grain mustard hollandaise.
Afterward, drive N.C. Highway 12 north to Corolla, where the pavement ends and the Outer Banks' most well-known residents live. You can see wild horses while walking or driving your off-road vehicle along the beach. But to also learn their story, which begins with Spanish explorers more than 500 years ago, take a ride with Corolla Outback Adventures. Its well-versed guides lead two-hour tours from open-sided trucks that offer unobstructed views of horses grazing on dune grass, wading in the surf or tending to newborn foals.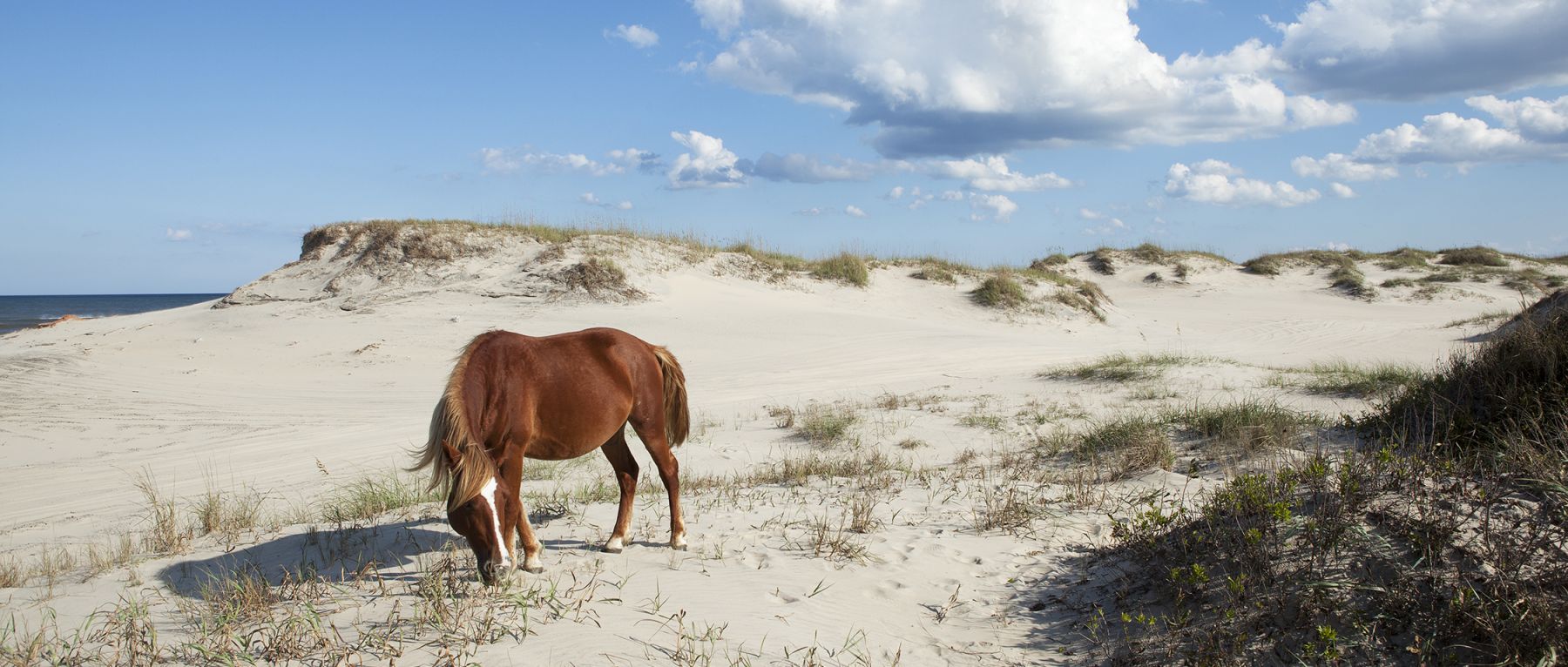 Agave Roja's friendly staff can help you choose lunch from a menu filled with Mexican dishes made with fresh, house-made ingredients. The sautéed fish tacos – topped with spicy crunch slaw, smoked chili aioli and avocado salsa – are some of the best on the Outer Banks.
While horses are the area's best-known residents, lighthouses are its most recognizable symbols. You'll need to backtrack a few miles from the restaurant to find 140-year-old Currituck Beach Lighthouse. Panoramic views of the sound and Atlantic Ocean are up 220 steps. If that's too many, stick to the base and first two landings, where exhibits tell the lighthouse's story, including how it continues to serve as a navigational aid.
With the Atlantic Ocean on one side and the Currituck Sound on the other, the resort's beaches are great for hunting ghost crabs after the sun sets from late June through August. Scoop the quick crustaceans, which measure a couple of inches across, in a small net or pick them up from behind, minding the pinchers. Keep them in a small bucket until you're ready to release them.
Day 2: Duck, Duck, Spa
One of the best ways to explore Duck is by bicycle because lots of level ground makes for easy pedaling. You can rent bikes at the resort in season and nearby year-round. Stop and stroll The Waterfront Shops or meander Scarborough Faire Shopping Village to find the perfect souvenir.
Park your ride at The Roadside when you're hungry for lunch. Choices include sandwiches, salads and the always-popular creamy clam chowder. Its outside tables fill fast on sunny days.
Once you're back at the resort, recuperate from your ride in the oversized hot tubs or at the spa. Use the indoor pool and steam rooms or arrange a massage or treatment, which are infused with the textures and smells of the coast. Yoga is offered May through September. Schedule a private session or join the popular sunrise classes.
You'll find s'mores ingredients in your room, and the resort's fire pit is the perfect place to assemble them. Listening to the embers crackle or live music at the Sandbar are great ways to wind down the day.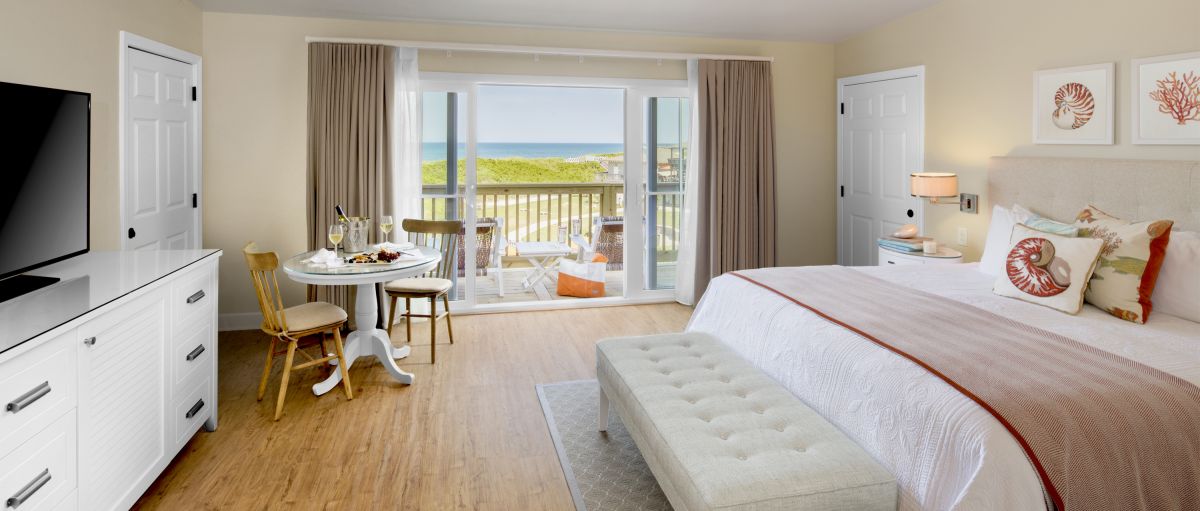 Day 3: Fulfill Your Sense of Adventure
Follow the sweet scent to Duck Donuts, which has been making treats to order since 2007. Enjoy warm donuts with your choice of icings and toppings, from maple and bacon to lemon and coconut. It's always a good idea to order a couple of extra for a snack later. There's a location in Duck, but choosing the Kitty Hawk one will put you closer to the day's first adventure.
The Wright Brothers National Memorial in Kill Devil Hills pays tribute to the two Ohio brothers who pioneered powered flight more than a century ago. Start at the visitors center and admire a replica of Wilbur and Orville's 1903 flying machine, an engine block from the original 1903 flyer, plus artifacts on display that include a 5-foot section of cloth from the wing, which has never before been displayed. Then, walk the Flight Line to get a true sense of each flight's length.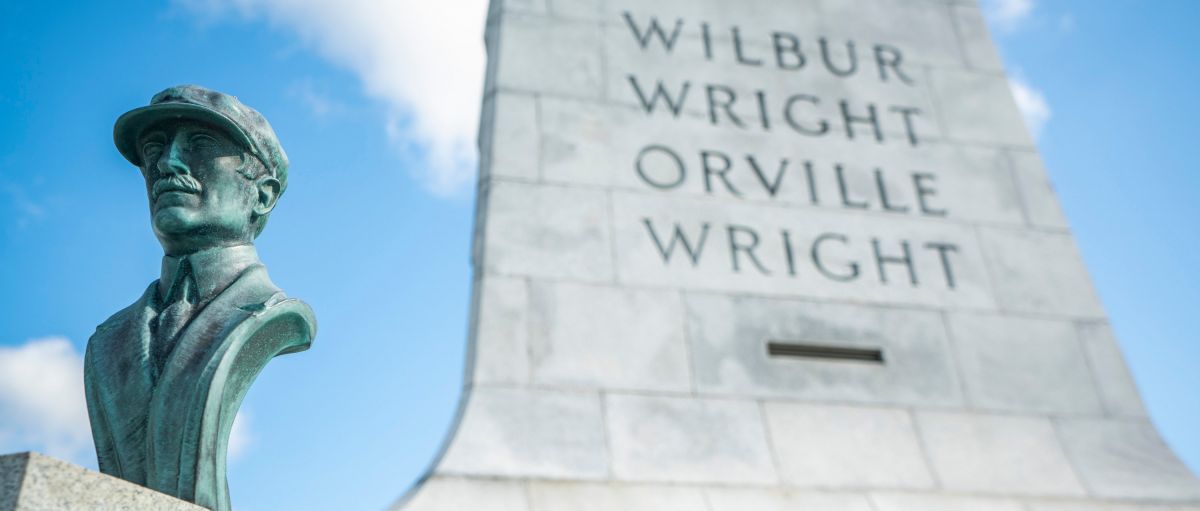 If you want to feel the wind underneath you, head a few more miles south to Jockey's Ridge State Park. It's home to the largest active sand dune on the East Coast and is a popular spot for hang gliding. Instructors from Kitty Hawk Kites, which offers adventure sports, rentals and lessons, will be happy to take you. If you'd rather stay grounded, the ocean winds make kite flying a breeze. The park also has eight picnic shelters, where you can enjoy a lunch packed by the Lifesaving Station.
If your stomach is full but you're craving more adventure, Kitty Hawk Kites offers surfing, boogie boarding and stand-up paddleboarding lessons, and rentals at Sanderling Resort from May through Columbus Day. Spectating is encouraged too. You'll find plenty of chairs and umbrellas on the beaches, which are also perfect for hunting shells, from the rare Scotch Bonnet – North Carolina's official seashell – to the plentiful coquina clam.
If the ocean is too cold for you, try the resort's pool, which is open from early May through October. Or paddle through 2,600-acre Pine Island Audubon Sanctuary on a guided kayak tour. It's a maze of marsh-lined canals, where almost every species of waterfowl lands during the year. Spectacular sunset views are almost guaranteed outside the floor-to-ceiling windows at the resort's Kimball's Kitchen. Enjoy oysters, certified Angus beef and homemade pastas there from May through October.
This trip idea was produced in partnership with Sanderling Resort.
Updated December 10, 2021