Dine with a View: 14 Incredible Rooftops and Patios
Whether you prefer hazy mountain peaks looming large in the distance, the lively buzz of a cityscape or the tranquility that comes with sitting on the waterfront sipping a festive cocktail, North Carolina has all of these spectacular views in spades.
Living the High Life in the Mountains
1

5506' Skybar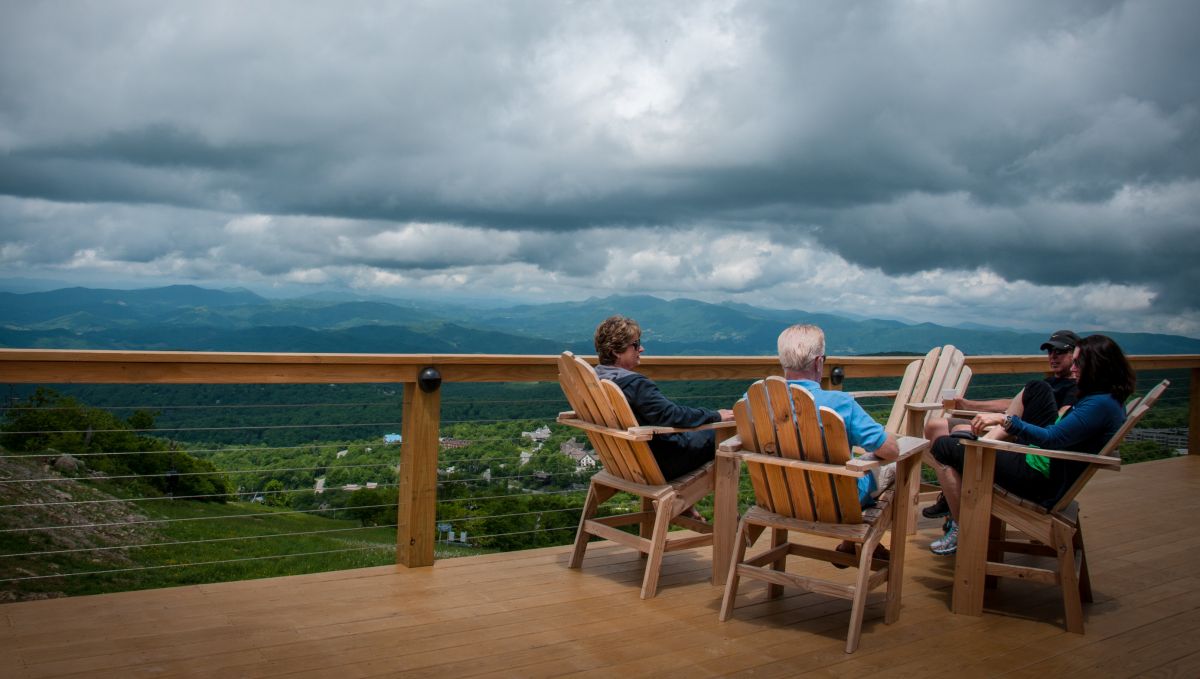 1

5506' Skybar

Beech Mountain

See on map
In the highest town on the East Coast, the circular 5506' Skybar provides a 360-degree view of not one, not two, but three states on clear days. Best enjoyed during the winter months as a ski-in, ski-out bar and taproom, Skybar also becomes a key focal point during fun-loving events like its annual '80s-inspired Retro Weekend. Summer months provide views of the area's lovely golf courses, famous for rarely recording temperatures above 80 degrees.
2

Around Bryson City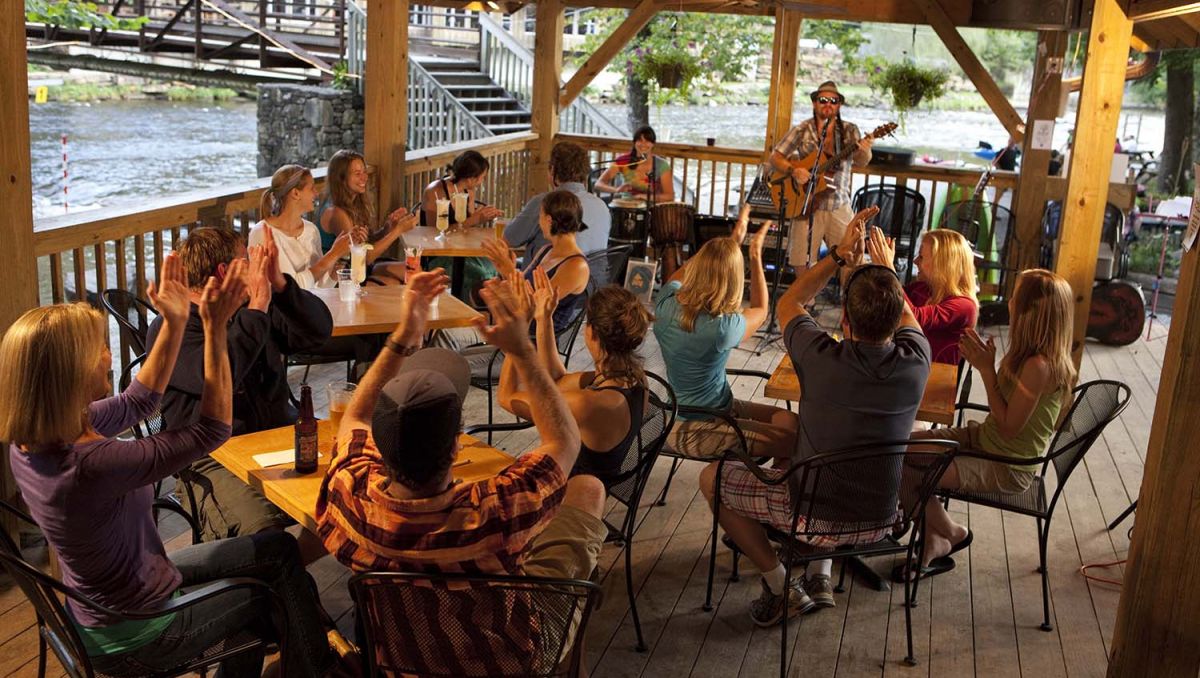 2

Around Bryson City

Western NC

See on map
With beautiful mountain scenery and waterways aplenty, Bryson City and the surrounding areas are the perfect places to relax outside and soak in stunning views. Begin your day sampling local beers at Mountain Layers Brewing Company (patio and mountain-facing rooftop) or Bryson City Outdoors (12 rotating taps, dozens of bottles and cans, plus a front porch overlooking Main Street). They're a short walk away from each other, giving you the opportunity to easily explore the peaceful mountain town. And for your grand finale, grab dinner at Big Wesser (open late April through October) at Nantahala Outdoor Center for river sounds, cold beers, and mouth-watering burgers and barbecue.
3

Capella on 9

Asheville

See on map
Looking for a chic night out? Hit the ultra-modern Capella on 9 at sunset and allow your evening to spill into the night as you sip high-end cocktails in its swanky lounge. And the tapas menu, developed in part with the owner of Posana, another popular local restaurant, pairs wonderfully with both the sweeping views and posh vibe.
4

Sunset Terrace at The Omni Grove Park Inn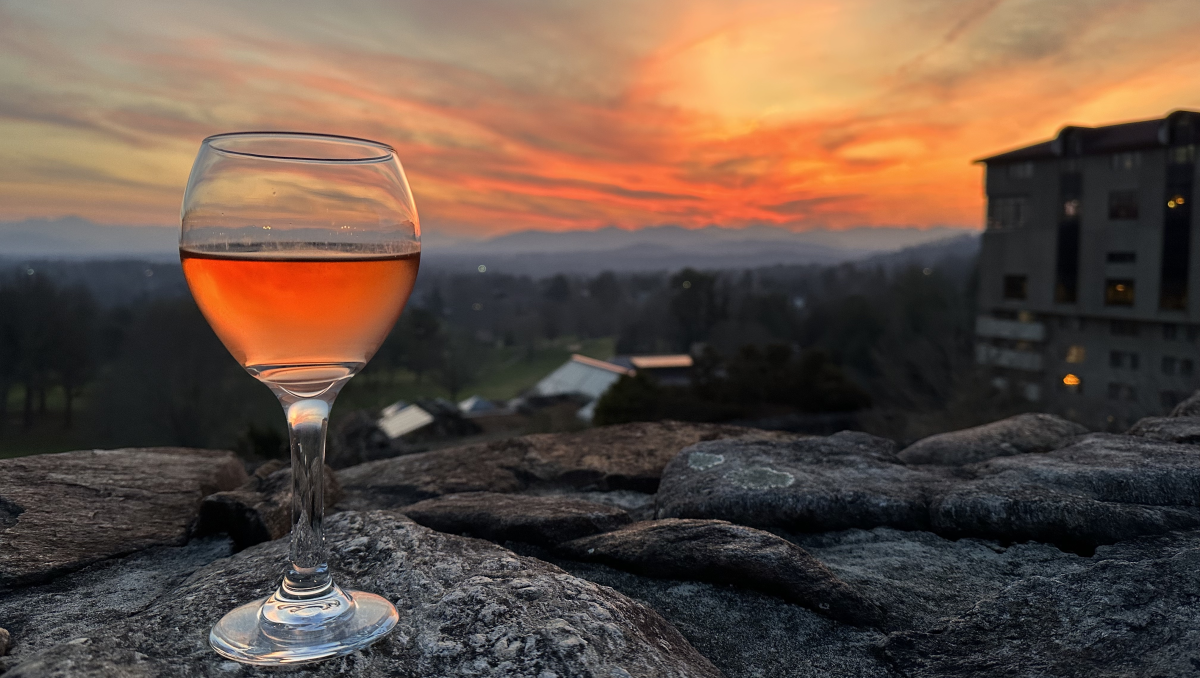 4

Sunset Terrace at The Omni Grove Park Inn

Asheville

See on map
The Omni Grove Park Inn boasts luxurious rooms and multiple restaurants and is consistently recognized as one of the top resort spas in the world. Part of its international acclaim stems from the magnificent, wide-angle view of the Blue Ridge Mountains, best seen from the Sunset Terrace. This tiered, stone, outdoor haven paves the way for a sunset view that rivals Craggy Gardens and other famous sunset spots along the Blue Ridge Parkway. Plus, the Omni Grove doesn't skimp on quality – anywhere – so expect premium cocktails, gourmet food and impeccable service.
BRIGHT CITY LIGHTS DOT THE PIEDMONT
Take in Coastal Sights Above the Atlantic
10

Fish Heads Bar & Grill
10

Fish Heads Bar & Grill

Nags Head

See on map
Nothing screams ideal beachfront dining quite like a pier-located restaurant, and Fish Heads Bar & Grill delivers the goods. This laidback Outer Banks locale serves up lunch and dinner with family-friendly options like all-beef hot dogs, conch fritters, and breaded seafood baskets paired with slaw and fries or potato salad. Watch fishermen cast their lines all day long, or check out the music calendar for a fun night out dangling over the Atlantic Ocean.
11

Reel Cafe

Wilmington

See on map
Fun-loving Reel Cafe features three levels, including a rooftop bar overlooking Cape Fear River and a courtyard oyster bar that features live music in the heart of downtown Wilmington every Friday and Saturday. A happening nightlife spot with a dedicated late-night menu, Reel Cafe also offers brunch and daily drink specials.
12

Saltwater Grill

Swansboro

See on map
This massive beach house-style dinery in Swansboro showcases not one, but two waterways from its outdoor deck: the Intracoastal waterway and the Bogue Sound. If the outdoor tables are all taken, never fear – every single indoor table also provides waterfront views. Native chef Martin Berndt has been slinging classic American tidbits – alligator bites, she-crab soup, and heartier platters like bone-in pork chops and North Carolina-raised beef – for more than two decades.
13

Frying Pan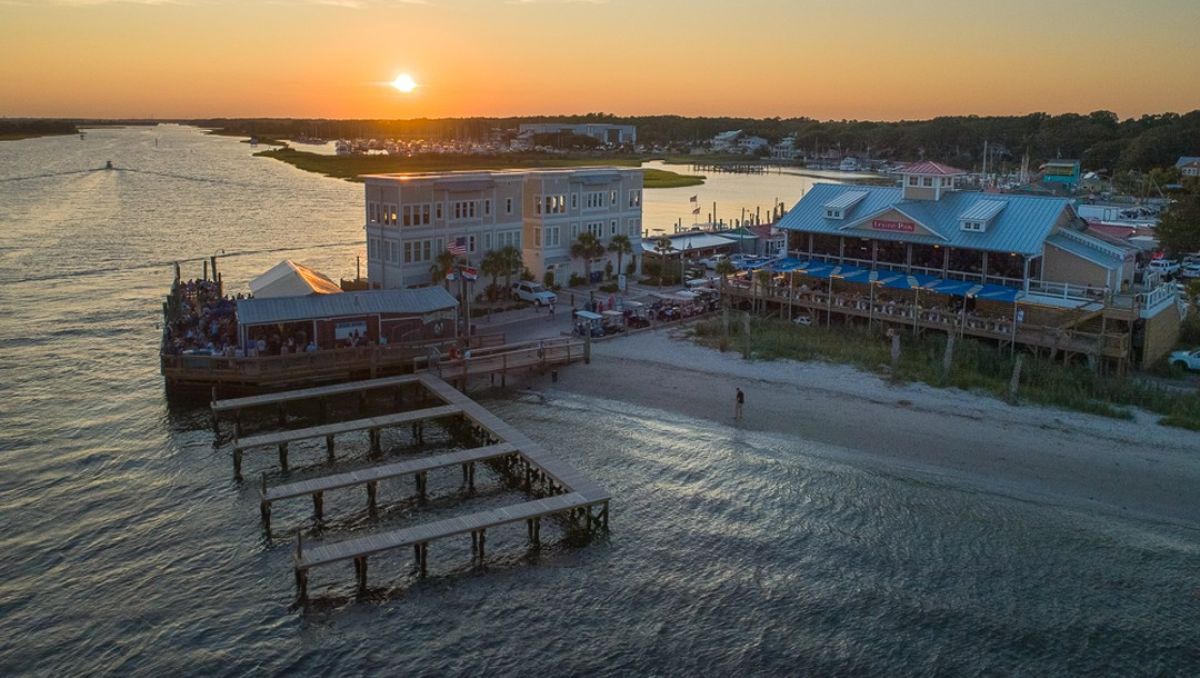 13

Frying Pan

Southport

See on map
For another unique dining option, check out the Calabash-style seafood plated at Frying Pan, named after the famous Frying Pan Tower, a former Coast Guard light station that's considered one of the most dangerous hotels in the world. Be sure to snag a sweet potato biscuit; the restaurant says they might just be the best thing on the menu. Note: They close for the winter from mid-December to March.
14

The Blue Point

Duck

See on map
This high-end spot carries inventive choices such as stealhead trout, cornmeal-crusted catfish and jumbo lump crabcakes. Grab a drink at The backBAR while you wait for your table and relax in one of the Adirondack chairs overlooking the Currituck Sound. If you time it correctly, you can even catch a beautiful sunset that will start your night off right.
Updated March 3, 2023