The Crystal Coast: A Treasure Trove of Unique Adventures
Long treasured by those on roads less traveled, the Crystal Coast shoreline stretches 85 miles and is home to a series of barrier islands punctuated by protected natural areas, historic downtown communities and beach towns brimming with coastal culture. Your one-of-a-kind coastal getaway is a sure thing here.
History comes alive at Cape Lookout National Seashore, where a unique lady at the helm has been navigating seafarers since the mid-1800s. Cape Lookout Lighthouse, aka "the Diamond Lady," stands 163 feet tall, ensuring its light can be seen at least 12 miles out to sea. Though the lighthouse is generally open to the public for climbing, it's currently undergoing vast renovations and is set to reopen in 2025. But don't let this stop you from admiring its beauty, especially at night when it sheds one of Cape Lookout's only lights in this International Dark Sky Park. If you're visiting April through September, stop in at the Keepers' Quarters Museum to learn about the daily lives of those who called this historic building home.
As the Diamond Lady watches over the Shackleford Banks (the southernmost barrier island in Cape Lookout National Seashore), look for one of the continent's oldest documented populations: a herd of more than 100 wild horses. While humans also once lived here, it's unclear whether these beauties were left behind or if they're the descendants of Spanish mustangs from centuries ago. Regardless, the horses are sure to inspire your inner shutterbug while admiring their interactions from afar or even from the water.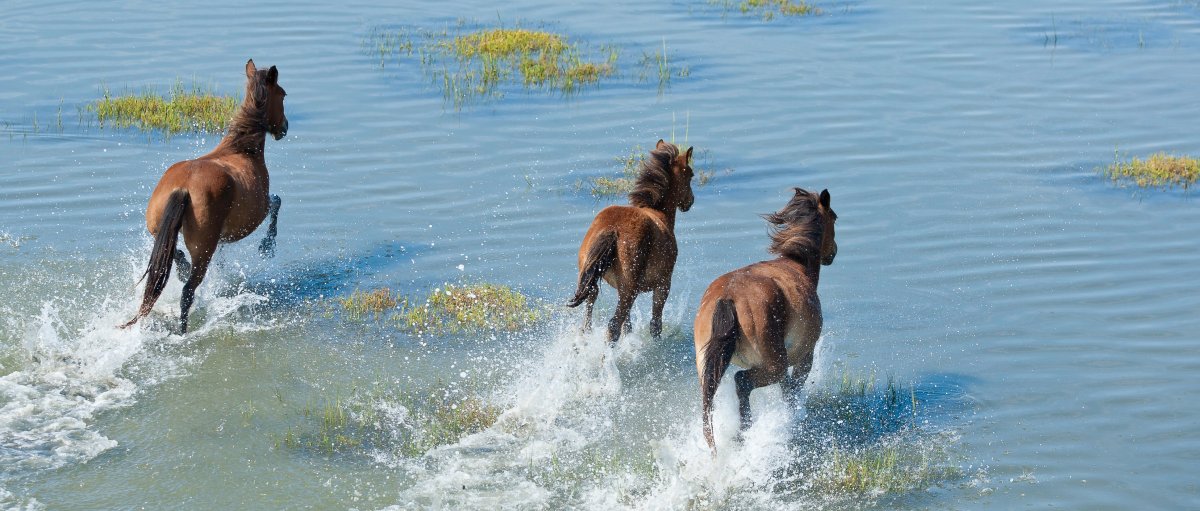 Pro tip: Both Cape Lookout and the Shackleford Banks are only accessibly by boat or passenger ferry. If you're hopping on in Harkers Island, stop into the Cape Lookout Visitors Center beforehand for an interactive map, kids games and more informational materials on the area. Plus, adjacent to the visitors center is the Core Sound Waterfowl Museum and Heritage Center. Waterfowl decoys, hunting memorabilia, community exhibits, rare books and periodicals, a lookout tower and so much more are all on display at this museum celebrating Core Sound life.
Head to Bogue Banks to find North Carolina's most visited state park, Fort Macon State Park. It offers an immersive history lesson alongside protected natural habitats on the eastern end of Atlantic Beach. Start at the perfectly restored 19th-century Civil War fort presenting battle re-enactments during summer months and guided tours daily from 9 a.m. to 5:30 p.m. Then the nearby Elliot Coues Trail invites you to walk or bike the 3.2-mile singletrack trail looping around dunes, maritime forests, and marshes with beachside views and soundside boardwalks. Cool off afterward with a swim on the lifeguarded beach, complete with bathhouse and picnic tables.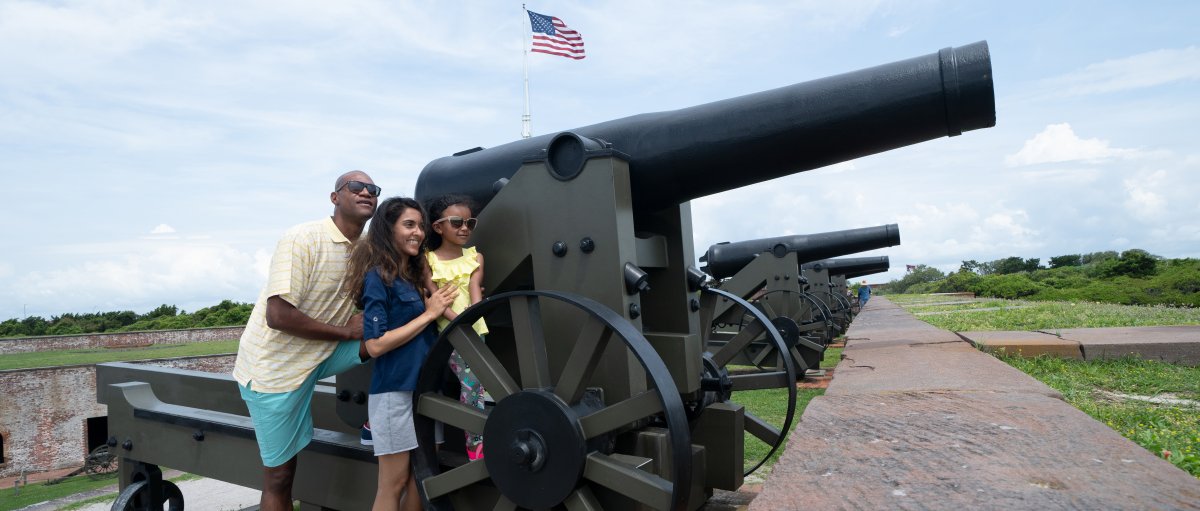 Often appearing on "Best Small Towns" lists, Beaufort's a charming town you'll want to make time for with its acclaimed restaurants, strollable harbor and great shopping. For a historical perspective, visit an ancient jail, former county courthouse and the original cemetery at Beaufort Historic Site. While there, opt for a self-guided walking tour, or hop aboard a double-decker city tour bus to explore this district listed on the National Register of Historic Places.
You can't miss the ship-centric exterior of the North Carolina Maritime Museum in Beaufort, which is one of the NC coast's three seafaring museums. Though it's mostly noted for its trove of artifacts including those from Blackbeard's "Queen Anne's Revenge," the global shell collection and Civil War exhibit, a deep dive into the boating and seafood industry are all housed here too. For hands-on learners, the boat-building workshops are great opportunities to learn about woodworking and craftsmanship.
If you need to "let your hair down," follow a circular stretch of road in the heart of Atlantic Beach known as the Circle. As one of the Crystal Coast's most popular beaches, there's fun to be found both on and off the sand. Park at the public beach where family-friendly activities abound by day. Lined by local eateries, shops and amusement rides, the Circle also sports three seasonal lifeguard stands, volleyball courts, playground and nearby pier. And as the sun sets, nightlife hops with hot spots galore.
The largest of North Carolina's three aquariums, North Carolina Aquarium at Pine Knoll Shores, sits just west of Atlantic Beach and features more than 50 exhibits showcasing 4,000+ animals. "Pet" a stingray at the touch tank, or feel the spray of a mountain waterfall in an expansive exhibit that takes you from North Carolina's mountaintops to the crystal-clear waters of the Atlantic Ocean. For a closer look at local ecosystems, explore the nearby Theodore Roosevelt State Natural Area's trails. And if you keep heading west, Emerald Isle offers family fun on the Bogue Inlet Pier where you can try to reel in that big king mackerel.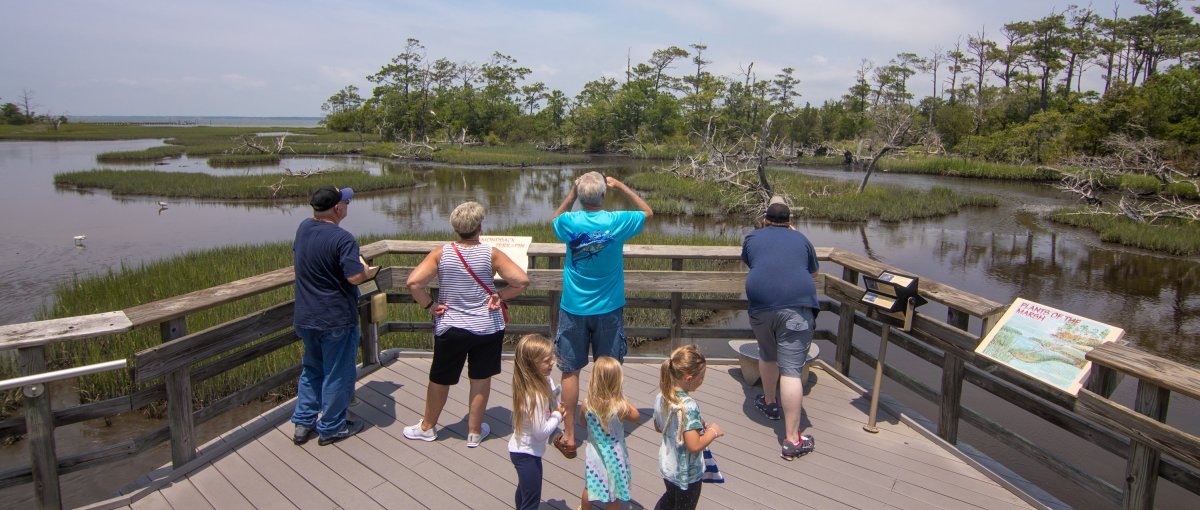 Lastly, stroll the working waterfront community of downtown Morehead City, where Sugarloaf Island is well within view. Once a railroad and shopping hub, this Main Street America-accredited port city welcomes you at its scenic waterfront Jaycees Park. Wander the water's edge dotted with dive shops, charters and public art – including a larger-than-life sculpture of King Neptune (photos encouraged). Once inside the city, admire the coastal cottages and historic buildings among the bounty of restaurants, pubs and galleries.
A vacation well-spent on the Crystal Coast is clearly a breeze with ideas like these. And to adventure even further, follow #MyCrystalCoast and #SOBX.
This article was produced in partnership with Crystal Coast Tourism.
Updated February 1, 2023