48 Hours of Adventure in the North Carolina High Country
North Carolina's High Country – a medley of towering, blue-tinged peaks embellished with vast expanses of the Pisgah National Forest – harbors some of our state's most cherished natural wonders. One of the most stunning legs of the Blue Ridge Parkway twists through the High Country, coiling around dramatically rising peaks and passing massive tracts of wilderness, like Julian Price Park and Linville Gorge Wilderness.
The lofty, mountain-dappled swath of our state is also peppered with an eclectic smattering of road trip-worthy towns. Offering everything from historic resort towns like Blowing Rock to outdoor-loving college towns like Boone, North Carolina's High Country makes for an idyllic weekend escape.
Where to Fuel Up
In Boone, start with the hearty, home-cooked helpings doled out at the Sunrise Grill, dishing up staples like pancakes, quiche, and biscuits and gravy; or sample from the locally sourced menu at Melanie's Food Fantasy, featuring everything from made-to-order omelets to banana-nut waffles. Coffee purists preferring to seize the day with a quick dose of caffeine will love Camp Coffee Roasters in Blowing Rock, specializing in espresso and sourcing flavorful beans from around the world.
Where to Hit the Trail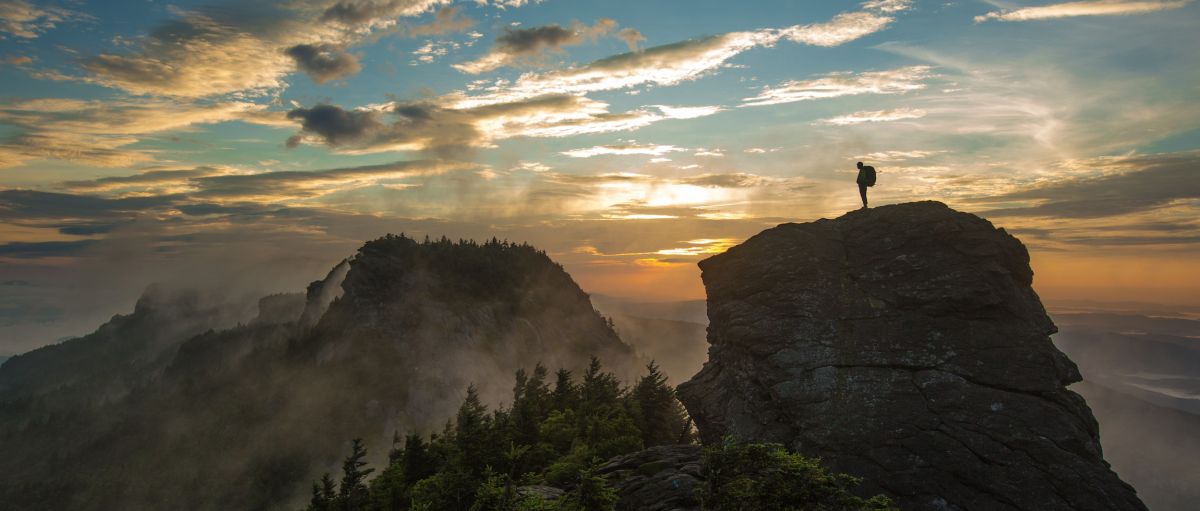 Head for one of western North Carolina's most iconic hiking destinations – Grandfather Mountain, a global hub of biodiversity recognized as a United Nations Biosphere Reserve. Climb to Grandfather's 5,964-foot pinnacle, Calloway Peak, among the loftiest summits in the Blue Ridge mountain range. To get there, hop on the Profile Trail (accessible from U.S. Highway 105), beginning at the Watauga River. The roughly 6-mile, out-and-back hike features nearly 2,000 feet of elevation change along with some amazing views.
Explore a High Country gem along the Blue Ridge Parkway at the Julian Price Memorial Park (Milepost 297), featuring 4,200 acres laden with trails. You'll find routes packing in a plethora of Appalachian landscapes like the 2.3-mile Green Knob Trail or the 5.5-mile Boone Fork Trail. For a more leisurely loop, try the 2.7-mile Price Lake Trail.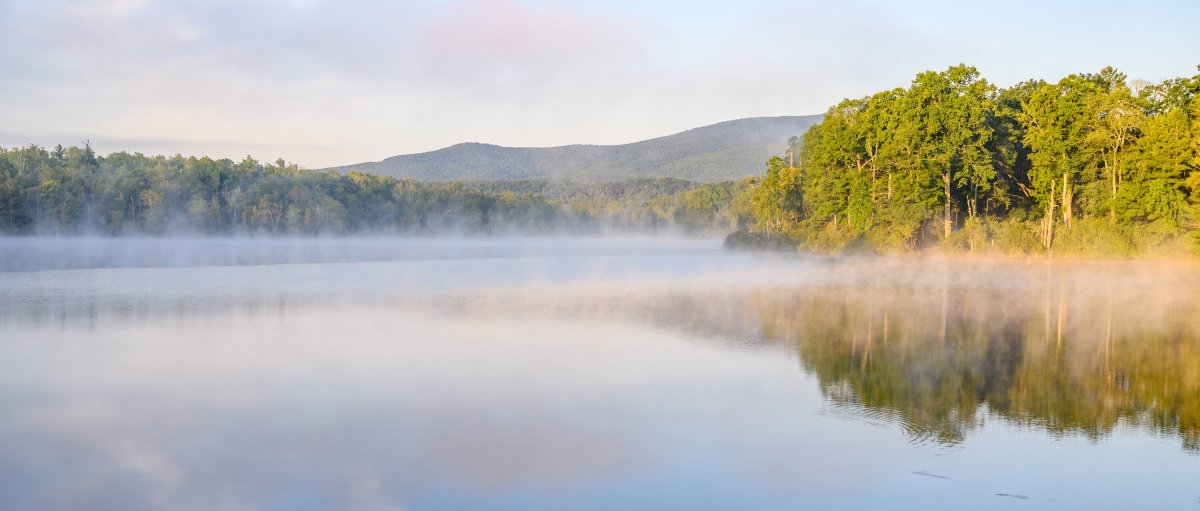 Seek out the solace of solitude with a hike at the Wilson Creek Wild and Scenic River Area, a stunning swath of the Pisgah National Forest embellished by the Wilson Creek, recognized as a National Scenic River in 2000. The pristine expanse of wilderness is loaded with hiking and backpacking trails, fishable trout streams, lofty ridges rising above 4,000 feet, and a river-carved granite gorge boasting some of the most technical paddling runs in the Southeast.
The stellar alpine singletrack of the Emerald Outback creates a veritable trail playground sprawling over the top of Beech Mountain. The area offers 7 miles of mountain bike trails laid out with an iconic Blue Ridge backdrop. The otherworldly landscape even inspired a nearby theme park – the Land of Oz, which operated for a decade before closing in 1980, and is now only open to the public for special events, plus Fridays in June and for three weekends in the fall for Autumn at Oz.
Where to Go Climbing
Outside of Boone, the Blowing Rock Boulders offer an abundance of easily accessible problems suitable for a variety of skill levels (with ratings from V0 to V10). Farther south of Boone on the Blue Ridge Parkway (Milepost 312.2), Linville Gorge is the one of the East Coast's premier climbing destinations. The plunging chasm is flanked by features like Table Rock Mountain, a 3,930-foot peak capped with a craggy rock pompadour, and 4,020-foot Hawksbill Mountain, loaded with sport and trad routes (with difficulty ratings ranging from 5.7-5.12c).
Where to Unwind
Celebrate North Carolina's booming brewing scene in Boone with inspired pairings at Lost Province Brewing Co., where it's possible to combine locally inspired ales with wood-fired pizzas and an eclectic selection of antipasto boards. Or you can explore the imaginative beers and ciders at Appalachian Mountain Brewing, including options like the lemon and lime-infused Margarita Gose; the Mystic Dragon Cider, flavored with green tea, rhubarb and strawberry; or the Autumn Brown, with distinctive notes of caramel and chocolate. Best of all, a portion of each pint sold at the brewery's tasting room goes to High Country nonprofits.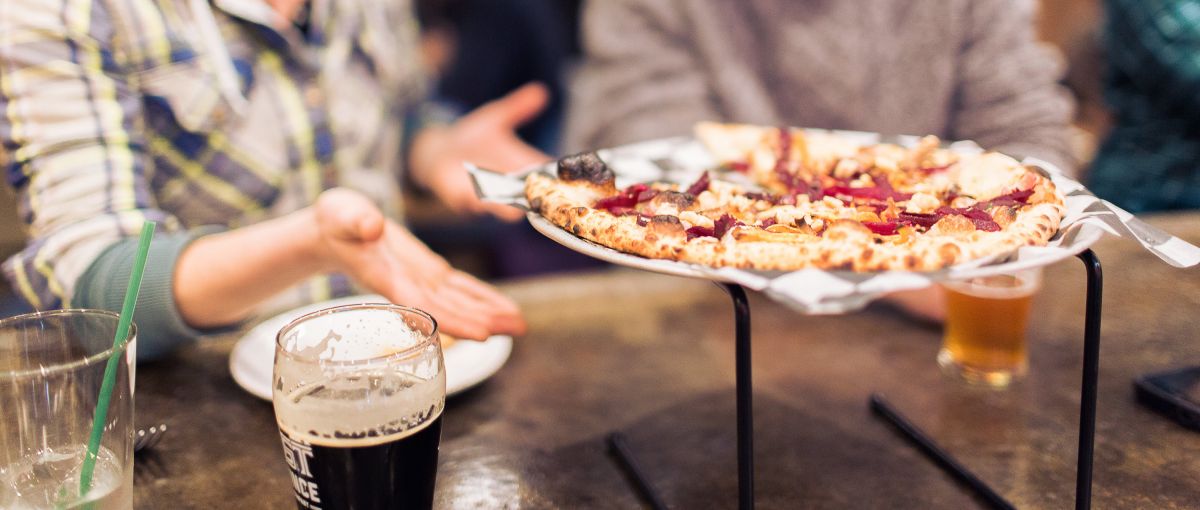 In Blowing Rock, cozy up at our state's longest-serving watering hole, Bistro Roca and Antlers Bar. There you can savor inventive comfort food creations like the Habi Mac & Cheese, loaded with bacon and crispy onions, or angus strip loin with smoked bleu cheese butter.
Got a fixing for fancy fare? Sample French-inspired plates with a Carolina twist at Joy Bistro in Boone, or explore the elegant cuisine at Artisanal (open seasonally) in Banner Elk, preparing elevated, globally inspired options like Cheshire Pork Belly and Smoked Duck Breast served with morels.
Where to Get a Good Night's Rest
Craving a quick backcountry stint? Head for Elk Knob State Park, where the year-round backcountry campsites are accessible only after a 2-mile hike into a serene stream valley. If you would rather drive, or paddle, to a place to pitch your tent for the night, head for New River State Park just 12 miles from West Jefferson, offering everything from car-accessible campgrounds to rustic riverine sites only reachable by boat.
After a more pampered outdoor escape? Head for the pet-friendly River House Inn & Restaurant, which features a collection of elegantly cozy rooms on a bucolic riverside farm just outside West Jefferson. Or gather an adventure-loving group and head for the lofty Parkway Cabins sprinkled over Turkey Knob, at elevations above 4,000 feet.
Updated August 17, 2021