Breakfast Is Served: 13 North Carolina Brunch Spots
One of the great things about vacation is the opportunity to sleep in. So don't be lured from bed early simply to make it to a restaurant before breakfast ends. There are plenty of restaurants, cafés and diners throughout North Carolina that offer breakfast and brunch later in the day – or even all day.
From traditional egg dishes to flavored and smothered pancakes, baked goods, donuts, and Southern specialties like chicken and waffles or red eye gravy, the menus at these local eateries will remind you why this is the most important meal of the day.
1

Everett Hotel & Bistro

Bryson City

See on map
What began as a coffee house has morphed into a full restaurant serving brunch Wednesday to Sunday and baked goods all day long. Don't miss the eggs Benedict with grilled kale, avocado and nitrate-free bacon, or the huevos rancheros with black beans, brown rice, sliced avocado and chorizo sausage.
2

Café Monte French Bakery and Bistro
2

Café Monte French Bakery and Bistro

Charlotte

See on map
Eat brunch like a Francophile every day of the week at Café Monte, where the menu features classics with a French flair, such as Parisian omelettes, smoked ham crepes and quiche Lorraine. Whether you order from the quick counter or take in the full dining experience, the farm-to-table freshness will be evident.
Also try: For more traditional options in the Queen City, check out Famous Toastery (in the Dilworth and Ballantyne neighborhoods of Charlotte), Leroy Fox Kitchen for its coveted chicken-for-breakfast dishes, and Mert's Heart and Soul for Lowcountry and soul food at its finest.
3

Bike, Brunch & Bubbles or Sunday Brunch Walkabout with Beaufort Grocery Co.
3

Bike, Brunch & Bubbles or Sunday Brunch Walkabout with Beaufort Grocery Co.

Beaufort

See on map
For an outside-of-the-box Sunday brunch experience, enjoy a 2-wheeled Bike, Brunch & Bubbles tour or 2-footed Sunday Brunch Walkabout tour with Hungry Town Tours. After pedaling or walking the historic town of Beaufort, settle in at Beaufort Grocery Co. for a Benedict Arnold with crab cakes, poached eggs, asparagus and sweet potato threads, or eggs Florentine with sautéed spinach, portabella mushrooms, poached eggs and hollandaise.
4

Early Girl Eatery

Asheville

See on map
Showcasing local ingredients, this casual spot's eclectic Southern menu focuses on made-from-scratch fare, such as the Early Girl Benny (grit cakes topped with tomato, spinach, poached eggs and tomato gravy) and various breakfast bowls. Also be sure to order the house granola.
5

La Farm Bakery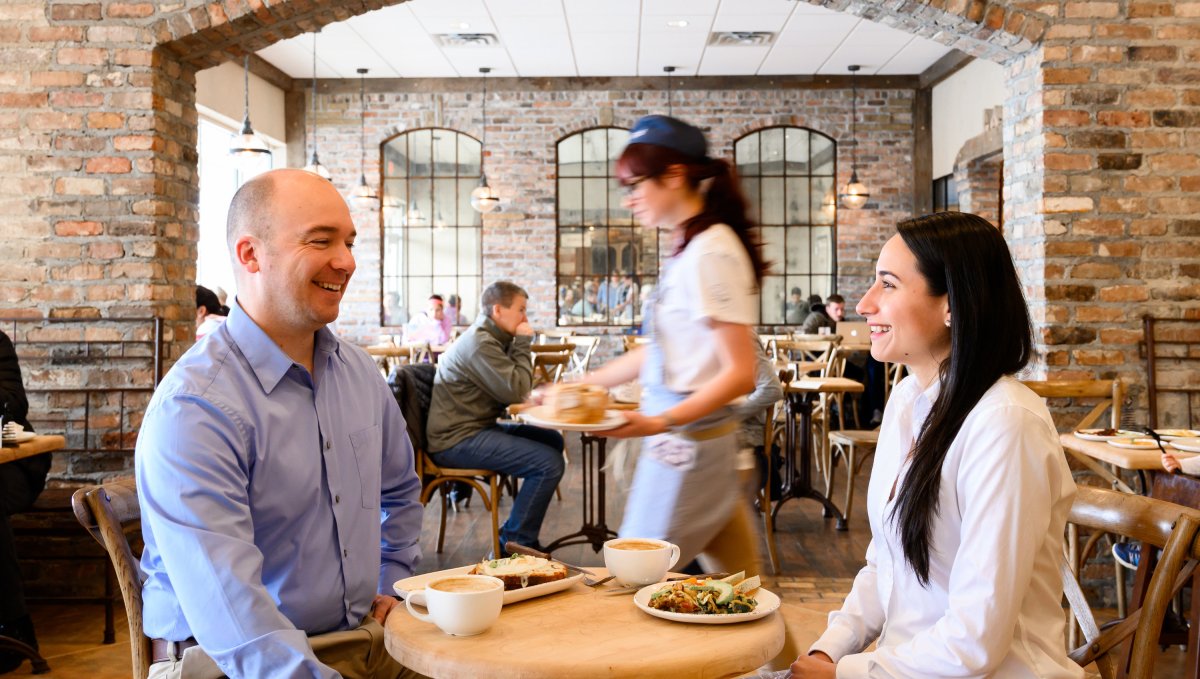 5

La Farm Bakery

Cary

See on map
At this modern-day French boulangerie and café, master baker Lionel Vatinet showcases his passion for bread and local ingredients in his baked goods and signature breakfast items. Whether a breakfast sandwich on a hard roll, a croquet monsieur or madam on the signature sourdough La Farm bread, or creme brulee brioche French toast, you'll leave with a renewed respect for housemade bread.
6

Taylor Cuisine Café & Catering
6

Taylor Cuisine Café & Catering

Southport

See on map
Voted the best breakfast in Brunswick County, this café serves up frittatas, eggs Benedict, eggs Florentine and its signature fried chicken and waffles. Don't miss the purple Belgian waffles (to match the restaurant's décor) and the sweet potato pancakes. If you're looking for more of a brunch item, you can't go wrong with the fried green tomato shrimp BLT.
7

Sunrise Grill

Boone

See on map
Serving breakfast 7 days a week, the Hunter family prides themselves on quality food and friendly service. Try the signature biscuits and gravy, and The Grayson, which is raspberry cream cheese-stuffed French toast. Plus, there are signature specials like the Lonestar Ultimate Benedict with brisket hash and mushroom gravy, red velvet pancakes and Nutella-stuffed French toast.
8

Mary's Gourmet Diner

Winston-Salem

See on map
Housed in a former 1929 bank building and adorned with the works of local artists and funky décor, Mary's Gourmet Diner whips up build-your-own egg scrambles, omelettes, and breakfast burritos and sandwiches to order, using dozens of the freshest ingredients and local meats and cheeses.
Also try: If it's a weekend, check out the sweet potato pancakes topped with fried chicken and apple marmalade at Sweet Potatoes.
9

Dixie Grill

Wilmington

See on map
A Wilmington staple, Dixie Grill serves classic diner fare along with Southern-inspired brunch dishes, including a fried green tomato BLT on Texas toast; the Dixie Benedict with fried green tomatoes and Vidalia onion gravy; Louisiana hash; and shrimp and grits.
10

Joey's Pancake House

Maggie Valley

See on map
Serving only breakfast for the past 44 years in a classic mountain diner, Joey's is the place to come for pancakes. And with more than 10 choices, there's a flavor for everyone. If pancakes aren't your thing, the diner also serves a variety of eggs and tasty sides like creamed chipped beef and hash brown casserole.
11

Elmo's Diner

Durham

See on map
This classic diner offers up an infinite variety of egg combinations. But that's not to say that its pancakes, waffles and baked French toast (more like a breakfast bread pudding stuffed with cream cheese and apples) don't take the cake as well.
Also try: If breakfast biscuits, bagel sandwiches or donuts are more up your alley, visit Monuts Donuts just a couple of blocks away, or Rise Biscuits and Donuts near The Streets at Southpoint mall.
12

The Dunes Restaurant

Nags Head

See on map
Offering a classic breakfast buffet on the Outer Banks for the past 30-plus years, The Dunes specializes in big breakfasts. The breakfast and fruit bar is loaded with fresh fruit, homemade pastries, eggs, grits, bacon, creamed chipped beef, sausage gravy and more. Or create your own feast with omelettes, hot cakes, French toast or breakfast specialties like corned beef hash, scrapple platter, and shrimp and grits.
Also try: If you find yourself even farther south, check out Orange Blossom Bakery and Café in Buxton for its famous Apple Uglies.
13

Tupelo Honey Café

Asheville

See on map
This downtown Asheville hotspot is where it all began in 2000 – there are now Tupelo locations in south Asheville, Charlotte and Raleigh, and a handful of other cities and counting across the Southeast. Serving breakfast daily in its downtown location (and weekend brunch in the other locations), this place is oh-so-sweet, with its scratch-made fare that is good for the soul. Don't miss the signature sweet potato pancakes with peach butter and spiced pecans or the fried chicken and biscuits.
Updated March 13, 2018