Nature's Pool Party: North Carolina Swimming Holes
It's one of the few things guaranteed to make you feel like a kid again: the swimming hole. Usually a natural oasis requiring some effort to reach, these bodies of water are known to wash away all worries on a hot day.
North Carolina has dozens of these natural pools. The better known typically lie at the base of a cascade in the mountains. But our coast and central region also have their share of hidden pools where the escape is just as refreshing.
1

Carrigan Farms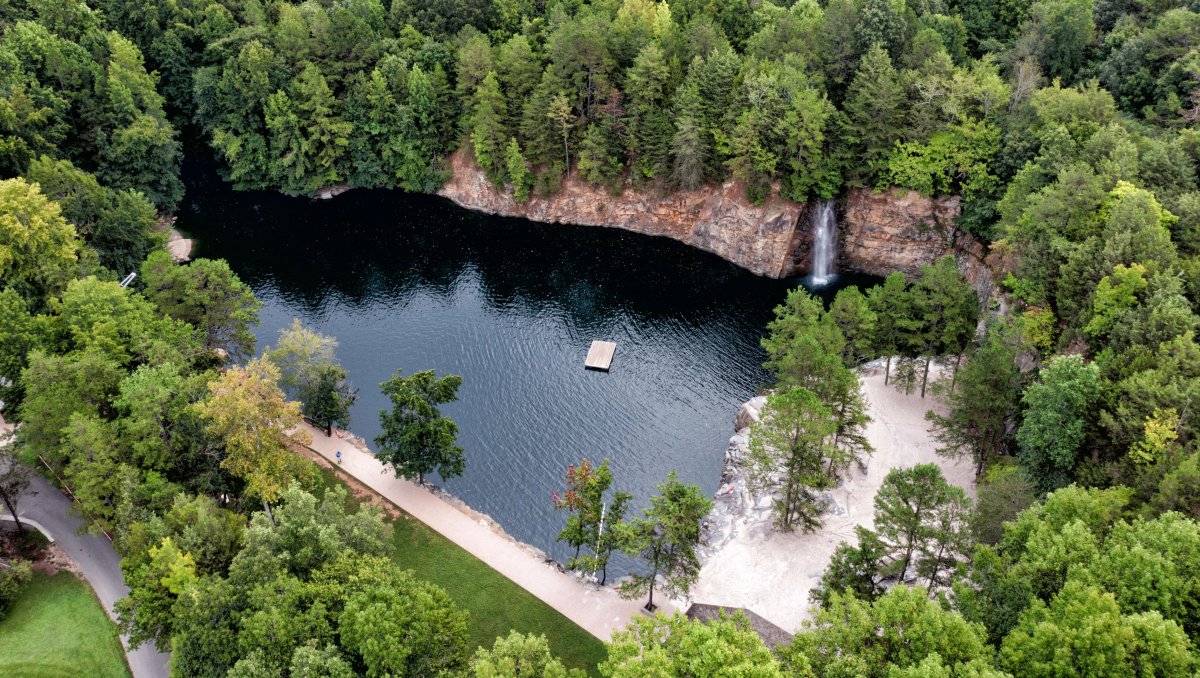 1

Carrigan Farms

Mooresville

See on map
Reserve a spot for open swim at this mountains-meet-white-sandy-beach natural quarry and kick your swimming experience up a notch. With an on-site restaurant serving farm-fresh items, beer and wine for purchase, lifeguards on duty and swinging ropes, Carrigan Farms is the entire package.
2

Jones Lake State Park

Elizabethtown

See on map
Start your visit to Jones Lake with a 4-mile hike around the perimeter of the lake, checking out the varied topography, from pine savannah to wetland peppered with Spanish moss-draped pond cypress and scrubby leatherwood plants. Then enjoy a dip into the mysterious, tea-colored waters of the lake. The tannic waters create an eerie subterranean-world feel when you go under, but rest assured this is some of the cleanest water you'll swim; the 224-acre Carolina bay lake is fed by a series of springs. The ample, white sand beach is ideal for sunning. Open during the summer. Admission fee applies.
3

Pettigrew State Park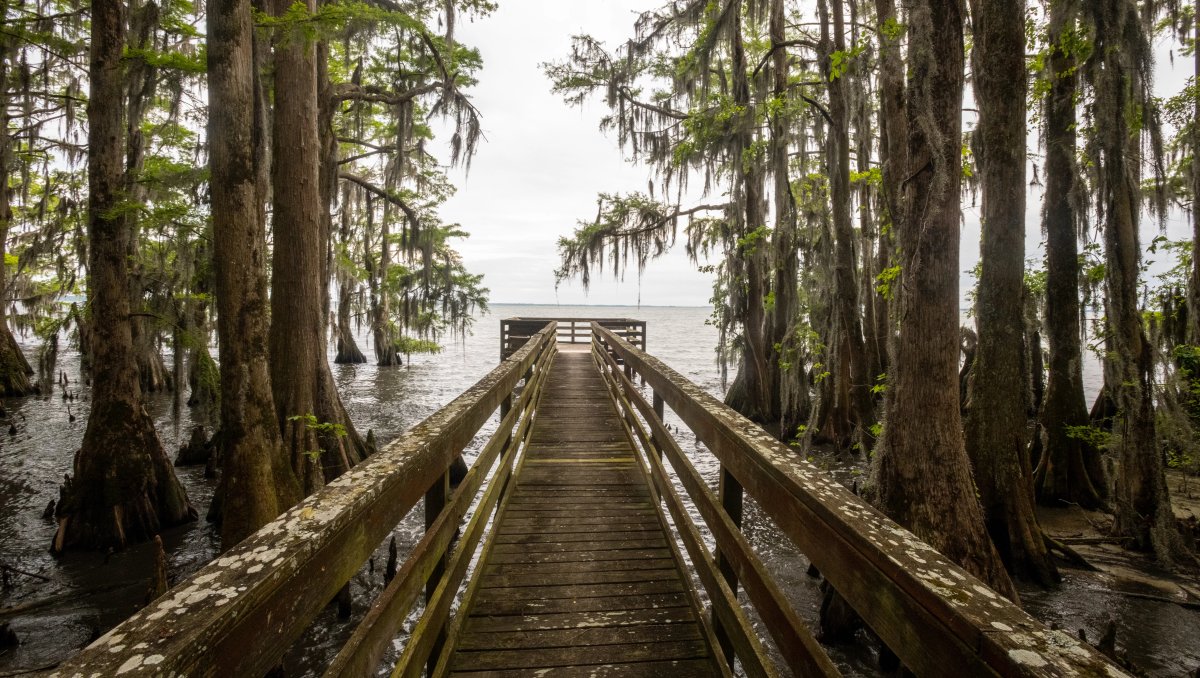 3

Pettigrew State Park

Creswell

See on map
At Pettigrew State Park, you can easily plan for a full day of swimming in Lake Phelps' clear waters. With a dedicated swim area at the end of a pier, ladders into the water and benches for non-swimmers to relax on, fun in NC's second largest natural lake is easy. Want to make a weekend of it? Set up camp in the park and stay awhile. In addition to swimming, you can enjoy paddling, fishing, hiking, picnicking and bird-watching.
4

Sliding Rock, Pisgah National Forest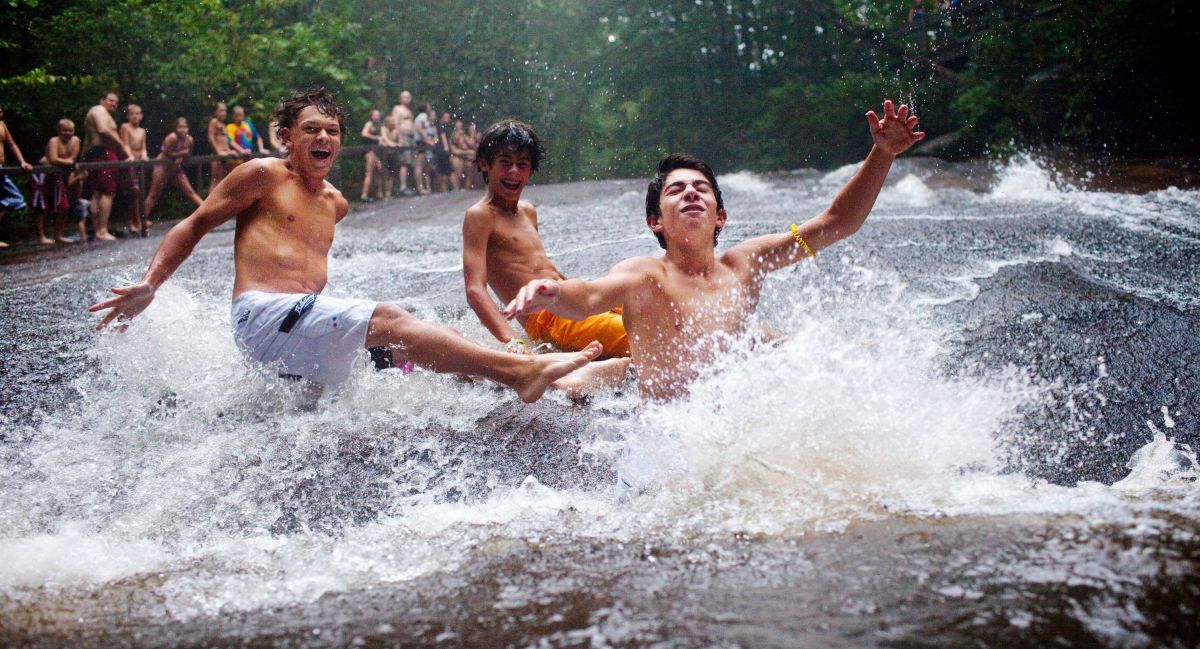 4

Sliding Rock, Pisgah National Forest

Brevard

See on map
The true joy of Sliding Rock is standing in the spectator area where this smooth rock waterslide empties into a small pool and watching the surprised swimmers emerge from the cold bath. It's usually all smiles going into the 7-foot-deep pool, and a teeth-chattering look on faces coming out. Located on the upper reaches of the Davidson River (rent a tube and float the river several miles downstream), this is a definite must-do. Seasonal operation, with bathhouse and lifeguard. A small admission fee applies.
5

Hanging Rock State Park
5

Hanging Rock State Park

Danbury

See on map
Hanging Rock is where residents in the Greensboro and Winston-Salem areas go when they want a brief mountain escape but don't have time for the drive. Though the park tops out below 3,000 feet, that's still 1,500 feet above the surrounding countryside. That elevation coupled with lots of rock outcrop gives a Blue Ridge feel to this central aerie. In the middle of it all is a 12-acre lake with a beach, dive platform and bathhouse. Cool as the lake's waters are, the alpine quality makes them feel 10 degrees cooler. Open during the summer. Admission fee applies.
6

Cliffs of the Neuse State Park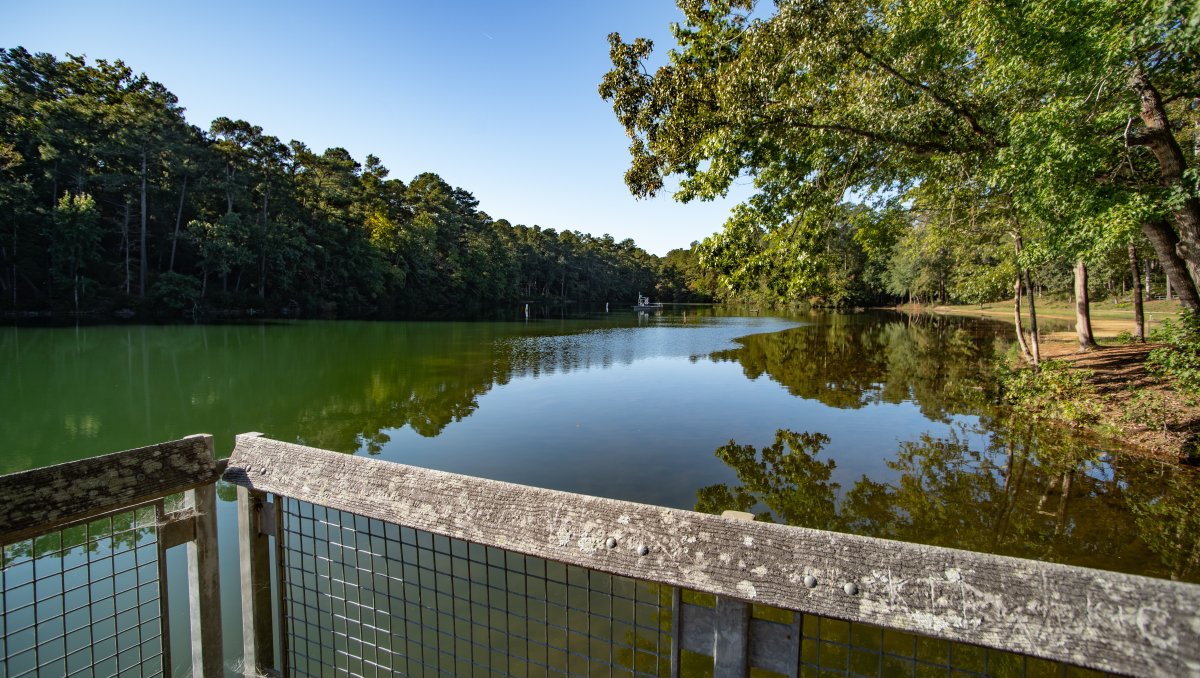 6

Cliffs of the Neuse State Park

Seven Springs

See on map
On a hot day, you might dream of diving into a mountain lake and being embraced by the sobering chill. But you don't have to drive to the mountains for a cold plunge – head over to Cliffs of the Neuse State Park, where the manmade, 11-acre lake, surrounded by a sand beach and ring of towering hardwoods, offers alpine escape, especially after working up a glow hiking the park's 2+ miles of trail. It's a great place for the family to cool off from Memorial Day through Labor Day. A concession stand and bathhouse might seal the deal for the wilderness averse. Admission fee applies.
7

Morrow Mountain State Park
7

Morrow Mountain State Park

Albemarle

See on map
Yes, technically this is a cement pond. And while the pool itself is modern, the bathhouse and surrounding facilities were built in the 1930s by the Civilian Conservation Corps as part of the Works Progress Administration. The gray stone architecture gives the pool a throwback feel, to summer camps of the 1940s and '50s, when going for a swim was the only way to beat the stifling heat. There's a certain timeless joy that's part of the Morrow Mountain swimming experience.
8

Deep Creek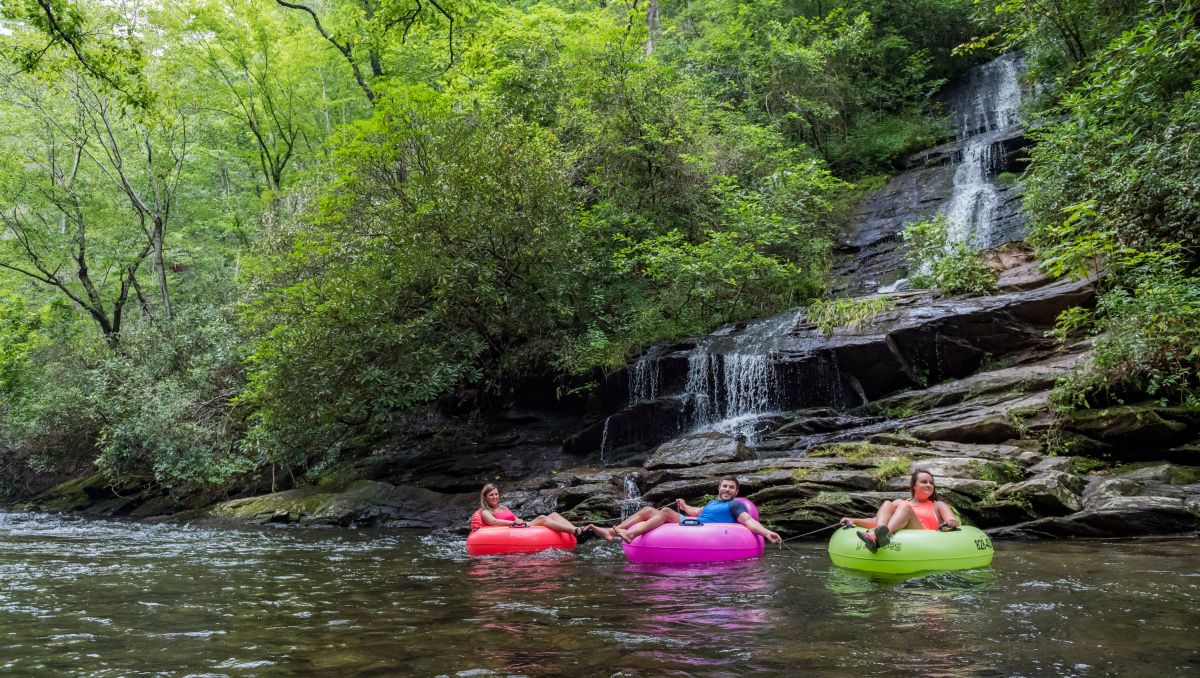 8

Deep Creek

Bryson City

See on map
Grab an inner tube at a number of rental locations near the entrance of Great Smoky Mountains National Park, carry it less than a mile on the Deep Creek Trail, and choose whether you want your ride to be relaxing and lazy or wild and bouncy. The upper whitewater section ends at a wide, deep swimming hole, while the lower, smoother section ends at the parking lot.
9

Hunt-Fish Falls

Wilson Creek

See on map
The Wilson Creek area serves as the drainage to massive Grandfather Mountain; that alone should suggest water aplenty. Add to that the rugged terrain at the base of the Blue Ridge Escarpment and there are bountiful waterfalls, many of which conclude in deep pools. One of the bigger, more accessible pools is at Hunt-Fish Falls, a 0.75-mile hike down from pullout parking off Milepost FS 464. Even on the hottest days, this pool is cold at the surface – dive 3 or 4 feet down for a truly lung-squeezing thrill. A spacious rock slab with good exposure offers quick drying and warming.
10

Bust Your Butt Falls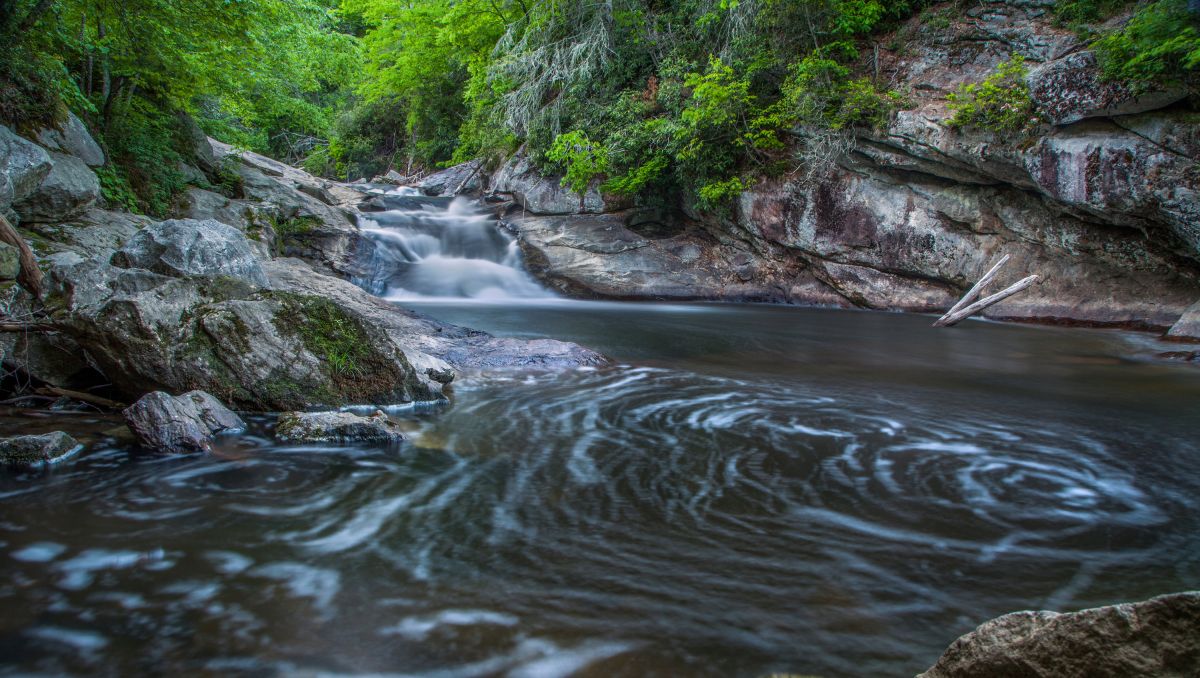 10

Bust Your Butt Falls

Highlands

See on map
As is evident by now, the names of many North Carolina swimming holes are creatively explanatory (and remind you to be careful). Bust Your Butt Falls is a natural pool of water that is very accessible – it can literally be seen from the road, and a parking area is nearby. Lined by boulders, water flows in from the Cullasaja River. After going for a swim, dry off during a hike to see Bridal Veil Falls, Dry Falls or High Falls.
11

Carolina Hemlocks Recreation Area
11

Carolina Hemlocks Recreation Area

Burnsville

See on map
Could there be such a thing as a tubing and swimming hole resort? There is: the Carolina Hemlocks Recreation Area, which sits on a stretch of the South Toe River that has a large number of great places to wallow in the bracing waters that drain from the Black Mountains. It's also the highest mountain range in the East with elevations approaching 6,700 feet. Wander through the Carolina Hemlocks Campground, home to more than 30 campsites, where you can expect lots of people, but lots of options as well.
12

Schoolhouse Falls, Panthertown Valley
12

Schoolhouse Falls, Panthertown Valley

Cashiers

See on map
You have to hike in about a mile and a half for this hole, but it's a scenic hike, taking you past towering hemlocks and rock outcrops in an area described as the Yosemite of the East. The payoff is well worth it: Schoolhouse Falls is a picturesque curtain of water dropping 20 feet into a luxurious pool, at the far side of which is a sand beach. You might appreciate the gentle incline that introduces you to the cold water. Fed by the Tuckasegee River, it's possible to walk behind the falls at lower flows.
13

Eno River State Park

Durham

See on map
Eno River State Park is a favorite spot for visitors in the Triangle area to both hike and swim. For a little of both, park at the Cole Mill access and follow the Bobbitt Hole Trail to the Cole Mill Trail for an easy 2.5-mile loop that offers a perfect resting place off a spur in the middle: Bobbit Hole, a clear swimming hole in the Eno River. Sunbathing turtles tend to love the area too.
14

Sunburst Swimming Area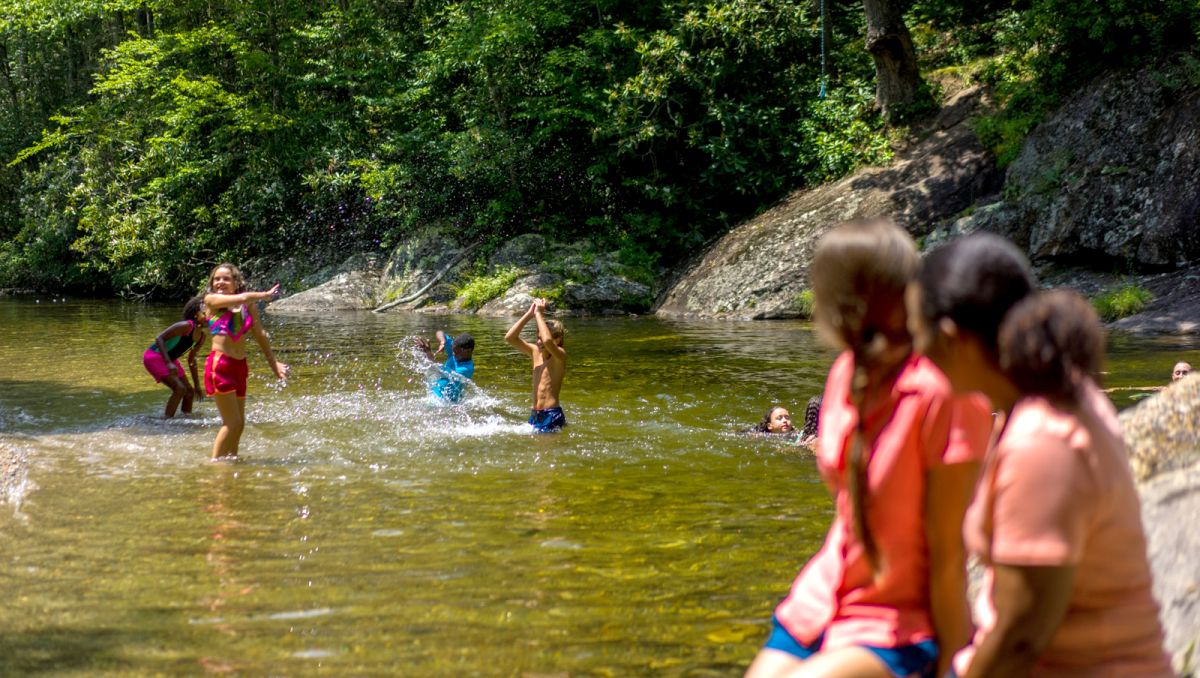 14

Sunburst Swimming Area

Canton

See on map
At Sunburst Swimming Area, enjoy refreshingly cool water that originates from the mountains surrounding the creek. With two swimming areas – one beach-like and shallow, while the other is 6 to 7 feet deep – every member of the family can enjoy their time here. Head out early or late in the day to get your swim in when it's less busy.
Please exercise caution and obey all rules and warnings posted near waterfalls and swimming holes. The rocks around these bodies of water are often slippery, and the currents can be very strong. Take care, be safe and enjoy. And visit Outdoor NC for additional tips on how to connect with nature and help preserve the natural beauty of our state.
Updated May 5, 2023