Horror Film Sites and Haunted Houses to Visit in North 'Scarolina'
If you embrace the Halloween season and delight in all things haunted, scary and grisly – North Carolina delivers across the board. And filmmakers totally agree. These horror movies and cult classics all used North Carolina's varied geography, beautiful architecture, waterfront towns and world-class film sets to bring murderous and haunted storylines to life.
Be sure to check out the bonus section of haunted houses and attractions that will amp up your spooky getaway even more.
Horror Film Sites
Scream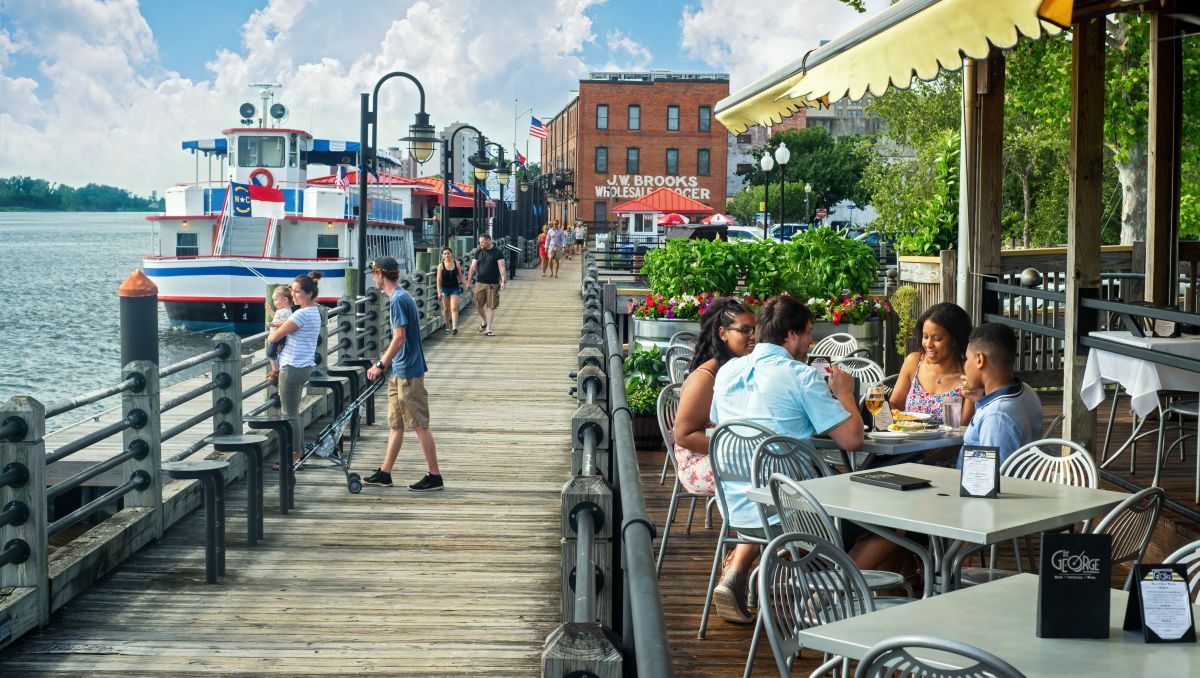 Scream
Though it's the fifth movie in this beloved franchise, Scream (2022) shares its name with the original. To see where Neve Campbell, Courteney Cox and David Arquette all shot scenes, start at the Wilmington Riverwalk – it can be spotted in the trailer when Sidney answers a chilling phone call. Then plan a fun night of grooving to some live music at Reggie's 42nd Street Tavern; it was also used for filming.
Halloween Kills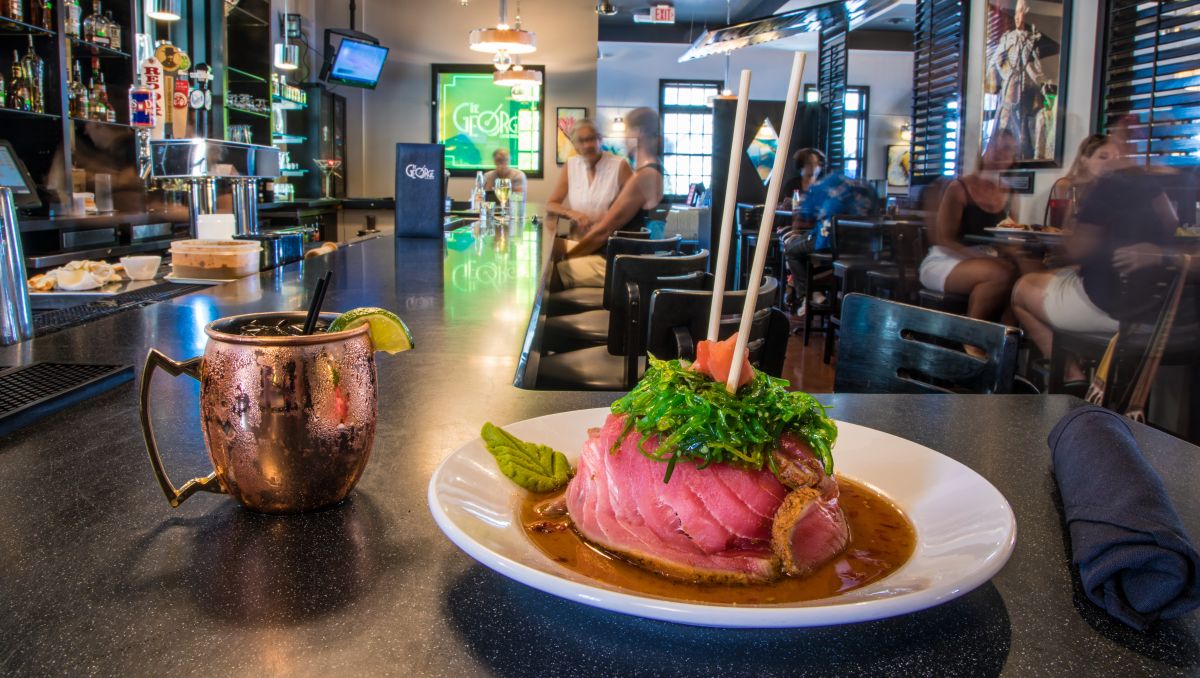 Halloween Kills
In the first of two sequels closing out this legendary scary movie franchise, Halloween Kills continues to follow Michael Myers and his murderous destruction. But don't worry – though the film is scary, the settings are anything but. Pack a picnic and head to Wilmington's Wallace Park or Veterans Park, where some outdoor scenes were filmed. Or order a local beer and jam to blues music at The Rusty Nail – it stands in as Mick's Bar and Grill in the movie. To complete your Halloween-inspired visit, follow in Jamie Lee Curtis' footsteps and stop for the "best food and view" at The George, pose for a photo next to Michael Myers at the Museum of the Bizarre, and spend the night amid luxurious amenities at Dreamers Welcome.
I Know What You Did Last Summer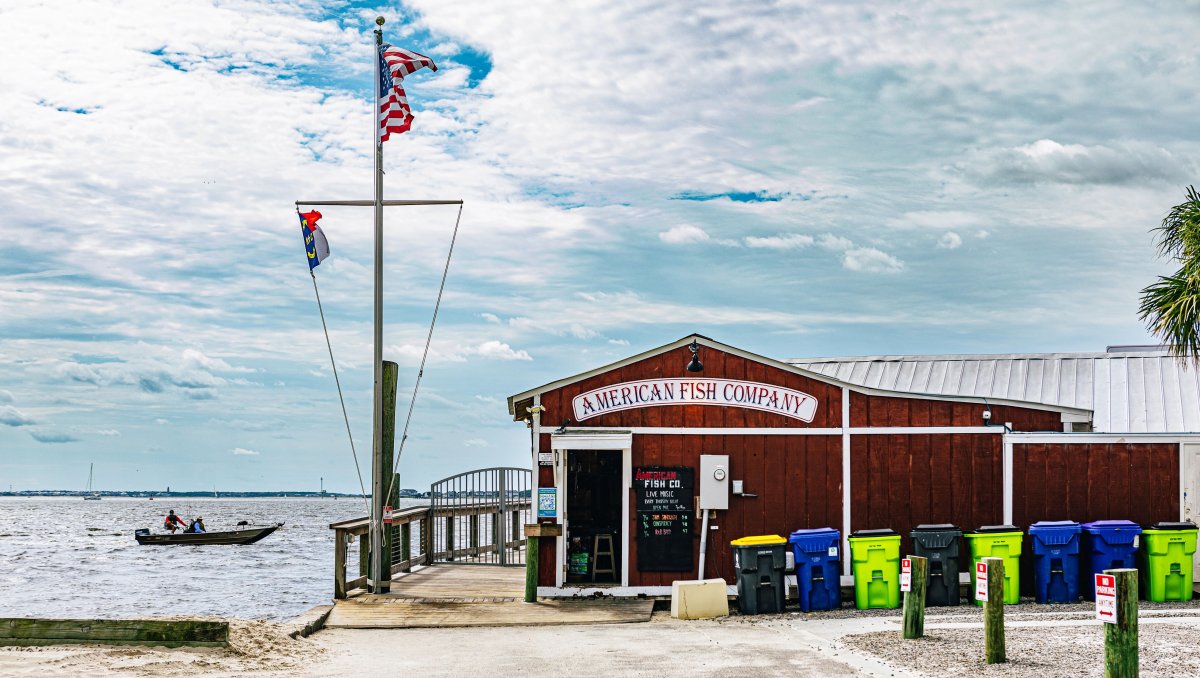 I Know What You Did Last Summer
Released in 1997, this famed slasher film with a hook-wielding killer is loosely based on a 1973 novel by the same name. Much of the film was shot in Southport, taking advantage of the town's waterfront location. For instance, Jennifer Love Hewitt's character lives near the Cape Fear River on Short Street (where she receives the fateful, "I know what you did …" note). And the film's beauty pageant, where Sarah Michelle Gellar's character was crowned Croaker Queen, is held in the historic and still-in-use Amuzu Theatre. To eat or drink at spots that appear in the movie, head to American Fish Company (as Ollie's Oyster Bar) or Fishy Fishy Café (as Southport Muscle).
Cabin Fever & Cabin Fever 2: Spring Fever
Cabin Fever & Cabin Fever 2: Spring Fever
The hit horror comedy film Cabin Fever (2002) features a group of college students who rent a cabin and develop a flesh-eating virus. The cabin used in the film was located in Camp Raven Knob, a 3,200-acre scouting reservation near Mount Airy. To stock up on fresh sandwiches and fried pies, stop by Priddy's General Store in Danbury – it's where we meet Dennis, the boy who likes pancakes and biting people. Take your time perusing the old-timey quaintness, which is as accurate in real life as it is in the film. For the sequel, so much fake blood was used on the set at historic Williston Middle School that the storm drains were said to be running red (it was harmless food-based dye).
The Conjuring
The Conjuring
Released in 2013, The Conjuring is a supernatural horror film based on the experiences of paranormal investigators Ed and Lorraine Warren (played by Patrick Wilson and Vera Farmiga) as they assist the Perron family with disturbing events in their farmhouse. The home in the film is a two-story, 5,000 square-foot house along the Black River in Currie (a half hour northwest of Wilmington), but it was used only for exterior shots. A replica of the house was then built on a sound stage. Other filming locations include the Carolina Apartments, the Kenan Memorial Fountain, UNC Wilmington's campus and the Carolinian Inn. Take a Ghost Walk Tour of Old Wilmington to stroll past sites used for this film, plus other burial grounds and haunted homes.
Hannibal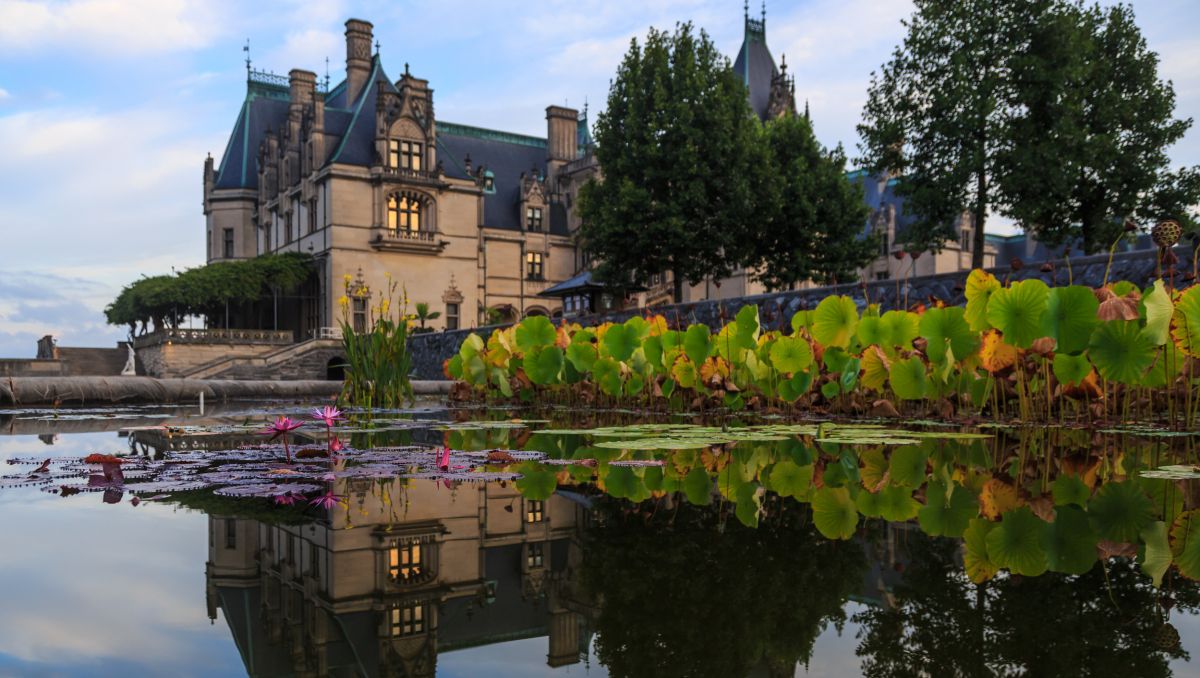 Hannibal
This 2001 psychological horror film stars Anthony Hopkins as cannibalistic serial killer Hannibal Lecter and Julianne Moore as FBI Special Agent Clarice Starling. Much of the filming was completed at Asheville's Biltmore, which was the "home" of disfigured revenge-seeking Mason Verger (Gary Oldman). Biltmore's iconic Lodge Gate, huge library, the tapestry room, Antler Hill Barn and the estate's sprawling grounds can all be spotted in the film. There were also scenes filmed along the Blue Ridge Parkway and at The Hot Dog King on Biltmore Avenue. Established in 1979, The Hot Dog King ("The original home of the hot dog in Asheville") is no longer there, but they do have locations in Fairview, Arden, Candler and Swannanoa.
Evil Dead II
Evil Dead II
Mostly shot in and around Wadesboro, Evil Dead II (1987) is a dark comedy horror film with a cult following. A cabin was built in the woods specifically for this film, and it was used for exterior shots while much of the interior shots took place in a nearby junior high school. Take a walk in the Wadesboro woods – if you dare – including heavily wooded Pee Dee National Wildlife Refuge to put yourself into the setting. There's also an added bonus for film buffs: Steven Spielberg filmed The Color Purple (1985) in Wadesboro just a couple of years before, and the large white farmhouse on Diggs Road that's immediately recognizable from the film also acted as the production office for Evil Dead II.
Honeymoon
Honeymoon
Director Leigh Janiak needed the look and feel of a Canadian lake community to bring her dream-turned-nightmare horror flick to life – and she found the perfect spot in Lake Summit near Hendersonville. Though the lake is private, you can still delve into the production and eat like the cast and crew – which included Rose Leslie and Harry Treadaway – did with visits to nearby Hubba Hubba Smokehouse (it promises to become your "happy place") and Flat Rock Village Bakery (its massive brick oven works wonders).
Alien Abduction
Alien Abduction
Presented as a "found-footage" science fiction horror film, Alien Abduction portrays a family on a camping trip to Brown Mountain in Pisgah National Forest – where one night they see flashing lights that definitely aren't stars. Director Matty Beckerman was reportedly inspired to make the film while living in North Carolina and hearing stories about the fabled Brown Mountain Lights, inexplicable and mysterious lights emanating from the mountains that are still seen by locals and travelers today.
Sleepy Hollow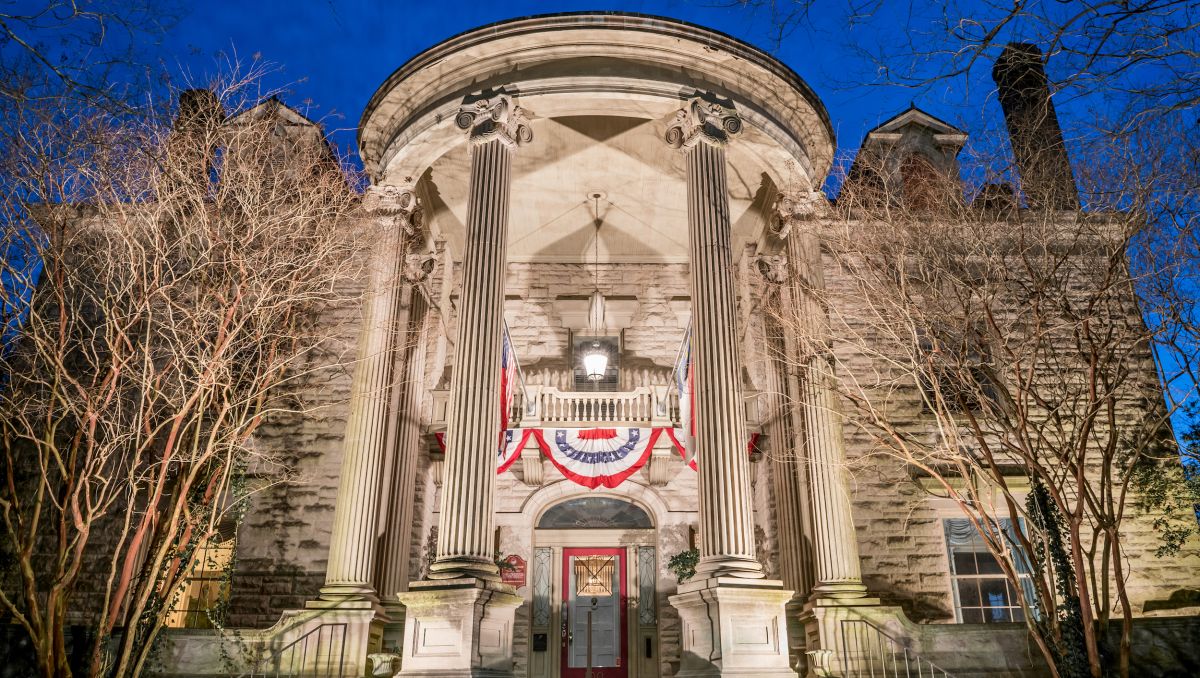 Sleepy Hollow
It's pretty hard to roam Wilmington and not stumble upon sites from the TV series Sleepy Hollow, a hit supernatural drama. On a self-guided tour in the Historic District alone, you'll see the kitchen from the "Sin Eater" episode (at Bellamy Mansion Museum); the dining room where the Horseman beheads the four Masons (at Graystone Inn, which is currently closed for renovations); the outside of Sleepy Hollow Sheriff Department (at Historic New Hanover County Courthouse); and so many more. A full Sleepy Hollow-inspired day just might be on the itinerary.
Cat's Eye
Cat's Eye
Released in 1985, this horror-thriller film is a Stephen King original shot throughout Wilmington. It starred huge names such as Drew Barrymore and James Woods. The plot revolves around three twisted tales connected by a mysterious cat, including one about a troll living in young Barrymore's home on Forest Hills Drive. The First Presbyterian Church on South Third Street is also where Dick Morrison visits his daughter's school, Saint Stephen's School for the Exceptional, in "Quitters, Inc.," one of the tales in the film.
Silver Bullet
Silver Bullet
Stephen King's work is once again shown on the screen in Silver Bullet, a cult classic. Film sites are littered across Wilmington and nearby Burgaw, including the Burgaw Courthouse Square, Pender Memorial Park, and Greenfield Park (where fireworks are shot off, plus where Jane, Marty and Uncle Red made the silver bullet). Trade in horror for magic when you catch a concert at the Greenfield Lake Amphitheater under hundred-year-old oak trees. But for more in terror from the expert himself, additional King screenplays filmed in the area include Firestarter, Maximum Overdrive and The Night Flier.
Haunted Attractions
1

Replica of the Michael Myers House
1

Replica of the Michael Myers House

Select days, Hillsborough

See on map
Take a tour of a life-size replica of the famous Michael Myers house from John Carpenter's 1978 classic Halloween. The visit includes a 15-minute tour of the outside with a brief history lesson about the original house. Be sure to check the attraction's website for visit schedule updates.
2

SCarowinds

Select nights Sept. 15 – Oct. 29, 2023; Charlotte

See on map
Charlotte's well-known amusement park goes from "theme park" to "scream park" during the fall months. Experience the excitement of roller-coaster rides along with the horror of haunted houses and scary performances. At SCarowinds, hundreds of monsters are waiting to torment you – enter the gates if you dare.
3

Woods of Terror on Church Street
3

Woods of Terror on Church Street

Select nights Sept. 16 – Nov. 4, 2023; Greensboro

See on map
Woods of Terror is a haunted theme park featuring more than 10 attractions, including Arachnophobia – a haunted house full of spiders, snakes and roaches. This spooky theme park is recommended for adults and teens, but younger kids are allowed under parental supervision.
4

Lake Hickory Haunts

Select nights Sept. 16 – Nov. 4, 2023; Hickory

See on map
Lake Hickory Haunts consists of about a dozen different haunted attractions surrounding a large body of water for maximum spookiness. Check its calendar for special events such as concerts and photo ops with screen-used scary movie props.
5

The 13th Acre

Select nights Sept. 22 – Oct. 31, 2023; Monroe

See on map
The 13th Acre is a haunted walking tour through dark, mysterious woods. Enter with caution, however, because once you step past the entrance, you'll only have one chance to turn around. If you miss it, you will have to face your fears along the way.
6

Hollerin Haunts Hayride
6

Hollerin Haunts Hayride

Select nights Sept. 22 – Nov. 5, 2023; Clinton

See on map
Hollerin Haunts Hayride offers three different attractions: The Haunted Hayride and The Darkness are designed to scare, while The NC Zombie Hunt allows the frightened to fight back with paintball guns.
7

Hickory Grove Haunted Trail
7

Hickory Grove Haunted Trail

Select nights Sept. 22 – Oct. 31, 2023; Gastonia

See on map
Be prepared for your worst nightmares to come alive at Hickory Grove Haunted Trail, which has been in the scaring business for more than 25 years. Located in the backwoods of South Fork River at Mountain View Golf Center in Gastonia, the haunted trail is open in September and October.
8

Spookywoods at Kersey Valley
8

Spookywoods at Kersey Valley

Select nights Sept. 22 – Nov. 4, 2023; Archdale

See on map
Spookywoods Haunted Attraction was created in 1985 after several teenagers dared one another to enter an abandoned farmhouse. After receiving a good scare from several bats, the group decided to share their fears with others. These days, its spooky attractions span over an 80-acre farm with several themes and sets.
9

Panic Attack Haunted Attraction
9

Panic Attack Haunted Attraction

Select nights Sept. 29 – Oct. 31, 2023; Nakina

See on map
Drive down dark coastal backroads to Panic Attack Haunted Attraction in Nakina near the North Carolina border. You'll face your fears by coming face to face with clowns, zombies, chainsaw maniacs and many other haunted characters.
10

The Haunted Farm

Select nights Oct. 6-31, 2023; Hendersonville

See on map
Located in rural farmland near Hendersonville, The Haunted Farm sits on a mysterious piece of land – locals tell the story of a deadly feud between the Lively and Tate families years ago. The alleged curses, bloodshed, ghosts and haunts lure visitors to the farm during autumn. There's no age limit, so proceed at your own risk.
Updated June 22, 2023