Embrace Winter Chill with Creative Craft Beers
While winter might be a time for some of us to hunker down in front of the fire and reflect, the craft brewers scattered across North Carolina are busy experimenting and creating unique offerings suited for cold-weather sipping. With ingredients ranging from persimmons to jalapeños, these beers and ciders challenge the palate and accentuate the season.
At the same time, our state's vineyards are hard at work with the fall harvest, but they always welcome you to their tasting rooms to discover wines with which to take the chill off in front of a fire.
All the Ingredients
Probably the best-known winter beer to this point in our state's brewing history is Highland Brewing's revered Cold Mountain spiced ale, released each November to fevered anticipation that results in the supply disappearing virtually overnight.
Fullsteam Brewery in Durham, which bills itself as making "plow to pint" beers, is using persimmons, a misunderstood and maligned fruit, to produce its award-winning First Frost. This selection is aged six months and deemed perfect for winter sipping.
Get acquainted with to-go cups in downtown Hickory, where a social district connects several spots perfect for strolling and sipping. Start with Olde Hickory Brewery's Christmas Ale, where local honey, ginger, cinnamon and orange zest will make you nostalgic for your childhood. Then take a short walk to the brand-new City Walk Brewing and Distilling for a spiced butternut squash ale. Looking for more local flavors to take home? Barley Market, a bottle shop and tasting room, sits in between the two breweries.*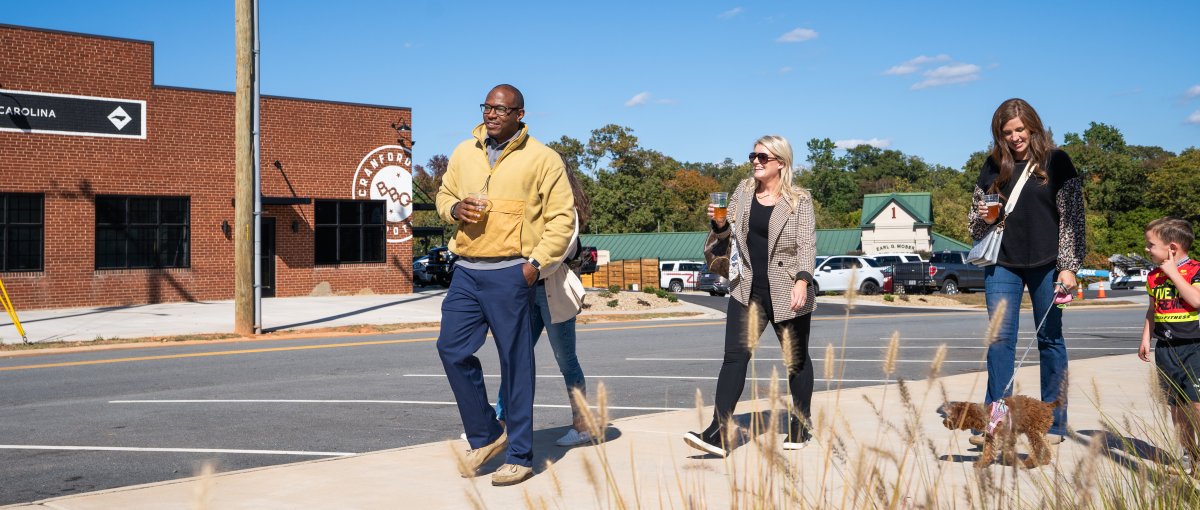 With a name like Sexual Chocolate, you can bet tasters line up to try this one out at Winston-Salem's Foothills Brewing. Aged in bourbon barrels, this muscular imperial stout promises notes of espresso, molasses, toffee and, of course, dark chocolate.
Heading east to rural Farmville, the crew at dark beer specialist Duck-Rabbit Craft Brewery contend that while any season is a good time for its Milk Stout, it's an especially nice cold weather sipper. Stop by in January for the release of the very hoppy Barleywine Ale and mid-March for the robust Rabid Duck Imperial Stout, colorfully described as "thick, jet black and oily in texture."
Similarly, in Kinston, Mother Earth Brewing produces Silent Night, a bourbon-barrel-aged imperial stout embellished with hints of coffee and molasses. Sip this one by a fire.
The Charlotte-area brewing community also takes the cold months seriously. D9 Brewing Company maintains Brown Sugar Brown Cow, a mocha brown ale, in its regular roster of "Fanatical Ales." It also brews a German Chocolate Cake coconut pecan stout, which begs you to drink your dessert instead of eat it.
At Birdsong Brewing in Charlotte, these guys turn up the heat with Mexicali Stout, fueled by a hint of chili spice, and the Jalapeño Pale Ale with an infusion of fresh, hand-cut jalapeños for a satisfying slow burn. At Olde Mecklenburg Brewery, enjoy the Yule Bock, a holiday seasonal, while you browse local arts and crafts vendors at its world-famous Christmas market throughout December.
And never underestimate the craft brewers dotting the mountains of North Carolina. You never know what to expect at Fonta Flora Brewery in Morganton with its dedication to unique Appalachian styles of beer. You can fool yourself into drinking healthy with Supper Table, a sweet potato ale, or Carolina Custard, brewed with pawpaw fruit. Or see what pops up in the winter – it could involve beets or kiwi or wild flora from the mountains.
In Asheville, North Carolina's hotbed of craft brewing, you always expect the unexpected during the winter as the breweries both work to outdo one another and, at the same time, collaborate on new creations. Wicked Weed Brewing works hard to stay on the cutting edge and will trot out Milk & Cookies, brewed with golden raisins, cinnamon and vanilla. On the sour side is a dark sour called Chocolate Covered Black Angel. With its tart Montmorency cherries and 100 pounds of Honduran cacao nibs from French Broad Chocolates, it's the perfect beer to share with a loved one on Valentine's Day.
On the opposite end of our state, if you're a cold weather beach bunny, the blossoming brew scene in Wilmington offers promise of a seasonal stout or two at one of its breweries, including long-timer Front Street Brewery. Plus, multiple breweries on the Outer Banks – including Outer Banks Brewing Station and Lost Colony Brewery – pledge to help take the nip out of the ocean air.
Beer Festivals and the Resurgence of Color
Don't forget about hard cider, a drink that's been in existence for hundreds of years, and now has found a new audience as local production expands. Urban Orchard Cider Company is a family-owned endeavor with two locations in Asheville. Lending themselves to cooler temperatures are a hot mulled cider, a tart cranberry cider and Sidra del Diablo, infused with habaneros and vanilla.
McRitchie Winery & Ciderworks in Thurmond – located in the foothills of the Blue Ridge Mountains – is another good place to sample locally produced hard cider, along with the well-respected wines made there.
If you want to try a little bit of it all, be sure to pick up a Yadkin Valley Winter Wine & Beer Passport. The passports include tastings at 13 wineries, four craft breweries and a distillery in the heart of the Yadkin Valley wine region. Plus, each passport holder also receives specials at select lodging properties, discounts at local restaurants and more.
And there's no better way to shake off the winter blahs than heading to a winter brew fest. The NC Rare & Vintage Beer Tasting in Durham takes a distinctive approach with 50-55 rare and vintage beers poured by brewery representatives in an intimate environment.
This is all just a sampling of what you'll find across the beer scene in North Carolina, home to 350-plus breweries – more than any other state in the South.
* This inclusion was produced in partnership with Visit Hickory Metro.
Updated December 14, 2022