Mountain Crafts Destinations Reflect Time-Honored Traditions
Artisans have found inspiration in the patchwork light of forest canopies and stunning vistas of North Carolina's Blue Ridge and Great Smoky mountains for more than a century. The deep and abiding tradition of hand-wrought mountain craftsmanship is reflected in hundreds of beautiful pieces that can be found at galleries throughout the region.
Make a stop at one or all of these mountain craft destinations for a deeper look at time-honored traditions.
1

Southern Highland Craft Guild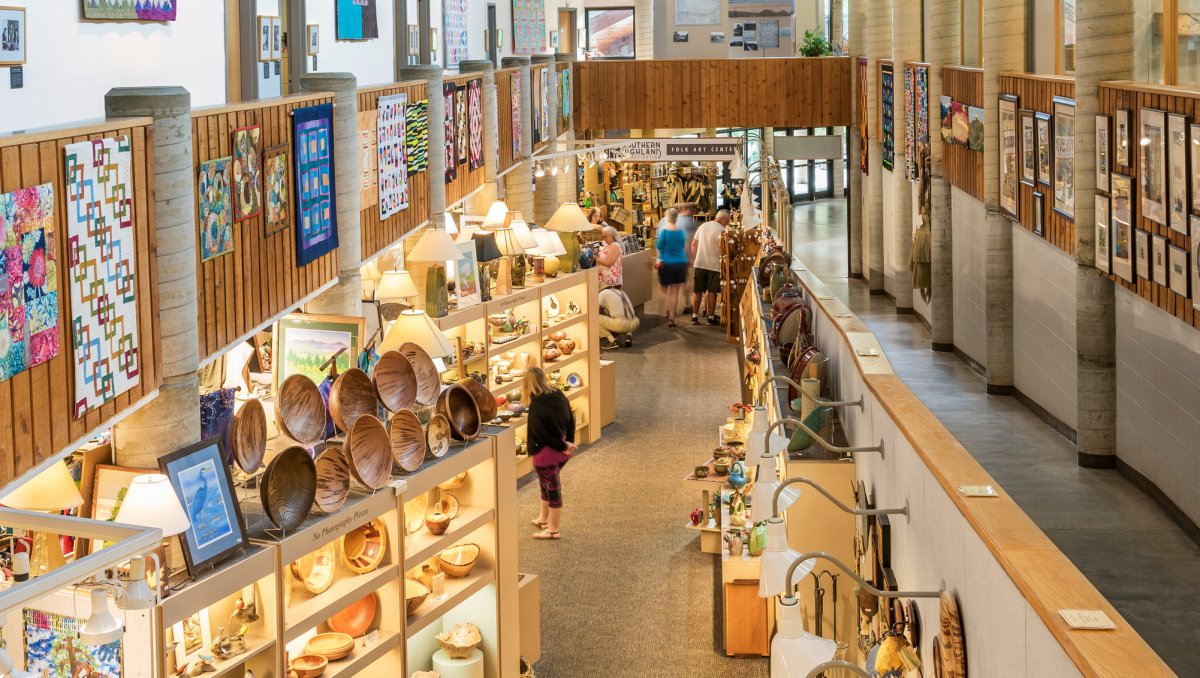 1

Southern Highland Craft Guild

Asheville

See on map
Housed in the Blue Ridge Parkway's bustling Folk Art Center just 5 miles outside of Asheville, the Southern Highland Craft Guild has promoted crafts made by accomplished mountain artists for more than eight decades. In addition to 30,000+ square feet of crafts, the Folk Art Center includes access to a section of the scenic Mountains-to-Sea Trail, as well as picnic areas and a quarter-mile ADA accessible educational trail.
Trip tip: Plan your visit between March and December for the chance to watch and talk with highly skilled craftspeople during daily demonstrations.
2

John C. Campbell Folk School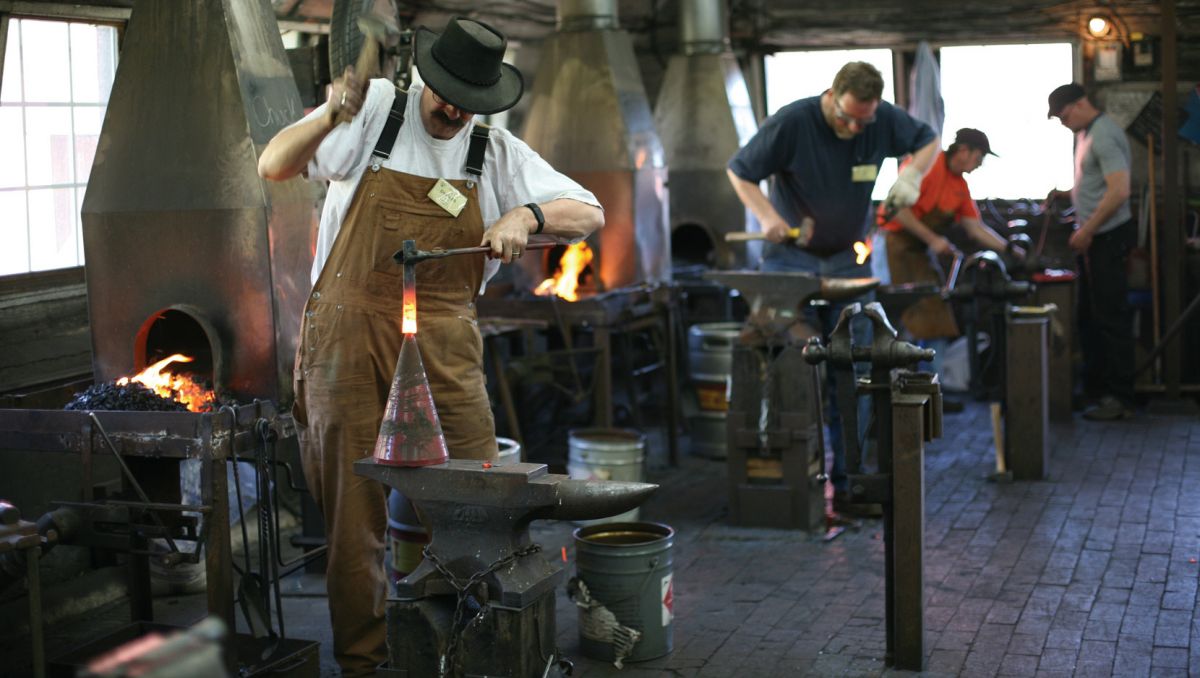 2

John C. Campbell Folk School

Brasstown

See on map
Founded in 1925, this unique school in Brasstown is the North Carolina version of what was originally a Danish idea: the folkehojskole or "folk school." Today, students can take more than 300 classes in subjects ranging from writing to cooking to woodworking, turning any hobby into an art form. The Folk School's Craft Shop represents more than 300 juried artists and features an impressive collection of Appalachian crafts.
3

Penland School of Crafts
3

Penland School of Crafts

Spruce Pine

See on map
Much like the Southern Highland Craft Guild and the John C. Campbell Folk School, the impetus for the founding of the Penland School of Crafts was provided by a visionary and determined woman: Lucy "Miss Lucy" Morgan. In 1923, Miss Lucy established the Penland Weavers to help revive the vanishing craft and supplement the locals' subsistence-level incomes. Word quickly spread and led to the establishment of the Penland School of Crafts near Spruce Pine in 1929. The School's educational program attracts world-renowned instructors, along with serious craft students. At the Penland Gallery, you can see and buy work by resident artists and students, as well as Penland's instructors.
Trip tip: Public tours are offered Wednesdays at 1:30 p.m. when classes are in session, and offer the best way to see the studios and artists at work.
4

Qualla Arts & Crafts Mutual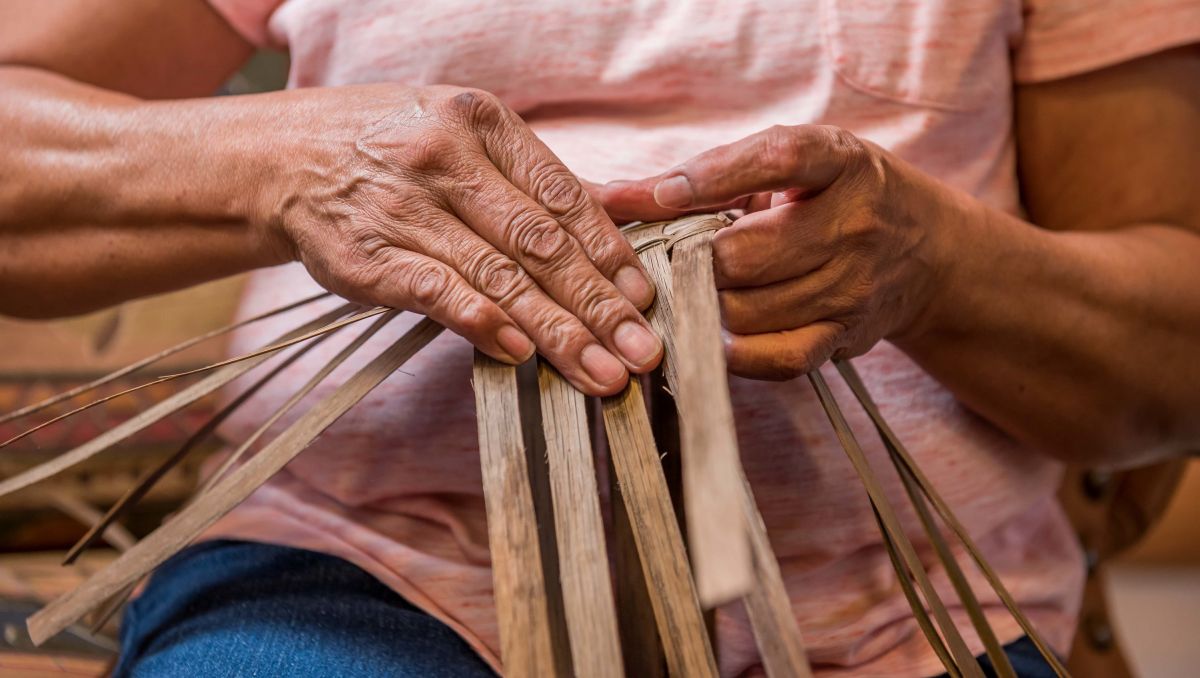 4

Qualla Arts & Crafts Mutual

Cherokee

See on map
If practice makes perfect, the beauty of Cherokee arts and crafts should come as no surprise, since crafts-making skills have been passed down from generation to generation through hundreds of years. In 1946, about 60 Cherokee craftsmen founded the Qualla Arts and Crafts Mutual. Today, the Mutual, across from The Museum of the Cherokee Indian in Cherokee, offers works from more than 300 artists and is the oldest Native American arts cooperative in the United States.
Updated March 27, 2018