8 Resolutions for an Unforgettable Escape to Corolla, North Carolina
Heighten your sense of discovery, reconnect with a loved one or indulge in some of life's finer things by taking a trip to Corolla. Admire wild horses roaming the beaches and explore a 21,000-square-foot historic mansion by the sea. Soak in quality time with your favorite people – or with yourself – along remote beaches and natural playgrounds. If you're looking for a memorable escape, Corolla has the answers.
Discover ...
… legendary wild horses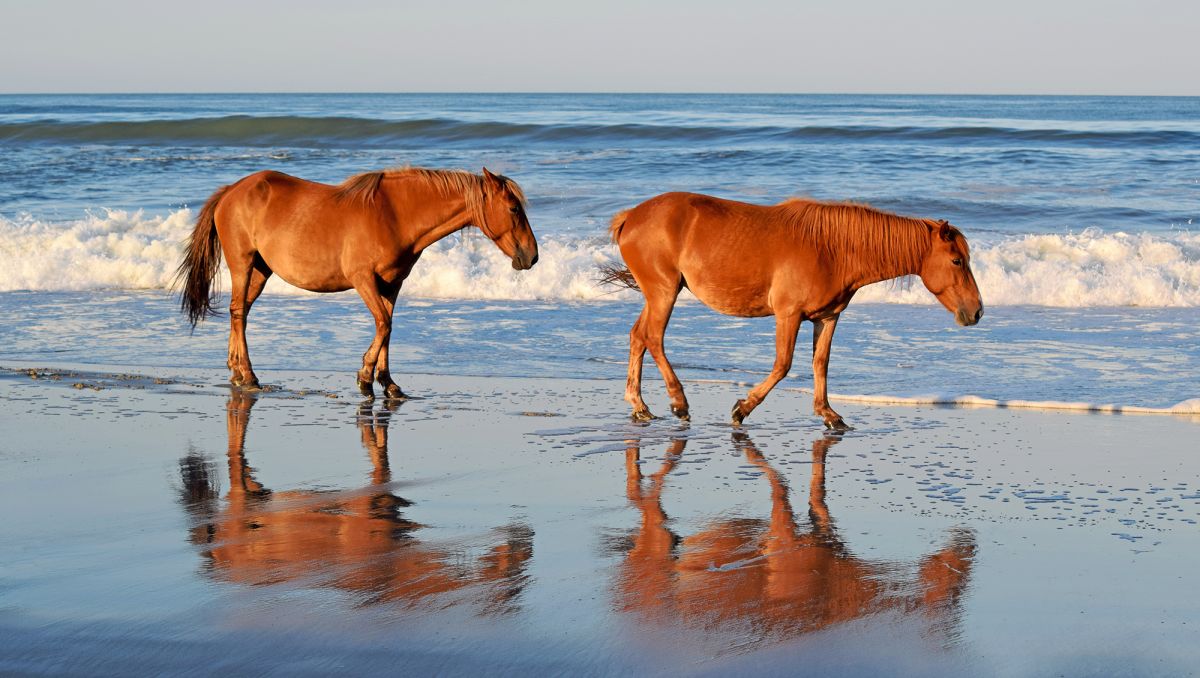 … legendary wild horses
Pay a visit to some of the oldest and most famous residents of the area: the Corolla wild horses. These historic animals are descendants of Spanish Colonial Mustangs and arrived on Corolla's beaches more than 400 years ago with seafaring explorers. They are a beautiful sight to see, even for the area's locals. While you're restricted to come within 50 feet of these majestic creatures, you can still be enchanted by their beauty with a guided wild horse tour. The excitement of spotting one of the horses wandering in their natural habitat will take your breath away.
… a wide range of nautical views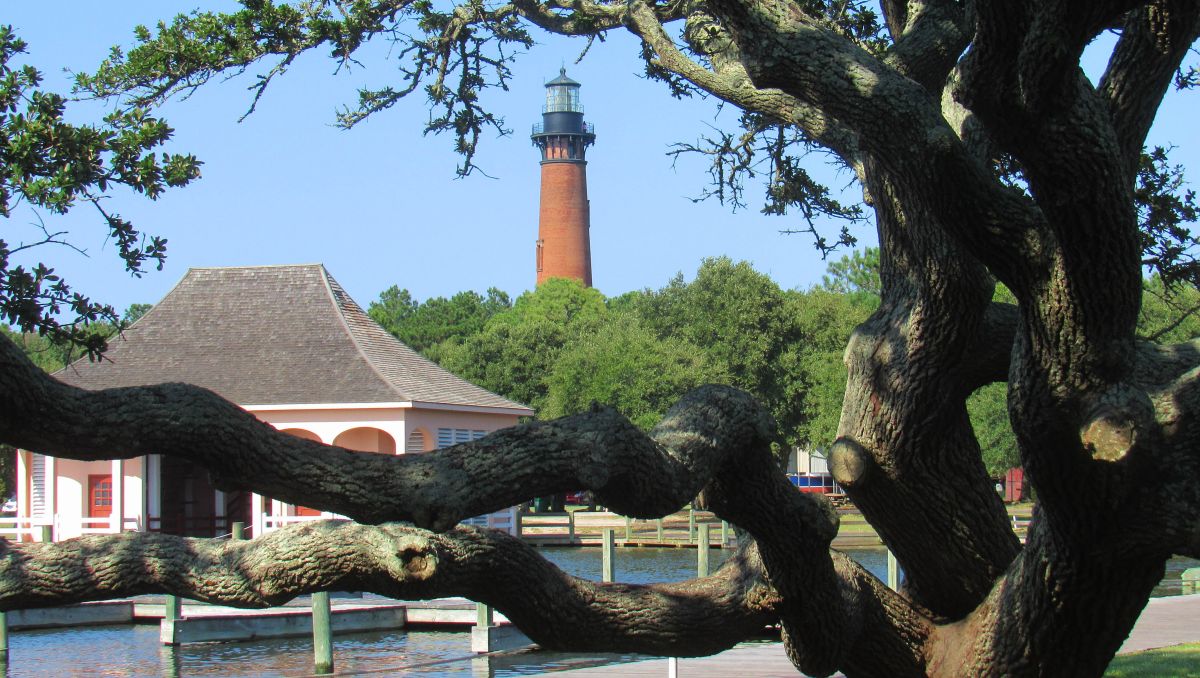 … a wide range of nautical views
Climb 220 steps to the top of the 162-foot Currituck Beach Lighthouse, which has been casting its light and protecting sea voyagers for more than 145 years. This nautical symbol of safety is visible from 18 miles away. At the top of the historic red brick tower is an unmatched view of the surrounding area. And while it is only open to the public from mid-March through late December, its architectural artistry can be admired 365 days a year. Pro tip: Explore all types of historic beauty through the Historic Albemarle Tour, a self-guided driving trail that meanders through 400 years of American history and culture.
… a historic mansion by the sea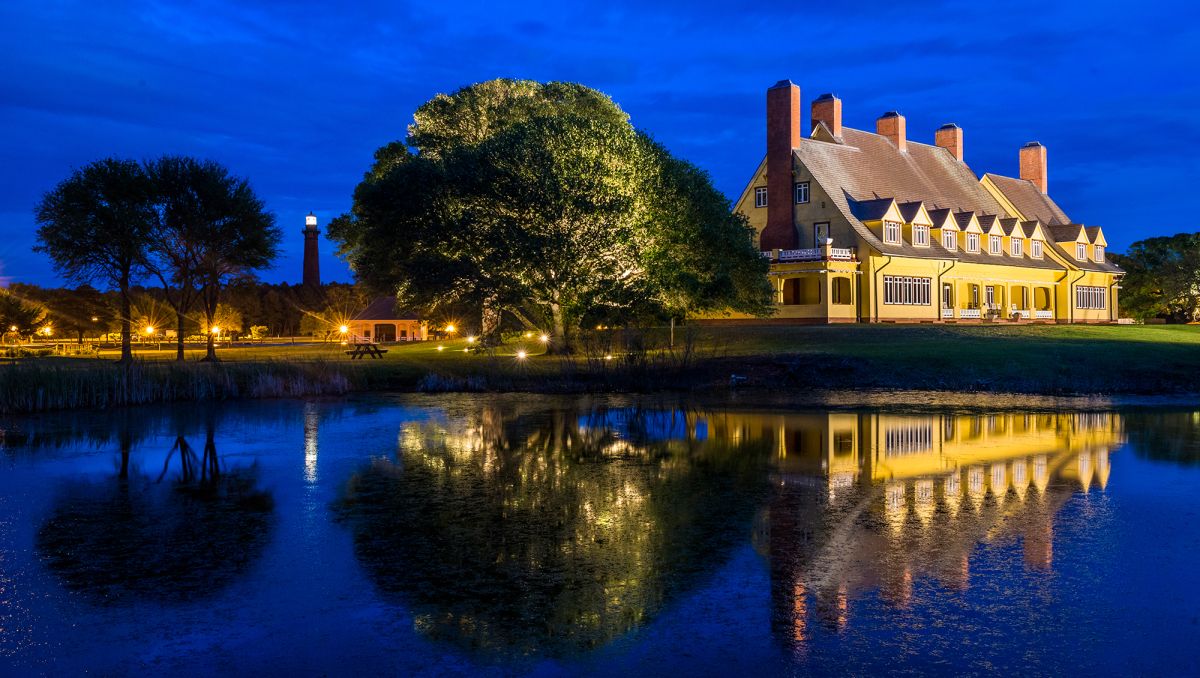 … a historic mansion by the sea
Step through the doors of Whalehead on the Currituck Sound, and you'll immediately be drenched in its history. Its yellow painted exterior, copper roof and mahogany doors invite you inside to learn more about its historic significance when Edward and Marie Louise Knight built it as a lavish hunting retreat in the 1920s. And about three decades ago, the entire estate was thoughtfully restored to resemble the original home. The 21,000-square-foot mansion and museum has walls that supposedly like to talk; visitors have smelled mysterious cigar smoke, heard a little girl's cry and watched an elevator move on its own.
… Currituck's rich maritime history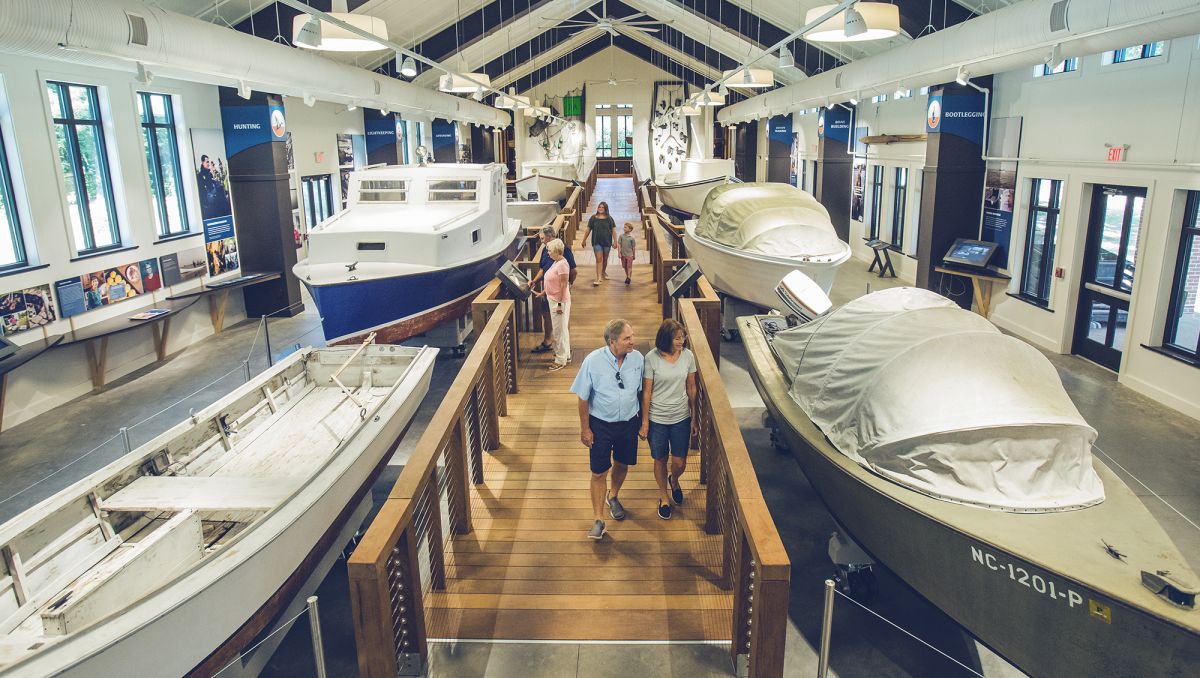 … Currituck's rich maritime history
The Currituck Maritime Museum offers a taste of Currituck's rich maritime heritage, providing a self-interpretive, family-friendly experience. The 10,000-square-foot museum is surrounded by water and interlaced with rivers and creeks. Located in the heart of Historic Corolla Park, it allows history buffs to explore how salty water has defined and shaped the people and coastal history of the area. Exhibit topics include restored historical boats, lifesaving stations, lighthouses and decoy carving. Be first in line to tour the museum at 10 a.m. Monday through Friday (seasonally) – and admission is free.
Reconnect ...
… with loved ones – or yourself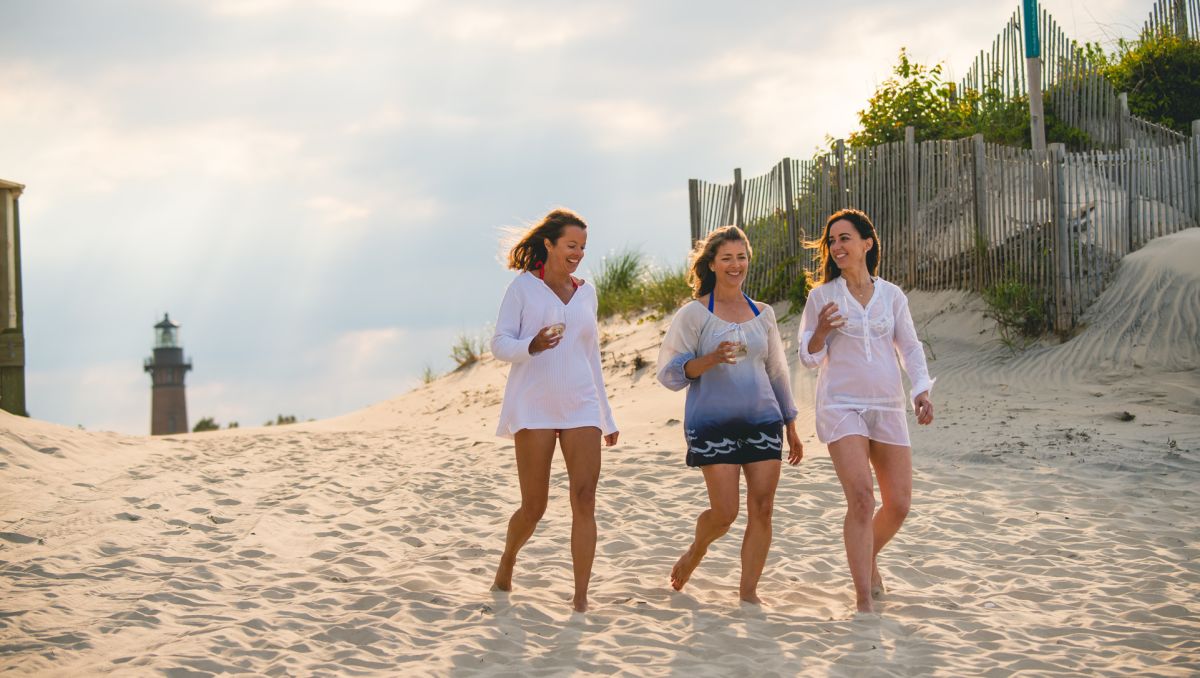 … with loved ones – or yourself
With more than 20 miles of windswept remote beaches, enjoy a stroll along a shoreline overlooking the Atlantic Ocean. Hunt down ocean treasures, rent a 4x4 to see the beach with a different perspective, or relax on an oceanfront deck while taking deep breaths of salty air as you catch up with family or friends. At night, the stars shine bright, so grab a blanket or beach chair and gaze at the constellations above.
… with nature and nautical playgrounds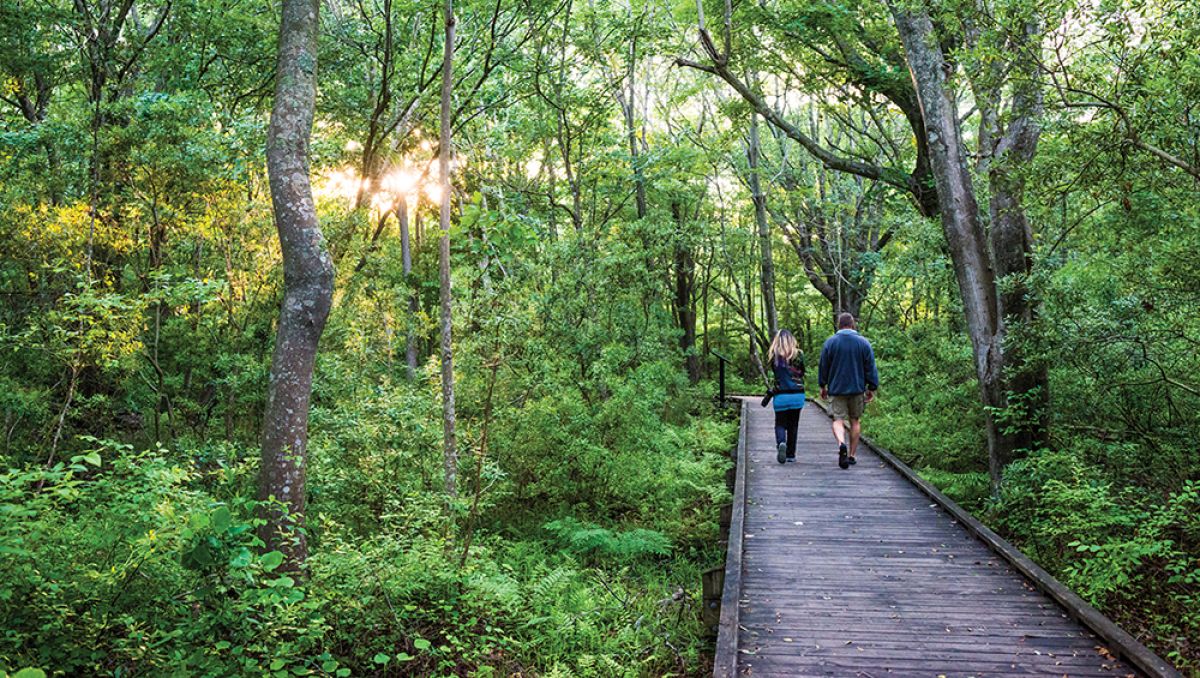 … with nature and nautical playgrounds
Take a walk along a 2.5-mile nature trail where you can experience the balance of an important ecosystem. The 2,600-acre Audubon Sanctuary at Pine Island protects 170 bird species, seven amphibian species, 17 reptile species, 19 mammal species and more than 350 species of plants. Nature lovers and hikers can also meander through the Currituck Banks National Estuarine Reserve, located just 10 miles north of the Audubon Sanctuary. The reserve is like an outdoor playground, encompassing 965 acres of ocean beach, sand dunes, grasslands, shrub thicket, maritime forest, tidal flats, brackish and freshwater marshes, and soft subtidal bottoms. It also has a handicap-accessible boardwalk trail for visitors to watch for birds.
Indulge ...
… in luxury accommodations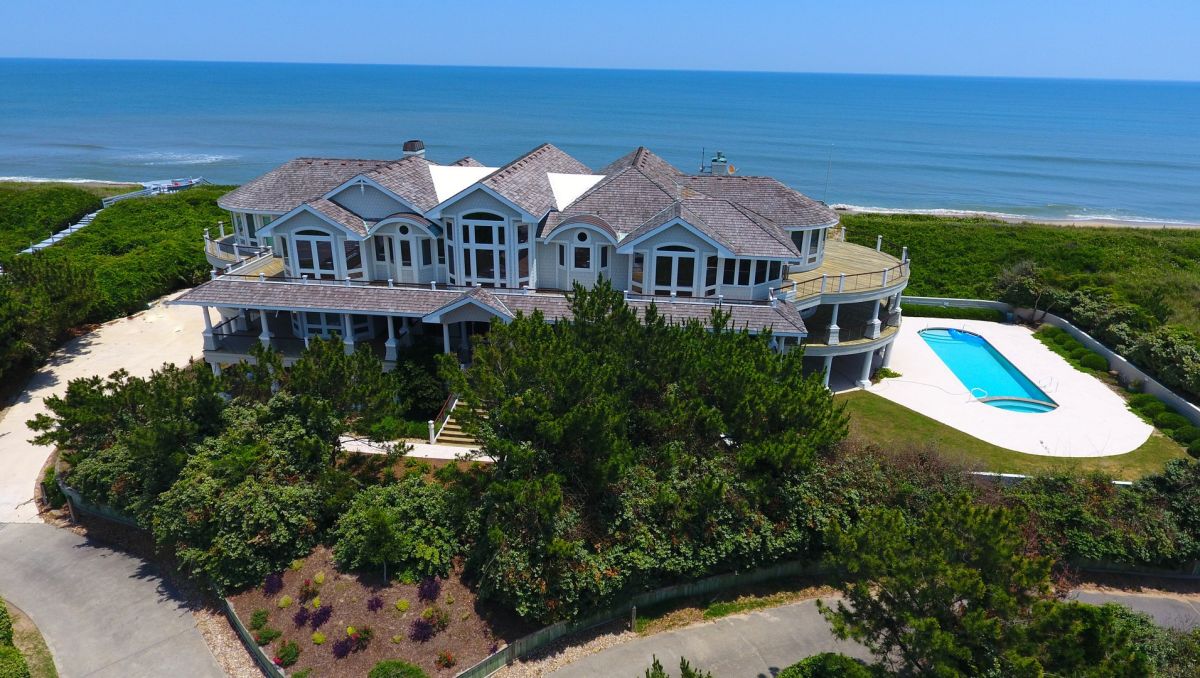 … in luxury accommodations
From spacious oceanfront and soundside rentals to charming inns and hotels, Corolla boasts a wide variety of luxury rental properties perfect for your getaway. Many properties have enough bedrooms and living space to accommodate large families under one roof, plus fun amenities such as state-of-the-art entertainment systems, impressive porches, outdoor showers, swimming pools and hot tubs.
… in fine dining and fresh seafood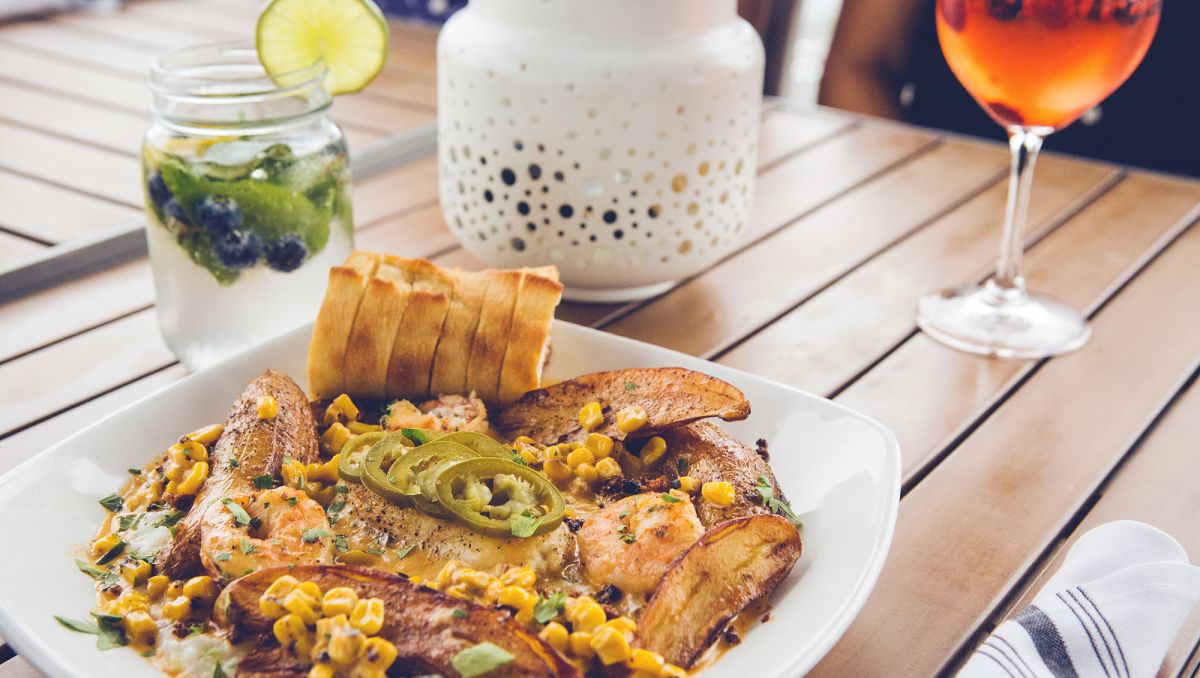 … in fine dining and fresh seafood
You've heard of farm-to-table dining options, but what about boat-to-plate? Excite your taste buds at one of Corolla's many restaurants and bars. Sample the raw bar options at a local joint such as Fat Crabs Rib Company, North Banks Restaurant & Raw Bar, or Sun Dogs Raw Bar and Grill. Or pick apart a traditional Southern seafood boil at the comfort of your vacation home. The adventurous spirits can even fend for themselves by casting a fishing line or dropping their crabbing nets in the local waters to catch their next meal.
This article was produced in partnership with, and all photos are courtesy of, Currituck County Department of Travel and Tourism.
Updated January 11, 2023