10 Brewery & Winery Wedding Venues in North Carolina
Sweeping views of vibrant fields of grapes, rolling mountains, and cool, darkly lit wine and beer cellars can all combine to make your special day truly unique at a North Carolina winery or brewery wedding venue.
North Carolina is home to more than 400 vineyards and 350 breweries, and many of these locations have tasting rooms, pretty outdoor settings or separate event spaces, any of which can be used for your ceremony, reception or both. Vineyards and breweries lend themselves naturally to certain themes, such as Tuscan, rustic, urban or elegant backdrops, which makes it easy to plan the details of your wedding.
Wherever in North Carolina you choose, you'll find a beautiful brewery or winery wedding venue. Here are some possibilities across the state:
1

Childress Vineyards
1

Childress Vineyards

Lexington

See on map
With its rural Tuscany-inspired terra cotta roof and grand entry hall fountain, Childress Vineyards provides unique spaces for both large and small weddings. Their classic wedding package includes partial access to the vineyard with your choice of two different venue sites. For bigger weddings, the signature package offers exclusive access to several beautiful venue sites, such as the Grand Pavillion and Winery Foyer.
2

Boondocks Brewing

West Jefferson

See on map
Situated in an Appalachian Mountain valley on North Carolina's northern border, rustic Boondocks Brewing also has a separate private event space coined the Brew Haus. Thanks to its full-service kitchen, guests can also order from the full bars located on both floors, and couples can choose from a formal sit-down dinner, buffet-style, or just some appetizers and small plates. Add in a stage and Boondocks' willingness to customize your event, and planning a mountain wedding becomes a cinch.
3

Grapefull Sisters Vineyard
3

Grapefull Sisters Vineyard

Tabor City

See on map
This rustic vineyard near Wilmington was born when two sisters inherited a tobacco farm. Initially at a loss for what to do with the land, they happened upon grapevines that were growing wild along a creek. Today, the vineyard continues to grow the plump Native American Muscadine grapes and the private wedding garden is a quaint, rural setting for weddings small and large. They also have a cozy inn with two bedrooms to accommodate your wedding party before the ceremony, as well your first night as a married couple.
4

Cypress Bend Vineyards

Wagram

See on map
Whether you dream of a wedding under a white tent, on a sprawling patio, or among grapevines, Cypress Bend Vineyards, which is bordered by the Lumber River, can orchestrate a beautiful day. The Grotto Area overlooking the pond provides a lovely setting for your ceremony. The Veranda with its lush views of the vineyards and the Tasting Room are perfect for smaller gatherings.
5

Triple C Brewing

Charlotte

See on map
Triple C is leading the way as a North Carolina brewery that hosts weddings. The owners invested in a separate private event space dubbed The Barrel Room that opened in 2017 across the street from their popular South End brewery. With an exterior patio and a 4,400-square-foot banquet hall, weddings at Triple C also include beers and a few wines flowing from 20 taps. If you love Sound End's vibe, there's another option just across the street; Suffolk Punch Brewing opened a private event space in 2019.
6

Silver Coast Winery

Ocean Isle Beach

See on map
Surrounded by lush woods and located only 15 minutes from the beach, this coastal winery is a perfect alternative to the traditional beach wedding. Choose from a ceremony in the vineyard, under a tent on the beautiful grounds surrounding the vineyard, or a more romantic experience with the waterfall in the barrel room. Silver Coast Winery can host an intimate affair or a grand extravaganza of up to 130 people.
7

Elkin Creek Vineyard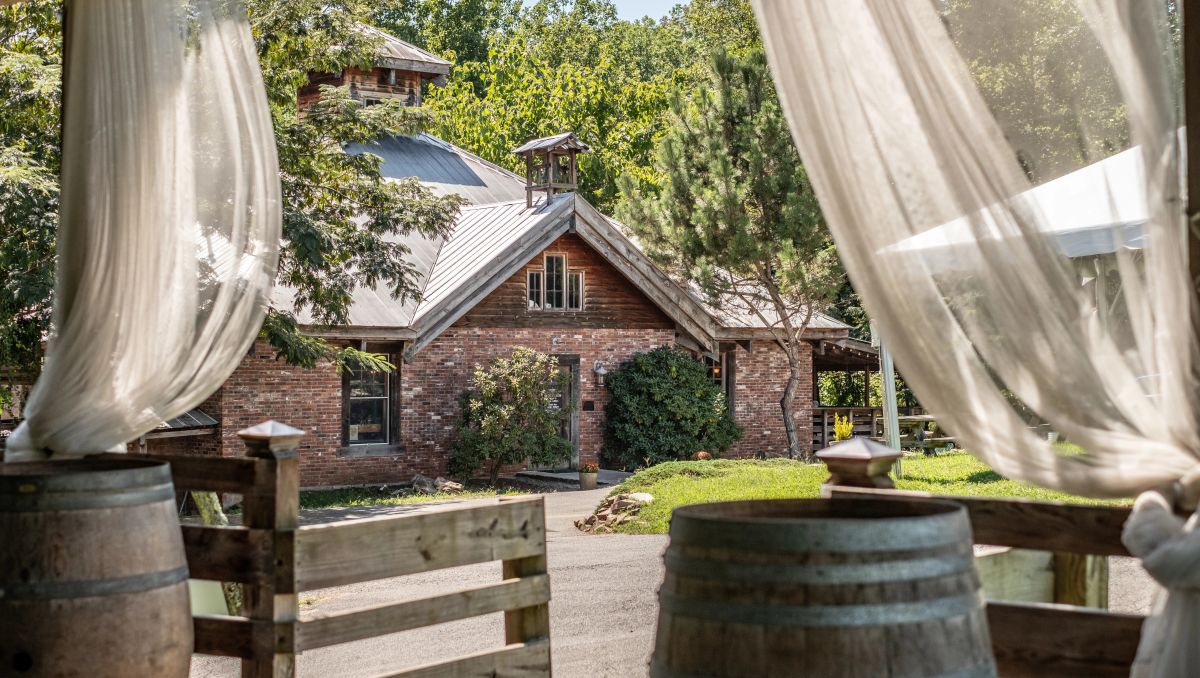 7

Elkin Creek Vineyard

Elkin

See on map
Get married among the huge oak trees, May apples, ferns, rhododendron and mountain laurel at the foot of Elkin Creek Vineyard. Alternatively, exchange vows at the union of two flowing creeks, a perfect setting symbolizing the joining of two lives. The vineyard has several wedding packages to choose from, as well as creek-side cabins for your bridal party or wedding night.
8

Highland Brewing Company
8

Highland Brewing Company

Asheville

See on map
Like Triple C and Boondocks, Highland also has a separate Event Center located next to its taproom and outdoor space. This massive 2-story buildout features a rooftop bar with 360-degree mountain views and room for up to 500 guests or parties as small as 80. Described as "industrial chic," the space combines a modern feel with top-notch service from Highland's dedicated event staff.
9

Raffaldini Vineyards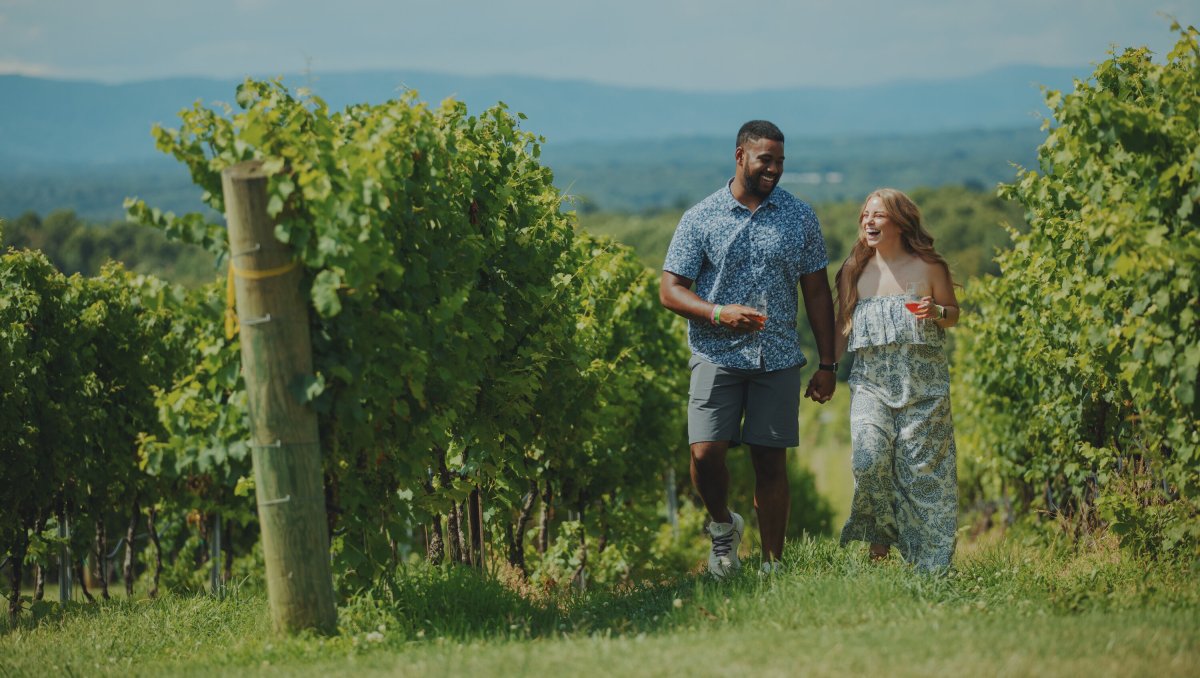 9

Raffaldini Vineyards

Ronda

See on map
Raffaldini Vineyards, located on the edge of the High Country and the Yadkin Valley, is a picturesque setting for a wedding filled with old-world charm. A beautiful fountain sits in the heart of a large piazza, while roses, lavender, rosemary bushes and fig trees are scattered through the property. Celebrate your day at Villa Raffaldini, a 6,000-square-foot tasting room inspired by the villas of Italy, with panoramic views of the Blue Ridge and Brushy mountains and outdoor balconies and landscaped terraces. For something a bit more intimate, choose Fattoria Raffaldini – fattoria means "farmhouse" in Italian – that offers a lovely location among the vines with views of the villa, gardens and surrounding mountainside.
10

Uwharrie Vineyards

Albemarle

See on map
Make the wedding of your dreams become a reality in the Uwharrie Vineyards banquet hall, with hardwood floors, customized menus, floral arrangements, crystal glassware, elegant linens, live music and personal custom-designed wine labels. The onsite event coordinator, professional chef and dedicated winemaker are available to help create memories that you will cherish forever. And wedding guests can enjoy a private tour of the winery and a tasting of handcrafted wines.
Updated November 19, 2021