6 Ways to Winter in North Carolina
North Carolina boasts a wide variety of adventures, both indoor and outdoor, for travelers seeking to stay active in the crisp winter air. Tour America's largest home, join an island marshmallow roast or check out a naturally occurring masterpiece created by ice. Your excitement will fire up as the temperature dips down.
Slide the Slopes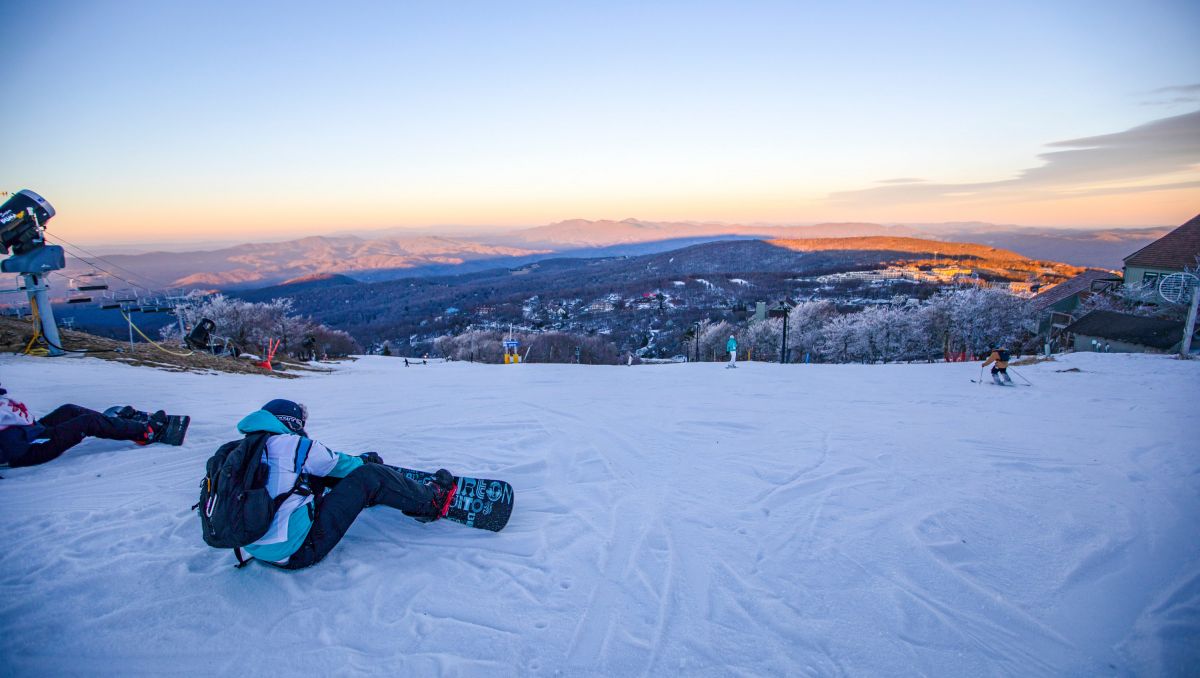 Slide the Slopes
North Carolina's mountains boast ski/snowboard resorts with totally legit vertical drops, terrain parks for tricksters, and amenities such as tubing runs, skating rinks and snowshoeing trails that will please everyone in the family, whether they prefer mild or wild. Spots include Sugar Mountain Resort (North Carolina's largest), Beech Mountain Resort and Blowing Rock's Appalachian Ski Mtn., home to the renowned French Swiss Ski College. Resorts open early – around Thanksgiving – and host skiers through March; snowmaking and grooming make for perfect tracks throughout the season.
Revel in Revered Homes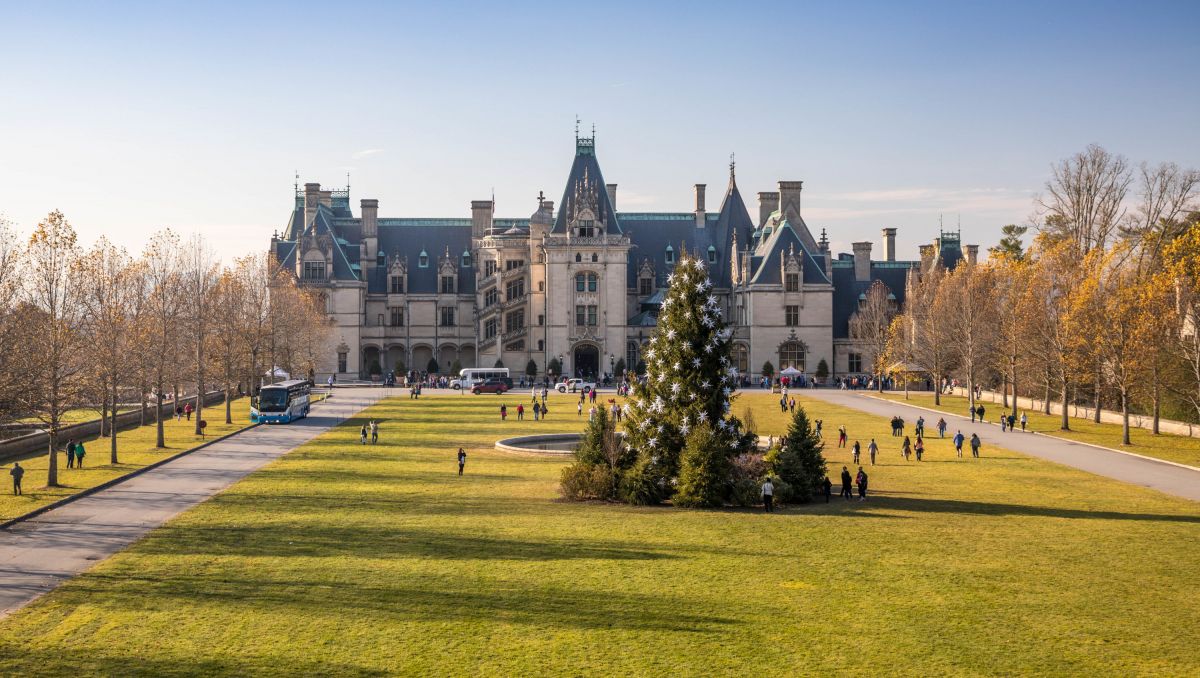 Revel in Revered Homes
Asheville's Biltmore House, the largest home in America, decks its halls for the holidays each year with more than a mile of garland, more than 100 trees and 10,000 ornaments. Tour during the daytime or at night, when the front lawn alights with luminarias and twinkling trees. In Flat Rock, celebrate famed poet Carl Sandburg during Christmas at Connemara, held at the Carl Sandburg Home National Historic Site. Enjoy music, stories, treats and crafts at Connemara, the house where the literary legend lived and wrote for much of his life. Sandburg produced a third of his works and won his second Pulitzer Prize here. You can also hike 5 miles of trails, pet goats and pick up volumes of Sandburg's poetry at the bookstore.
Play 'Free Bird'
Play 'Free Bird'
Lake Mattamuskeet gets a big boost of visitors – both human and winged – during the winter months, with more than 250,000 Alaskan tundra swans, snow geese, Canada geese and ducks calling it their temporary home. Visit Swanquarter's Mattamuskeet National Wildlife Refuge in December to welcome the swans' return. Tundra swans – known for their unique calls – also find sanctuary at Pea Island National Wildlife Refuge, where you can spot bald eagles, barred owls and great blue herons too. The occasional black bear meanders among the swans, mallards and great blue herons at Pocosin Lakes National Wildlife Refuge near Columbia.
Chill on the Coast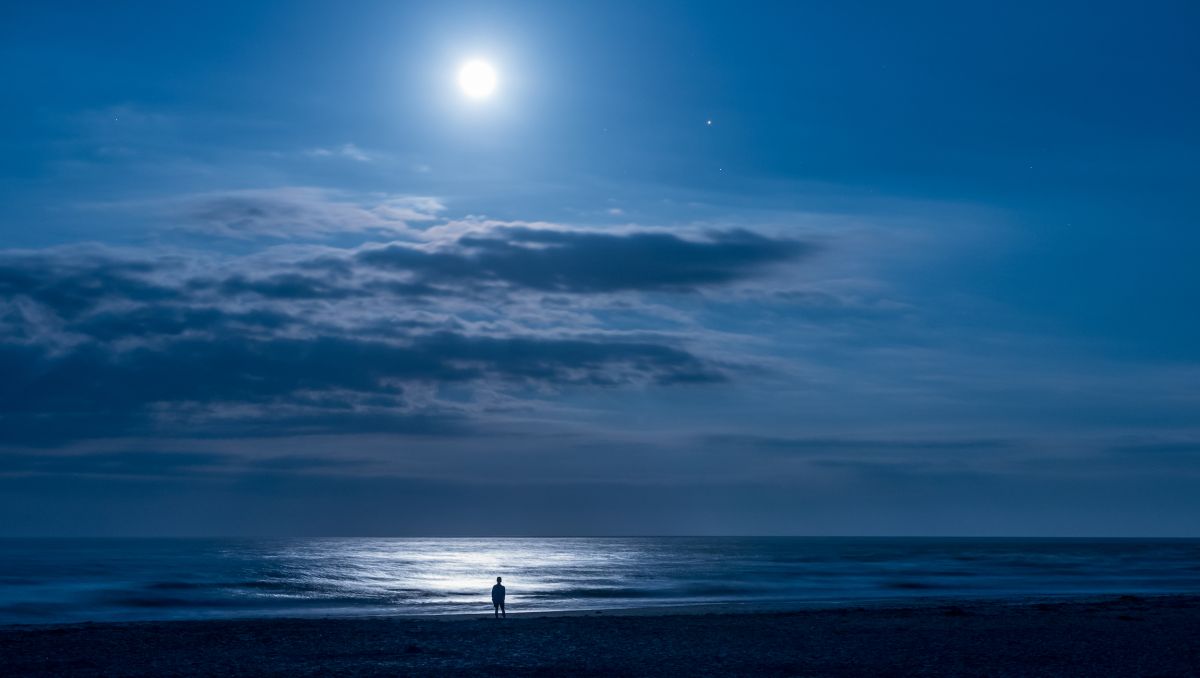 Chill on the Coast
With summer crowds gone and temps staying relatively mild (in the 50s), winter's the time to seize some coastal serenity. Take a 2-mile ferry ride across the Cape Fear River to reach Bald Head Island. Locals and visitors join in on Friday night marshmallow roasts and fishing trips to catch speckled trout, striped bass and redfish. Before the new year, you'll also want to climb 108 steps to the top of Old Baldy, our state's oldest standing lighthouse. Seashell hunters love storms, as the strong winds reveal colorful treasures after low tide. The yellow-gray shells of prized channeled whelk – with signature purple streaks – sit in the sands of Corolla. (They can be up to a foot long.) Comb the beaches of Cape Lookout National Seashore for the Scotch bonnet, our state's official shell. Look for yellow-brown squares on a white background, the plaid pattern that earned the shell its name.
Hike the Heights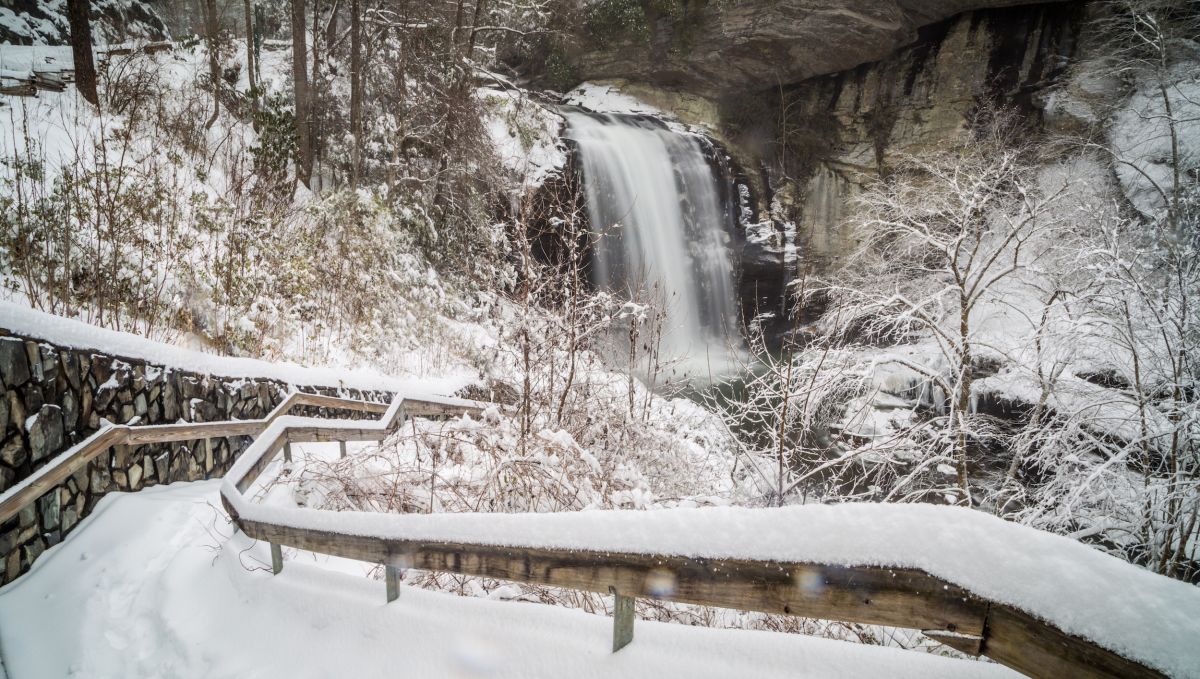 Hike the Heights
The Boone area boasts a beautiful array of winter scenery, from tree-lined hillsides to snow-capped mountaintops. See both on the accessible Boone Greenway trail. Level terrain allows bicycles and wheelchairs to navigate along the New River, passing forests and a covered bridge. Near Brevard, Looking Glass Falls becomes an icy cascade in winter. It's easy to get to, with parking next to a viewing deck. Demanding winter hikes await in the Piedmont at Stone Mountain State Park, where a 4.5-mile loop takes explorers past the summit and a waterfall. While falls can be pretty, respect Mother Nature and stay safe.
Do the Locomotives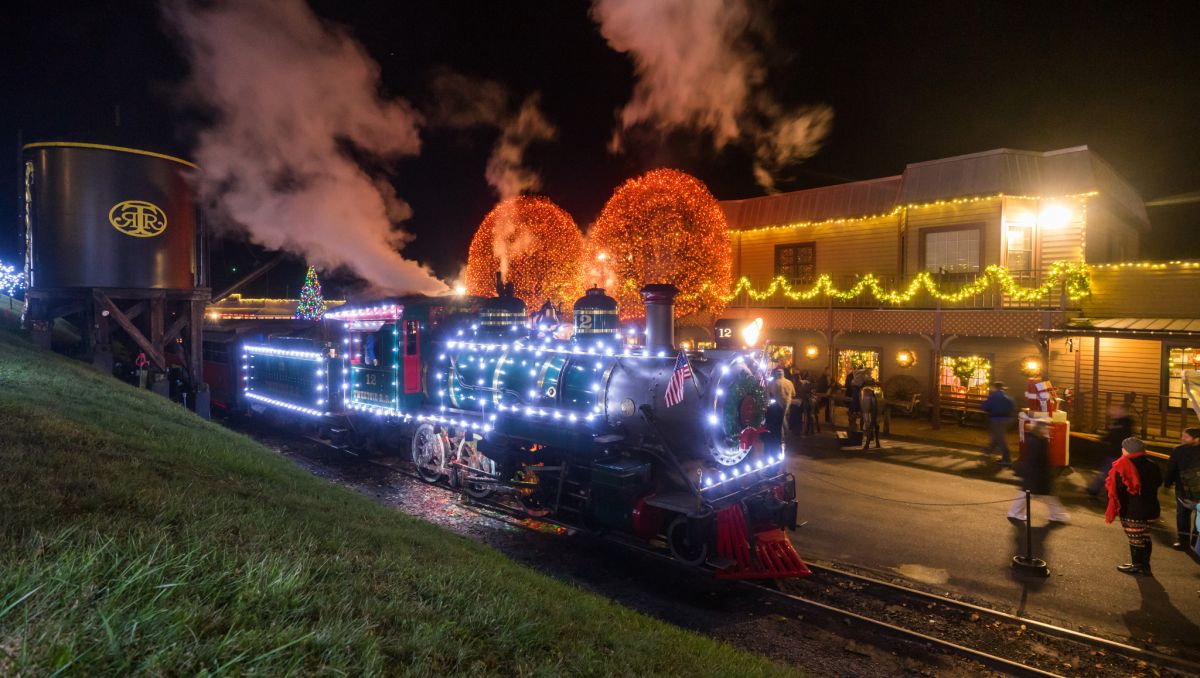 Do the Locomotives
Bryson City's Great Smoky Mountains Railroad brings to life The Polar Express from November through December. Dress in your favorite pajamas and take a ride to "the North Pole." From late November through the end of the year, Tweetsie Railroad in Blowing Rock hosts Tweetsie Christmas. Ride the train and take in the dazzling light display and holiday music. For a Polar Express experience in the Piedmont, head to the N.C. Transportation Museum in Spencer, where you'll also find excursions and roundhouse turntable rides year-round.
For more cool ways to experience the seasons, check out The Official 2023 North Carolina Travel Guide.
Updated December 14, 2022