Enjoy a Getaway Spent in the Glory of Fayetteville's Great Outdoors
For a weekend trip to the Fayetteville area, you have to get an early start. Take Friday off; you've earned it. The rest of your reward awaits: a low-key weekend so good you'll be ready to come back and do it all again.
Friday
Arrive midafternoon and check into your hotel. You'll do more than shower and sleep in your home away from home, so choose a place that offers room to spread out and even dine. You can also pick a pet-friendly spot so your four-legged road trip partner can join in, or go for a place so comfy-cozy you won't want to leave.
Check in, drop your gear, get changed, mask up and move; Fayetteville's waiting.
Start downtown at the Fayetteville Visitors Center, where you can pick up a map and some local insight. Then grab something handheld and easy to eat like a torta or burrito from Armored Tacos and Grill, a gyro from Zorba's Gyro On a Spit, or a chicken-and-waffle sandwich from Chef Judy McLean's Uptown's Chicken and Waffles (Count On Me NC-certified). Hold off on that first bite – there's a picnic spot waiting nearby.
At the Count On Me NC-certified Carvers Creek State Park, grab a picnic table by the 100-acre millpond at Long Valley Pond Farm or lay a blanket beneath the trees. As soon as you clean up from your late lunch, it's time to hit the trail. Here at Long Valley, hikers and mountain bikers spread out on 3 miles of trails, but at the second section of the park – Sandhills Access – you'll find 10 miles of trails for hikers, bikers and horseback riders. The 4-mile, one-way Longleaf Pine Trail leads through a forest filled with our state tree. It's a great introduction to the sandhills and piney woods around Fayetteville.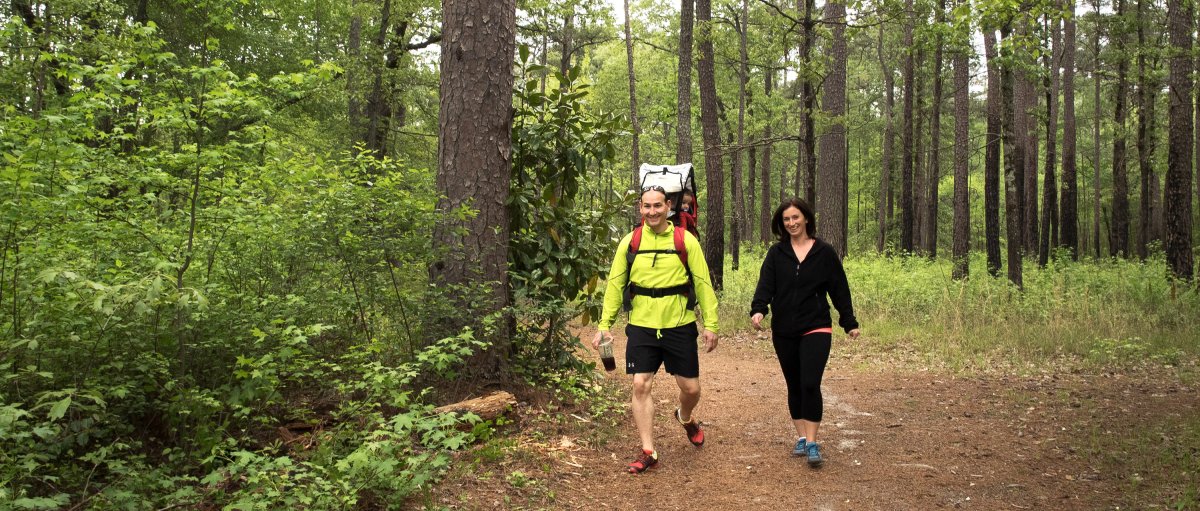 Hike, bike or ride to your heart's content, then head back to town to freshen up and grab a clean mask before dinner.
Make your way to the Count On Me NC-certified Fred Chason's Grandsons, a local favorite for good ol' Southern staples hot off the grill – in buffet style. Sample all the barbecue, chicken, seafood and fixins you can fit, but be sure to save room for some banana puddin'.
Saturday
Be up early and slather on the sunscreen – you'll be outside until sunset playing golf, exploring and soaking up all the nature Fayetteville has to offer.
Anderson Creek Golf Club was an amazing course before the 2020 renovation of the greens – and now it's spectacular. The first signature course in North Carolina by Davis Love III (who hails from the Old North State, incidentally) packs a good number of longleaf pines and beautiful natural areas in its 18 holes, giving you those perfect Carolina views from every tee box.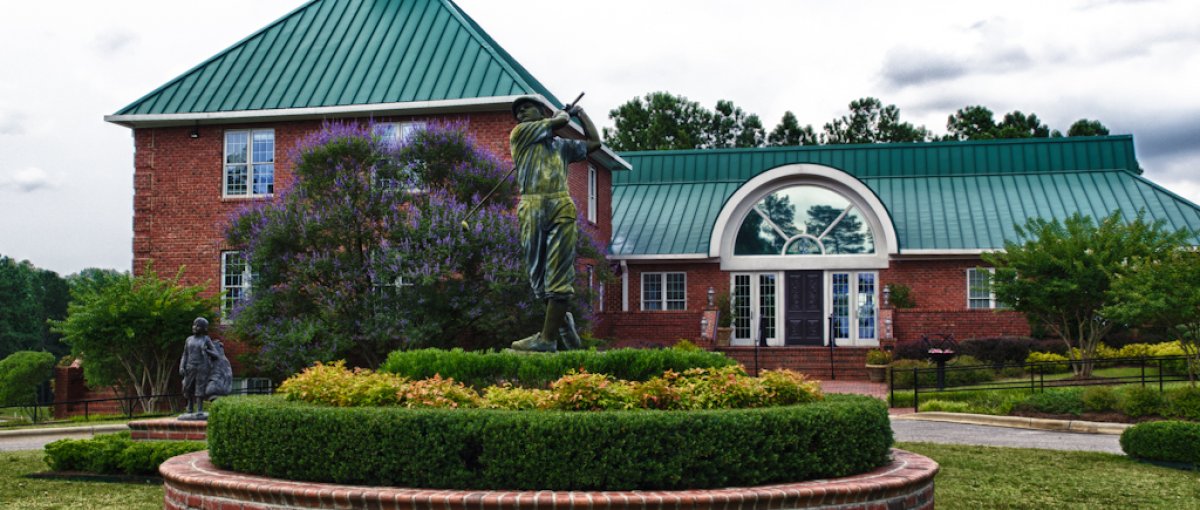 At Cypress Lakes Golf Course, you'll find one of the most versatile courses in Cumberland County (it also happens to be the most challenging course in the county). And it plays wonderfully. Aggressive golfers can let fly with their driver, hunt the pin from nearly any fairway position and give those long putts a go. Likewise, novice golfers will find a course that's forgiving and fun to play from any lie.
If you're not ready for a full 18, go for the short 18 on the miniature golf course at Putt-Putt Fun Center (fun fact: putt-putt golf was founded in Fayetteville in 1954). This isn't a bent-grass greens, bucolic walk in the woods – it's an Astroturf-and-neon-golf-ball good time. So grab a sanitized putter and make way for the first tee box.
Of course, you might not be the golfing type. If that's the case, head over to the wandering paths and immaculate landscaping at Cape Fear Botanical Garden. Meander through gardens and wooded bluffs overlooking the Cape Fear River, then slow down on the banks and floodplain and admire the curling tops of ferns, the bright bursts of color from flowers and shrubs, and the lazy drone of pollinators heading back to their nest.
After a round of golf or a stroll in the garden, you'll be ready to eat. Drop by Gaston Brewing Company, where its beers – traditional IPAs; hazy, New England-style IPAs; crisp lagers; a standout Kölsch; and more – accompany great pub fare such as wings, salads, fish and chips, and a Chicago-style beef sandwich.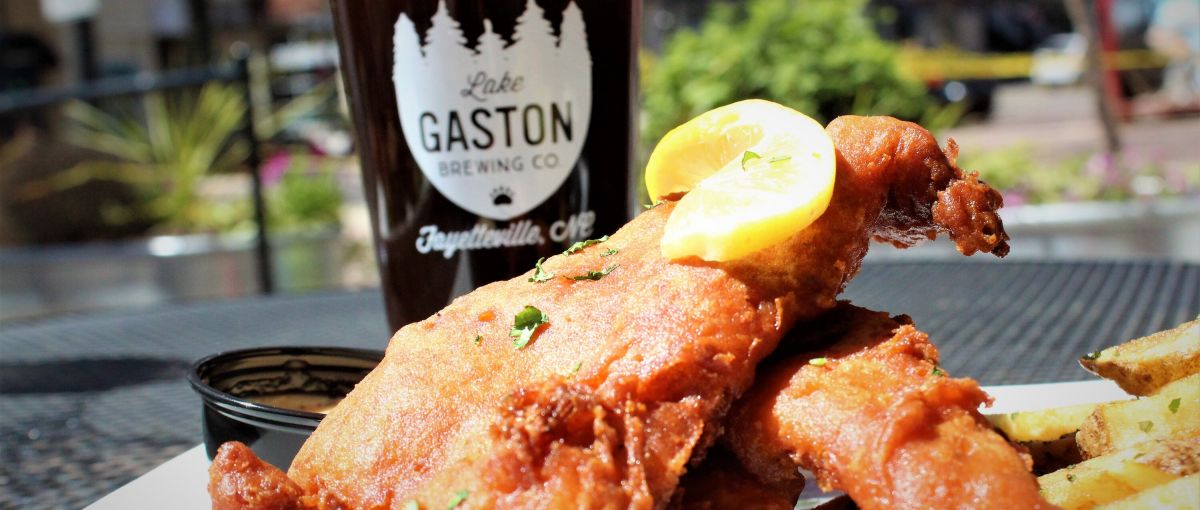 Sunday
Wrap up the weekend with a walk on the Cape Fear River Trail. The trail leads from the botanical garden through a section of east Fayetteville onto a path built so walkers, joggers and cyclists can get a safe dose of fresh air. Wildlife abounds, so expect to find a few birds, deer, squirrel or rabbits on this early morning stroll. And don't be surprised if you work up a hunger. Simply head over to Duck Donuts, place your order and dine on piping-hot donuts before you hit the road.
This article was produced in partnership with, and all photos are courtesy of, Fayetteville Area CVB.
Updated September 10, 2021