Mountain Drives: Donald Ross Golf Near Asheville
Donald Ross left his legendary signature on the more than 400 golf courses he designed around the world, including Pinehurst No. 2 and dozens of others that are still played across North Carolina. His bunkers and fairways, for example, reflect the land, often looking like Mother Nature created them herself. That's especially true in the dramatic topography of North Carolina's mountains, where you can choose from five courses to assemble a Ross-inspired golf trip.
Deciding where you'll play, what you'll see and do, and where you'll eat and stay along the way is an adventure, like the approaches on Ross' courses. Getting there is easy, because these golf courses are in towns linked by the Blue Ridge Parkway, the design of which looks like something from Ross' desk. The parkway climbs over mountains and dips through valleys, offering spectacular views and interesting sights as soon as you hop on near Cherokee.
Option 1: Waynesville
If you're up for some exploration before your round, stop at Waterrock Knob at Blue Ridge Parkway Milepost 451.2, about 20 miles from the parkway's entrance. Follow the 1.2-mile trail to the seasonal visitors center, which has an elevation of 5,712 feet. From there, views of Maggie Valley stretch 50 miles on clear days. If you don't want to hike to the top, great views can still be had from the parking lot and landing about halfway up.
Less than 10 more miles on the parkway, and you'll be at U.S. Highway 74/23. Take it to Waynesville, where streets lined with brick sidewalks and benches are perfect for strolling. Shop the western North Carolina institution Mast General Store or visit Museum of North Carolina Handicrafts to see weaving, pottery and Native American artifacts.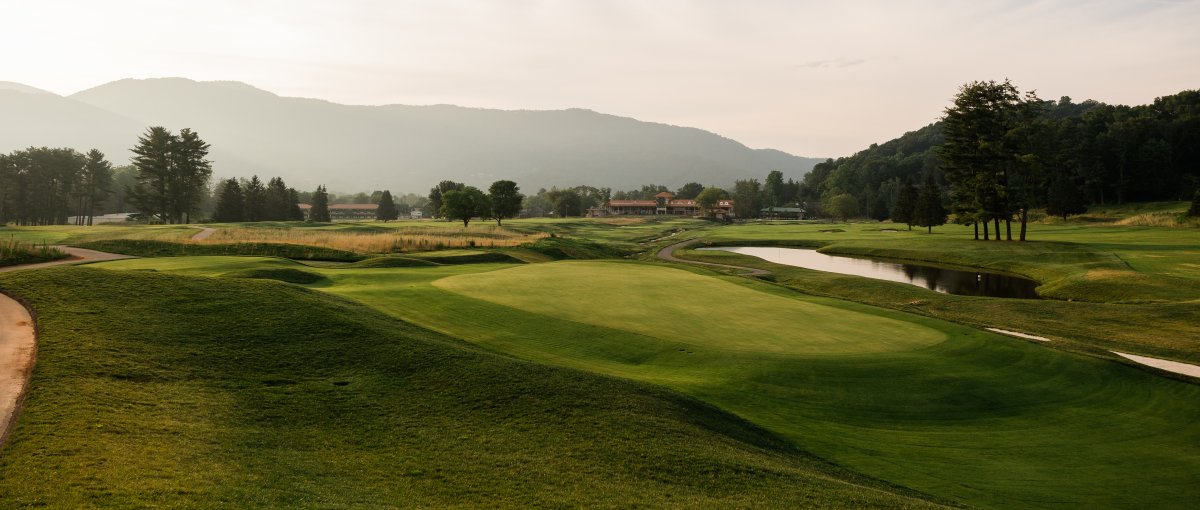 Waynesville Inn & Golf Club just underwent a huge renovation in 2023 that turned Ross' nine-hole Carolina course into an 18-hole beauty. Get a taste of all the updates with a stay and play package, where two rounds of golf, breakfast at The Grill and redesigned accommodations bring your golf getaway to a whole new level.
Option 2: Asheville
Back on the Blue Ridge Parkway, you'll pass Mount Pisgah at Milepost 408.6. It's inside Pisgah National Forest, a popular place for mountain biking, hiking, camping and fly fishing for trout. It was part of George Vanderbilt's 100,000-acre estate. Tour his Gilded Age home, Biltmore, along with its winery – where more than 30 varieties are handcrafted – in Asheville.
Asheville and The Omni Grove Park Inn, which Conde Nast Traveler featured in its list of top-20 Southern golf resorts, are easily accessible via U.S. Highway 70 at Milepost 382.6. Ross packed plenty of challenges into Grove Park's 6,055-yard championship course, which he designed in 1926. You'll have to carefully plan attacks for the uphill, downhill and sidehill lies along with his trademark crowned greens.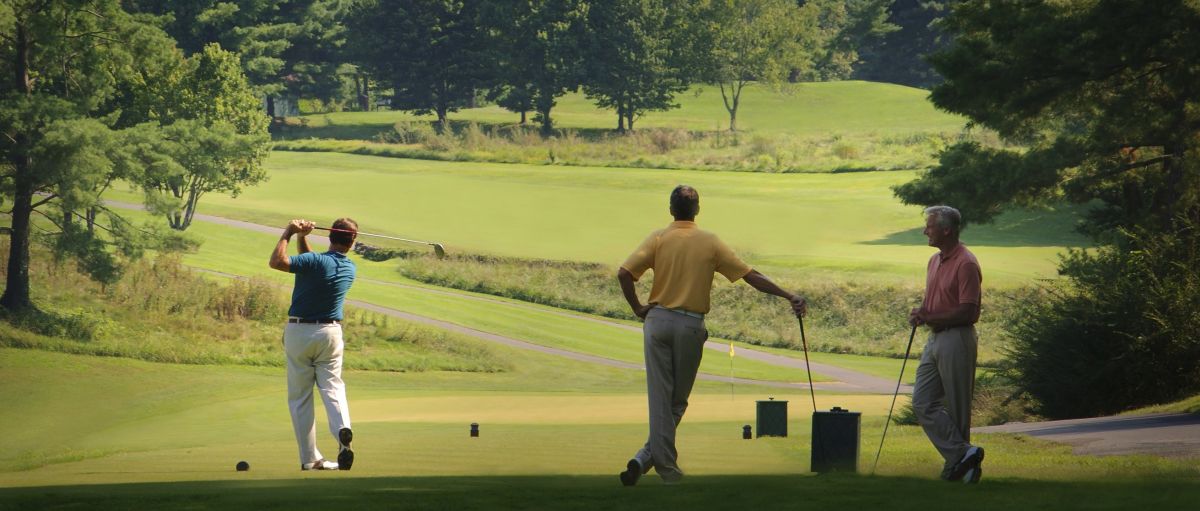 The accommodations score well too. Choose a historic room in the Main Inn or a modern one in the Sammons or Vanderbilt wings. Its 43,000-square-foot spa features a full menu of treatments and a lap pool with 6,500 fiber-optic stars and underwater music. Dine on Southern favorites with a local twist at Edison, or French and American dishes at Vue 1913. The Great Hall Bar's 36-foot fireplaces are the perfect backdrop for enjoying a well-crafted cocktail.
Golf legends Bobby Jones, Ben Hogan and Jack Nicklaus – plus 10 U.S. presidents – have stayed at The Omni Grove Park Inn. President Obama, the most recent from the latter list, also ate at 12 Bones Smokehouse, whose ribs have developed a following, in the River Arts District. It's one of many reasons to explore Asheville. Others include sampling some of the 100 locally brewed beers that earned it the Beer City USA title four times, and live music and shopping, from art to outdoor gear to yesteryear's treasures at Antique Tobacco Barn.
The list also includes more golf. Ross designed Asheville Municipal Golf Course in 1927, and its 18 holes are 6,420 yards from championship tees and 4,568 from the red tees. The course's front nine holes are flat and wide open, giving you opportunity to swing your driver. Pay attention to accuracy on the back nine, which have more of a rolling, mountainous setting. Elevation falls as you proceed on No. 18, opening up beautiful views and adding challenge.
You'll find town-owned Black Mountain Golf Course about 10 miles east of the parkway-U.S. 70 intersection. Its narrow fairways are Ross at his best. He also placed greens adjacent to tees to make for efficient play on the front nine, which he designed in 1929. He didn't have a hand in the back nine, which came later and expanded the course into a par 71. They are no less challenging, especially hole No. 17, one of the world's longest at 747 yards and par 6.
Take time to enjoy this course's mountain scenery, which includes the East's highest peak, Mount Mitchell. After tallying your scorecard, take the parkway to its namesake state park at Milepost 355.4. Drive to the top, where there's an observation deck, hiking trails and gift shop. Like at Waterrock Knob, bring a sweatshirt or jacket, even in summer; the elevation brings cooler temperatures and less-predictable weather.
Option 3: Linville
As the parkway enters the High Country, there are more spectacular views. The most photographed is Linn Cove Viaduct at Milepost 304.4. Completed in 1987 as the last piece of the 469.1-mile parkway, it tiptoes around Grandfather Mountain, its narrow pillars the only disruption of fragile ground. Learn more about it, and the hiking trails underneath, in the visitors center at its southern end.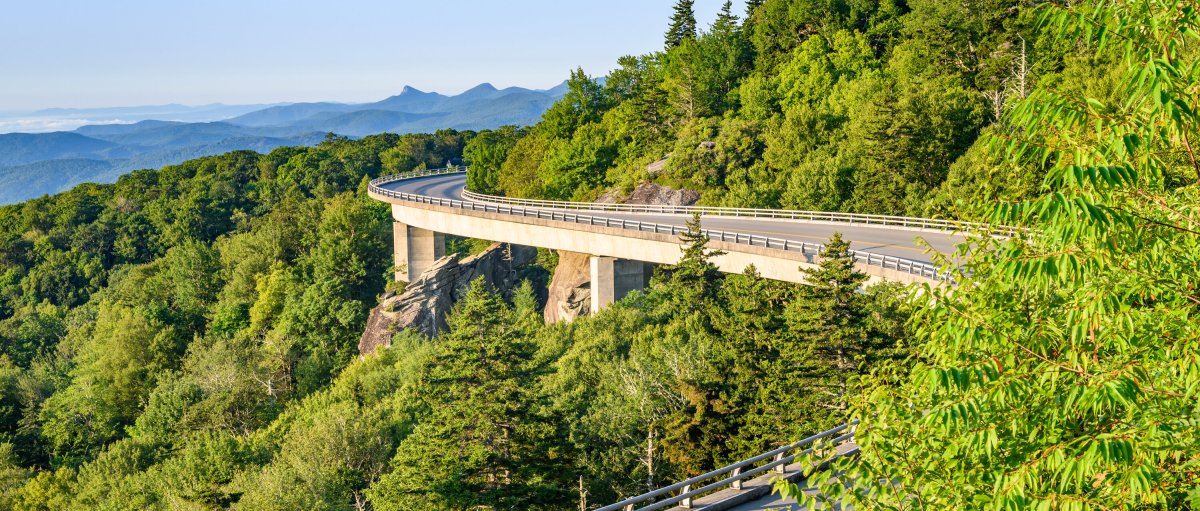 Linville, at Milepost 305.2, is the perfect spot for exploring Grandfather Mountain and its Mile High Swinging Bridge and Linville Falls, a filming location for the 1992 movie The Last of the Mohicans. They're easy to get to when you plan a stay at nearly 125-year-old The Eseeola Lodge, which also tees you up to play Linville Golf Club.
Ross placed its 18 holes near the site of the state's first golf course, whose 14 holes were eventually abandoned in favor of his design. He put Grandmother Creek into play on 14 holes, including 472-yard long No. 3, the club's signature hole and one of Golf.com's Top 50 U.S. golf holes.
Eseeola Lodge also offers a full-service spa, plus rooms, suites and a private cottage. Dining features a deep wine list and varied menu.
Updated August 22, 2021