9 Wineries & Vineyards Where You Can Spend the Night
At several North Carolina wineries, the enjoyment doesn't stop when the tasting room closes. Here's a sampling of wineries and vineyards that offer overnight accommodations, from an acclaimed inn to cozy cabins to a treehouse with a view:
1

Banner Elk Winery & Villa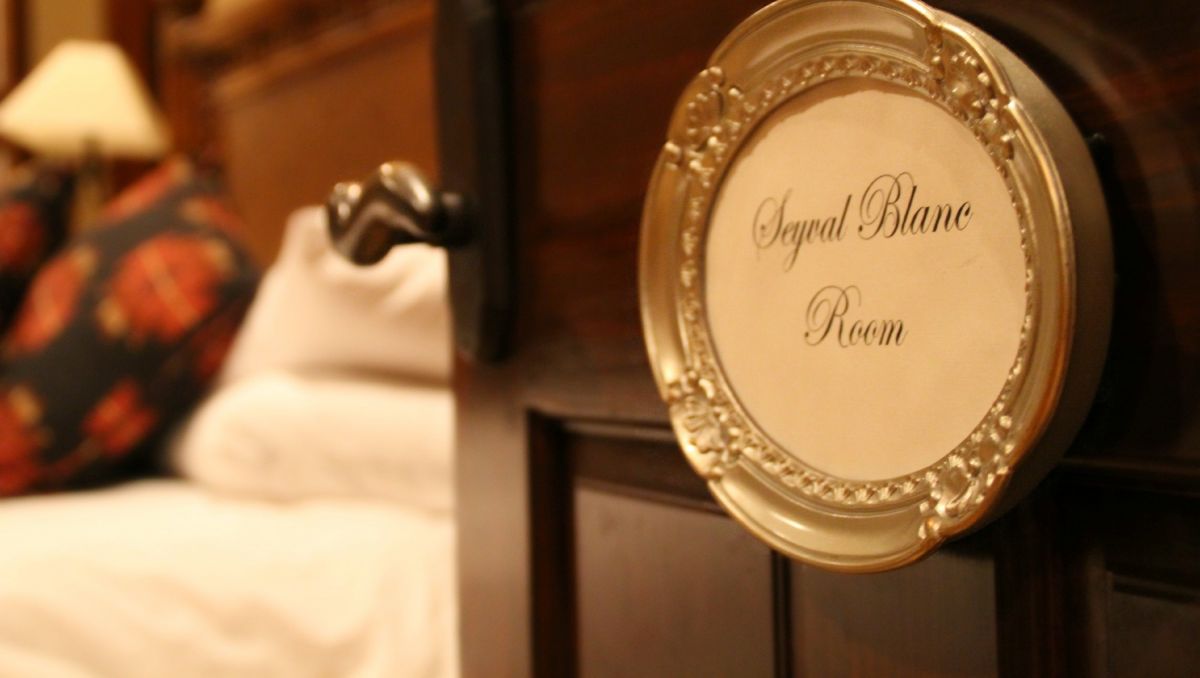 1

Banner Elk Winery & Villa

Banner Elk

See on map
Situated in the High Country, Banner Elk Winery & Villa is a luxury bed and breakfast 1 mile from the town of Banner Elk. With names like Zinfandel Suite and Seyval Blanc Suite, the Tuscan-inspired Villa features seven unique suites, with king or queen beds, fine linens, plush robes, free Wi-Fi, Jacuzzi tubs and beautiful mountain views. Villa guests also enjoy a gourmet breakfast and free wine tasting, as well as the availability of soothing spa services and in-room massages. Large groups can rent the entire villa, which can be appealing for special occasions such as reunions and weddings.
2

RagApple Lassie Vineyards
2

RagApple Lassie Vineyards

Boonville

See on map
Hobson House guest cottage at RagApple Lassie Vineyards features a front porch overlooking the vineyards and much more. Built in 1931 by the father of RagApple's owner, Frank Hobson, the 3-bedroom bungalow-style house features an eclectic mix of furnishings and lots of family memorabilia. There's a living room, dining room, fully equipped kitchen, two full baths, cable TV, Wi-Fi, and several patios and porches. You will feel truly welcomed upon arrival with a bottle of RagApple's award-winning Yadkin Valley wine and an appetizer of cheese and crackers.
3

The Country Squire

Warsaw

See on map
Located between the historic Duplin County towns of Warsaw and Kenansville, The Country Squire Restaurant, Winery and Vintage Inn features two types of accommodations options. The Vintage Inn offers 12 motel rooms with bucolic views of the grounds and vineyard, while the Guest House features four charming rooms with private baths and furnished with antiques and Scottish tartan themes. The Country Squire operation is family-owned and -operated and has been serving guests for more than 50 years.
4

Treehouse Vineyards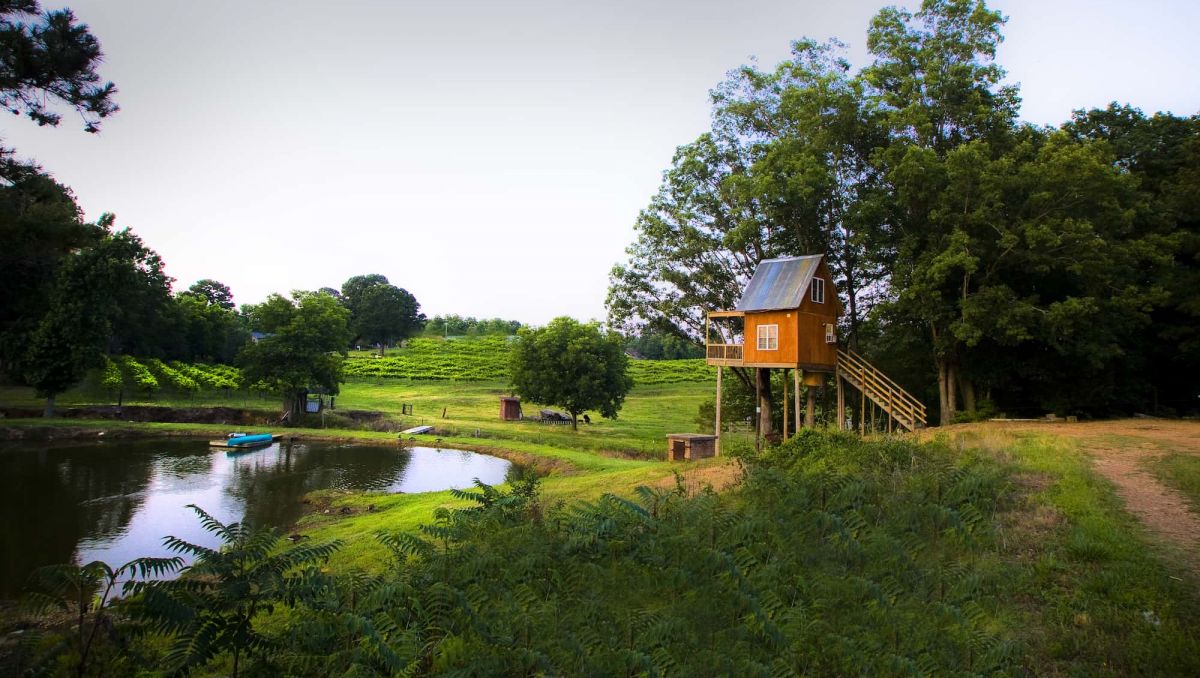 4

Treehouse Vineyards

Monroe

See on map
Treehouse Vineyards, 30 minutes southeast of Charlotte, is aptly named for treehouses adjoining the property. Papa's Dream Treehouse is the perfect getaway for two in a secluded setting overlooking the vineyards. Amenities include a queen bed in the loft, kitchenette, sitting area, bathroom with shower, a deck with a grill, a tasting for two of Treehouse's muscadine wines, plus two souvenir glasses. Treehouse Vineyards also features the rustic Date Nite Treehouse, which can be rented for an afternoon or evening to enjoy views from the porch 30 feet in the air.
5

Shelton Vineyards

Dobson

See on map
The Hampton Inn and Suites at Shelton Vineyards is the only hotel in the well-respected chain that features a wine bar. Conveniently situated up the road from the vineyard, the hotel features a variety of room options (including whirlpool suites), complimentary breakfast, meeting space, free high-speed internet access, and the very popular wine bar, open every evening.
6

Childress Vineyards

Lexington

See on map
The Holiday Inn Express Hotel & Suites at Childress Vineyards furthers NASCAR legend Richard Childress's passion for the good life. Located next to the winery and offering rooms that overlook the vineyards, the hotel offers premium amenities and services, including a heated indoor pool, 24-hour fitness center, and complimentary breakfast bar (including the legendary cinnamon rolls).
7

Inn on Biltmore Estate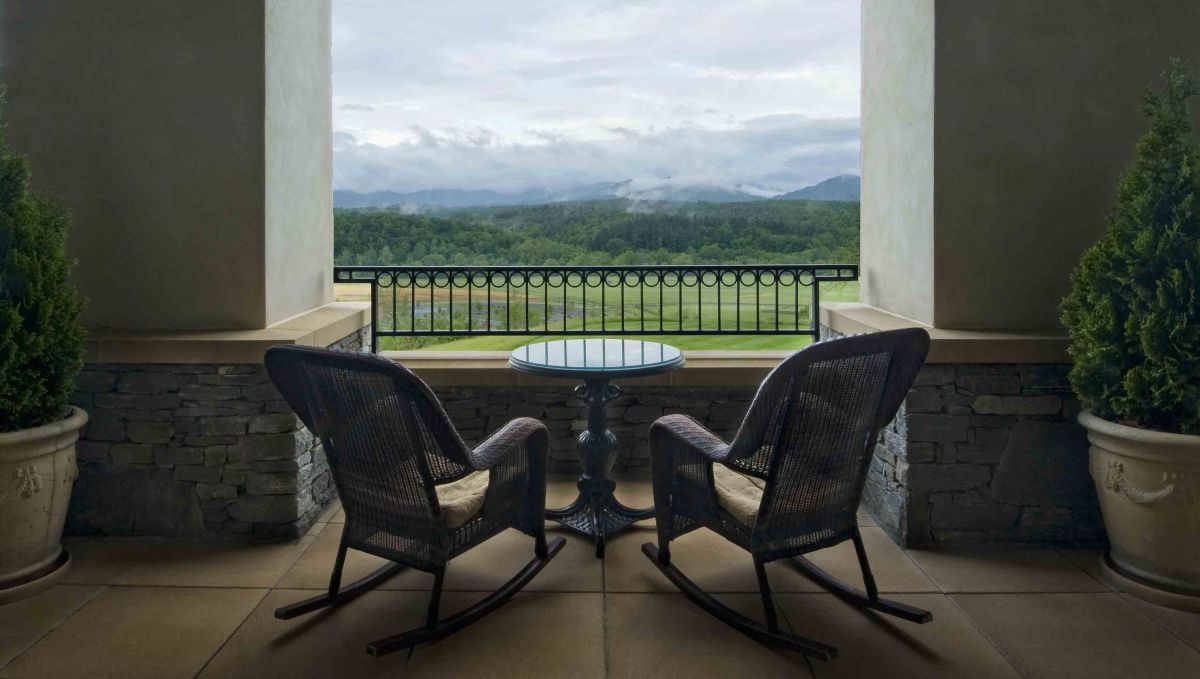 7

Inn on Biltmore Estate

Asheville

See on map
The Inn on Biltmore Estate offers you a unique ticket to a luxurious Vanderbilt-like stay at Biltmore's 8,000-acre estate in the Blue Ridge Mountains. The Inn consistently ranks as one of the world's best hotels and you can enjoy a variety of experiences, including the exclusive Land Rover Experience Driving School, horseback riding, fly fishing, shooting clays, biking, river float trips, indulgent spa services and gourmet dining. Other highlights of a stay include a tour of the 250-room Biltmore house, historic gardens, and Antler Hill Village. Biltmore Winery offers complimentary wine tastings and guided tours to learn about the art and science of winemaking. Or you can stay in the historic Cottage on Biltmore Estate, a 2-bedroom, 2-bath home complete with your own personal butler and chef.
8

Roaring River Vineyards
8

Roaring River Vineyards

Traphill

See on map
Sip wine and listen to the Roaring River for a calming getaway in the High Country. The lodge at Roaring River Vineyards occupies up to eight people in four bedrooms with a full kitchen, dining and living rooms, or you can stay tucked away in one of three cozy cabins for a quiet, restful holiday. Escape down to the riverbank to explore the mills history of the land that dates back to 1870. The vineyard also offers hiking trails, outdoor games, a private beach and fishing for guests. Wi-Fi and satellite TV are available in every room.
9

Grassy Creek Vineyard & Winery
9

Grassy Creek Vineyard & Winery

Elkin

See on map
The historic Klondike Cabins at Grassy Creek Vineyard & Winery near Elkin feature cabin experiences paired with Grassy Creek's Yadkin Valley wines. The large main log cabin has four bedrooms, two-and-a-half baths, large entertainment and dining areas, full kitchen, antiques and artwork, a covered porch overlooking the lake and the lake, and more. Playhouse and Hanes log cabins come as 2-bedroom and 2-bath duplexes, with a game room replete with pool table, bar, TV, and stereo. Satellite TV is available throughout the cabin complex.
Enjoy North Carolina's wineries and vineyards, and remember to drink responsibly. Please designate a driver.
Updated March 14, 2018