6 Famous Foods Born in North Carolina
North Carolina is home to many unique foods, drinks and places to enjoy them. Several of our tasty treats are available around the country (and world), but there's something special about experiencing a cold soda or hot donut in the place where it all started.
1

Cheerwine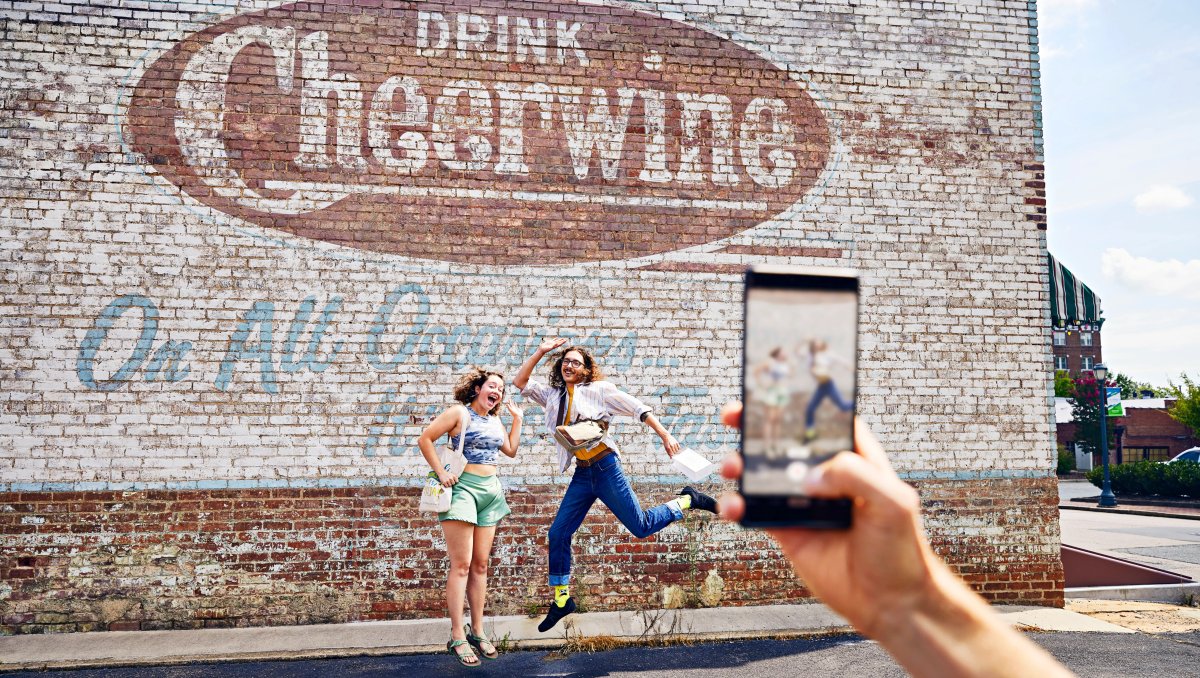 1

Cheerwine

Salisbury

See on map
Known as the "nectar of the tarheels," the cherry-flavored Cheerwine soda was created in the basement of L.D. Peeler's wholesale grocery store in Salisbury during a World War I sugar shortage. The company has passed down through three generations of Peeler's family, using traditional marketing for the growth of the brand throughout the South. Cheerwine can now be found in several Southern states and California.
Only in NC: The annual Cheerwine Festival takes place in downtown Salisbury each year. It's complete with live music, a beer garden, Carolina pulled pork covered in Cheerwine barbecue sauce, commemorative Cheerwine merchandise and, of course, cold Cheerwine.
2

Bojangles'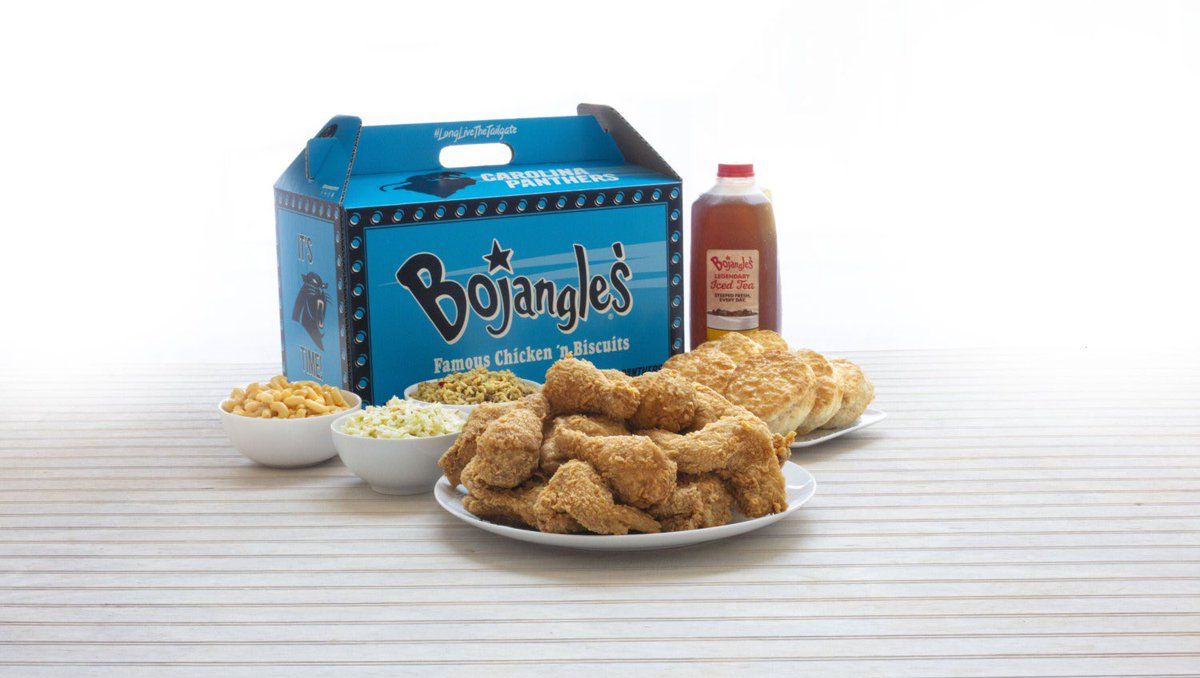 2

Bojangles'

Charlotte

See on map
Veteran restaurant owners Jack Fulk and Richard Thomas founded the first Bojangles' restaurant in Charlotte in 1977. They based their concept on three attributes: distinctive flavor, high-quality products made from scratch and a festive restaurant design with friendly service. Today there are about 800 Bojangles' locations. Order like a local with a four-piece chicken supremes (Bojangles' version of chicken fingers) combo and a Bo-Berry biscuit for dessert.
Only in NC: It's often "Bo Time" at football games, with fans taking advantage of the restaurant's cleverly packed, large box of food. Bojangles' is essential to the tailgating experience at Carolina Panthers home games in Charlotte, where the company is an official sponsor of the team.
3

Texas Pete

Winston-Salem

See on map
No, Texas is not the birthplace of Texas Pete hot sauce – nor was it developed by a man named Pete. The spicy condiment was actually developed in the 1940s in Winston-Salem. Three brothers, Thad, Ralph and Harold Garner; father Samuel Garner; and "Mother Jane" began their business making the sauce in pots on the stove in their family home. While the original secret recipe is its foundation, Texas Pete's product line has expanded to include buffalo wing sauce, honey mustard sauce, chili sauce, pepper sauce, seafood cocktail sauce and more.
Only in NC: Celebrate all things hot sauce at the annual NC Hot Sauce Contest and Festival each September in Oxford. Enter your homemade sauce to win top prize, see how much heat you can handle at the pepper-eating contest, or just enjoy the samples, live music and other entertainment.
4

Pepsi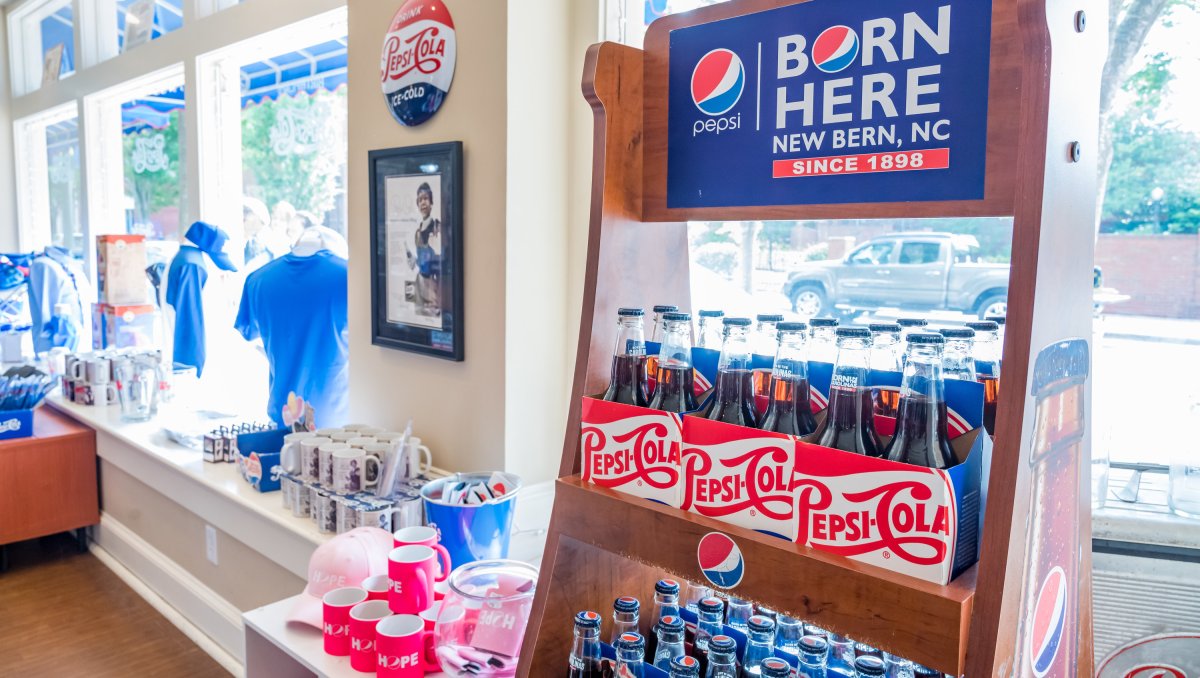 4

Pepsi

New Bern

See on map
Pepsi-Cola began in a drugstore in New Bern in 1898 at the hands of pharmacist Caleb Bradham, with the aim to create a fountain drink that was both delicious and helpful in aiding digestion and boosting energy. Bradham's drugstore housed a soda fountain where the small-town clientele would meet to socialize. By 1902, the demand from surrounding drugstores increased so dramatically that at the end of that year, he filed incorporation papers with the state of North Carolina indicating plans for corporate branches in other states.
Only in NC: Visit the Birthplace of Pepsi, the actual site where Pepsi-Cola was invented. Step back in time and enjoy a fountain Pepsi, and browse through vintage signage, classic bottles and even Christmas ornaments.
5

Krispy Kreme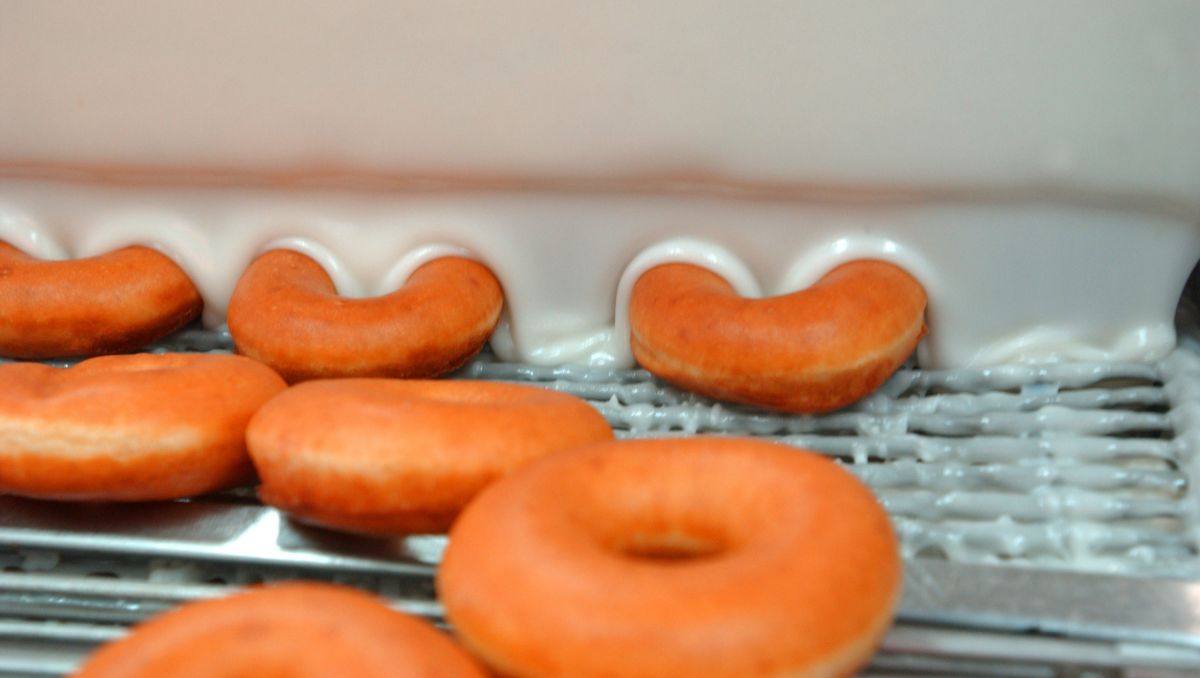 5

Krispy Kreme

Winston-Salem

See on map
Vernon Rudolph founded Krispy Kreme in Winston-Salem in 1937 and sold his first donuts for 25 cents a dozen after borrowing the ingredients from a nearby grocer. Today, Krispy Kreme produces millions of melt-in-your-mouth donuts a day, and it's known for the glowing red sign in shop windows indicating when fresh donuts are ready to eat. The company has grown to serve customers across the US and around the world.
Only in NC: You might think eating donuts doesn't mix with exercise, but it does when it's for a good cause. Each February in Raleigh, thousands of people compete in the Krispy Kreme Challenge, attempting to eat 12 donuts while running 5 miles in one hour, and raising money for the local children's hospital.
6

Mt. Olive Pickles

Mount Olive

See on map
With only a 3,600-square-foot building and $19,500 in capital at its beginning in 1926, Mt. Olive Pickle Company has grown to become one of the most bestselling brands of pickles, peppers and relishes in the country. Located in Mount Olive, it's the largest privately held pickle company in the nation.
Only in NC: The New Year's Eve Pickle Drop is an annual tradition in the town of Mount Olive, featuring a lighted 3.5-foot pickle lowered from the Mount Olive Volunteer Fire Department's tower truck. Perfect for families, the celebration takes place at 7 p.m., which happens to be midnight Greenwich Mean time.
Updated June 28, 2023