Comfort and Soul Food to Savor in North Carolina
When enslaved people adapted recipes from their home countries to the ingredients available in the developing United States, they were creating fusion cuisine long before the term or culinary niche existed. Southern comfort food also mixed several cooking traditions. Learn about both styles of cuisine by digging in at these spots.
Soul Food
Many diners skip the history lesson when it comes to soul food, but it's important to note that a lot of the dishes we enjoy today were developed on Southern plantations. Enslaved Africans worked to use undesirable cuts of meat and vegetable scraps, crafting recipes that kept their families fed. Thin meals were made hearty by stewing meats and greens, making gravies, and cooking with animal fats to provide enough sustenance to labor in the fields. Preparing meals was communal, with older generations orally sharing recipes to connect their children to the food of their ancestors. Their tenacity and will to survive meant the food was cooked with soul.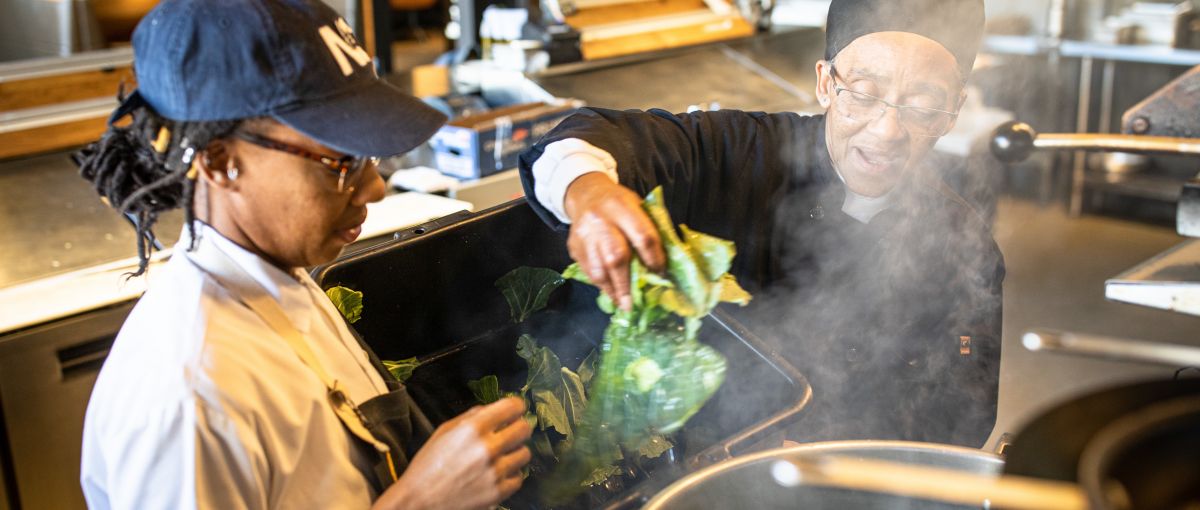 In North Carolina, multigenerational recipes are integral to soul food restaurants. Hanan Shabazz ran her own restaurant in Asheville in the '70s before becoming a mentor to Benne on Eagle chef de cuisine Ashleigh Shanti and executive chef John Fleer, who aspire to follow the ethos of Sankofa: looking back to move forward with reclaimed traditions. The restaurant's innovative takes on soul food include the braised beef cheeks with sticky rice and kimchi. Wash it down with a refreshing cocktail.
Southern Comfort
Appalachian cuisine (bring on the butter) and low-country favorites (seafood all the way) join forces to create a palate-pleasing blend of dining experiences at these restaurants across the state.
1

Circa 1800 Restaurant & Bar
1

Circa 1800 Restaurant & Bar

Fayetteville

See on map
The produce, honey, spirits and bakery items are locally sourced, and all 12 beers on tap are brewed in North Carolina. Brunch items like the seasonal French toast and waffles force afternoon naps.
2

Mayberry Restaurant

Reidsville

See on map
Bean-based soups (Brunswick stew, bean and bacon, and chili) offer a hearty warmup to refreshing ice cream flavors, such as banana pudding and peach.
3

Pattan's Downtown Grille
3

Pattan's Downtown Grille

Rockingham

See on map
In crowd-pleasing fashion, Pattan's Pee Dee River Swamp Sauce mixes Eastern vinegar-based sauce and Western tomato-based sauce that's perfect on the pit-roasted meats served here.
4

Bout Thyme Kitchen

Hertford

See on map
Locals rave about this spread of Southern cuisine. Think fried fish, chicken and waffles, and smothered pork chops. Got a sweet tooth? Check the bakery for lemon squares.
5

Bay Sire Bistro

Jackson

See on map
Savor stick-to-your-ribs appetizers like pimento cheese served with deep fried pork skins. Fresh seafood dishes, salads and sandwiches honor thoroughbred racers.
6

Georgia Deans Restaurant and Bar
6

Georgia Deans Restaurant and Bar

Williamston

See on map
Find comfort staples like pimento cheese alongside seafood tortellini and grilled pork chops. Try the house-made Cajun chips.
Global Flavors
Comfort food is a universal language, as proven by this duo of deliciousness.
7

The Chef and the Frog

Whiteville

See on map
Chef Sokun Nuon-Slama and her husband, Guillaume Slama, pour their hearts – and their respective Cambodian and French heritage – into every dish. Local ingredients get boosts from Thai chilies, rice vinegar and ginger. Try Cambodian beef for dinner, and the tartelette du jour (tart of the day) for dessert.
8

Jamaica Cuisine Cafe

Snow Hill

See on map
Enjoy traditional Jamaican dishes like snapper escovitch, spicy curry goat, stewed oxtails and jerk chicken. Chef and owner Viviene Buckley-Ball travels to and from her home island to bring the spices and herbs of her childhood to this inner coastal town.
Feed your imagination with more mouth-watering dining ideas at The Official 2023 North Carolina Travel Guide.
Updated February 3, 2023