Muscadine Shines on the Uwharrie Mountains Wine Trail
Named for the ancient Piedmont mountain range, the Uwharrie Mountains Wine Trail comprises three wineries that offer both dry and sweet wines. The European-style wines found in this region are similar to those of the Yadkin Valley to its north, while the native muscadine and fruit wines reflect styles commonly found in the eastern part of our state.
Although the Uwharrie Mountains Wine Trail lies within an hour of bustling Charlotte, these wineries are located in primarily rural areas, surrounded by gently rolling fields and dense forest. The charming downtown of Albemarle makes an ideal destination for lunch or shopping while exploring the trail. Plus Uwharrie National Forest and three recreational lakes – High Rock, Badin and Tillery – border the trail to the east, providing ample wildlife viewing and water sports opportunities.
1

Uwharrie Vineyards

Albemarle

See on map
Uwharrie Vineyards' motto is "serious wine for non-serious people," underscoring that it produces high-quality wine that should be enjoyed in a lively atmosphere among friends and family. The sprawling vineyard includes approximately 75 acres of grapevines. Audubon International recognized it as a Certified Cooperative Sanctuary for its efforts to conserve local wildlife and protect the surrounding environment. The spacious tasting room offers samplings from the long list of wines, including European varietals, as well as muscadine and fruit wines. Enjoying wine slushies on the patio is a favorite of many.
2

Dennis Vineyards

Albemarle

See on map
This family-run vineyard has been serving customers in the Piedmont for more than 20 years. Dennis Vineyards specializes in wine made from the native muscadine grape, which thrives in the 10 acres of mature vineyards. The tasting room and patio overlook the property, and the wine list includes dry, semi-dry, sweet, and fruit and berry categories. In addition to sweet muscadine wines, the vineyard also produces dry wines made from carlos, a white muscadine, and noble, a red muscadine. Throughout the year, special releases mark the seasons, such as Sweetheart, Beachy Blush and Santa's Secret.
3

Stony Mountain Vineyards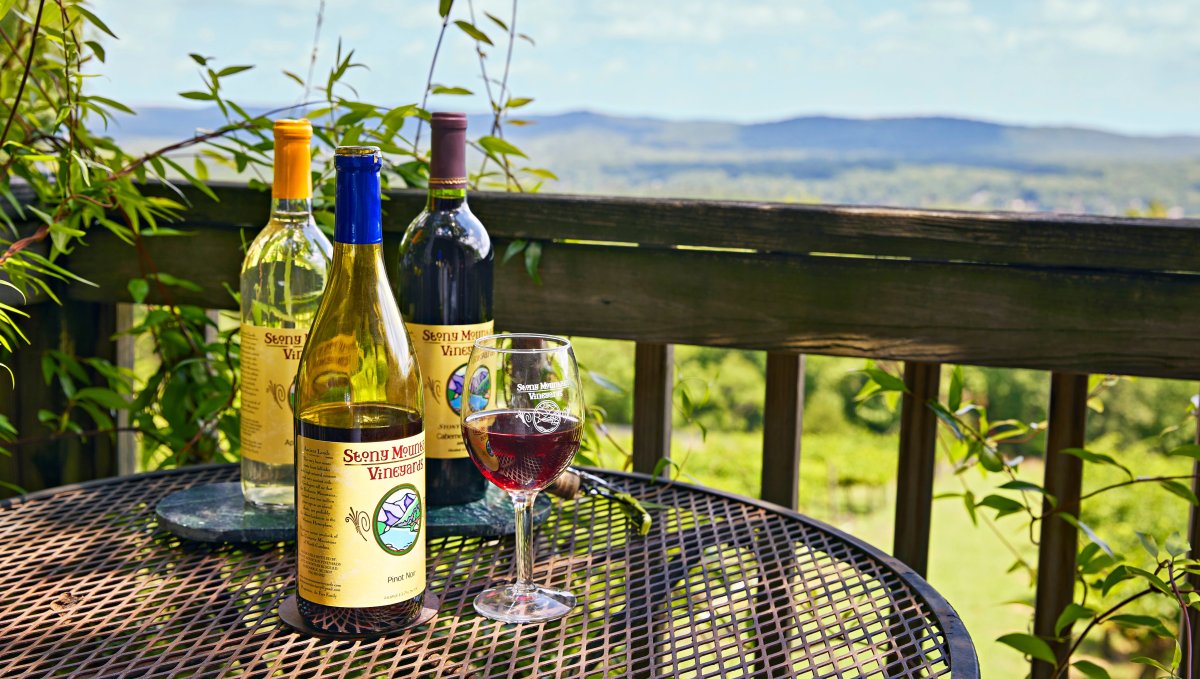 3

Stony Mountain Vineyards

Albemarle

See on map
Perched atop its namesake peak, Stony Mountain Vineyards offers visitors panoramic views of the surrounding Uwharries. The family-owned boutique winery produces several European-style wines, including a peppery syrah aged two years in oak, and a stainless-steel-aged chardonnay. Stony Mountain also makes a red and a white muscadine wine. The Very Beary Red blends blackberry wine with a dry red for a sweet start and dry finish. After a tasting, the deck is a favorite spot to enjoy a glass or a bottle with an endless view.
When visiting any of North Carolina's many wineries and vineyards, please drink responsibly. Designate a driver.
Updated May 28, 2020