Banner Elk: 4-Season Fun in North Carolina's High Country
Stopping at Banner Elk's single traffic light doesn't give you enough time to see all that's offered in this corner of North Carolina's High Country, which has been a popular Blue Ridge Mountains getaway for years. It's big on cuisine and adventure, and both change with the season.
Spring: Wildflowers and Wine
Grandfather Mountain is a 20-minute drive from Banner Elk. Visit in spring to walk through wildflowers that wash it in color. Blooms appear in March, but if you visit in May you'll see the magnolias, rhododendrons and azaleas. While there, walk the 228-foot Mile High Swinging Bridge, explore the museum and meet local wildlife, including black bears and river otters. Remember extra clothing because the weather here, regardless of season, changes quickly.
Banner Elk Winery & Villa opened as the first winemaker in the High Country more than a decade ago. Its 2011 Banner Elk Red and 2011 Marechal Foch won gold at the 2013 International Eastern Wine Competition. Sample its blueberry wine, made from local fruit, or the full-flavored ice wine, squeezed from grapes frozen by the first frost. Visit between May and October to tour the grounds.
You'll find Apple Hill Farm less than 15 minutes east of the traffic light. Meet and feed the working farm's residents by taking the kid-friendly tour. Their fleece is used to make clothing, including gloves, socks and headbands, which you can purchase at the farm.
Summer: Hot Spots and Cool Retreats
Mild summertime temperatures rarely exceed 79 degrees, offering a break from the heat and humidity at lower elevations. Enjoy a cool rush as you reach speeds up to 27 mph on North Carolina's only alpine coaster, Wilderness Run. Or slow things down and soak in the views with a hike along numerous high-elevation trails in the area.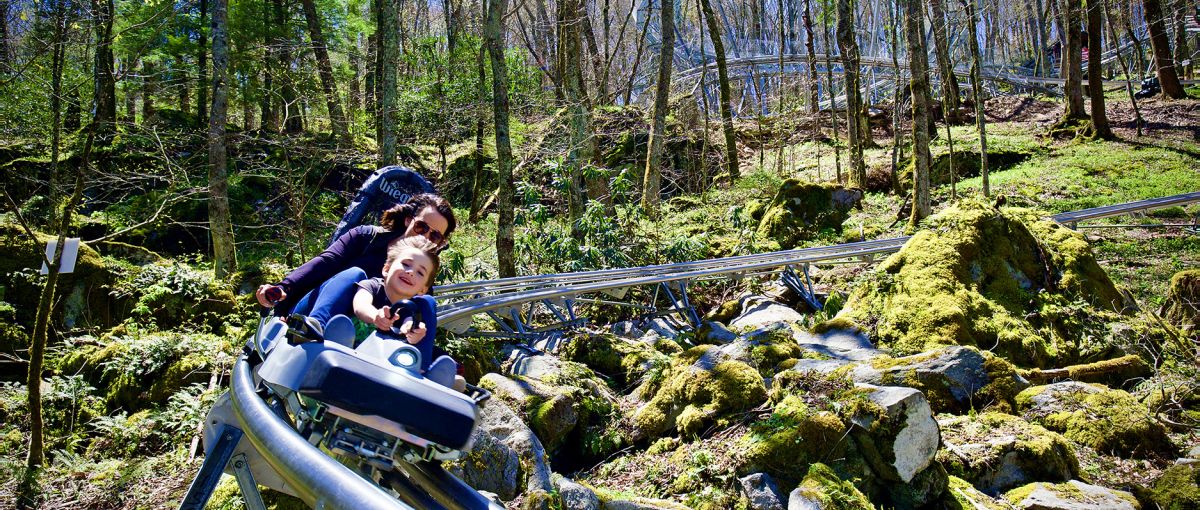 Banner Elk is convenient to many popular High Country attractions, including Tweetsie Railroad and Linville Caverns. Summer also means you can hike and mountain bike the ski slopes, and explore 13-acre Wildcat Lake. Use adjacent Tufts Memorial Park's bath house before heading to the lifeguard-patrolled sandy beach for a dip. Paddle the lake in a rented canoe or kayak, or fish for bass, bluegill and trout.
If you want bigger water-based adventure, try whitewater rafting with Edge of the World Outfitters. Novices young and old are welcome. Guides offer land-based training before sharing their latest comedy skits during the entertaining bus ride to the Watauga River rafting site. Floats last about four hours and feature Class I, II and III rapids. Ride the largest – Anaconda – as many times as you want. But also find time to break for a riverside lunch of fresh fried chicken, biscuits and lemonade. Kayaking, rock climbing and rappelling lessons are available too.
Fall: Foliage and Festivals
Banner Elk lights up with brightly colored foliage in fall. Depending on the weather, the colors peak around Columbus Day in mid-October. There's no better way to see them than to be in them. Rent one of Banner Elk Mountain Cabins' six modern, well-maintained units. Each sleeps six to eight people and features porches and decks that offer panoramic vistas.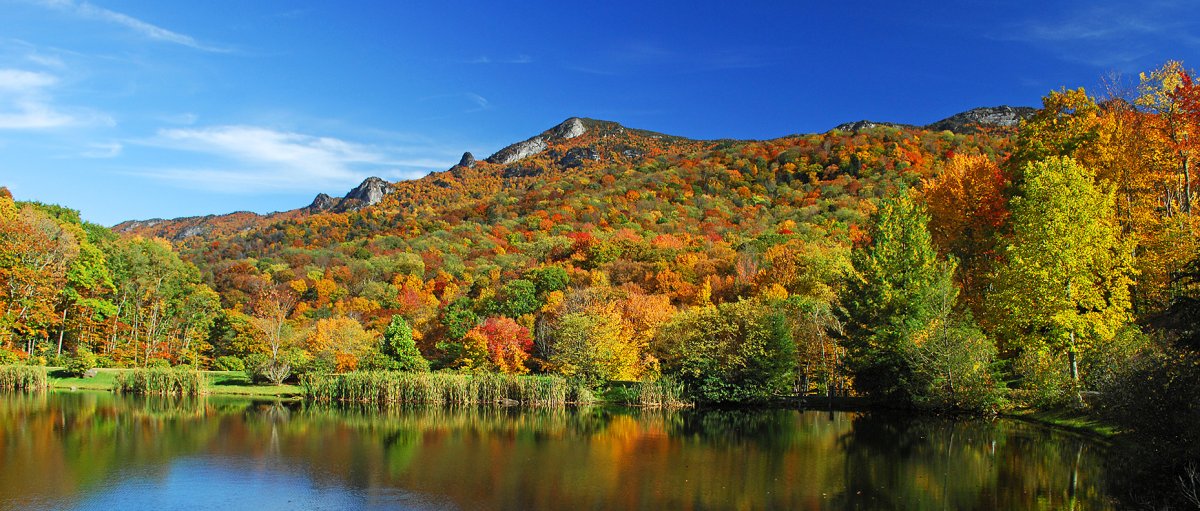 There's plenty of fine dining to match those fine views. With the reputation as the culinary hot spot of the High Country, the variety of restaurants in Banner Elk will please even the most discriminating palate. Artisanal offers a top-notch farm-to-table menu of contemporary American cuisine, led by a husband-and-wife duo, in what's best described as upscale rustic elegance. With a seasonal approach, the restaurant is open May to October and is certainly worth a well-timed visit. Another fine dining destination is LP on Main, a downtown staple for more than 30 years. The creative Cajun cuisine – with North Carolina touches like barbecue shrimp – is matched with a full bar and carefully selected wine list.
On the third weekend of October for nearly 50 years, the famous Woolly Worm Festival celebrates a mountain lore regarding the woolly bear caterpillars. Legend says the colors of their bands of fur can forecast the upcoming winter. Enter your worm – available for purchase onsite or free from surrounding woods – in the string-climbing race. The fastest makes the forecast. Don't worry if your worm makes an early exit from the race – more than 150 vendors mean there's plenty of food to taste and crafts to browse, along with games and rides for children.
Winter: Ski Resorts and Snow Sports
Banner Elk is one of North Carolina's snowiest places, and that makes it perfect for skiing. Nearby Beech Mountain Resort is the highest ski resort in the East, and it celebrated its 50th anniversary during the 2017-18 winter season. Zip to the 5,506–foot peak on one of the high-speed quad chairs, and glide back down on one of 17 trails. The alpine village at the base of the slopes is home to snow tubing, ice skating and gift shops. If that's not enough fun, sample Beech Mountain Brewing Co. creations or go back in time during Totally '80s Retro Ski Weekend, when neon is fashionable again.
Sugar Mountain Resort offers about 20 ski trails, tubing, snowshoeing and ice skating on a 10,000-square-foot outdoor rink. Rent gear and take a lesson before riding the Summit Express, a detachable, high-speed, six-passenger chairlift, to the 5,300-foot peak, a trip that takes just 5 minutes.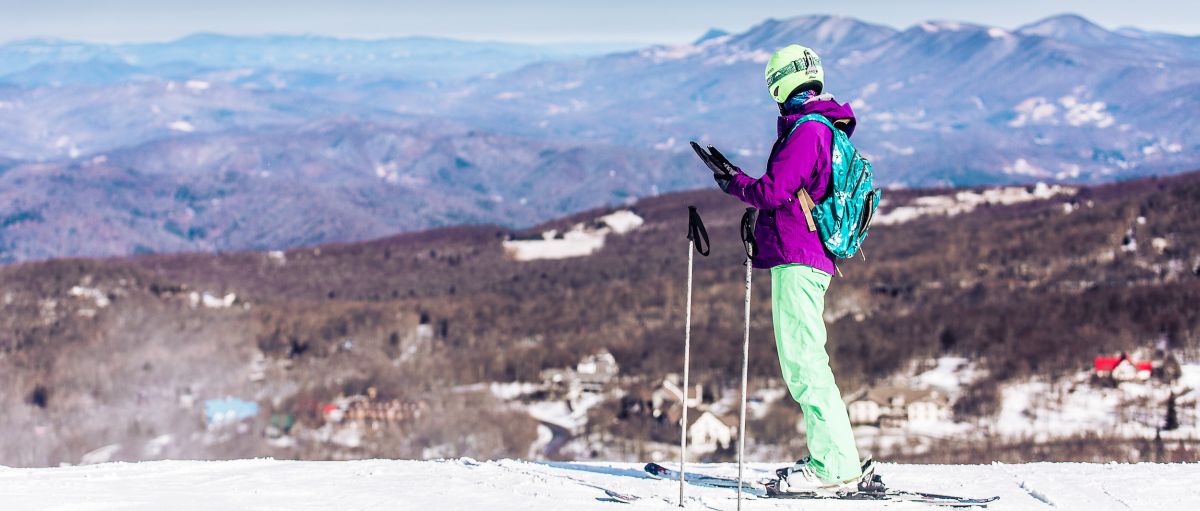 If you're starving after a day of skiing, head to Sorrento's Italian Bistro for pizza. This longtime restaurant in the village's heart receives raves for its pasta and crab cakes too. Or cozy up next to a fireplace and eat premier steaks or prime rib at Stonewalls Restaurant.
Perry House Bed & Breakfast is within walking distance of downtown, a benefit if you're unaccustomed to driving in snow. The home, which was built in 1901, has been lovingly restored with furnishings by master craftsmen Carl and Jim Stanton of nearby Linville. Rooms have mountain views.
This article was produced in partnership with Banner Elk Tourism Development Authority.
Updated March 22, 2023