Plan Your Romantic Getaway to Wineries in the Yadkin Valley
It's hard to get more romantic than wandering through vineyards hand in hand, then tasting the wines that have been produced from those grapes. Add to that scene: country drives, gourmet meals, picnics, unique accommodations and, perhaps, a mild adventure or two, and you have the perfect pairings for a romantic three-day weekend. North Carolina makes it easy with the centrally located Yadkin Valley and more than 40 vineyards that dot the landscape.
Day 1: Gateway to Your Getaway
Known as the "Gateway to the Yadkin Valley," Winston-Salem is a great starting point for a romantic getaway in this region. To step into a romance-filled weekend, start by stepping back in history at the Old Salem Museums & Gardens. Stroll along the cobblestone sidewalks and gardens and transport yourselves into one of America's most authentic colonial sites. Have a gourmet sandwich at Muddy Creek Cafe in the lower level of the T. Bagge Merchant Building, but save room to share a warm Moravian sugar cake for dessert at Winkler Bakery – America's oldest operating bakery.
Next, step into an American love story at Reynolda House Museum of American Art. Designed by Katharine Reynolds, wife of tobacco baron RJ Reynolds, the 1917 bungalow-turned-art museum is now one of the nation's premier art institutions, featuring original furniture, artistic masterpieces, exhibitions and formal gardens, as well as shopping in Reynolda Village.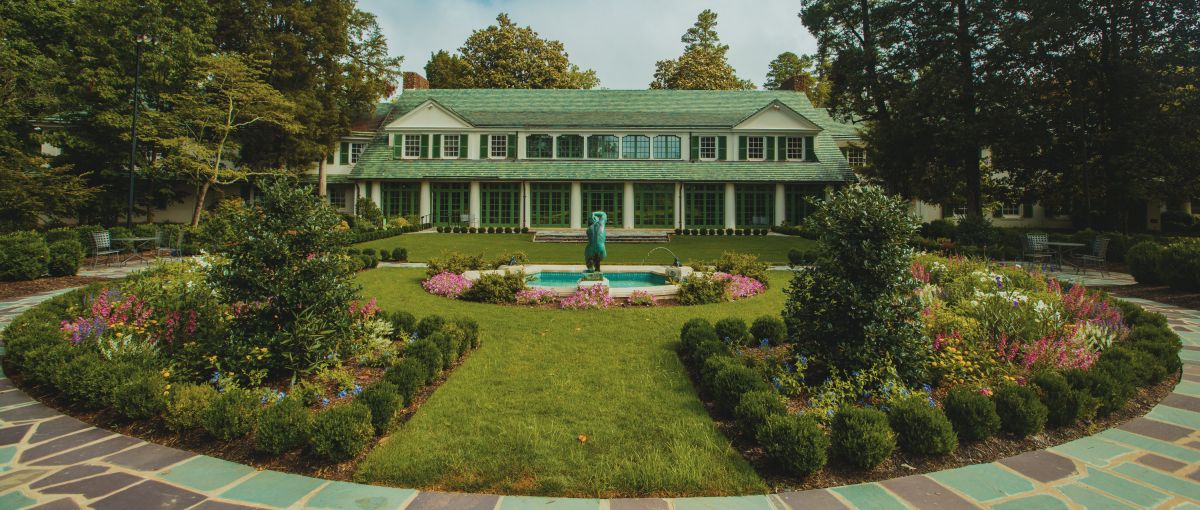 Check in for the night at historic Graylyn. Built in 1932 and once North Carolina's second-largest residence with 46,000 square feet and 60 rooms, the Manor House offers you a Downton Abbey-esque experience. Or opt for romantic seclusion in the Mews or one of the cottages or bungalows.
To introduce yourself to the Yadkin Valley, head to Quanto Basta Italian Eatery & Wine Bar for dinner, paired with a glass of local wine.
After dinner, take a romantic stroll down Fourth Street to a/perture cinema for an indie flick, a glass of wine and a good old-fashioned movie night.
Day 2: Winery Adventures
Start your day with breakfast at Midtown Cafe, where its secret pancake recipe comes in a variety of flavors such as Swiss chocolate chip, granola banana, blueberry and strawberry.
Now it's off to wine country. Make your first stop at Divine Llama Vineyards for a taste of reds, whites and rosés. And, for something unique, arrange for a llama trek around the vineyards or to a romantic creekside spot to share a bottle of wine and to breathe in the great outdoors.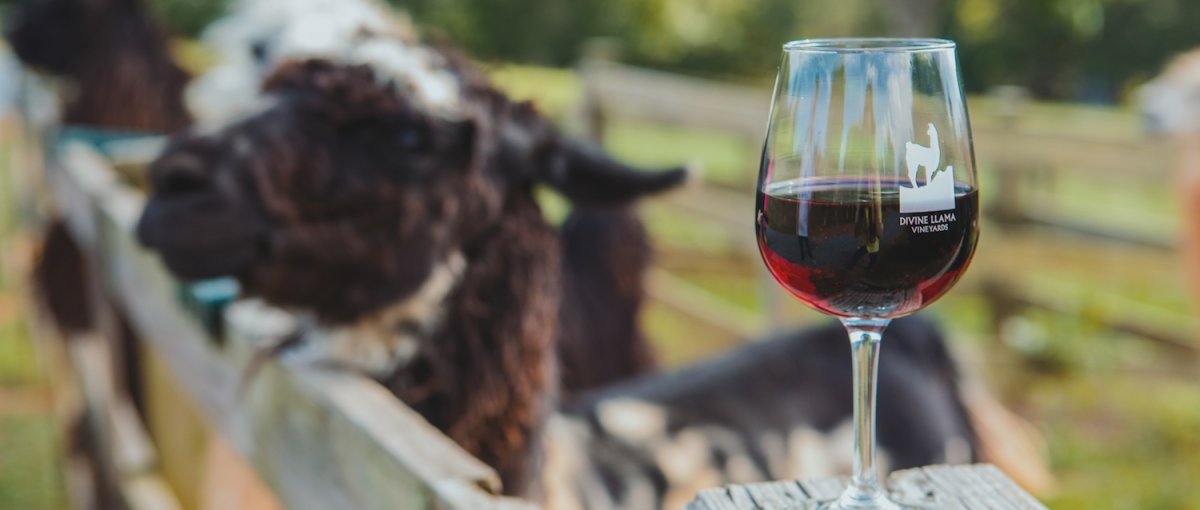 Head a bit farther west and stop at Sanders Ridge Vineyard and Winery for the afternoon. Tastings are available every day, and so are lunch items such as charcuterie boards, salads, flatbread pizzas and sandwich baskets.
Head north to Shelton Vineyards to tour its 33,000-square-foot winery and enjoy a late-afternoon tasting. Then head over to the nearby Hampton Inn and Suites at Shelton Vineyards. After settling in and grabbing a glass of wine at the only wine bar in the hotel chain, head back to Shelton Vineyards for dinner at Harvest Grill, overlooking the grapevines and kitchen garden on the candlelit patio.
Day 3: Of Wine and Rest
If you're a golfer, start out amid the beauty of the rolling foothills of the Blue Ridge Mountains as you play a round at Cedarbrook Country Club near the quaint town of Elkin. Next, head to Elkin Creek Vineyard to taste the handcrafted wines, including chardonnay, Mistela or one of the many reds offered. Enjoy a fresh, made-to-order pizza from the venue's wood-fire brick oven for lunch (Sundays only) while you wash it down with a glass of perfect-with-pizza Rossa.
After lunch, head to Raffaldini Vineyards for a taste of romantic "Chianti in the Carolinas." Its Villa Raffaldini features traditional Italian art, architecture, two tasting rooms, balconies and terraces, all with stunning views of the Blue Ridge and Brushy Mountains. Wander around the villa to enjoy the piazza with its ornate fountain, olive trees, rose bushes, lavender, rosemary and fig trees. You can also sample traditional Italian-style wines, take a vineyard tour and pick up some Italian delicacies for a sunset picnic dinner.
Nearby, expand your wine education together at Windsor Run Cellars and sister winery Shadow Springs Vineyards. Both owned and operated by the Johnson family, Shadow Springs produces French vinifera wines and serves them in its state-of-the-art tasting room, while Windsor Run focuses a bit more on the sweeter side, along with distilling spirits and fortified wines.
For an afternoon respite, head to boutique Laurel Gray Vineyards for a tasting in its converted 1930s milking parlor. Tour the vineyard or buy a glass or bottle of the estate-grown French vinifera wine and enjoy the scenery with views of the vineyards, rose gardens, farm pond and "cottage" herb garden.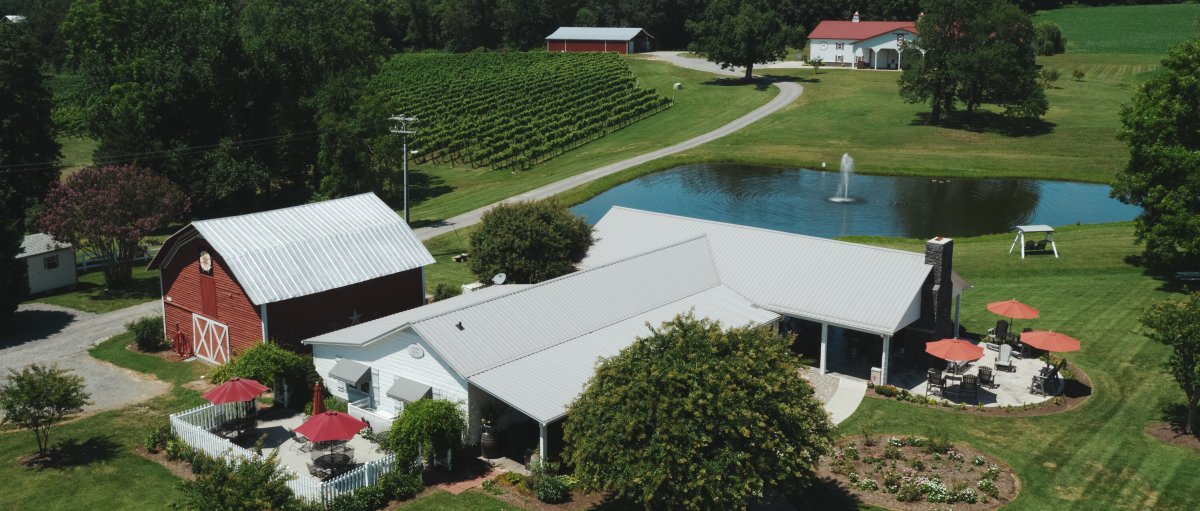 As the sun begins to set, make your way to Medaloni Cellars. Choose from a classic or premier tasting and enjoy views of the Blue Ridge Mountains. Settle into one of the three cabins for the night and enjoy your Italian picnic dinner and complimentary bottle of wine. You can also appreciate the view of the sunset from your front porch, the huge deck, or the peace and quiet of the treehouse. No matter which you choose, it's a spectacular ending to a romantic weekend.
Enjoy North Carolina's wineries and vineyards, and remember to drink responsibly. Please designate a driver.
Updated June 5, 2023