Beach Biking: 3 Ways to Explore the North Carolina Coast
Seeing North Carolina's coast on two wheels allows you to experience some of our state's most scenic locations with all five senses. Flat terrain makes it easy for even novice cyclists to see our beaches by bike.
From the Outer Banks to the NC's Brunswick Islands, you'll find many pedaling pleasures here, so strap on a helmet and cruise some of these scenic byways.
Pamlico Scenic Byway
Seasoned road warriors might want to attempt the entire 127-mile Pamlico Scenic Byway. Beginning on the Pamlico River waterfront in Washington, it travels through historic Bath, picturesque Belhaven, alongside the Swanquarter National Wildlife Refuge, up the Pamlico Sound and ends at Manns Harbor.
Less ambitious riders might want to break it down into smaller, more manageable sections. A nice ride begins in Bath, North Carolina's oldest incorporated town and former state capital. Bath was settled in the 1690s by Virginians and French Protestants and incorporated in 1705. Blackbeard, the famous pirate, was one of the town's early residents. A 15-mile ride northeast toward Belhaven takes you past some beautiful scenery and gives you a good look into this interesting part of our state.
You can also start in Swan Quarter and head east toward Lake Mattamuskeet, a 40,000-acre freshwater lake that's the largest in the state. Cypress trees around the lake's edges lend to the drama of this stunning body of water.
Outer Banks Scenic Byway
The memorable Outer Banks Scenic Byway offers a 138-mile ride that's easily broken down into shorter legs. The byway follows Highway 12 from Nags Head to Ocracoke to the Crystal Coast. The ride takes you through many charming island towns, including Rodanthe and Hatteras.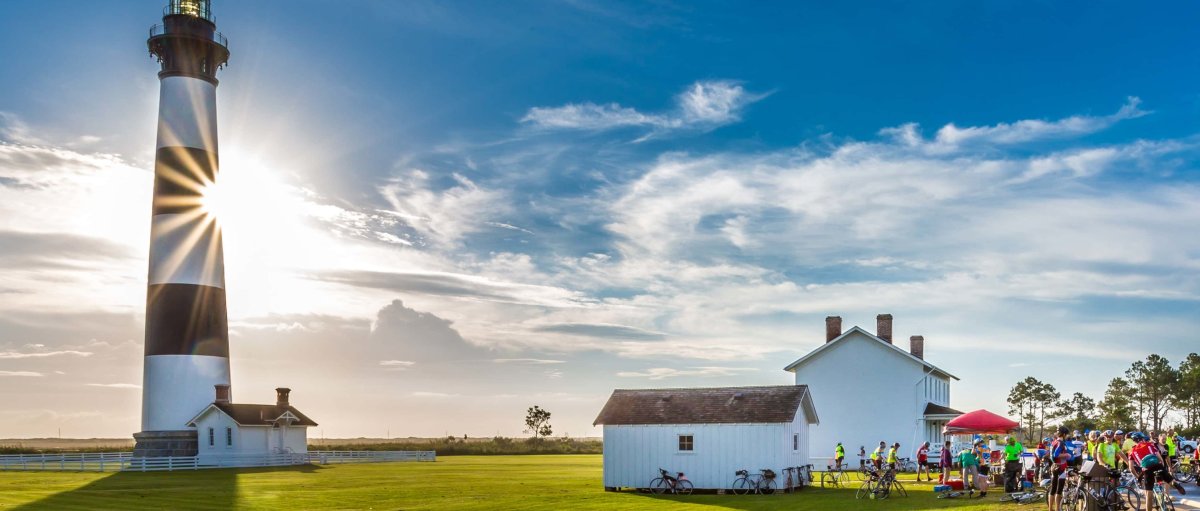 A particularly stunning stretch along the Pea Island National Wildlife Refuge offers an unparalleled look at an undeveloped barrier island. You'll have the chance to glimpse more than 350 species of birds while you're here, and the sound of the ocean crashing just a few hundred yards away is invigorating.
At the end of Hatteras, you'll have to hop on the Ocracoke Island ferry and continue to follow Highway 12 to Ocracoke Inlet. From there, pick up the Cedar Island ferry and head south. The byway ride ends in Beaufort, a quaint historic village on the Crystal Coast.
On the way you'll pass many landmarks, including Bodie Island, Cape Hatteras and Ocracoke lighthouses. If you're lucky, you may see Banker ponies, wild horses descended from those brought by early explorers.
Island Greenway Bike Route
In Carolina Beach, the Island Greenway serves as a paved path strictly for bikers and pedestrians – no vehicular traffic is allowed. Begin at Mike Chappell Park and travel the 1.2 miles south to the end of the greenway at Alabama Avenue, where you can find a public beach access if you're interested in taking a dip.
About 5 miles south of the end of the greenway, the Fort Fisher State Recreation Area and North Carolina Aquarium in Kure Beach provide plenty to see and do. At the aquarium, you'll have the chance to meet an albino alligator named Luna, learn about sea turtles and even touch a live shark.
If you're looking for more adventure, hop aboard the Fort Fisher ferry to Southport – this bike-friendly Brunswick Islands town has many historic sites, restaurants and antique shops as well as an adorable waterfront area.
Updated June 6, 2023