Enjoy Mountain Adventures in Cashiers, Dillsboro and Sylva
Making the decision to get away to the North Carolina mountains is easy. Deciding exactly where you'll go may not be, with several attractive mountain towns dotting the landscape. Start your search with Jackson County and you'll discover an outdoor enthusiast's paradise.
Plan a multiday trip to the neighboring towns of Cashiers, Sylva and Dillsboro, easily flowing from one destination to the next. Led by hiking trails through the mountains, you'll experience unforgettable sights and breathtaking views. And along the way, you're always only a few steps from a remarkable meal.
One of the highest waterfalls in the Eastern U.S. – 411-foot Whitewater Falls – is near the state line just off Highway 281, south of Cashiers. Follow the quarter-mile paved trail from the parking lot to picnic spots and the upper overlook. If you're feeling adventurous, head to the smaller lower overlook, which is down 154 wooden steps.
Next up is Whiteside Mountain, with 740-foot vertical cliffs that are the tallest in the East. It's part of the panoramic view you'll enjoy on the 2-mile loop trail that includes the 4,930-foot peak. Watch for peregrine falcons during the first half of the year. The cliffs are a nesting site for the raptors, which grab their prey from the sky.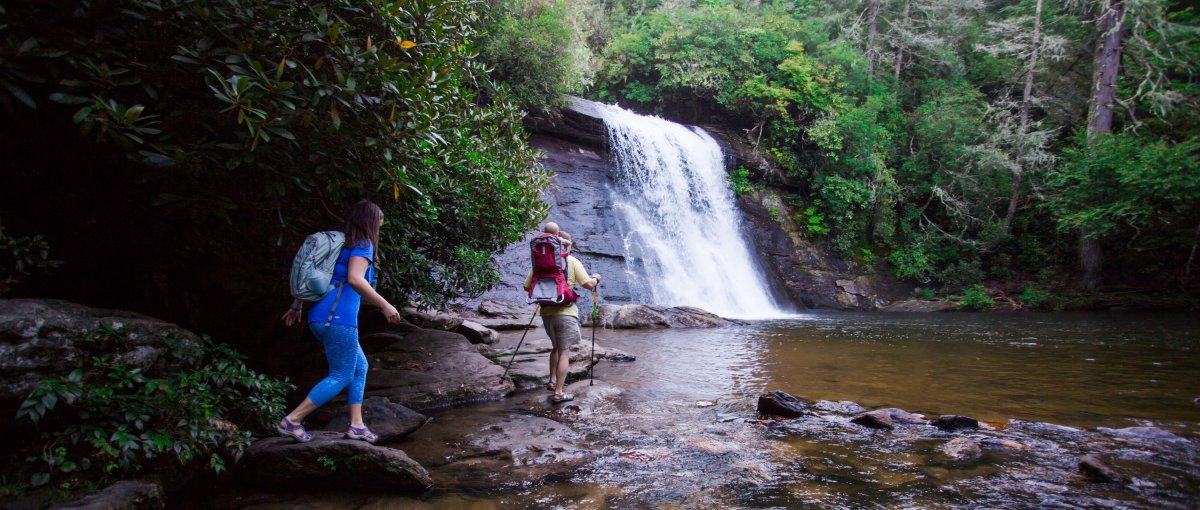 The trailhead for Silver Run Falls is on Highway 107. It'll take you about 5 minutes to trek the well-blazed and maintained trail to the falls, which is one of our state's most accessible. At the bottom of its almost 40-foot drop is a sandy-bottomed pool. Take a dip there on a hot summer day or enjoy the view, which attracts nature photographers year-round.
You'll always find a great meal in Cashiers. Settle on the brook-side porch at Cornucopia, where a pan of fresh cornbread starts your meal. Then enjoy one of its large burgers, hearty soups or popular Bloody Marys at Sunday brunch. Choose your favorite sauce and toppings for the New York-style crust Slab Town Pizza bakes in its brick oven. Or try a house specialty pizza (the Duke has sausage, pepperoni, bacon, ricotta, mozzarella and red sauce), sandwich, pasta or salad.
Dinner at Canyon Kitchen isn't complete without a stroll around the property, which is in the second-home community of Lonesome Valley, surrounded by forests and granite peaks. The spectacle continues inside the restaurant, where the dinner menu changes with the seasonal ingredients gathered from local farms. It's open Wednesday through Sunday nights from May through October, when a fireplace warms the open dining room that's inside a renovated barn. Food & Wine even included Canyon Kitchen on its list of "The Most Romantic Restaurant in Every State."
Below the dam that creates Lake Glenville, popular with boaters and anglers, is 150-foot High Falls. It's a three-quarter-mile hike (easy going down, but strenuous coming back up), with stone and wood steps helping you navigate the 650 feet of elevation change from the trailhead. A second trail provides access to the fall's base, but portions of it are sporty. Water flow makes this waterfall moody. When the river runs low, it's approachable. But it's a powerful force to witness when the water is high or a day when the dam is open, supplying kayakers on the Tuckasegee River's West Fork with whitewater.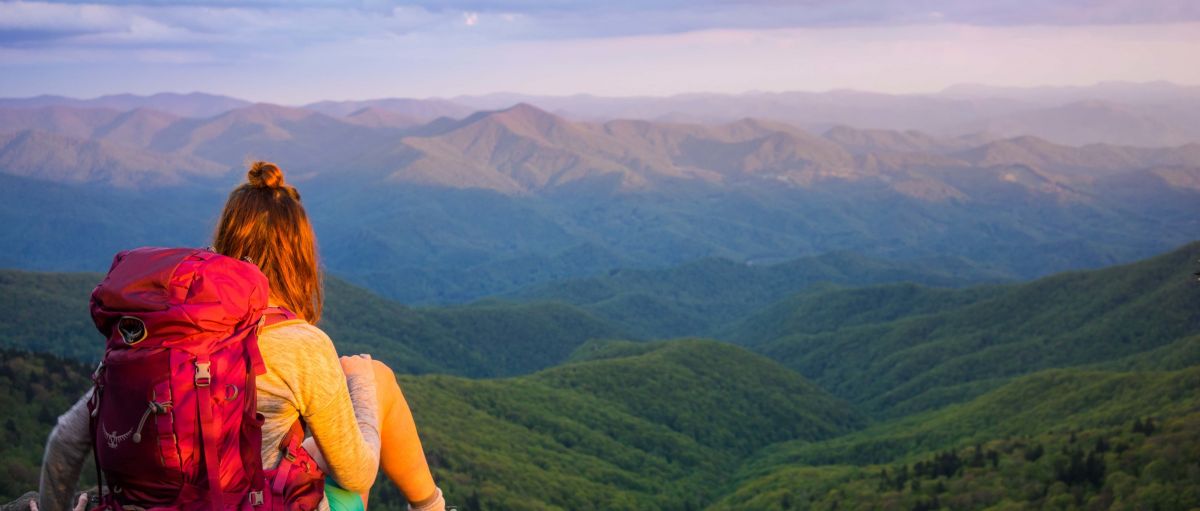 North Carolina's most famous roadway – the Blue Ridge Parkway – starts its journey north through Jackson County, where its highest elevation visitor center is at Milepost 451.2. From the parking lot, where you'll find restrooms and picnic spots, follow the fairly steep 1.2-mile trail to the 6,292-foot summit of Waterrock Knob. Your effort will be rewarded with views that stretch 50 miles across Maggie Valley to the Great Smoky Mountains. It also offers an unencumbered vantage for sunrises and sunsets.
About 20 miles farther north on the Parkway is the Richland Balsam Trail. The uphill 1.5-mile loop climbs about 700 feet as it winds through fragrant Fraser and Balsam fir trees.
You'll find 1,000-acre Pinnacle Park between the Blue Ridge Parkway and Sylva, the county seat. Follow the old logging road to Pinnacle Bald. The almost 7-mile round trip requires significant effort, so wear sturdy shoes and bring water. You can see the bald just above the tree line from Sylva, where a trail leads to refreshing destinations.
Sylva's booming downtown brewery scene includes microbreweries such as Innovation Brewing, which serves dozens of different beers in a year, and Balsam Falls Brewing, whose owners brew with fruit they grow. Walk along Main Street to explore the shops and other attractions downtown. Though cozy resorts and bed and breakfasts can be found tucked among the area mountains, Sylva is also home to most of the county's national brand lodging.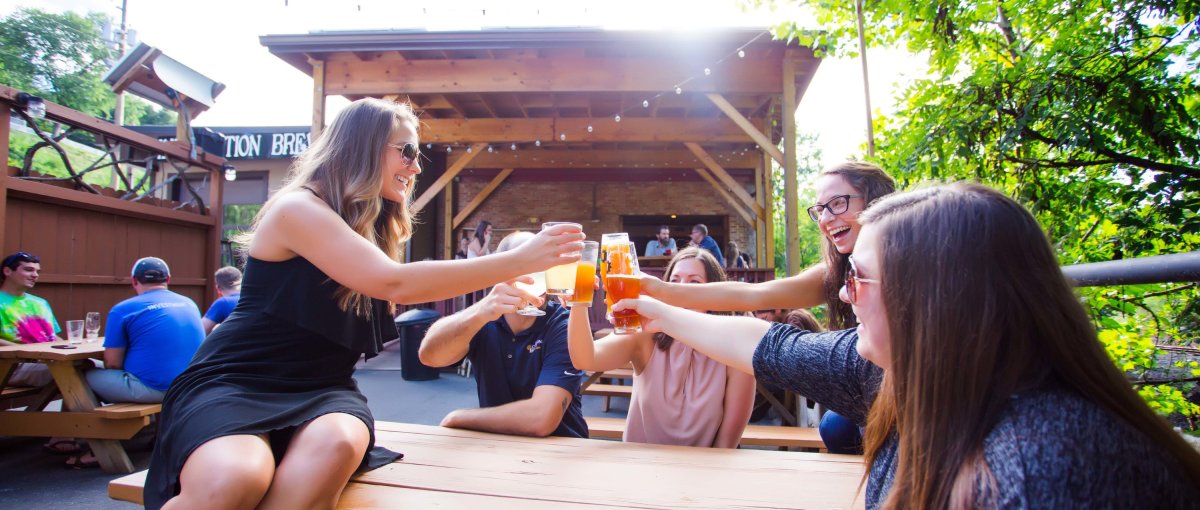 When you've worked up an appetite after great mornings or afternoons of exploration, you'll be pleased with Sylva's restaurants too. Choose among popular staples, such as crab cakes, from Lulu's on Main's deep menu, which is augmented by daily specials.
But you can't spend time in North Carolina and not try the barbecue – your friends back home will ask. Many restaurants across our state are revered for their pork that's lovingly smoked over a hardwood fire for hours. In Dillsboro, a few minutes' drive from Sylva, Haywood Smokehouse is one of only a few barbecue restaurants statewide that also prepares beef brisket. It's served with tender collard greens, creamy coleslaw and baked beans studded with burnt ends. Haywood Smokehouse might also be one of the highest-reviewed restaurants you encounter.
This article was produced in partnership with Discover Jackson County.
Updated August 17, 2020