12 Refreshing Ways to Get in the Water This Summer in North Carolina
If there's a memory to be made on the water, there's one thing that's certain: You can find it in North Carolina. From waterfalls to whitewater rafting to scuba diving, a water adventure is never too far away this summer. We've rounded up a list of 12 hotspots throughout our state where you can cool off and take in a big dose of Mother Nature's beauty.
1

Kiteboard on the Outer Banks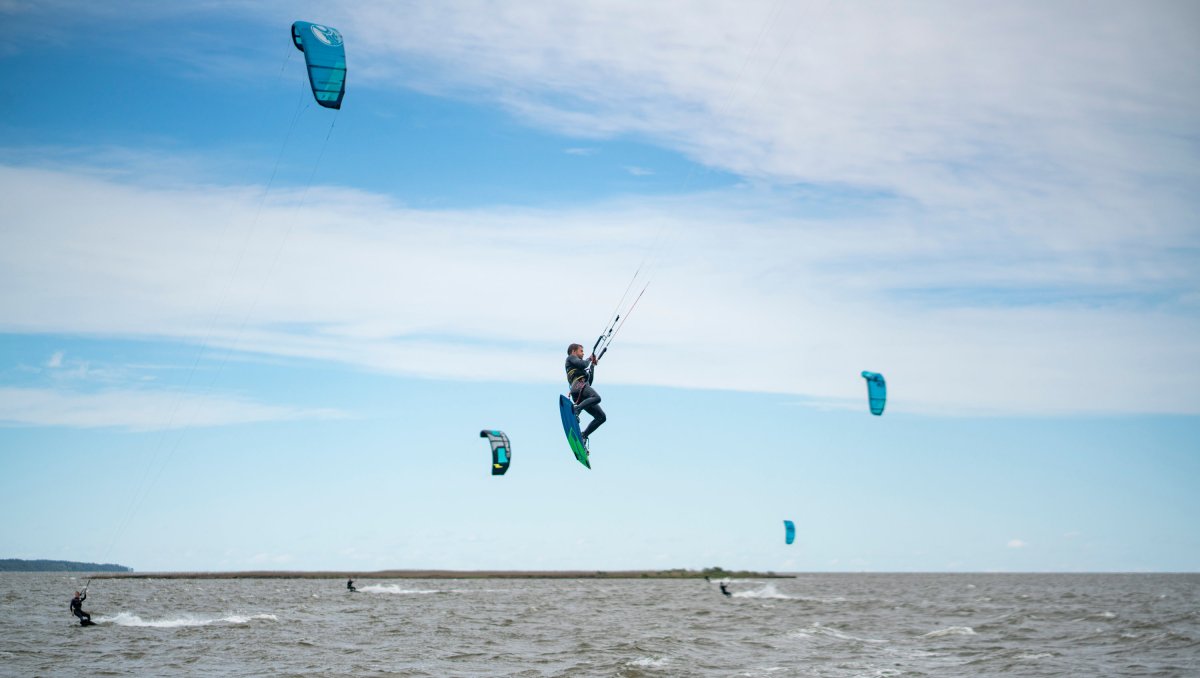 1

Kiteboard on the Outer BanksSee on map
Kiteworld magazine says Cape Hatteras is "one of the best spots for beginners on the planet" thanks to access to the calmer waters on the sound side and gnarly waves on the Atlantic side. Another claim to fame for this kiteboarding mecca is being home to one of the most consistent wind destinations in the U.S., with the most favorable winds happening from March to November. REAL Watersports offers private or semiprivate half- and full-day lessons, where each curriculum is tailored to your specific needs and learning style. REAL has also been offering Kite Camps since 2000, which include three full days of instruction. Or try your hand at foil surfing, which is described as controlled aquaplaning and involves attaching a fin to a surfboard, placing the rider 2 feet above water.
2

Scuba Dive in the Crystal Coast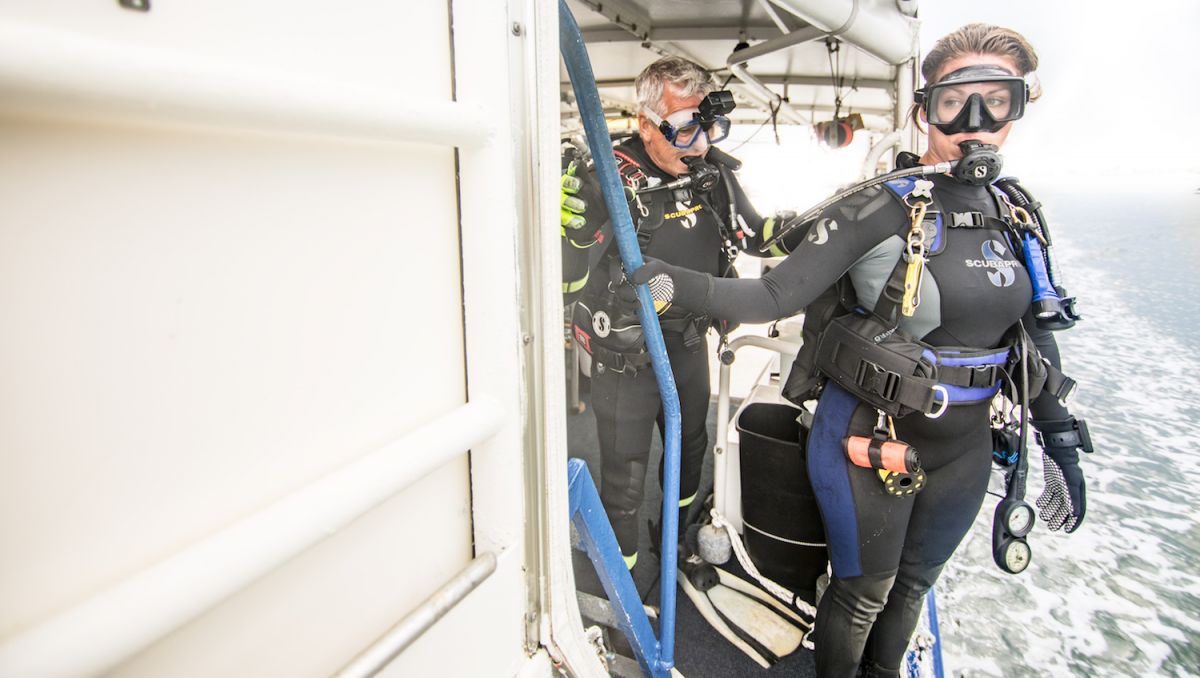 2

Scuba Dive in the Crystal CoastSee on map
Nicknamed the "Graveyard of the Atlantic," our coast is consistently voted the best wreck diving in North America by Scuba Diving magazine for the thousands of shipwrecks waiting to be explored. Two premier diving operations – located just 5 minutes apart – offer training and guided tours of the area's diveable history: Discovery Diving in Beaufort and Olympus Dive Center in Morehead City. Both are 5-star training facilities that offer experiences for beginners and advanced divers through an array of half- and full-day excursions. Scuba enthusiasts from all over the world come to dive these historic wreck sites featuring sunken vessels that fell to their demise due to war, unpredictable currents, weather and pirates. Some even encountered the famed Blackbeard, who died in North Carolina in 1718.
3

Fish Off a Cape Fear Pier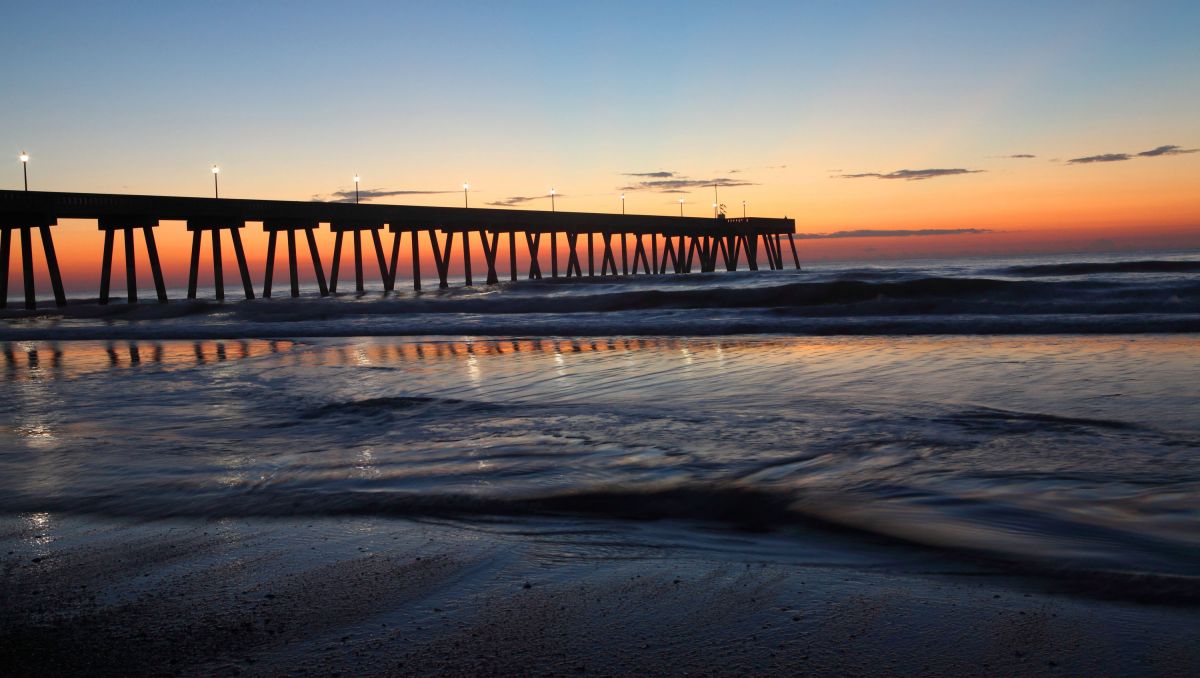 3

Fish Off a Cape Fear PierSee on map
The Wilmington area boasts some of the best pier fishing along the entire East Coast, and people flock here year-round to catch barracuda, kingfish, cobias and much more. Grab your rod and head to Johnnie Mercers Pier in Wrightsville Beach to walk the pier's impressive 1,200 feet. Want to check out the oldest standing (since 1923!) fishing pier on the Atlantic coast? Head to Kure Beach Fishing Pier, complete with an arcade and old-school concession stand. And ocean fishing isn't all you can do around Wilmington. Make your way to River Road Park Fishing Pier to dip your rod into the 200-mile-long Cape Fear River to catch freshwater largemouth bass, redfish and trout.
4

Splash Your Way Through the Brunswick Islands

Featured by: N.C.'s Brunswick Islands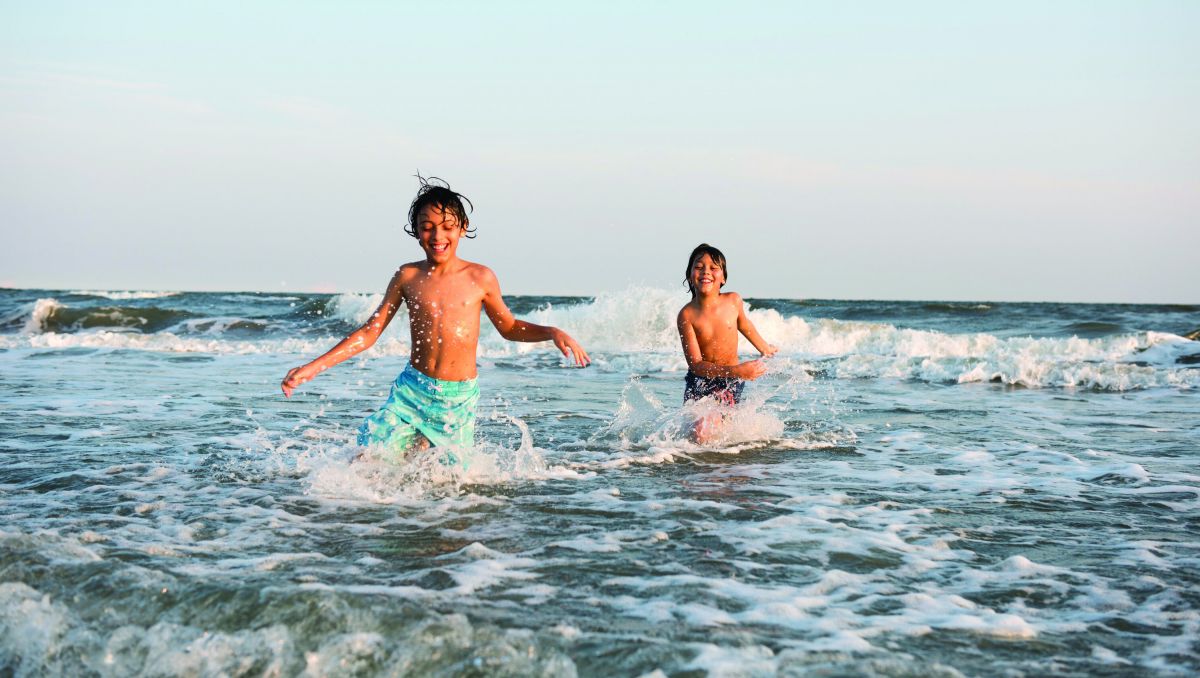 4

Splash Your Way Through the Brunswick IslandsSee on map
The choices for summer fun in the water are seemingly endless in the storied Brunswick Islands, North Carolina's southernmost stretch of shoreline. Spot wildlife while you paddle through marshes and creeks on a kayak, stand-up paddleboard or canoe, all of which are available to rent from island outfitters. Feel the adrenaline rush with a surfing lesson, then catch some waves at any of the area's six spacious beaches. Take your pick of boating adventures with fishing excursions, sailing lessons or charters. And don't forget to enjoy the water and just splash around, whether it's swimming at the beach, in the pool at your vacation rental or while exploring all the waterways surrounding these charming barrier islands.
5

Bellyak the French Broad River
5

Bellyak the French Broad RiverSee on map
Want to experience the water completely differently? Try your hand at bellyaking, a newer concept that hit the watersports scene in 2012 that's a combination of kayaking and swimming. Bellyakers lie flat on their stomachs on these unique waterboats and use their arms to paddle through the waters of one of the oldest rivers in the world. Based in Candler (just 15 minutes outside Asheville), Bellyak hosts events in the warmer weather months where you can tour Asheville by Bellyak or even get an introductory lesson from the founder and inventor himself.
6

Raft with One of the Nation's Premier Outfitters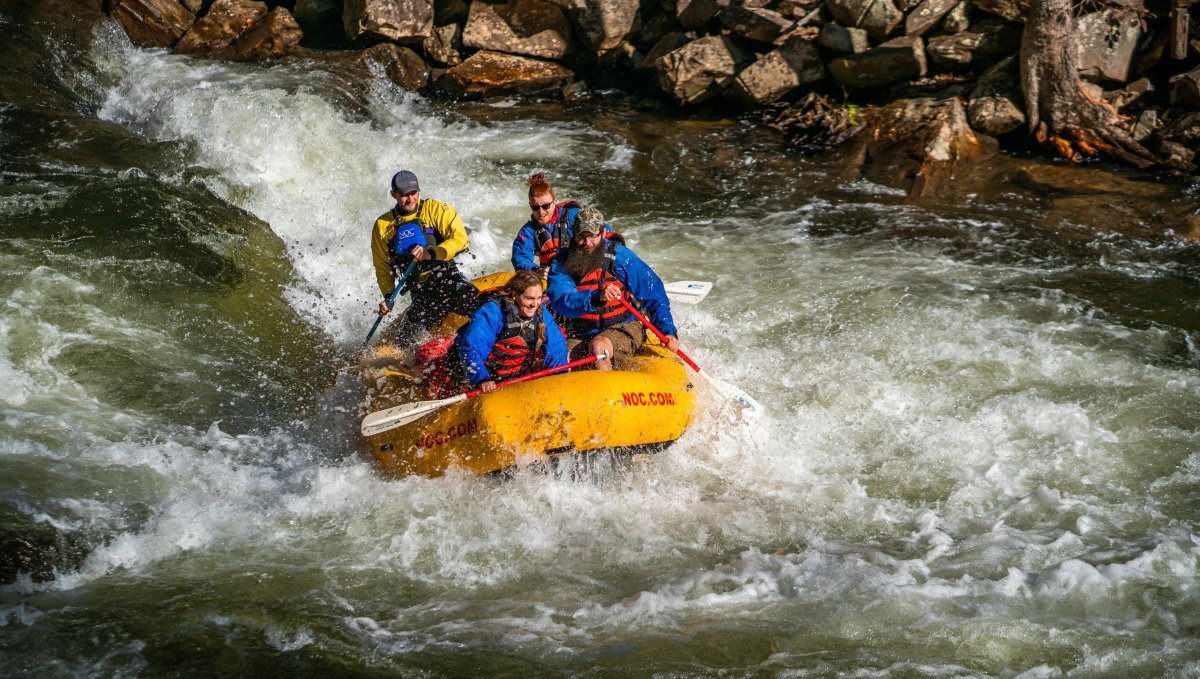 6

Raft with One of the Nation's Premier OutfittersSee on map
As the nation's largest outdoor recreation company, Nantahala Outdoor Center serves more than a million visitors every year who flock to outposts along the Nantahala, French Broad and Cheoah rivers. Headquartered in Bryson City, NOC has had 22 Olympians on staff who guide whitewater rafters, kayakers, and canoe lovers on easy-does-it float trips or intense, level IV rapid trips. Its accolades include being named the "Nation's Premier Paddling School" by The New York Times, "The Best Place to Learn" by Outside magazine, and "One of the Best Outfitters on Earth" by National Geographic Adventure. And as a U.S. Forest Service permit holder, NOC can take adventurers through both public and private lands.
7

Tube Down Deep Creek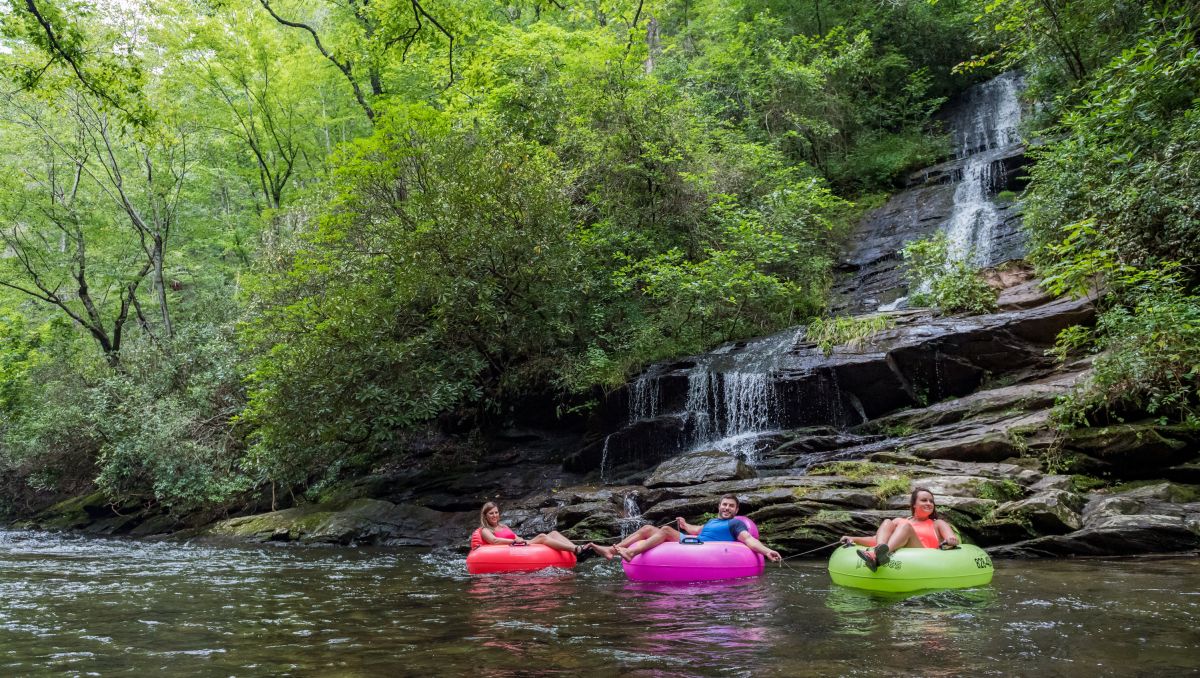 7

Tube Down Deep CreekSee on map
Deep Creek provides a relaxing alternative to the intense experiences found at NOC. Rent a tube for just $6 and go on as many loops as you'd like down the 1-mile stretch that includes some faster water and bouncier conditions at the start and calmer, enjoy-a-beverage-while-you-float waters in the lower section. Many floaters opt to add camping at Deep Creek Tube Center & Campground or accommodations at Deep Creek Lodge near the entrance to Great Smoky Mountains National Park to their tubing trip. You can also complement your Deep Creek visit with a waterfall when you drift past Tom Branch Falls, which cascades down from 80 feet high.
8

Chase Waterfalls in Transylvania County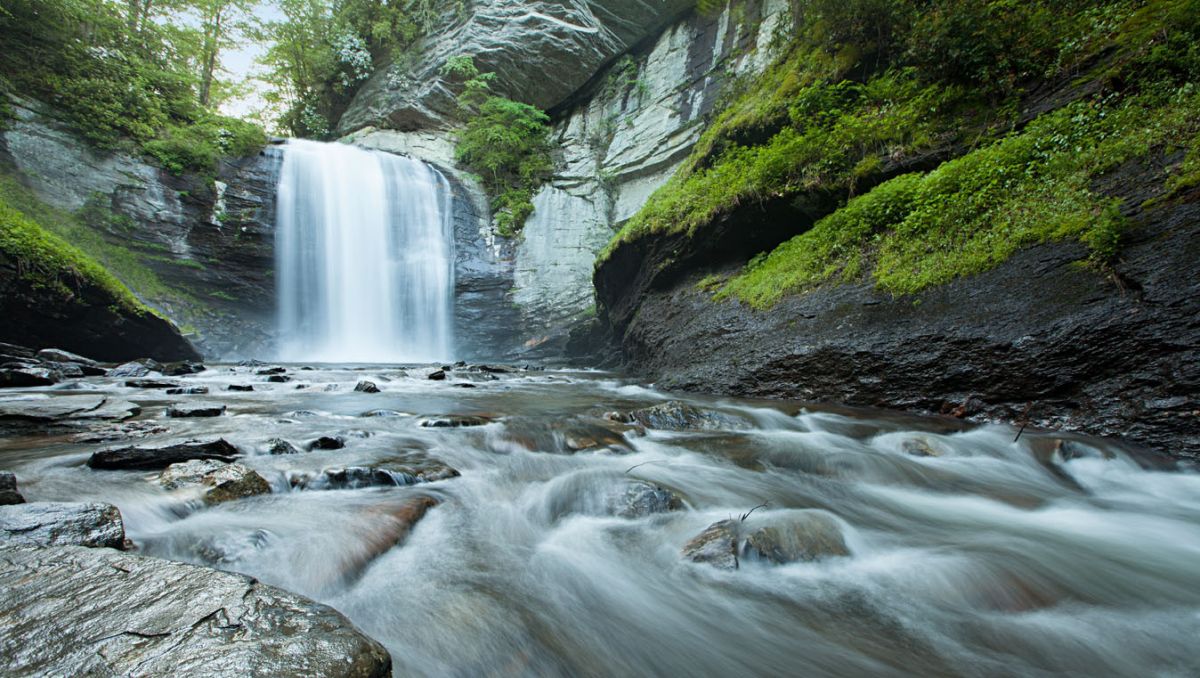 8

Chase Waterfalls in Transylvania CountySee on map
With a nickname like "The Land of Waterfalls," you better believe you and your travel companions will be amazed by the 250+ cascades located within the county's 381 square miles – the highest concentration of waterfalls on the East Coast. In fact, the area's magnificent scenery has driven filmmakers behind The Hunger Games and The Last of the Mohicans to capture the county's striking beauty for the big screen. Be sure to include the "King of Waterfalls" – aka Whitewater Falls – to your itinerary as it's the highest in the eastern U.S., as well as Moore Cove Falls, which you can walk behind via a short hike. Pro tip: Transylvania County is also home to one of the only river snorkeling outfitters in the world, offering guided tours that launch from the starting point of the French Broad River.
9

Camp Lakeside at Jordan Lake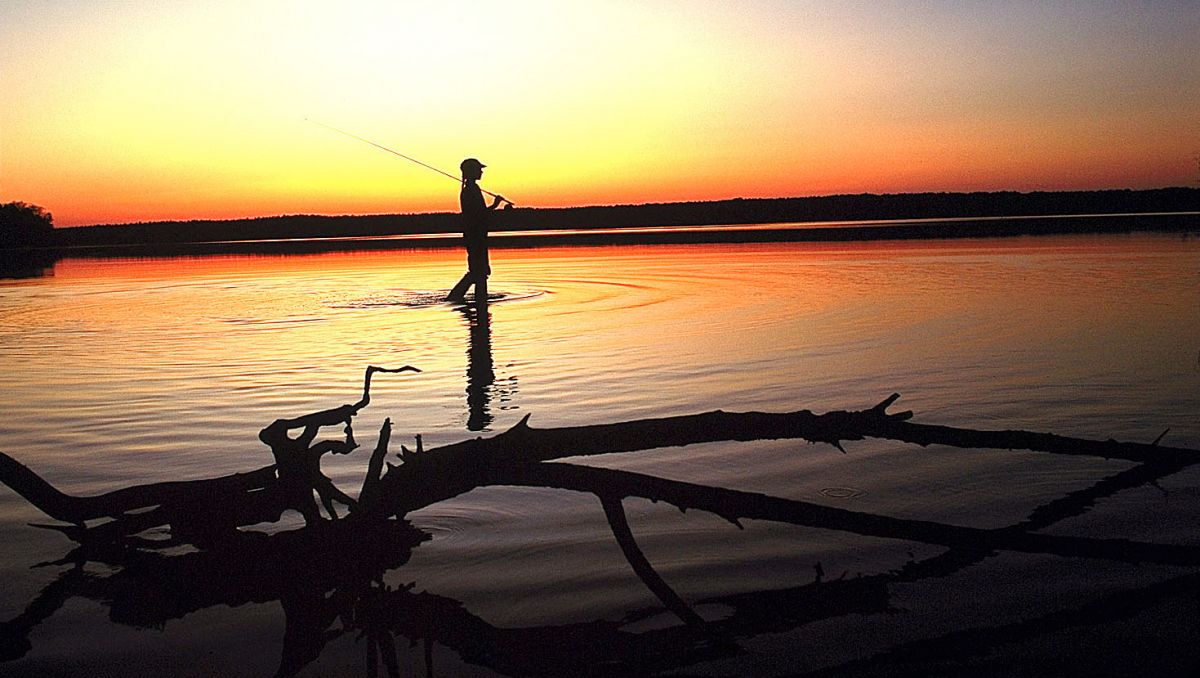 9

Camp Lakeside at Jordan LakeSee on map
Want to plan a nice, relaxing lake vacation in North Carolina? The 14,000-acre Jordan Lake has more than 1,000 campsites (including RV sites, primitive and group camping) as well as seven swimming beaches, 14 miles of hiking trails and a visitors center detailing the lake's ecology. Bald eagles like to call this lake home, and more live here than almost anywhere else in the eastern U.S.; the park recommends visiting in April, May or June for the best bald eagle watching. Boaters can put in at several ramps along the 180 miles of shoreline, and the Crosswinds Boating Center also rents out kayaks and pontoon boats. Fishing is also popular at Jordan Lake, which features an abundance of bass, crappie, catfish and panfish.
10

Rent a Boat on Lake Norman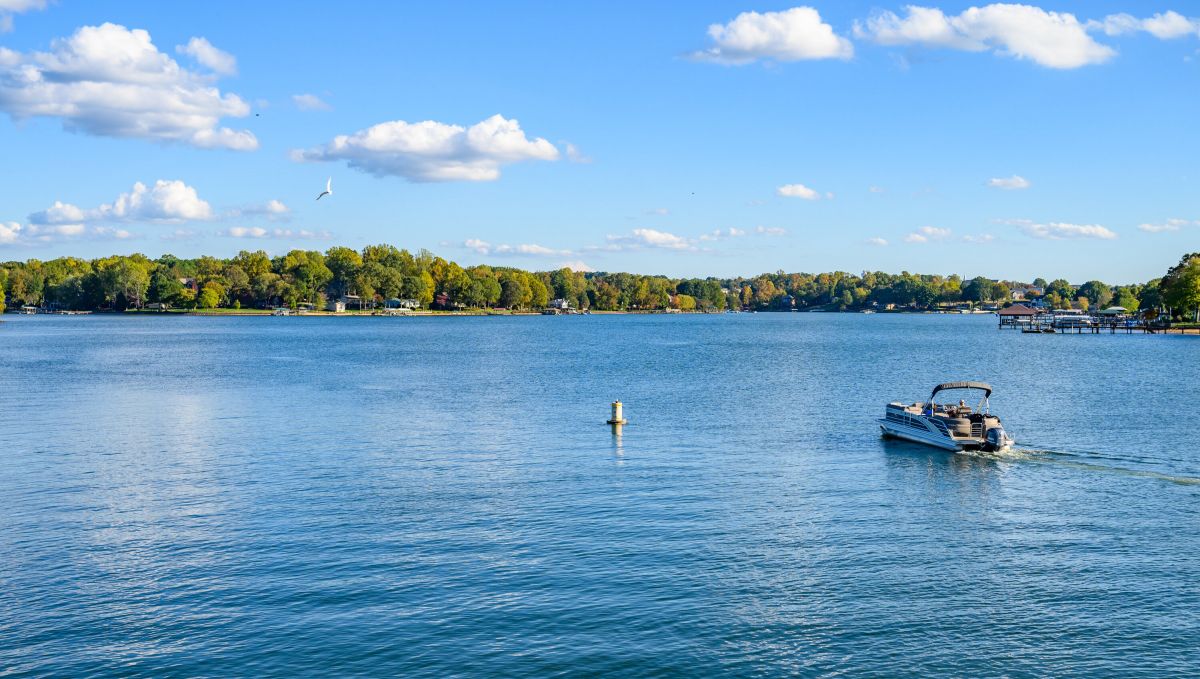 10

Rent a Boat on Lake NormanSee on map
One of North Carolina's crowning jewels, Lake Norman ranks as North Carolina's largest man-made lake with 32,000 acres of surface area. And with more than 20 marinas – such as the family-owned Lake Norman Marina or Mountain Creek Marina – you can rent any watercraft you please to help you explore the 520 miles of shoreline. Opt to camp at one of Lake Norman State Park's 32 campsites, or book lodging in one of the nearby cities like Davidson, Mooresville or Cornelius. Visitors also have plenty of lakefront restaurants to choose from, including The Blue Parrot Grill, Landing Restaurant and Hello, Sailor.
11

Paddle Where the Pros Train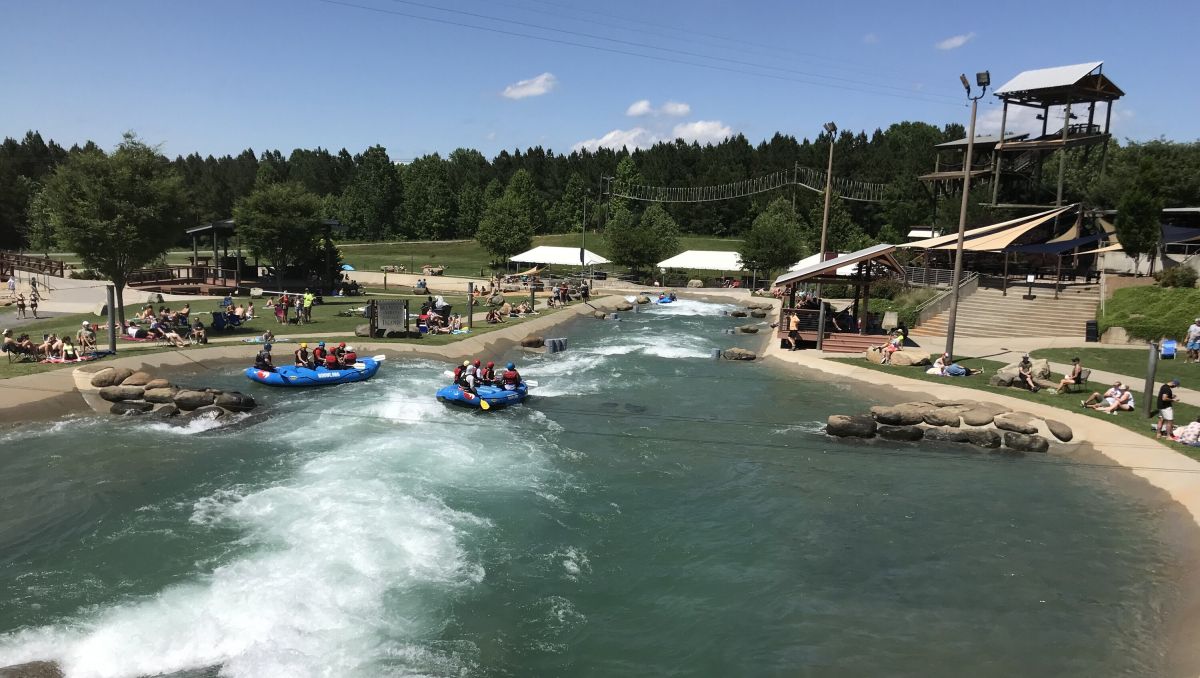 11

Paddle Where the Pros TrainSee on map
Located 20 minutes west of Uptown Charlotte, the U.S. National Whitewater Center serves as an official Olympic training ground for whitewater slalom racing yet is also open for the public to enjoy. Considered the world's premier outdoor facility, the center offers more than 30 activities – both water- and land-based – at its 1,300-acre compound that includes a 50+ mile trail system and all means of paddling fun, from stand-up paddleboarding to kayaking to whitewater rafting. You can also try Deep Water Solo, a form of rock climbing where you fall into a deep pool of water once you reach the top. The first in the world of its kind, the Deep Water Solo Climbing Complex features five walls ranging in height from 20 to 45 feet arched over a 20-foot-deep pool.
12

Splash Through Water Parks Across Our State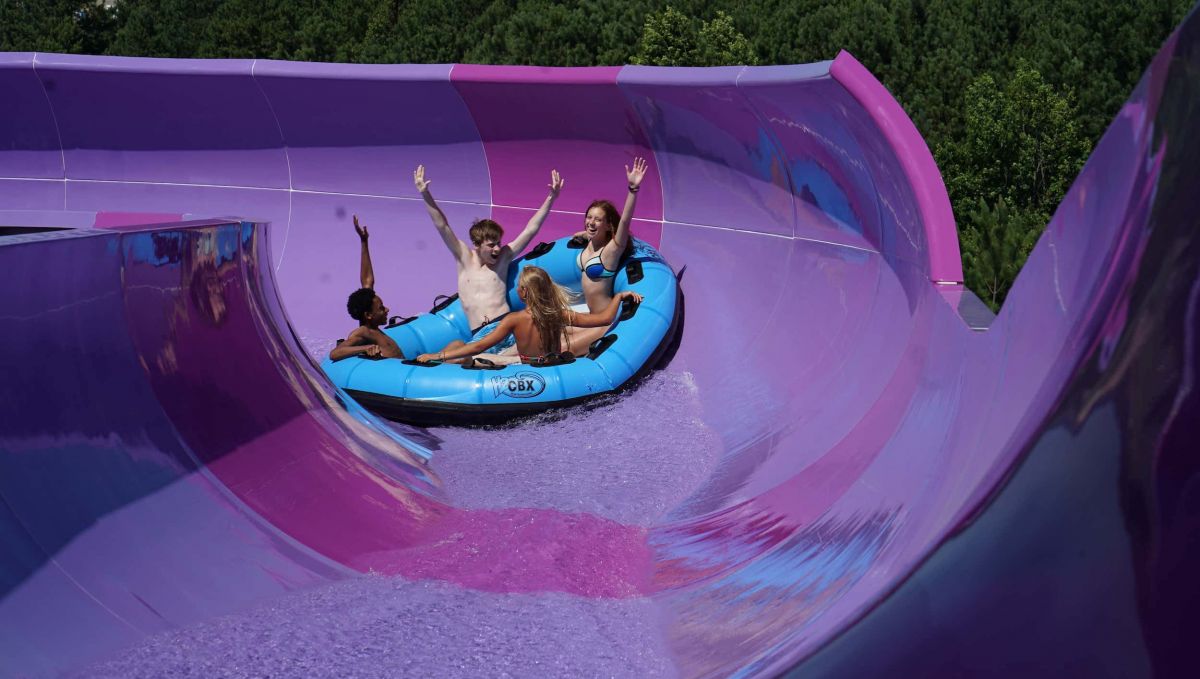 12

Splash Through Water Parks Across Our State

Take the kids on a vacation they won't soon forget at one of the many beloved water parks that dot North Carolina. On the coast, hit H2OBX, touted as the No. 1 family attraction in the Outer Banks and featuring two wave pools, a massive lazy river, and lots of tube and raft slides for thrill seekers. In the middle of our state, have some fun in the sun at Wet N' Wild Emerald Pointe, home to 38 rides and attractions. Or check out Carolina Harbor, located about 20 minutes south of Uptown Charlotte as part of the popular Carowinds amusement park complex. Adults will love relaxing in the cabanas while the kiddos defy gravity on the park's six-story water slide or splash in the 6-foot-high waves in the giant wave pool. For the 2020 season, the park has also added Boogie Board Racer, the Southeast's longest mat racing slide.
Updated May 13, 2020