7 Reasons You'll Fall for Winston-Salem
Experience the sights, sounds and flavors of the fall season in Winston-Salem. Take a hike at its two neighboring state parks – a short drive from the city center – or cozy up at a local winery with a cabernet. A trip to Winston-Salem is full of adventure, relaxation or a delightful combination of both. And you'll want to travel back again and again.
1

Autumn Adventures with Lakeside Views
1

Autumn Adventures with Lakeside ViewsSee on map
Conveniently tucked away near Winston-Salem's downtown is Salem Lake. Surrounded by lush woods and a 365-acre lake, its shaded 7-mile loop trail is ideal for a comfortable hike, bike or stroll during leaf-peeping season. Bike rentals are available through a bike-share program, with a docking station just before the start of your trek. For a water adventure, rent a kayak or johnboat at the Salem Lake Marina Center. Or hit the bait shop and cast a line off the 300-foot pier as you take in pristine lakeside views.
2

Climb Peaks During Peak Season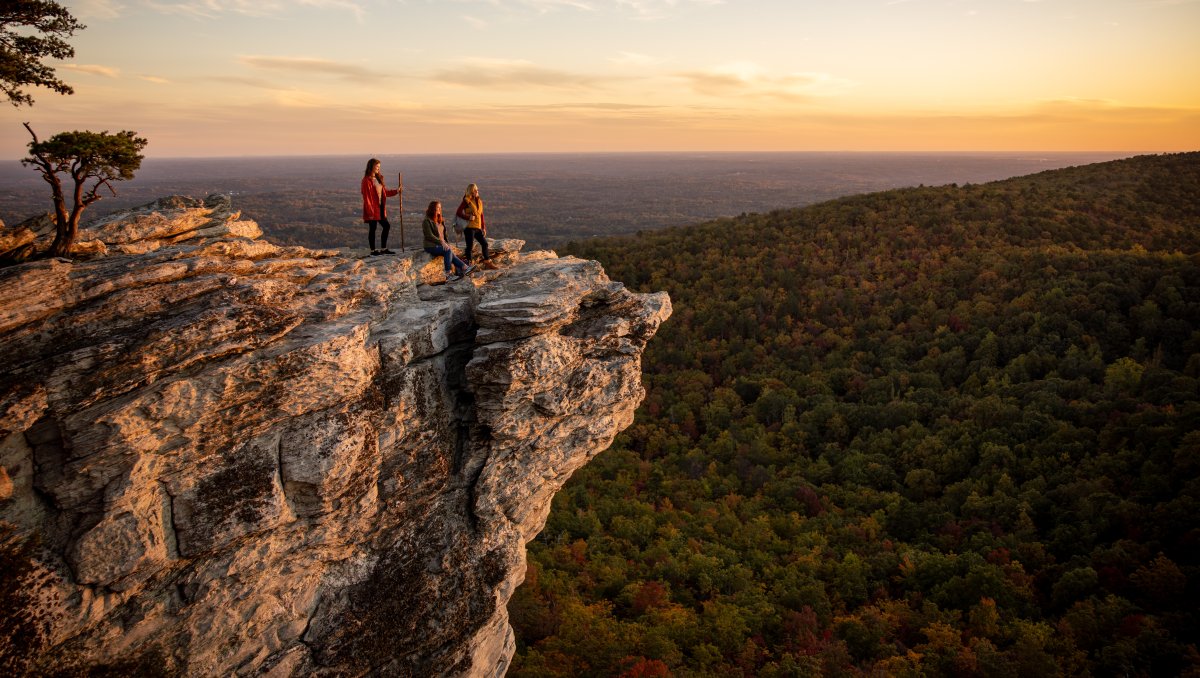 2

Climb Peaks During Peak Season

From the foothills to the scenic summits of nearby Pilot Mountain State Park and Hanging Rock State Park, escape city living with views of browns, ambers and yellows. Stroll up Pilot Mountain to see the iconic peak, or embark on an exhilarating trek along the Hanging Rock Trail, where Blue Ridge Mountain views await. Both parks are a quick drive away, offering scenic hikes right outside of the downtown area. Pro tip: Avoid weekend crowds and congested parking areas by visiting during the week.
3

Savor History With Every Bite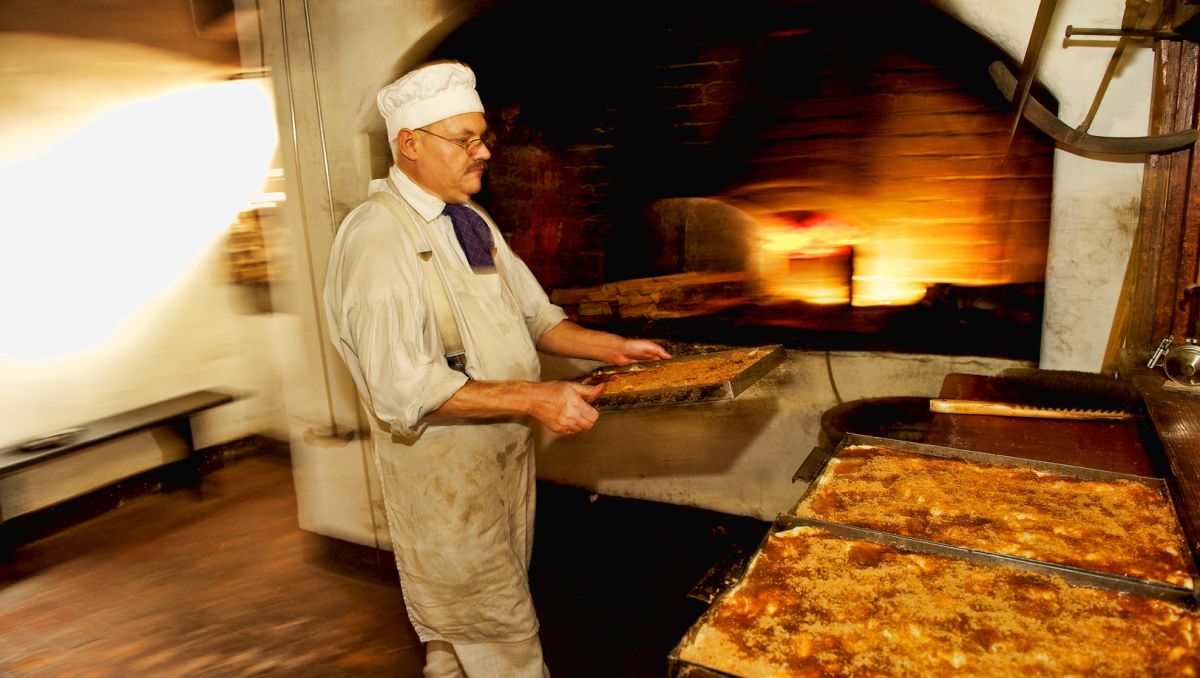 3

Savor History With Every BiteSee on map
Baking is an art form in Winston-Salem. With more than a dozen bakeries, finding pumpkin spice and other fall flavors is mission: possible. Indulge in a treat (or two) from Louie & Honey's Kitchen, Camino Bakery, Bobby Boy Bakeshop, Humble Bee Shoppe or Dewey's Bakery – its pink lemonade cake is a local favorite. But don't forget to swing by Winkler Bakery, the oldest continuously operating bakery in the country. This sweet shop located in the heart of Old Salem serves a variety of bread and is well-known for its delectable Moravian sugar cake and whisper-thin Moravian cookies.
4

Relish Fall Foliage Along the Reynolda Mile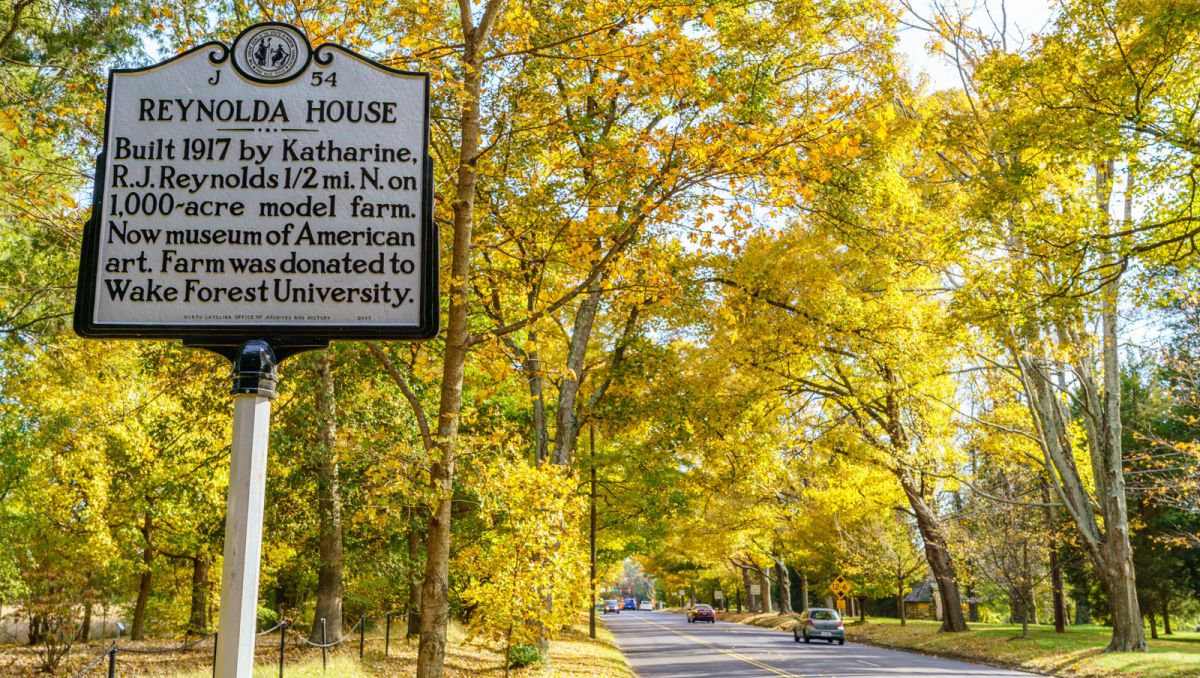 4

Relish Fall Foliage Along the Reynolda MileSee on map
Reynolda Mile is home to historic homes, maple canopies, charming heirloom gardens and a boutique shopping village. Admire various works from Reynolda House Museum of American Art, originally built in 1917 as the pristine country estate of RJ and Katharine Reynolds. Tour the adjacent formal gardens and 1913 greenhouse and continue to Reynolda Village, where you can shop seasonal finds at local boutiques and galleries. Fuel your shopping spree with a treat from Dough-Joe's Doughnuts & Coffee or Penny Path Cafe & Crepe Shop, and continue your self-guided fall foliage tour at the 55-acre Graylyn Estate. Walk through the stunning 1932 historic home-turned-hotel and the neighboring expansive grounds of Southeastern Center for Contemporary Art.
5

Taste Seasonal Suds on a 'Craft Draft' Crawl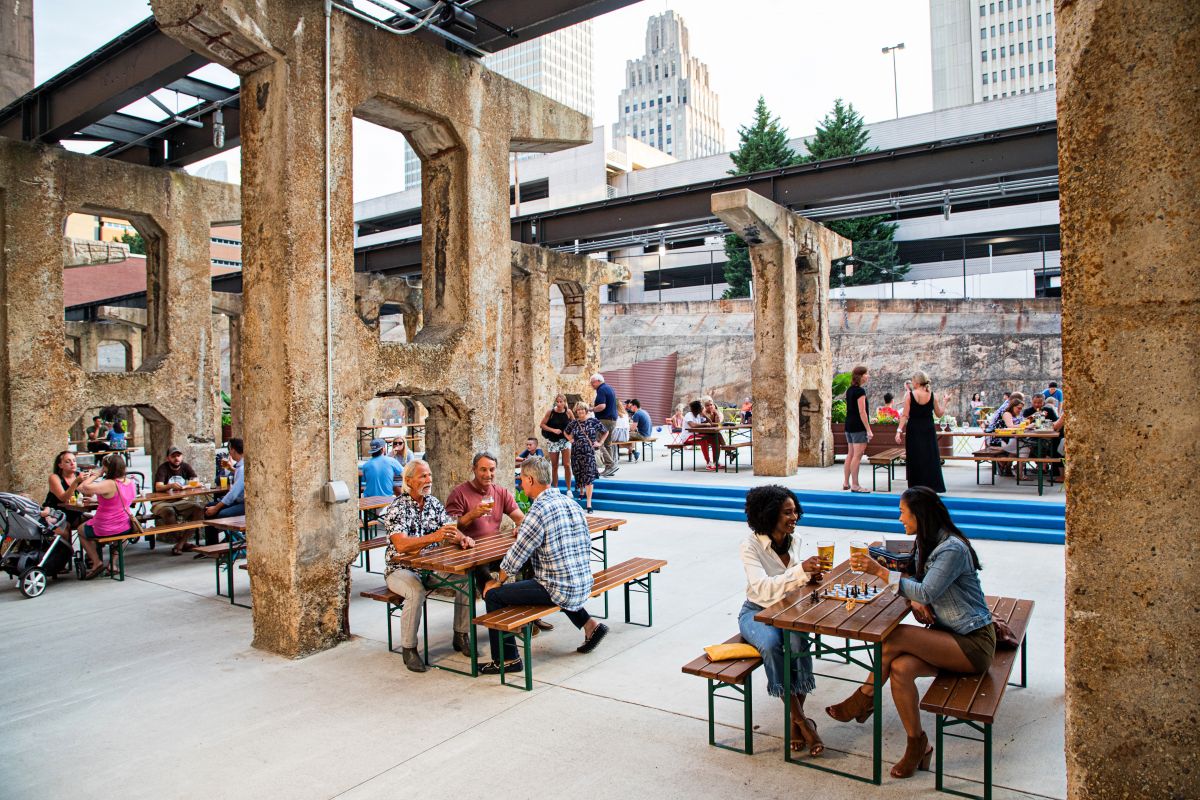 5

Taste Seasonal Suds on a 'Craft Draft' CrawlSee on map
With a handful of downtown craft breweries within walking distance of one another, Winston-Salem is great for creating your own beer tour to sample seasonal suds. Tap into the locally crafted beer scene with special autumn releases, such as Foothills Brewing's Pumpkin Ale brewed with pumpkin pie spices, real pumpkin and a blend of malts. Other craft brew stops nearby include Hoots Roller Bar & Beer Co., Fiddlin' Fish Brewing Company, Incendiary Brewing Company, Radar Brewing Company, Joymongers Barrel Hall, Small Batch Beer Co. and Wise Man Brewing.
6

Dig Into History at Old Salem Museums & Gardens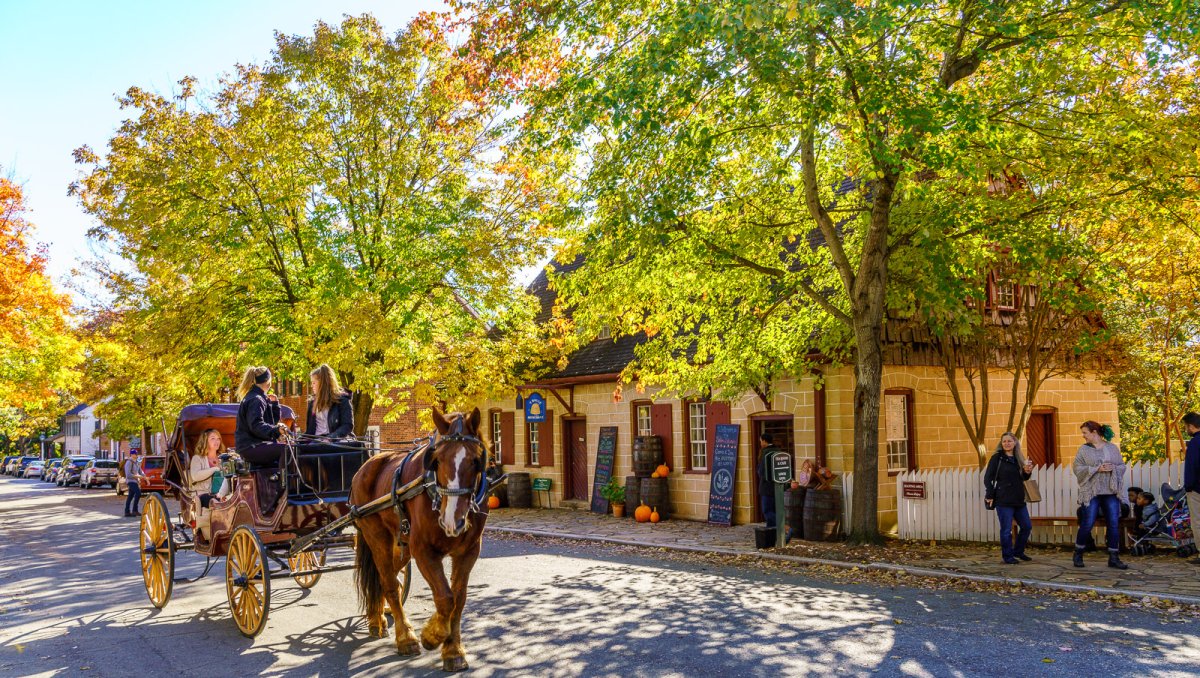 6

Dig Into History at Old Salem Museums & GardensSee on map
Travel back in time at Old Salem Museums & Gardens, a historic Moravian settlement with a hands-on look into 18th- and 19th-century traditions. Pinpoint the perfect fall backdrop in front of the towering maple trees outside the Miksch House. Or marvel at the fiery glow of the Gingko Tree in God's Acre, a cemetery where hills are dotted with white marble headstones. Just be sure to visit the Miksch heirloom gardens and the Single Brothers' Garden, an award-winning restoration garden where seeds are saved from one harvest to replant in the next. Visitors can explore Old Salem's Seed-Saving Lab, which displays heirloom seeds planted from 1766–1856. You also won't want to miss Salem Pathways, a new immersive tour following the lives of seven individuals who lived or visited from 1700–1989.
7

Enjoy Winston-Salem's Favorite Fall Color: Cabernet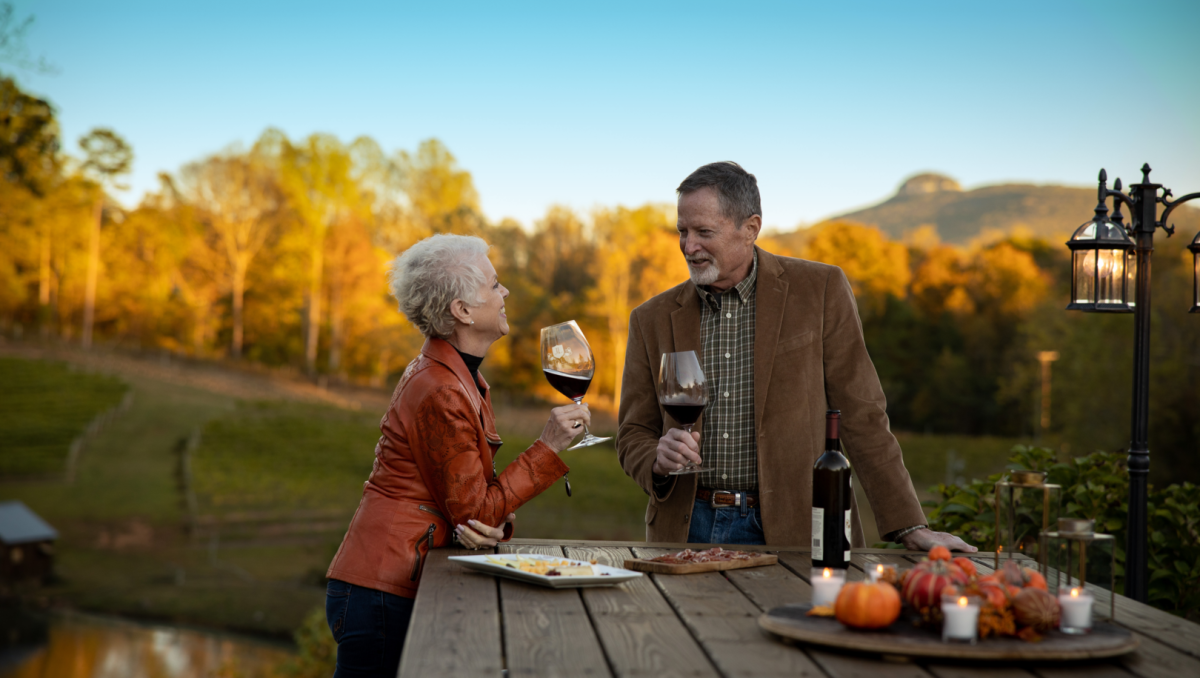 7

Enjoy Winston-Salem's Favorite Fall Color: CabernetSee on map
Winston-Salem is surrounded by more than 45 wineries, all within an hour's drive. Sip, swirl and savor the harvest of award-winning vineyards while checking out the colors of fall. Visit Raffaldini Vineyards & Winery for a Tuscany-esque atmosphere paired with delicious wines. Or spend the day at JOLO Winery & Vineyards for majestic views of Pilot Mountain State Park and delightful fare – like the salmon cake sandwich or filet salad – from its on-site restaurant, End Posts. For a more out-of-the-box experience, you can even sip a pinot while petting a llama at Divine Llama Vineyards.
This story is in partnership with, and all photos are courtesy of, Visit Winston-Salem.
Updated September 1, 2023