8 Day Trips Near Asheville
It's not difficult to figure out why artists, writers, historians, nature lovers and people seeking serenity are continually drawn to North Carolina's Blue Ridge Mountains. From the highest point in the East at Mount Mitchell to the depths of Linville Caverns, there is much above, below and between to capture the imagination here.
Whether you choose to use Asheville as your base camp or stay in one of these charming mountain towns nearby, these eight spots provide plenty to do on a day trip or weekend getaway.
1

Mount Mitchell State Park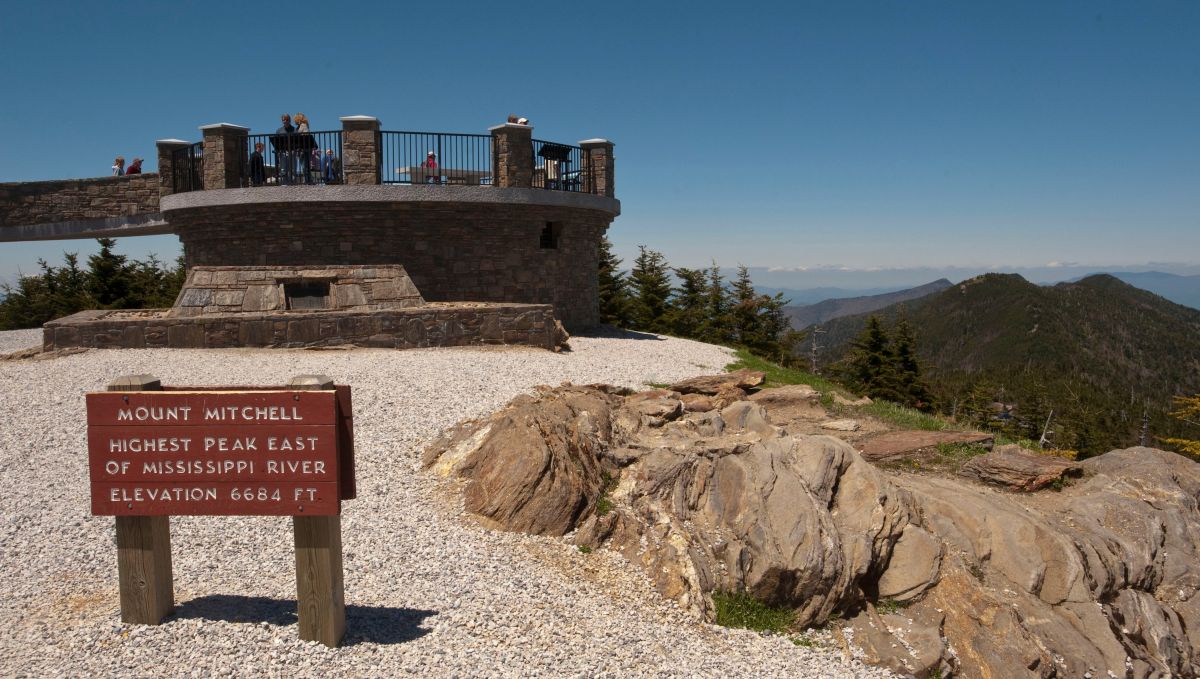 1

Mount Mitchell State Park

Burnsville

See on map
Rising more than a mile high, the peak of Mount Mitchell is simply an extraordinary place. From the mountain's summit at 6,684 feet, making it the highest point in the East, visitors are enthralled by spectacular views of surrounding mountains, ridges and valleys. This 1,900-acre state park offers camping, hiking and gathering spots, as well as an education center and exhibit hall. And if you're seeking unrivaled fall colors, this is the place.
Notable nearby: In the shadow of the mountain is the quiet town of Burnsville with its shops, restaurants, playhouse and historic Nu Wray Inn. If golf is in the plan, take your game to new heights at Mount Mitchell Golf Course.
2

Linville Caverns
2

Linville Caverns

Marion

See on map
If you've ever wanted to see inside a mountain, venture down inside Humpback Mountain to explore natural limestone caverns featuring stalactite and stalagmite formations as well as an underground stream. Opened to the public in 1937, experienced guides take you into this subterranean world, providing the history of the caverns and allowing you to view the work of nature. The temperature stays a comfortable 52 degrees Fahrenheit virtually year-round. During winter and early spring, you'll also see bats that hibernate here.
3

Lake Lure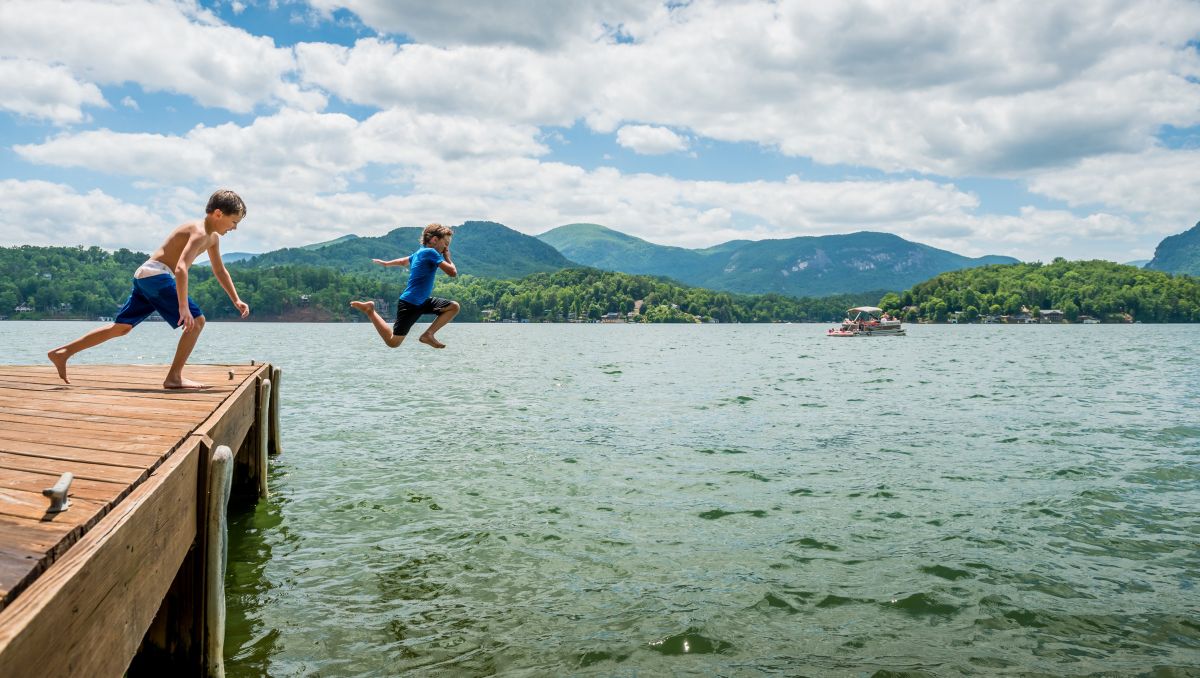 3

Lake Lure

Rutherford County

See on map
The Rocky Broad River tumbles downward through Hickory Nut Gorge to feed the deep, clear waters of Lake Lure, a 720-acre body of water beautifully surrounded by tree-covered mountain ridges. A favorite of water-sports enthusiasts, Lake Lure has a beach and marina where you can swim, boat, sail, canoe, kayak, fish, tube, wake board, water ski and knee board.
When the 1927 Lake Lure Inn & Spa opened as a resort, it drew its share of the famous, from F. Scott Fitzgerald to Franklin Roosevelt. However, the inn and surrounding area may now be best known for the filming of Dirty Dancing.
Notable nearby: This area is also a great place for hiking, cycling, camping and bird-watching, while golfers head to Rumbling Bald on Lake Lure and the town's own 9-hole course, credited to Donald Ross.
4

Chimney Rock State Park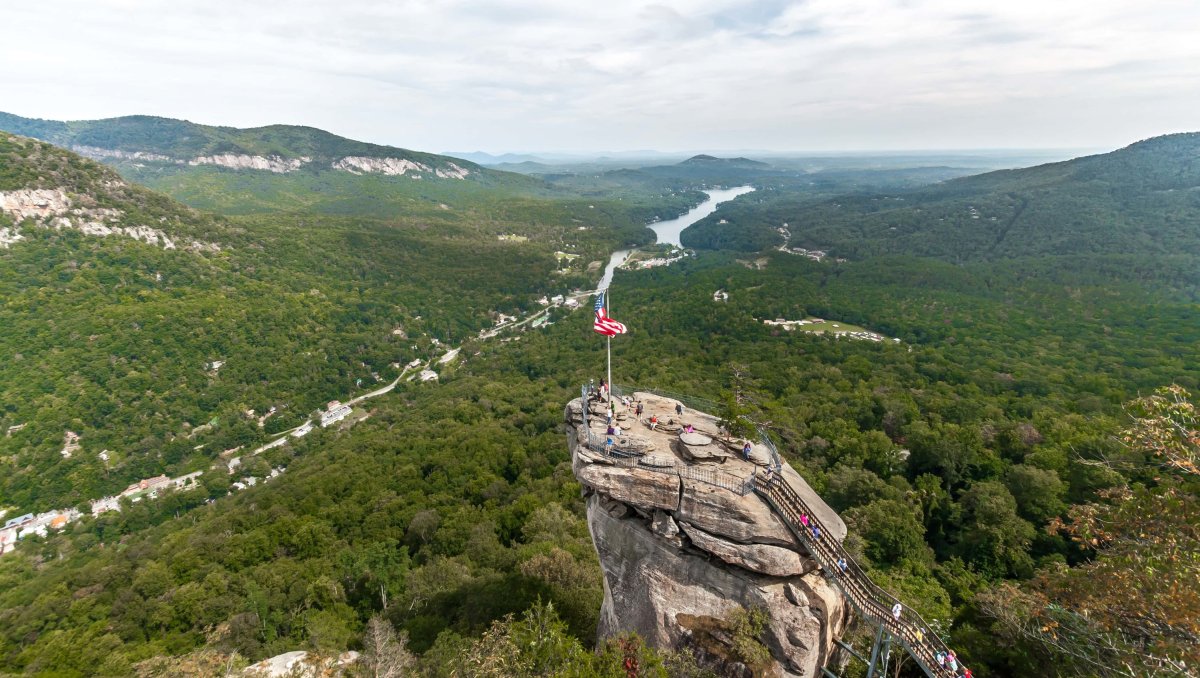 4

Chimney Rock State Park

Chimney Rock

See on map
If you've always wanted to see what it's like to see for miles, then Chimney Rock is the place. From this 535-million-year-old monolith that tops out at more than 2,200 feet above sea level, it's estimated the view stretches for 75 miles on a clear day. But there is much more than scenery to keep you busy, including hiking, rock climbing and nature explorations. Kids enjoy the Great Woodland Adventure, an easy trail on which Grady the Groundhog teaches about the woods and its inhabitants. Grady's Animal Discovery Den, home to live creatures, is located next to the trailhead.
Notable nearby: After spending time in the park, you'll find places to eat and shop in nearby Chimney Rock Village.
5

Flat Rock Playhouse

Flat Rock

See on map
Designated The State Theatre of North Carolina since 1961, Flat Rock Playhouse has produced and provided high-quality theatre experiences for the region for decades. Each year the Playhouse features top professionals from across the country in major productions such as Mamma Mia, West Side Story, South Pacific and more. Tens of thousands of patrons of the arts turn out annually for major musicals, engaging plays, musical concert series and a spectacular Christmas show worthy to be a tradition in any family.
6

Carl Sandburg Home National Historic Site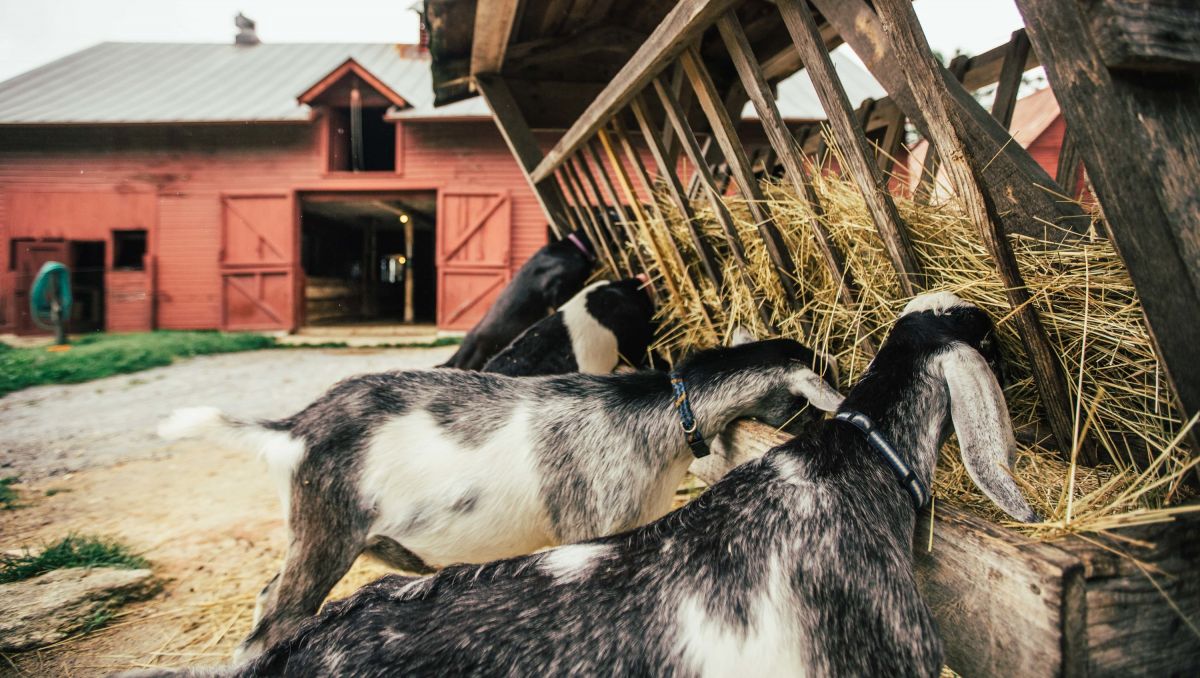 6

Carl Sandburg Home National Historic Site

Flat Rock

See on map
Carl Sandburg was regarded as "a poet of the people," gaining worldwide fame as a writer, folk singer, social activist, and Pulitzer Prize-winning poet and biographer. Sandburg and his family moved to Connemara Farm in 1945, a 200-plus-acre former estate that became a working farm on which to raise Mrs. Sandburg's prize-winning goat herd, the descendants of which still roam the grounds. Visitors can tour the Sandburg home, visit the farm and hike on more than 5 miles of trails. The 1.5-mile hike to the top of Glassy Mountain is a guaranteed treat.
Notable nearby: Visitors and locals also are drawn around the corner from Connemara to the village with its quaint shops along Little Rainbow Row, complemented by the tasty treats at Flat Rock Bakery and Hubba Hubba Smokehouse.
7

Brevard, the Land of Waterfalls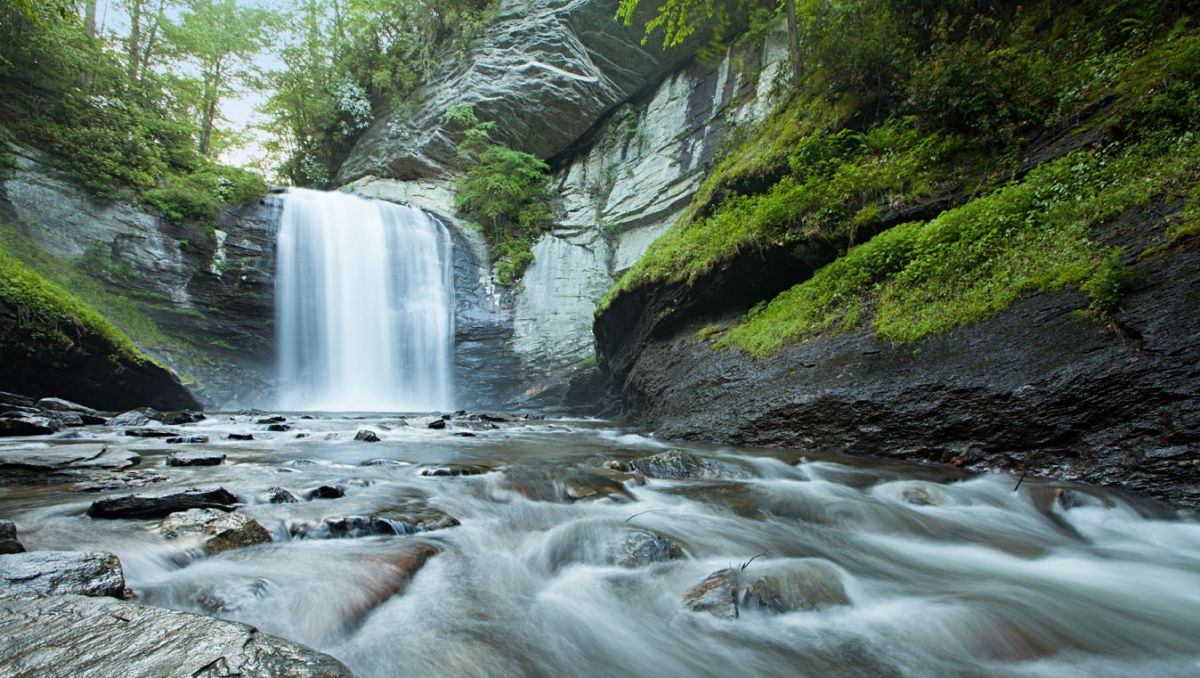 7

Brevard, the Land of Waterfalls

Brevard

See on map
With two state parks and two national parks in its backyard, the charming town of Brevard is a prime gathering spot for outdoor enthusiasts. It's a special place where you can mountain bike in the morning, rock climb at mid-day, kayak down the French Broad River in the afternoon and take a zip line ride at sunset – and gaze at a waterfall or two along the way (the area claims more than 250). Always a great treat is Sliding Rock in Pisgah National Forest, billed as the cheapest natural roller coaster ride on the planet – it's a 60-foot watery glide down slippery rock into a deep pool at the bottom.
Notable nearby: Brevard also hosts a number of annual festivals and cycling events. The Brevard Music Center opens its doors to the public each summer with more than 80 concerts, while the fall's Mountain Song Festival is a big favorite. If you're the hearty sort, consider participating in the Assault on the Carolinas Bicycle Race with its 100K or 50K options.
8

Black Mountain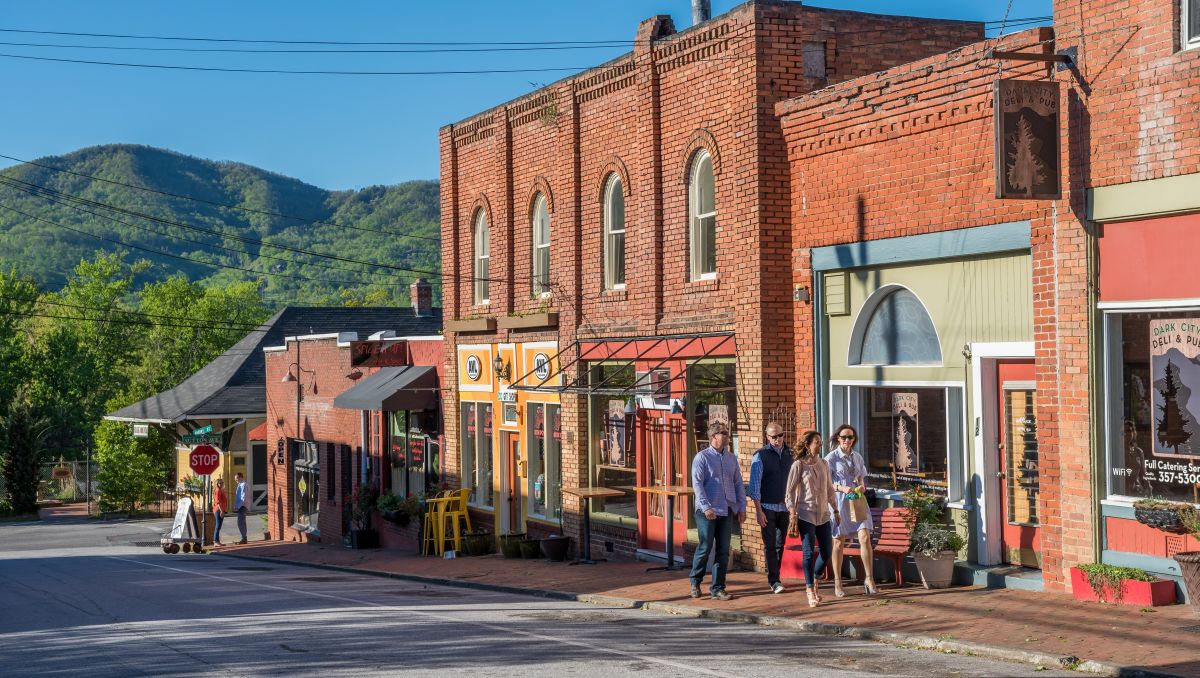 8

Black Mountain

Black Mountain

See on map
Black Mountain invites visitors to settle in and treat the old-fashioned town as their very own front porch. Stroll along the quiet downtown lanes and discover numerous gift shops, galleries and Appalachian-style craft stores. Expect a variety of nightly music at the local venues, where you can sample N.C. craft beer.
Notable nearby: There's easy access to a variety of hiking and biking trails, with a host of recreational opportunities and attractions within easy distance. Golfers may want to check out the town's golf course with its 747-yard, par-6 hole that ranks as one of the world's longest.
Updated August 9, 2021