Outdoor Dramas to Enjoy Under the Stars in North Carolina
North Carolina is the birthplace of the American outdoor drama, entertaining theatergoers under the stars since 1937. Since then, opportunities to step back in time surrounded by settings only Mother Nature could provide have expanded across our state and beyond.
With subjects ranging from classic Shakespeare to a disappearing colony, here are some dramas to take you outside and back through history this summer.
1

The Lost Colony

Manteo

See on map
Set on the legendary Outer Banks, The Lost Colony is the nation's longest-running symphonic outdoor drama and tells the story of America's first unsolved mystery. A full 22 years before Jamestown was settled, colonists from England tried to carve out a home on North Carolina's Roanoke Island. Left to survive when their ship went back to England for supplies, the colony disappeared into the mists of history, becoming known as "The Lost Colony." Performed in the Waterside Theatre, a cast of more than 130 people brings this 2013 winner of the Tony Honors for Excellence in Theatre to life.
See it: early June through late August
2

Unto These Hills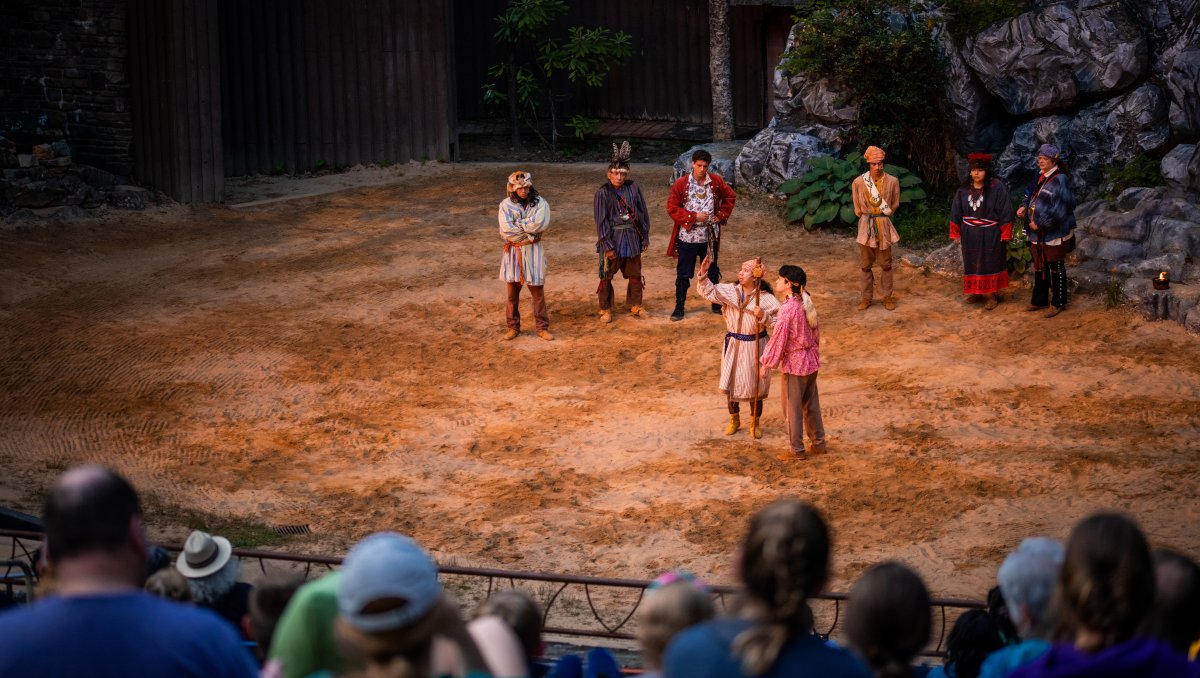 2

Unto These Hills

Cherokee

See on map
Staged in the sacred mountain land of the Cherokee, Unto These Hills paints a vivid portrait of the Eastern Band of Cherokee. The story unfolds as members of the Cherokee nation first encounter Spanish explorers in 1540. This tale of tragedy and triumph follows them through their tragic removal from their ancestral North Carolina home and forced march along the Trail of Tears to Oklahoma. Bring jackets or blankets to see this show at the Mountainside Theatre, as temperatures can drop as day turns to night during the two-hour performance.
See it: late May through mid-August
3

Horn in the West

Boone

See on map
One of North Carolina's most famous sons takes center stage in Horn in the West, the country's oldest Revolutionary War drama. The story follows Daniel Boone as he migrates westward into the Blue Ridge Mountains. Under oaks as old as our nation, you'll be swept away into the spirit and perseverance of Boone and like-minded settlers who sparked our westward expansion and fought to maintain their freedom against the British. Many people believe the magnificent Daniel Boone Park and Amphitheater is worth the price of admission alone. It sits amid 35 acres of rugged Watauga County terrain hidden among giant rhododendron.
See it: Late June through mid-August
4

Montford Park Players

Asheville

See on map
For more than 50 years, the Players have made it their mission to make Shakespeare accessible to everyone through both their performance style and by offering shows free of charge.
See it: mid-May through late October
5

Cape Fear Shakespeare

Wilmington

See on map
Pack a picnic for the free-to-the-public Shakespeare on the Green Festival, where local players bring to life selections from the bard every summer at the renovated Greenfield Lake Amphitheater.
See it: Throughout June
Updated March 31, 2023