10 North Carolina Wineries Where You Can Also Eat
It's no secret food and wine are a match made in North Carolina wine country heaven, and a number of our wineries and vineyards offer dining options that make for a perfect pairing during your visit. Here are several tasty options:
1

Biltmore Winery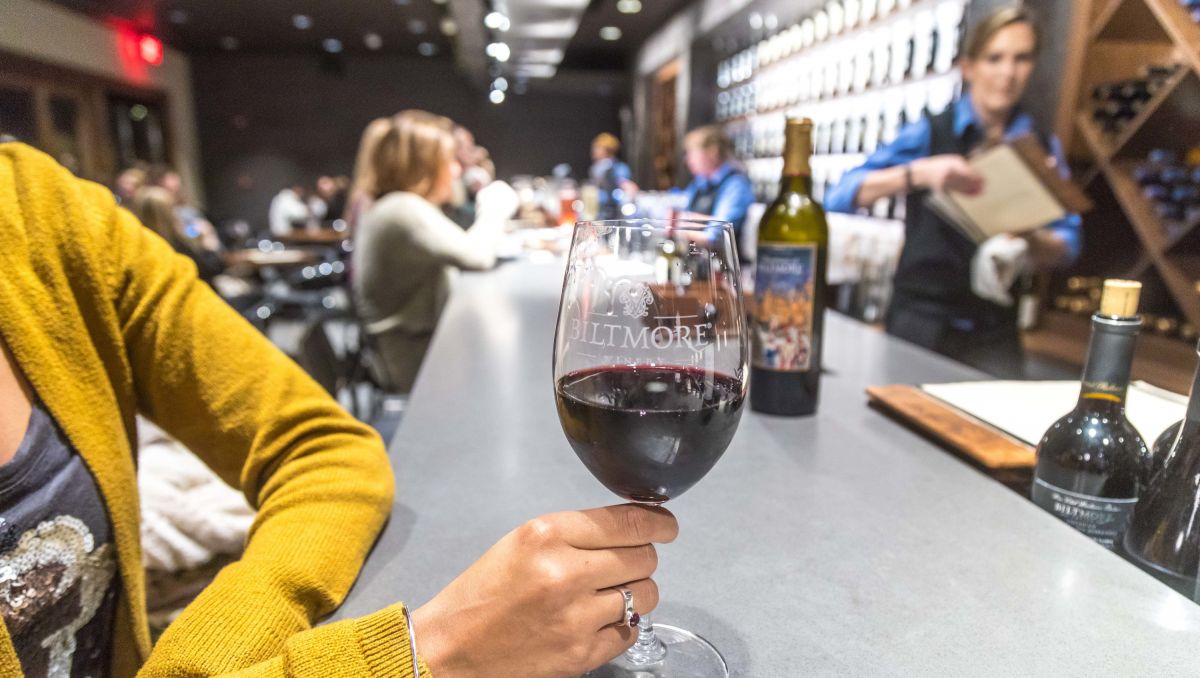 1

Biltmore Winery

Asheville

See on map
Biltmore Winery remains America's most-visited winery for good reason. Pair the award-winning wines with a variety of dining options and you will feel like a Vanderbilt for the day. Biltmore's Antler Hill Village encompasses the winery, farm, and kitchen garden.
Dining options at the Village include the Bistro, with seasonal menus featuring the bounties of Biltmore's own fields, farms, and vineyards, including tasty wood-fired pizzas and locally farmed mountain trout and locally sourced meats, cheeses and honey; hearty meals like Shepherd's Pie, tavern sandwiches, and fish and chips at Cedric's Tavern for robust pub fare; and sweets that celebrate Biltmore's history in the dairy business at the Creamery. Farther afield, Stable Café near Biltmore House features slow-cooked rotisserie chicken, creative sandwiches and seasonal salads in a charming 19th-century stable-turned-café, while Deerpark offers bountiful buffets and an expanded Sunday brunch.
Lastly, the Library Lounge at the Inn has varied offerings for lunch, afternoon tea or dinner while relaxing with a book or taking in the views. The Dining Room at the Inn is the perfect choice for fine dining and highlights estate-raised beef and lamb, freshly picked vegetables and other local fare.
2

Childress Vineyards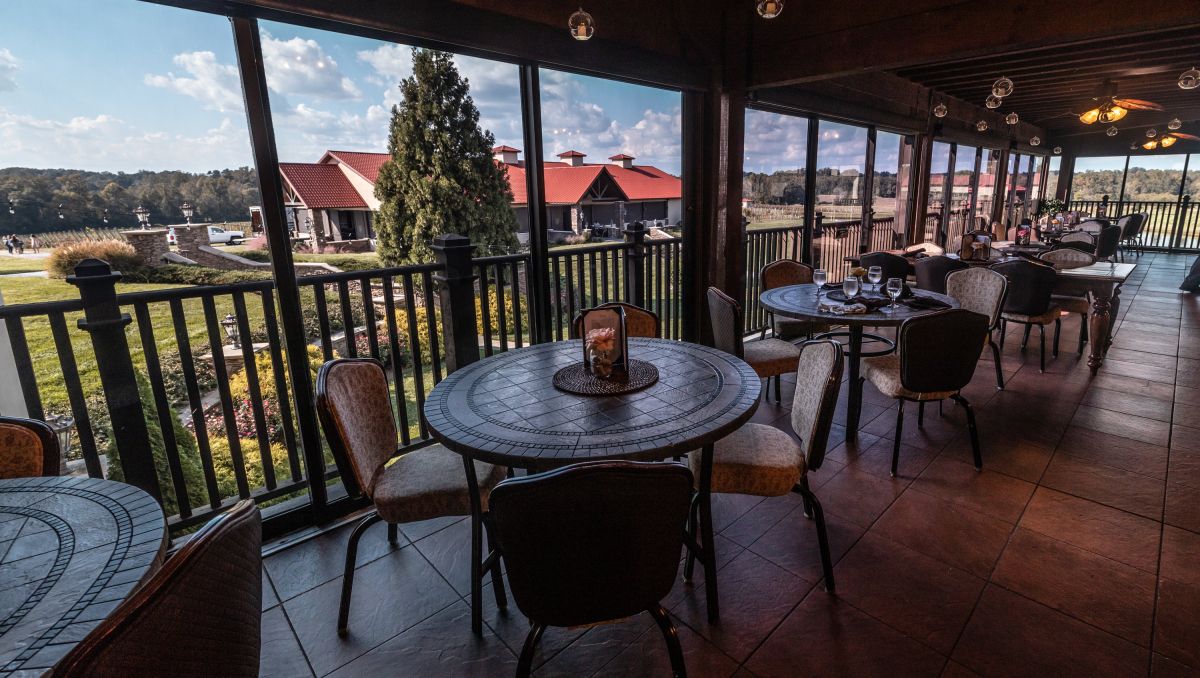 2

Childress Vineyards

Lexington

See on map
The Bistro at Childress Vineyards furthers NASCAR legend Richard Childress's passion for wine – and food. Lunch is served seven days a week on the enclosed terrace, which is adjacent to the tasting room and sprawling retail shop and overlooks the rolling hills of the vineyard. The menu features creative, wine-friendly dishes with a southern twist. The Trifecta tasting menu changes weekly and offers a 3-course menu perfectly paired with a Childress wine to complement the meal.
3

The Country Squire

Warsaw

See on map
Serving lunch, brunch and dinner since 1961, family-owned and -operated Country Squire Restaurant, Winery and Vintage Inn attracts a discerning clientele far beyond its Duplin County location. Lunch is a casual affair, with soups, salads, sandwiches and creative lunch-sized entrees, while dinner is more elaborate and romantic and all entrees come with Squire cheese, a relish tray, salad, varied potato choices and more. If you're really adventurous (and hungry), try the Squire's Royal Choice for Two, with 20 ounces of cast iron-sizzled tenderloin, table-side Caesar salad, broccoli spears or chef's choice of vegetable, broiled tomato with mushroom caps, choice of potato and fresh bread.
4

Duplin Winery

Rose Hill

See on map
With a focus on fresh and local ingredients, native muscadine grapes and Duplin wines, The Bistro at Duplin Winery offers lunch Monday to Saturday, including a muscadine pineapple habanero cheese dip, gourmet soups and sandwiches, fresh salads and made-from-scratch desserts, like Mama Ann's Grape Hull Pie. Pair your meal with a glass of refreshing and fruity muscadine wine or a specialty drink, and your lunch becomes a special meal to remember.
5

Laurel Gray Vineyards

Hamptonville

See on map
With a rotating food truck schedule, the folks at Laurel Gray Vineyards are pairing varied tastes with its award-winning wines. Be on the lookout for eastern and western barbecue styles from Queen City Q, gourmet crepes from Home Grown Crepes, and Creole, Southern and soul street food from Root Down Food Truck.
6

Medaloni Cellars

Lewisville

See on map
Every Sunday during the summer months, Medaloni Cellars hosts Mix Grill, a food truck specializing in fresh salads, salmon and pork tenderloin. Menu items range from $5 to $9 and even include hot dogs for the kids.
7

Old North State Winery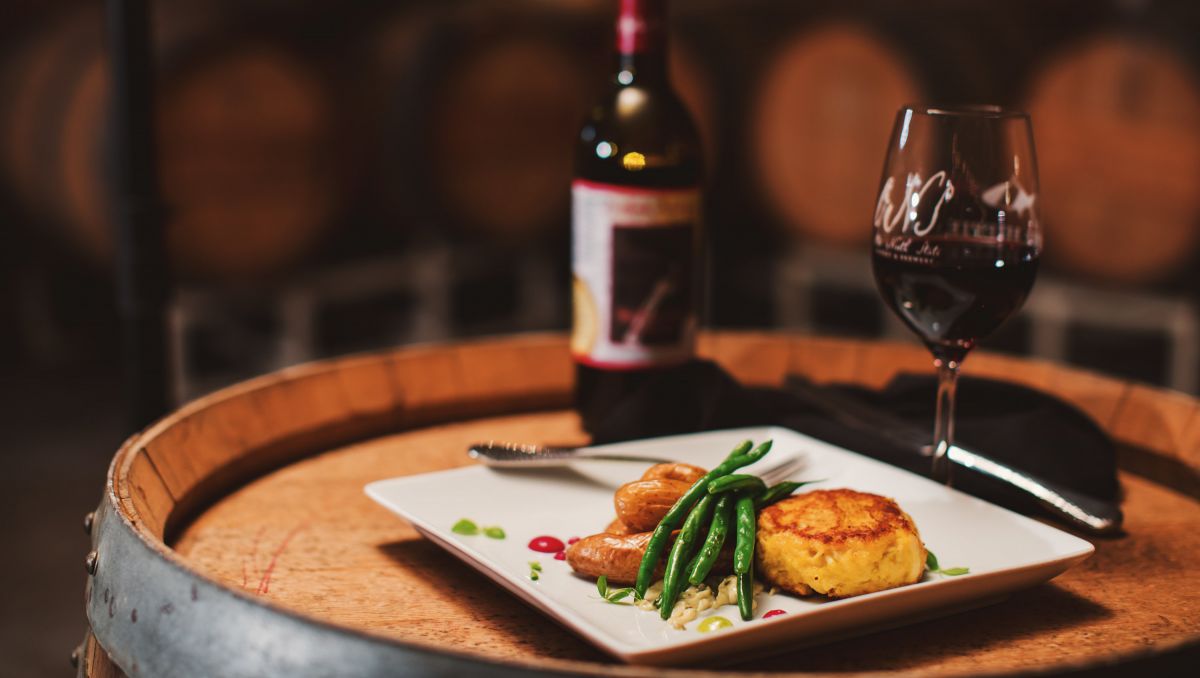 7

Old North State Winery

Mount Airy

See on map
Situated in a downtown 1890s mercantile building, Downtown Deli at Old North State Winery offers up gourmet sandwiches, unique hot dogs, specialty pizzas, salads and more seven days a week. It's also open for dinner Wednesday through Saturday. The meat, cheese and fruit trays or nachos are a great way to celebrate the spot's wine and beer harvest with friends or for small gatherings.
8

RagApple Lassie Vineyards
8

RagApple Lassie Vineyards

Boonville

See on map
The Back Door Café at RagApple Lassie Vineyards offers light lunches on Saturday and Sunday. You can enjoy a glass of your favorite wine with a collection of olives, rosemary and olive oil dusted Marcona almonds, homemade pimento cheese with crackers, bruschetta, artisan cheese plates or one of four RagApple Lassie Signature Sandwiches.
9

Sanders Ridge Vineyard & Winery
9

Sanders Ridge Vineyard & Winery

Boonville

See on map
Sanders Ridge Restaurant at Sanders Ridge Vineyard & Winery features creative New Southern cuisine for lunch, dinner and Sunday brunch. The menu highlights seasonal produce from Sanders Ridge Organic Farm (its produce is also available every Saturday at the Cobblestone Farmer's Market in Old Salem) and features homemade soups, a wide selection of hearty sandwiches and savory entrees using North Carolina fish and locally sourced meats. The family-style "Thursday Night Supper," including local bluegrass music, is also worth the drive.
10

Shelton Vineyards

Dobson

See on map
Located down Cabernet Lane, The Harvest Grill at acclaimed Shelton Vineyards in the Yadkin Valley features upscale dining with a bistro atmosphere. Enjoy stunning views of the vineyards and kitchen garden from the patio and make it a more intimate, romantic evening in the sophisticated dining room. Chef Paul S. Lange focuses on creative bistro cuisine, artisan cheeses and locally sourced ingredients for his lunch, Sunday brunch and dinner menus. The Petite Vintners' Dinner is a 3-course dinner paired with your choice of three Shelton wines and is highly recommended.
Enjoy North Carolina's wineries and vineyards, and remember to drink responsibly. Please designate a driver.
Updated March 14, 2018