10 North Carolina Wineries Where You Can Also Eat
It's no secret food and wine are a match made in North Carolina wine country heaven, and a number of our wineries and vineyards offer dining options that make for a perfect pairing during your visit. Here are several tasty options:
1

Biltmore Winery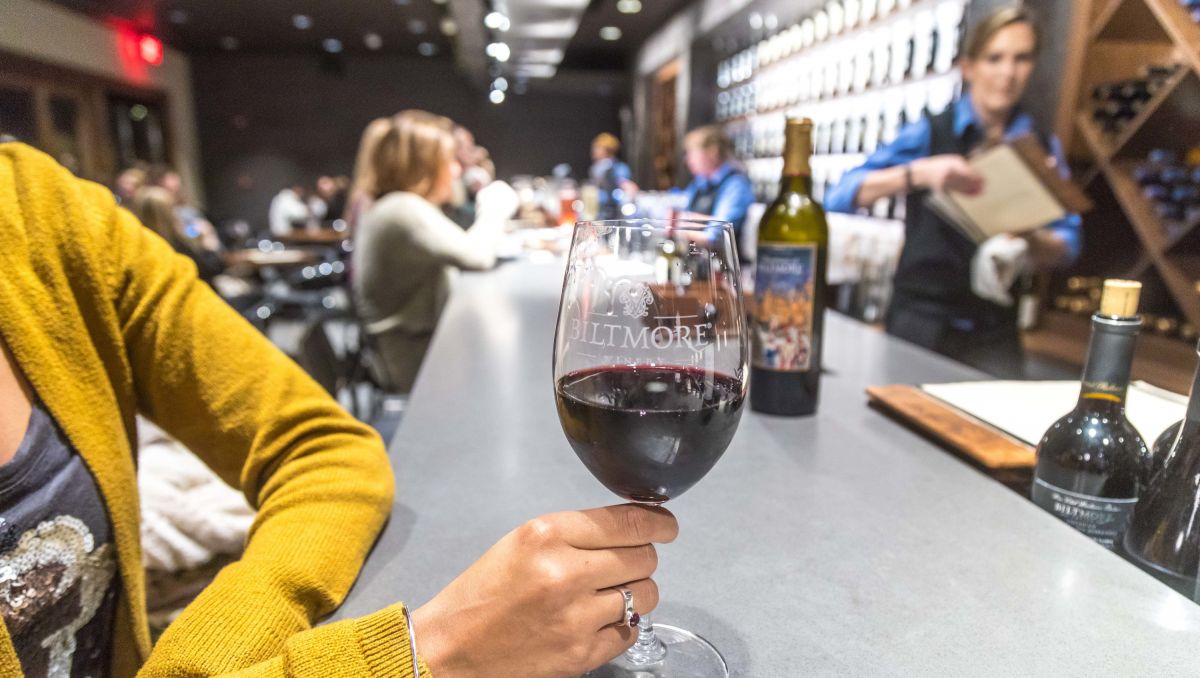 1

Biltmore Winery

Asheville

See on map
Biltmore Winery remains America's most-visited winery for good reason. Pair the award-winning wines with a variety of dining options and you will feel like a Vanderbilt for the day. Biltmore's Antler Hill Village encompasses the winery, farm and kitchen garden.
Dining options at the Village include Bistro, with seasonal menus featuring the bounties of Biltmore's own fields, farms and vineyards, including tasty wood-fired pizzas and locally farmed mountain trout; hearty meals like Shepherd's Pie, tavern sandwiches, and fish and chips at Cedric's Tavern; and sweets that celebrate Biltmore's history in the dairy business at the Creamery. And it doesn't stop there. Village Social offers sustainable seafood and regional favorites, the Smokehouse serves up Carolina 'cue, and you can grab coffee and sandwiches at the Kitchen Cafe.
2

Childress Vineyards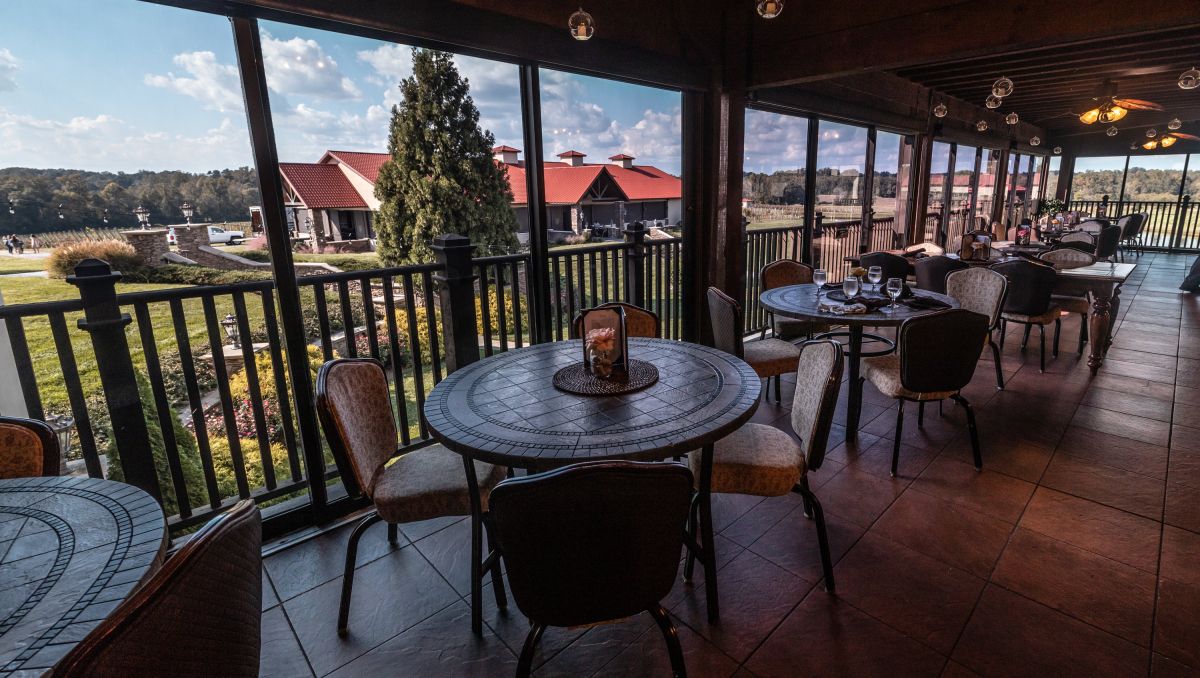 2

Childress Vineyards

Lexington

See on map
The Bistro at Childress Vineyards furthers NASCAR legend Richard Childress's passion for wine – and food. Lunch is served seven days a week on the enclosed terrace, which is adjacent to the tasting room and sprawling retail shop and overlooks the rolling hills of the vineyard. The menu features creative, wine-friendly dishes with a southern twist. The Trifecta tasting menu changes weekly and offers a three-course menu perfectly paired with a Childress wine to complement the meal.
3

The Country Squire

Warsaw

See on map
Serving lunch, brunch and dinner since 1961, family-owned and -operated Country Squire Restaurant, Inn & Winery attracts a discerning clientele far beyond its Duplin County location. Lunch is a casual affair, with soups, salads, sandwiches and creative lunch-sized entrees, while dinner is more elaborate and romantic. If you're really adventurous (and hungry), try the Squire's Royal Choice for Two, with 20 ounces of cast iron-sizzled tenderloin, table-side Caesar salad, broccoli spears or chef's choice of vegetable, broiled tomato with mushroom caps, choice of potato and fresh bread.
4

Duplin Winery

Rose Hill

See on map
With a focus on fresh and local ingredients, native muscadine grapes and Duplin wines, The Bistro at Duplin Winery offers lunch Monday to Saturday, including gourmet soups and sandwiches, fresh salads (the chicken summer salad comes with a muscadine orange poppy seed dressing) and made-from-scratch desserts, like Mama Ann's Grape Hull Pie. Pair your meal with a glass of refreshing and fruity muscadine wine or a specialty drink, and your lunch becomes a special meal to remember.
5

JOLO Winery & Vineyards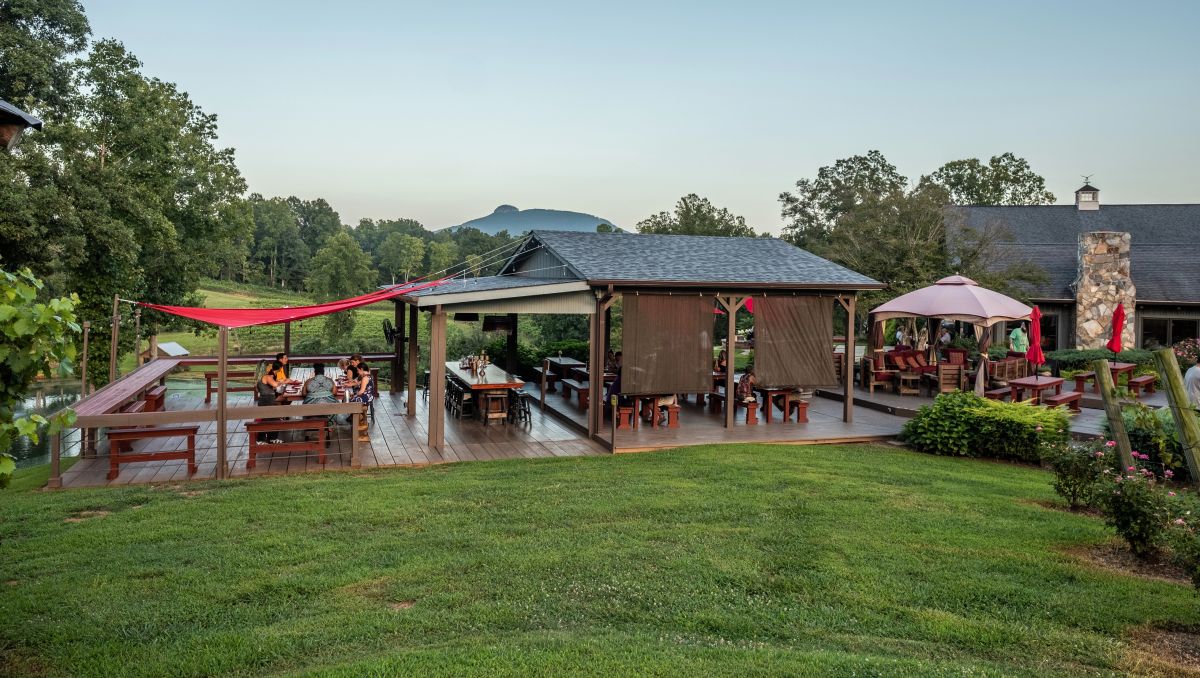 5

JOLO Winery & Vineyards

Pilot Mountain

See on map
Open Thursday through Sunday, EndPosts Restaurant at JOLO Winery & Vineyards invites you to stop in for a casual but delicious lunch or snack. Take your pick from small plates such as pommes frites and Thai sweet chili fried shrimp, soup, salad, flatbreads, wraps, entrees such as beer-glazed meat loaf and lobster ravioli, and desserts. Pair your choices with one of JOLO's award-winning wines as you take in the picturesque view of Pilot Mountain in the distance.
6

Laurel Gray Vineyards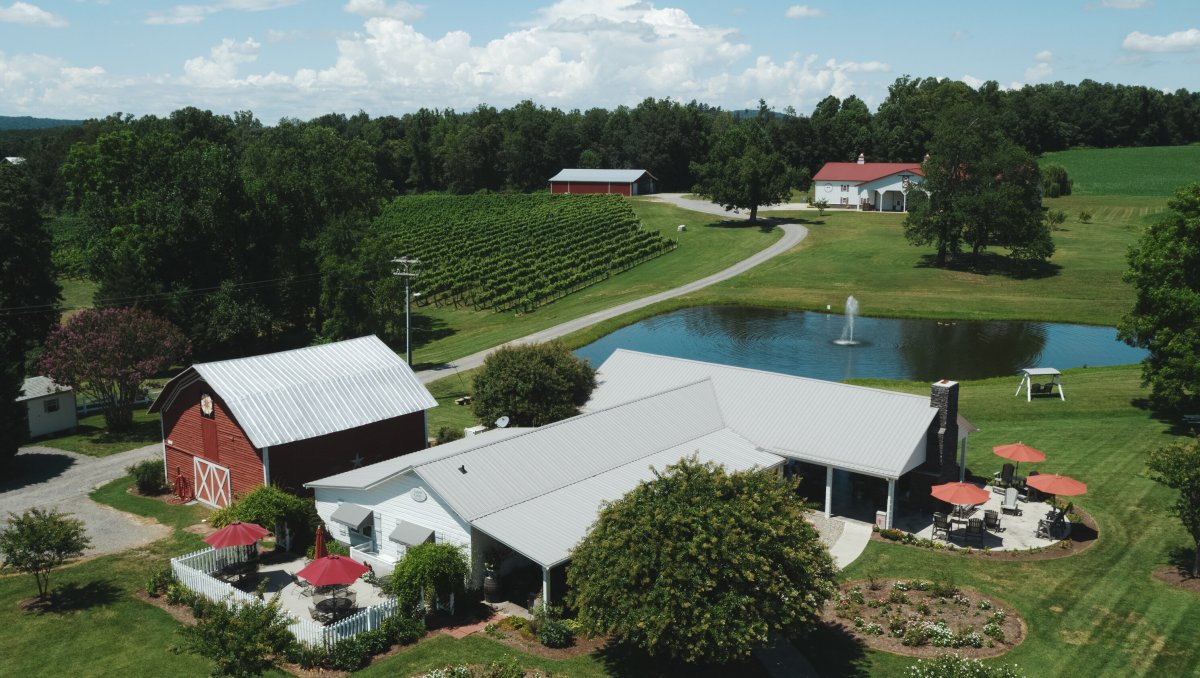 6

Laurel Gray Vineyards

Hamptonville

See on map
With a rotating food truck schedule, the folks at Laurel Gray Vineyards are pairing varied tastes with its award-winning wines (check its website for an up-to-date schedule). In addition to the food trucks, enjoy samples of sauces that come with a wine tasting such as chocolate cabernet wine sauce or chardonnay caramel sauce.
7

Medaloni Cellars

Lewisville

See on map
Every Sunday during the summer months, and occasionally in the winter, Medaloni Cellars hosts different food trucks. On every other day, you're still welcome to bring your own food in. Pro tip: For a bit of romance, you can also stay in one of its beautiful, modern-rustic cabins designed specifically for couples.
8

Old North State Winery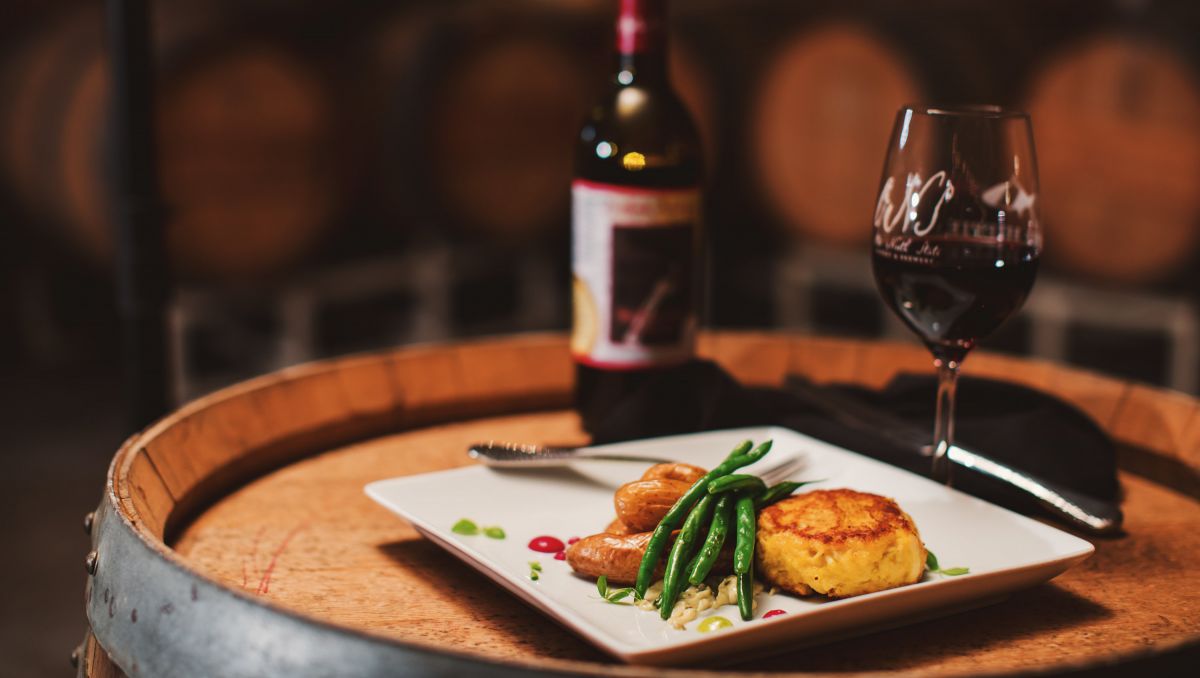 8

Old North State Winery

Mount Airy

See on map
Situated in a downtown 1890s mercantile building, Old North State Market at Old North State Winery offers up gourmet sandwiches, unique hot dogs, specialty pizzas, salads, and more for both lunch and dinner seven days a week. The meat, cheese, and fruit trays or nachos are a great way to celebrate the spot's wine and beer harvest with friends or for small gatherings.
9

Sanders Ridge Vineyard & Winery
9

Sanders Ridge Vineyard & Winery

Boonville

See on map
The Makers Kitchen at Sanders Ridge Vineyard & Winery is a shared commercial kitchen where the winery turns its produce and herbs into fresh salsas, dips, soup mixes and much more. It also offers a daily mix of snacks and small plates to enjoy while you sample award-winning wines all produced from grapes grown on its 15-acre vineyard.
10

Shelton Vineyards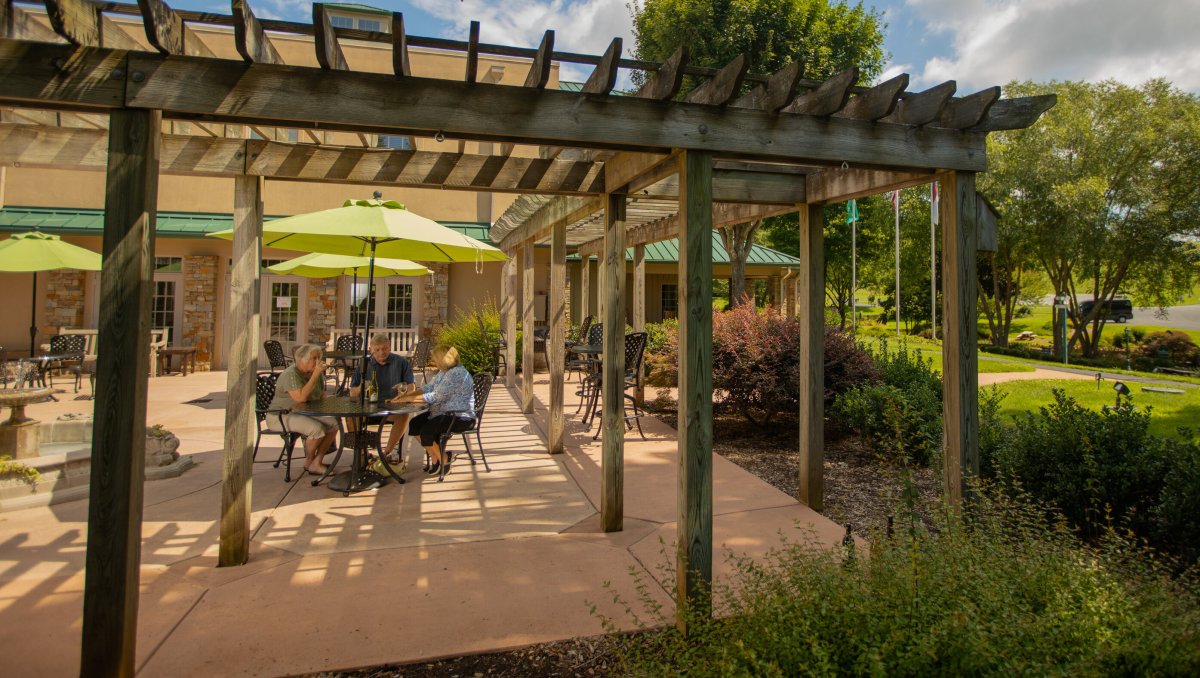 10

Shelton Vineyards

Dobson

See on map
Located down Cabernet Lane, The Harvest Grill at acclaimed Shelton Vineyards in the Yadkin Valley features upscale dining with a bistro atmosphere. Enjoy stunning views of the vineyards and kitchen garden from the patio and make it a more intimate, romantic evening in the sophisticated dining room. The menu focuses on creative bistro cuisine, artisan cheeses and locally sourced ingredients for lunch, Sunday brunch and dinner.
Enjoy North Carolina's wineries and vineyards, and remember to drink responsibly. Please designate a driver.
Updated July 30, 2021