Furniture Shop and Restaurant Hop in High Point
The perfect furniture will turn a house into a home, but finding it can be a chore. Luckily there's a one-stop shop: High Point, the Home Furnishings Capital of the World™. Its more than 50 furniture outlets and stores, which include the world's largest, are only minutes apart and offer low prices and countless brands. And with delicious restaurants, comfortable accommodations and interesting sights in between, it's perfect for a productive and relaxing 3-day getaway.
Day 1: Sample High Point's Offerings
Alex's House Restaurant's reasonably priced breakfasts are big and a favorite among locals. Start your day with an omelet, waffles, pancakes or eggs made to order. It's cash only, but there's an ATM onsite.
Alex's is steps from several Uptowne High Point furniture stores. But before you start shopping, take time to prepare. Think about working with a Preferred Interior Designer, who will offer advice and unlock private showrooms, where the latest trends are displayed. Before you visit, use your smartphone to photograph the rooms you're furnishing along with a sketch of their measurements and features, including windows, doors and fireplaces, so that information is a swipe away. Pack paint, flooring and fabric samples to match with new pieces. And while most stores have one, you'll find your own tape measure handier.
While you're sure to swing into stores that catch your eye, there are two must-visits. High Point Furniture Finds offers discounted prices on market samples and new furniture along with gifts and accessories. A half-mile up North Main Street is upscale boutique Persnickety, filled with furniture and accessories, new and consignment. You'll even find beds and homemade treats for your dog.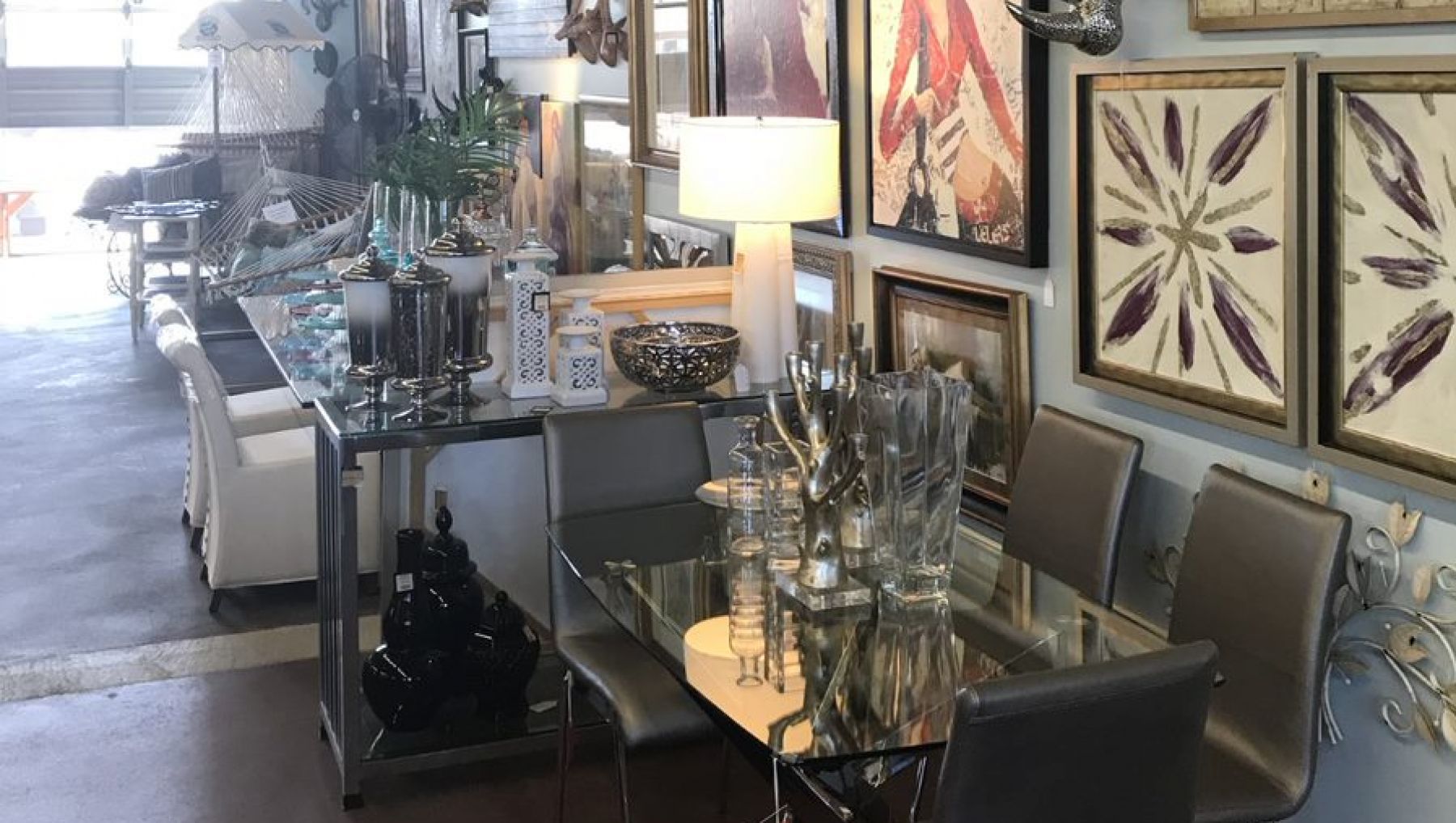 You won't have to leave Uptowne High Point to find lunch choices. Try Blue Zucchini & Co., which serves salads, juicy burgers and interesting sandwiches such as the Zurk. Its focaccia bread is filled with turkey, zucchini, sprouts, Havarti cheese and sundried tomato aioli.
Head to High Point Museum for the afternoon. Learn about the city's start as a transportation crossroads, meet its important residents – including jazz saxophonist John Coltrane and Meredith Slane Michener, whose 1:12 scale vignettes capture real life and fantasy – and appreciate its role in the furniture industry. Questions are answered by knowledgeable volunteers, including re-enactors at the 18th century blacksmith shop and homes next door. Admission is free.
Return to Uptowne and jumpstart your evening at Brown Truck Brewery, which hosts live music on weekends and welcomes dogs anytime. Take a seat in the taproom or around a fire pit in the courtyard, and sample the Great American Beer Festival medalist's creations, from the No. 4 Saison to No. 82 Robust Porter.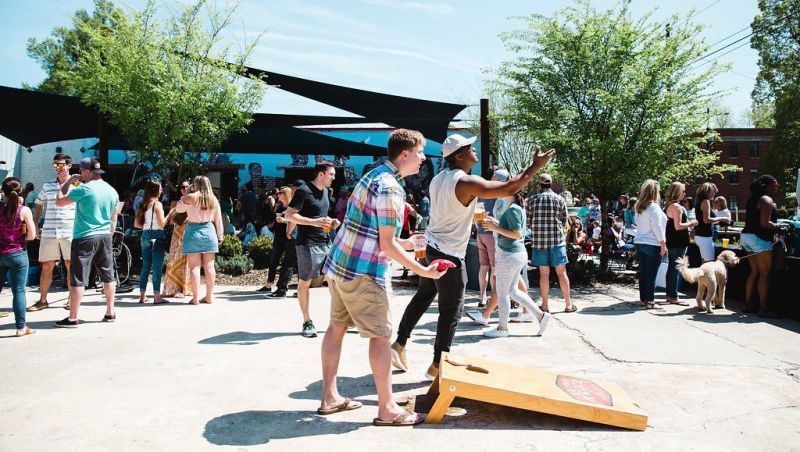 Cristina Gray's Restaurant is the perfect spot for your first night's dinner. Not only does it have an extensive wine list and serve American cuisine with French and Italian influences, but it's inside JH Adams Inn, whose original owner ran one of the country's largest hosiery mills. Its suites and 31 rooms – some named for furniture manufacturers – are comfortable and centrally located to all your shopping.
But the Inn isn't the only local accommodations with those luxuries. They're also available at Seven Oaks Inn Bed and Breakfast, for example, which was part of a large tobacco farm, and Pandora's Manor, a boutique hotel where a different designer decorated each room.
Day 2: Shop Until You Drop
Start your day with Southern staples such as gravy biscuits or a Pig and Pimento Cheese omelet at Tom's Place Restaurant. Its deep breakfast menu has been popular for more than 25 years.
Start shopping at Ashley Interiors, local furniture manufacturer Braxton Culler's showroom. It has the state's largest selection of wicker and rattan furniture, for indoor and outdoor use. Then head to Furnishings 411, less than 2 miles away. Inside the plain brick building you'll find a wide selection of market samples and closeouts, all priced near wholesale.
If you have time, browse the handcrafted furniture and decorative items at EJ Victor. That puts you close to Spiros Family Restaurant, where you can enjoy burgers, sandwiches and plenty of Southern home cooking for lunch.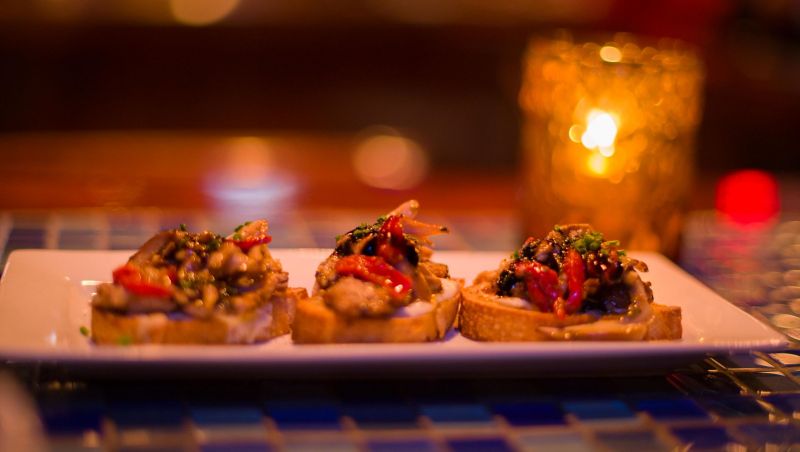 High Point Furniture Sales is next on the menu. It has pieces from more than 150 manufacturers at its Baker Road showroom. But don't skip the market samples at its Brentwood Street outlet. Variety and great prices are found at both.
Blue Water Grille's dinner menu is filled with American cuisine featuring French, Asian, Caribbean and Low Country influences. Choose from steaks, seafood and pasta dishes including Bolognese, a favorite of regulars that's made with beef and pork ragu, pecorino romano cheese and pappardelle. Seating is limited, so make reservations.
Day 3: Finish Big

– from Breakfast Biscuits to World's Largest Furniture Store
The long line winding from Biscuit Factory is a testament to the taste of its giant fluffy and buttery biscuits. But you won't wait long for one, thanks to the quick and friendly staff. Choose from 15 varieties of biscuits and order coffee. You'll need the energy today.
Furnitureland South is the world's largest furniture store. To shop its more than 1 million square feet without missing anything, follow the store map in the shopping guide, which you'll receive upon arrival. It directs you to the showroom's manufacturer-specific galleries. Take your time, and don't fret if you don't see exactly what you want. Many pieces are available in different finishes and upholstery, so ask about options. But a word of caution: Choosing one may add cost.
Furnitureland's Sleepland has mattresses, and the biggest discounts reside in the second-floor clearance section. It's easy to have your purchases delivered home – a service many local furniture stores offer – a handy option if you're visiting via Greensboro's airport, Piedmont Triad International.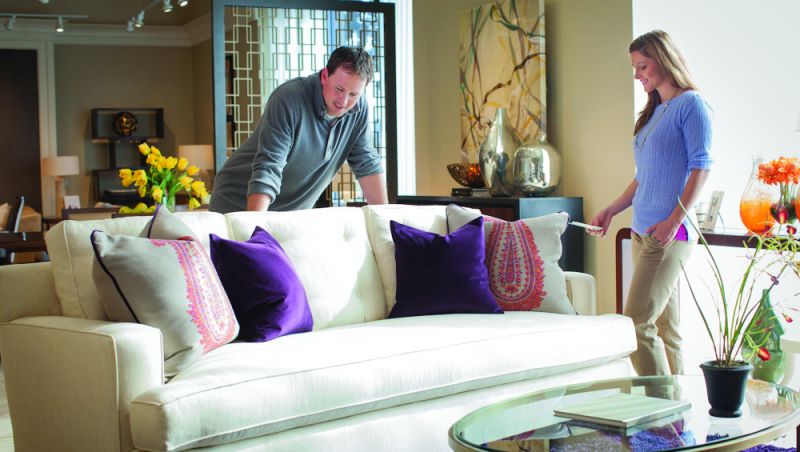 Furnitureland can consume an entire day. And while a quick bite onsite will return you to shopping sooner, slipping out to nearby Jamestown for a leisurely lunch at any of a number of spots offers the chance to contemplate possible furniture choices and enjoy good eats. Southern Roots, for example, uses local ingredients in its entrees, pizzas, sandwiches and salads, including the Organic. Its greens, dried cranberries, walnuts, and goat or bleu cheese are accented with honeycomb.
You'll have to make another choice after lunch. If you're searching for low prices on rugs or home office, home entertainment or outdoor furniture, head to Furnitureland's 300,000-square-foot outlet. It's connected to the showroom by a pedestrian bridge, which doubles as a display for furniture made of sustainable or reclaimed materials. Your other option is International Manufacturers Showroom, which is across the street. The prices on its market samples and new furniture are worth checking out.
The hand-cut steaks are enough reason to drive back across High Point for dinner at Steak Street. But so are the fresh seafood, pasta dishes and chef's specials that fill the menu. And if you have room left, a slice of the limoncello mascarpone cake is a good finish.
This article was produced in partnership with High Point CVB.
Updated September 28, 2018