A Bald Head Island Beach Vacation: Dog-Friendly and Car-Free
Bald Head Island is only a 20-minute ferry ride from Southport and the modern-day mainland, but it feels a world away. While lush nature preserves cover more than 80 percent of the island, protecting views seen by the Spanish explorers who first mapped it about 500 years ago, there's still room for the lodging, activities and amenities to make your vacation memorable.
The island has its own transportation system, and this will be your first encounter with the true definition of "getaway." Cars are prohibited, so park yours in secure lots at the mainland terminal. But before you board the ferry, reserve seats on the island tram. It will take you and your belongings from the ferry to your vacation rental. Each person can bring up to three pieces of luggage on the ferry at no cost. The ferry, tram, island and many rentals are dog-friendly, so feel free to bring your pet and its leash.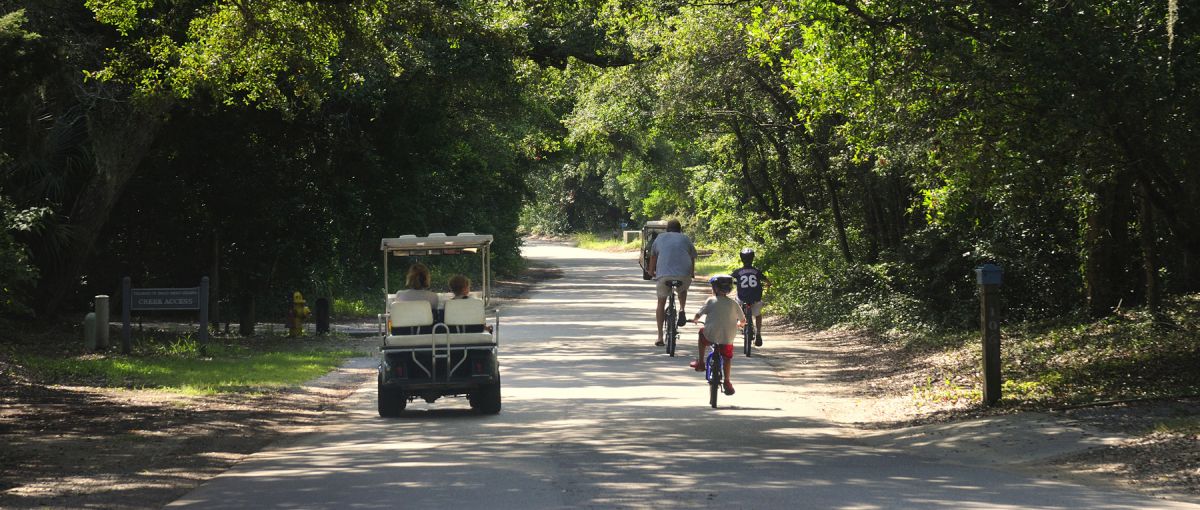 Some rentals include a golf cart, which is the preferred means of getting around the island. If not, rent one or a bicycle for your entire stay or a quick sightseeing tour. The quiet, narrow streets make walking a great way to explore. You'll need less than 30 minutes to stroll the main branch of Kent Mitchell Nature Trail, though walking its secondary paths can turn it into a longer hike. It's level and has wooden boardwalks that cross protected salt marshes perfect for kayaking.
Unique plants and animals thrive in Bald Head Island's subtropical climate. The island is the northernmost point in the US where sabal palms grow naturally. Walk among them and stands of live oaks, cedars, junipers and wax myrtles at Bald Head Woods State Reserve, one of the East Coast's largest maritime forests. The many greenspaces make the island feel cooler than other beach destinations, which is especially desirable during summer months.
Bald Head Island is home to alligators, foxes and more than 260 species of birds. Watchers flock here to see snowy egrets, brown pelicans and vibrantly colored painted buntings. Have Bald Head Island Conservancy naturalists point them out during a tour. They can also introduce you to another special resident they work to protect. The island is an important East Coast nesting site for endangered loggerhead sea turtles. If you're a member, sign up for a Turtle Walk and you could see a female turtle nesting in early summer or her hatchlings racing to the ocean a few months later.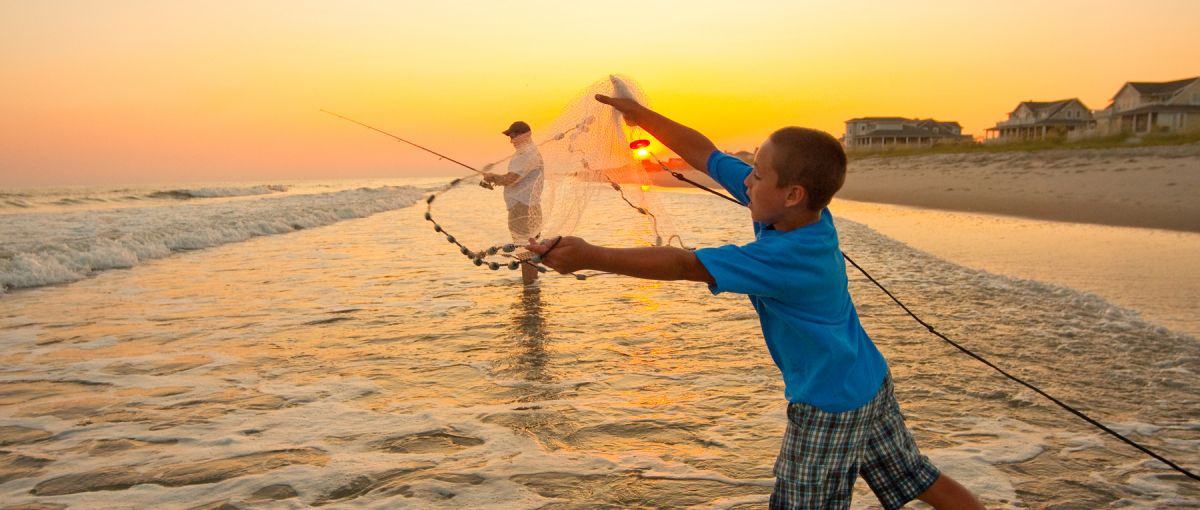 Climb all 108 steps of Old Baldy – the oldest standing lighthouse in North Carolina – for a 360-degree view of the state's southernmost barrier island and its offerings. Commissioned by Thomas Jefferson, this lighthouse was built in 1817, and it was a recognizable location in the cult classic Weekend at Bernie's. Hear more of the iconic lighthouse's story at the Smith Island Museum and on the history tour, which includes Fort Holmes, used by the Confederates to keep Civil War supply lines open, and British Fort George, site of a Revolutionary War amphibious attack, the first in U.S. military history.
Visit in the fall to savor a traditional oyster roast, where the locally raked shellfish are cooked over an open fire. You won't go hungry other times. Watch boats from the patio at JULES' Salty Grub & Island Pub, whose varied menu includes the popular toasted coconut shrimp. Arrive early for coffee or breakfast at Maritime Market Café because it gets crowded fast. Choose from daily specials or its popular breakfast sandwiches and grits.
If you want to prep a meal or two during your stay at the vacation rental, you'll find fresh ingredients – from local produce to seafood – at the market, which also offers grocery delivery. There's shopping in the area too. Bring home a local artist's work from All About Art or island-inspired fashions from Bald Head Blues.
Start exploring Bald Head Island's 14 miles of beaches at Cape Fear Point, where notorious navigation hazard Frying Pan Shoals extends offshore for 30 miles. But the shoals you'll want on your radar is The Shoals Club, where there's fun for the whole family, including the clubhouse, pool and boardwalk extending to South Beach. The club also hosts special events such as scavenger hunts and outdoor movie nights.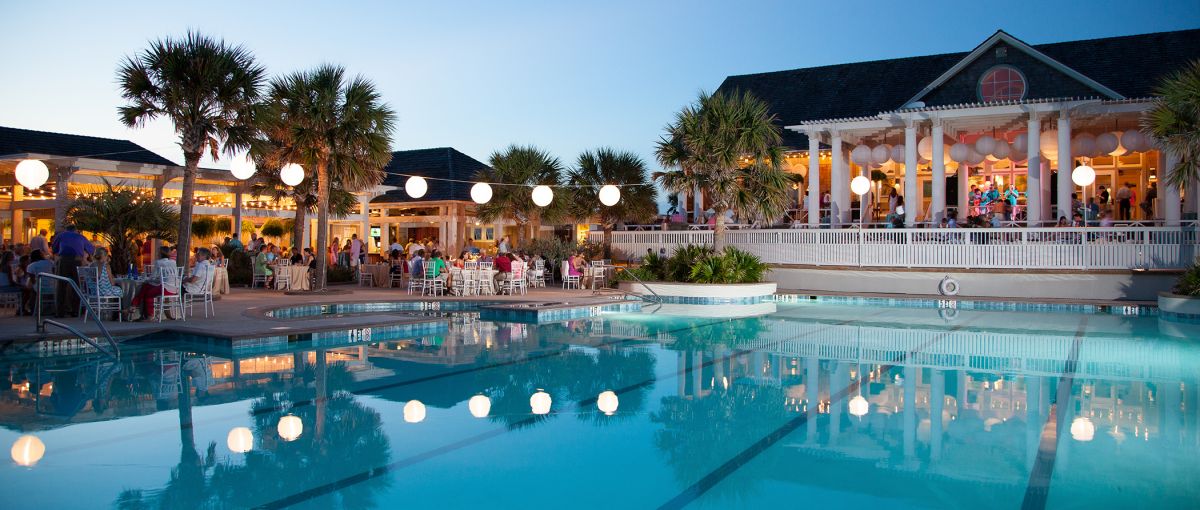 Beachcombing is best on South Beach, which runs east and west. It's also the site of a special wintertime spectacle. You can watch the sun rise, glide low across the southern sky and set from the same spot. Fishing and crabbing are popular beach activities. Take a swim or rent a stand-up paddleboard from Coastal Urge.
Between the beach and the lighthouse is Bald Head Island Club. With a guest membership, you can play its tennis courts, croquet course or golf course, which recently underwent a $4 million renovation. The redesign incorporates many island-inspired elements such as sand dunes and freshwater lagoons. It even helps your score – the fairways were widened to compensate for cross breezes from the ocean, which you can see from seven tees.
Schedule the tram to return you and your belongings to the landing when it's time for your Bald Head Island trip to end. If you're leaving anytime between Memorial Day and Labor Day, sit on the ferry's upper deck, where you can savor the ocean and island views one more time.
This article was produced in partnership with Bald Head Island.
Updated May 17, 2023