8 Ways to Savor a Winter Weekend in Wilmington and Island Beaches
Wilmington and its island beaches shine in summer, when waves and warmth bring memorable visits. But North Carolina's largest coastal city doesn't cool off when the summer sun fades. It's still a hot spot with its mild temperatures – whether you're traveling with your significant other or best friends – offering plenty to do, see, eat and experience.
Find the Perfect Place to Lay Your Head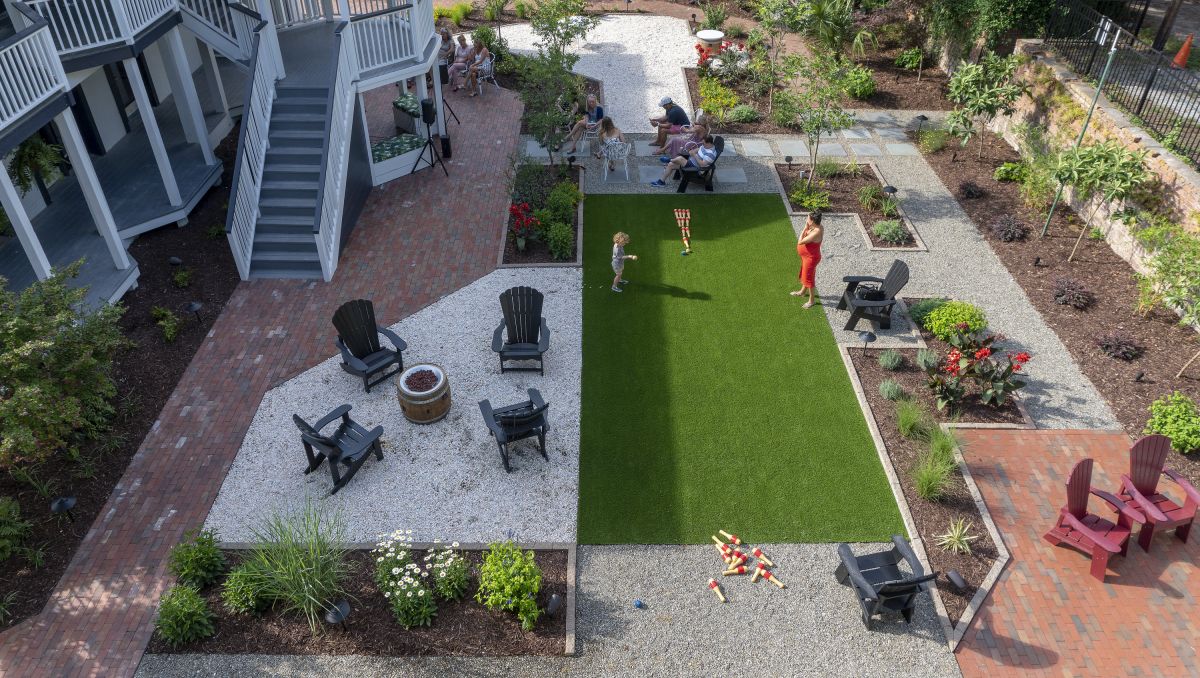 Find the Perfect Place to Lay Your Head
Beachside or downtown, choose from a host of vacation rentals and hotels that accommodate any budget or group. Enjoy modern conveniences with a historical backdrop at ARRIVE Wilmington. Check in at the library and learn about the elephant that stayed for a day about a century ago. Rooms – from couple-sized minis to a family-sized loft – are bright, clean, and filled with small touches such as complimentary bathrobes and Apple TVs. As comfortable as those are, be sure to make your way to the landscaped courtyard to enjoy quiet time in an alcove, play a game or relax by one of the outdoor fireplaces. And it's only a few tree-lined blocks from the 2-mile Riverwalk, which meanders along the Cape Fear River. Follow it to shops, galleries, and locally owned restaurants and night spots.
Order Drinks and Take in a View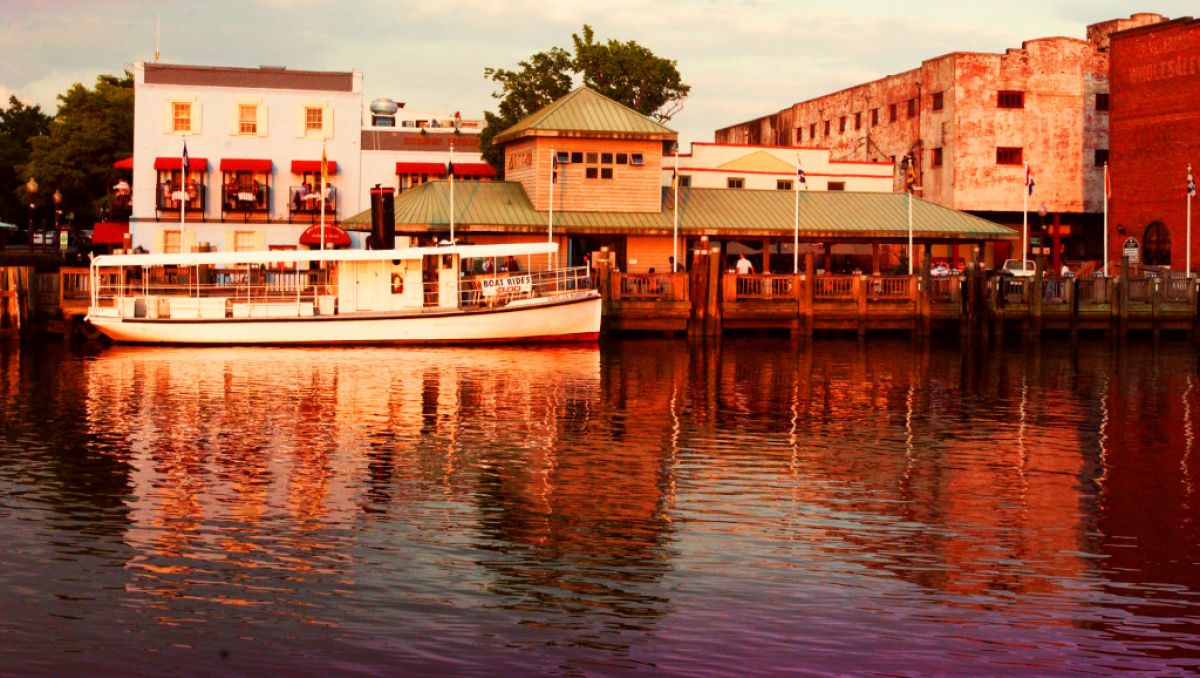 Order Drinks and Take in a View
Speaking of the Riverwalk, you'll find plenty of refreshments there. Sit inside or out, weather permitting, at Board & Barrel Coastal Kitchen, which is located off Hotel Ballast's lobby. Try North Carolina-brewed beers, or have its bartenders mix you a fun house specialty such as the Southern Charm, made with private-label Edgar's Truth bourbon. Or, five floors up at The Rooftop Bar at North Front Theatre, a bird's-eye view of the city and sunsets over the Battleship North Carolina are available year-round thanks to floor-to-ceiling glass panels that are closed should there be less-than-ideal weather. Inside, live music, dancing and drink specials always keep things upbeat.
Visit Local Craft Breweries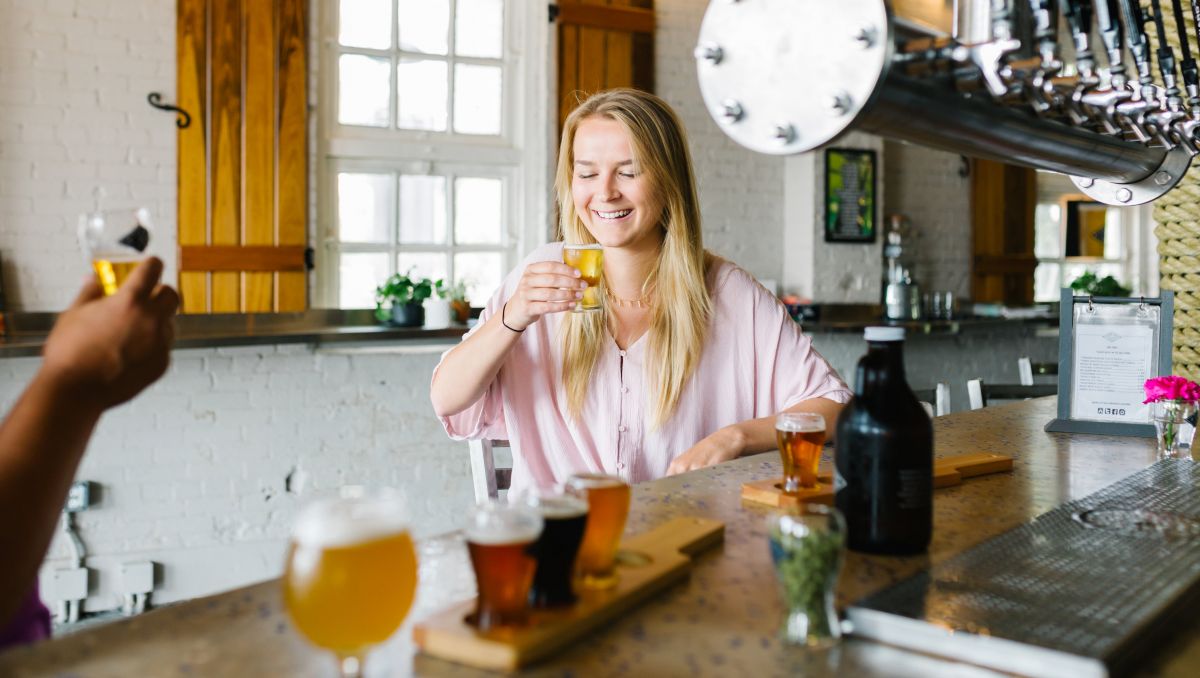 Visit Local Craft Breweries
Finding any or all of the area's nearly 20 craft breweries is easy with the Wilmington Ale Trail as a guide, which also directs you to bottle shops and bars. And if discovering unique brews isn't enough reason to visit each one, the Wilmington Ale Trail Passport app adds incentive. Along with directions and descriptions of each brewery, it offers a voucher to spend at participating locations. Redeem all and you can even win a prize. And there are plenty of surprises when you hop on a private or regularly scheduled Port City Brew Bus tasting tour, which goes behind the scenes at several breweries. Drivers offer tastes of city history and trivia while safely transporting you between stops. While you can't bring your own beer, purchasing a full growler along the way is encouraged; each bus has a cooler to keep it cold until your ride is finished.
Savor the Renowned Food Scene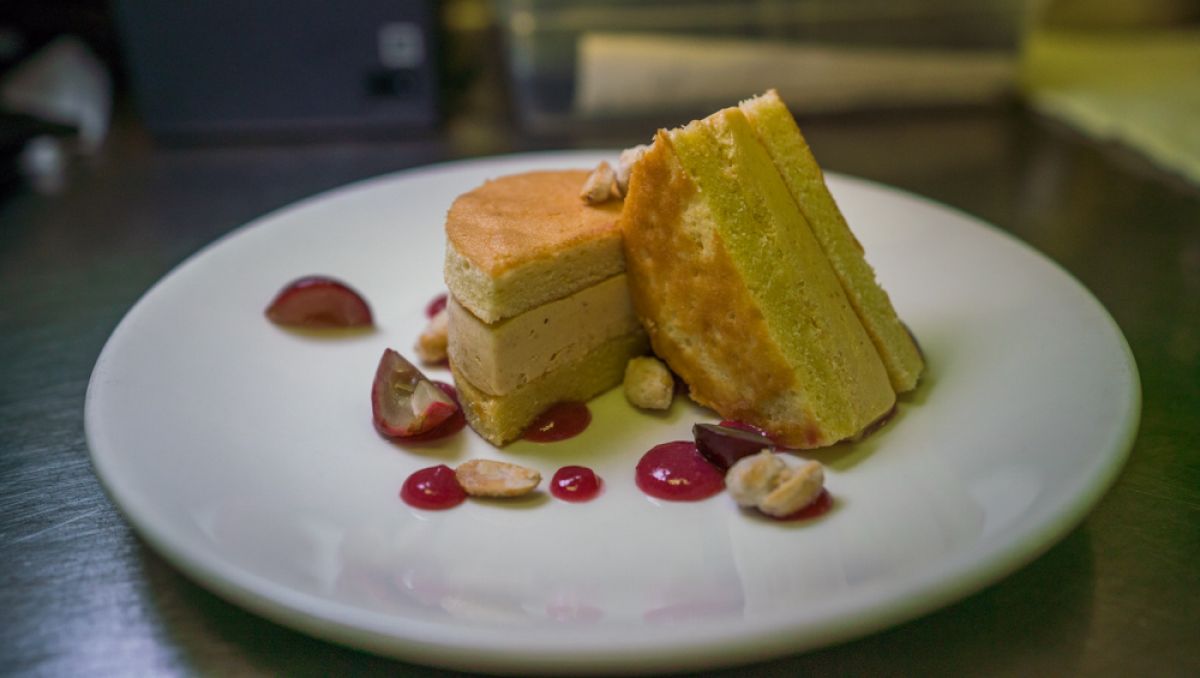 Savor the Renowned Food Scene
Whether you stay at ARRIVE Wilmington or not, make reservations at its restaurant, Dram Yard. The menu offers dishes from around the world while adding Southern coastal flavors. Most dishes are large enough to share, including the za-atar-seasoned focaccia bread, tender pork tomahawk schnitzel and silky chocolate pot de crème. A few blocks away, order the hot roasted pork sandwich at Copper Penny, where Food Network's Diners, Drive-Ins and Dives discovered what locals already knew: The beer-battered onion rings – and chicken wings – are some of the best you'll find. Or have fun with the pharmacy-themed cocktails and "sweet prescriptions" desserts at Rx Restaurant & Bar, where dishes use ingredients from organic farmers and fishermen located within 100 miles and are served on tables made from wood reclaimed from an eastern North Carolina tobacco barn.
Explore Historic and Artsy Neighborhoods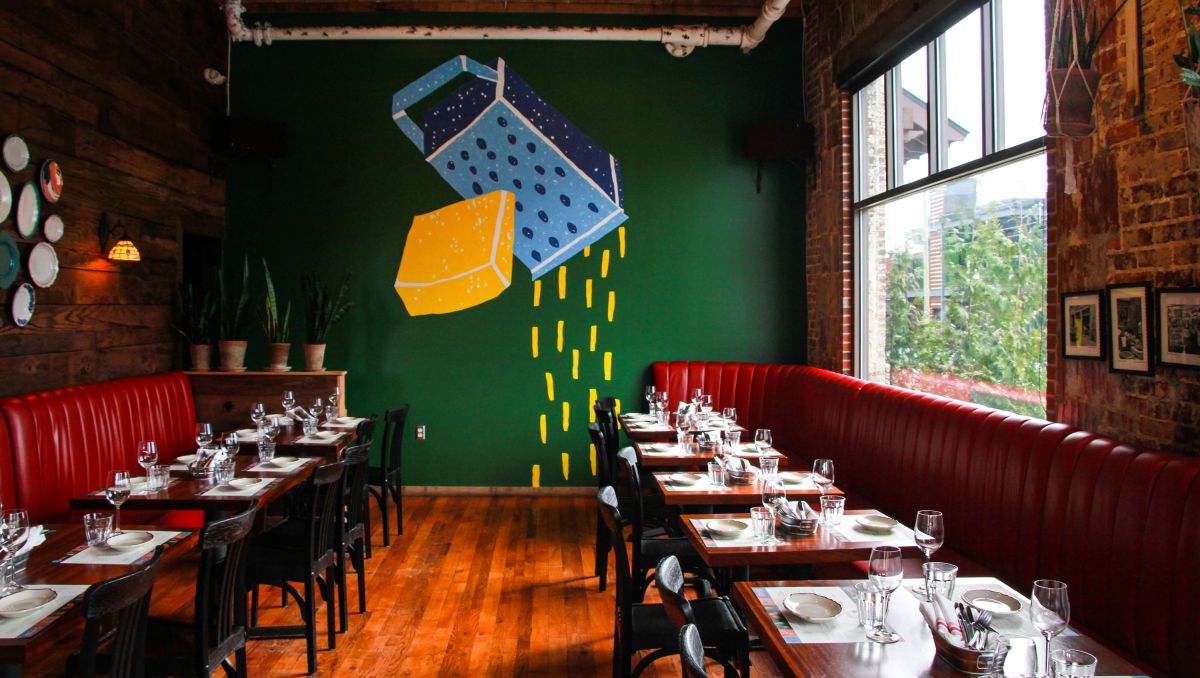 Take in a Gallery, Broadway Show or Museum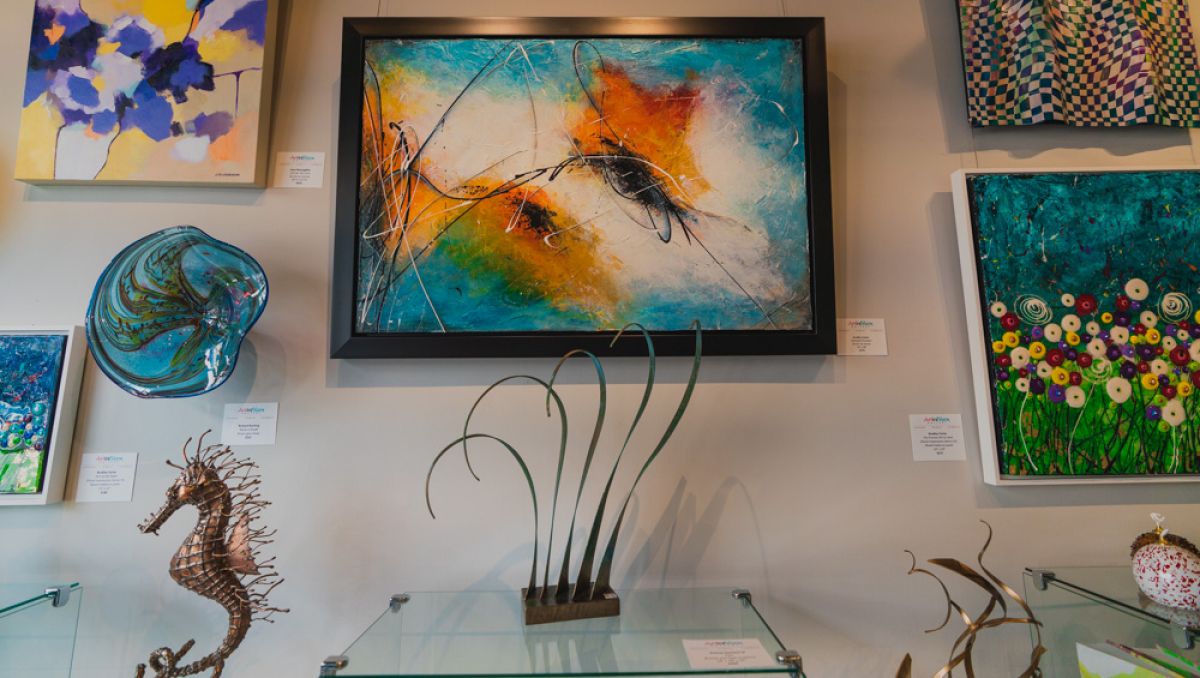 Take in a Gallery, Broadway Show or Museum
Wilmington's art scene is bright and interactive. Try a gallery crawl or, if you time your trip just right, a Fourth Friday Gallery Night. Grab a map at Arts Council of Wilmington, and follow it to participating galleries and studios, where you'll find special exhibits and opportunities to mingle with artists. Both can be done over an ale at Flytrap Brewing, whose name is a reference to the Wilmington area being the heart of the carnivorous Venus flytrap's native range. Touring Broadway shows also call the Wilson Center their temporary home from fall through spring. Three floors surround the stage, creating perfect views and acoustics, no matter which comfortable seat you choose. Or celebrate more than 50 years of arts education at Cameron Art Museum, which has rotating exhibitions, events and outdoor works to explore.
Schedule Some Me Time
Schedule Some Me Time
Deep breaths of seaside air are relaxing and revitalizing. Enjoy those benefits even when it isn't beach weather with halotherapy, which uses a salt block-lined room whose air is fortified with pharmaceutical-grade salt. Spending time in one is said to help relieve symptoms from a variety of ailments, including respiratory, skin, stress, anxiety and fatigue. Try it yourself by unplugging for a 45-minute dose at Native Salt Cave and Wellness, which also offers massages, or Prana Salt Cave, where calming music and a charming setting help the therapy work. All you do is sit back, relax and breathe deeply.
Enjoy the Outdoors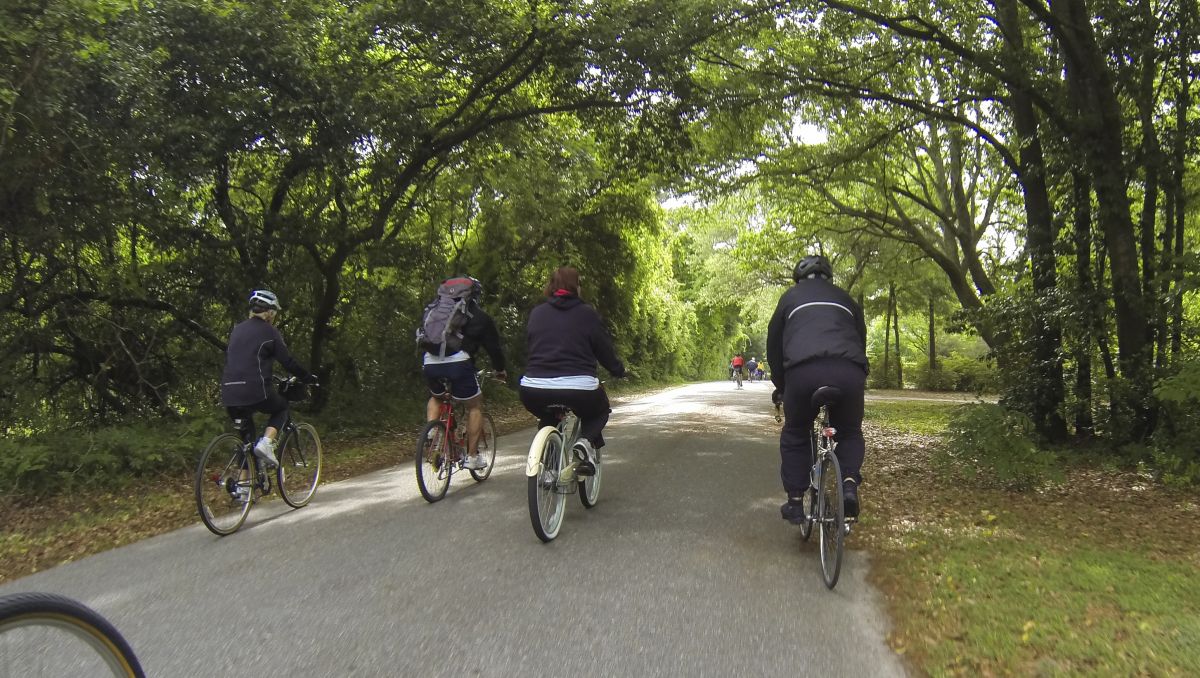 Enjoy the Outdoors
Blue Clay Bike Park offers something rarely seen on the coast: elevation changes. You'll find the most along the intermediate run, where excitement builds the faster you pedal. Plus, the hard-packed beginner run and its almost 8 miles of trails are the most extensive you'll find locally. Follow the former Historic Beach Car Line's tracks along the 11-mile River to the Sea Bikeway, which starts at the Riverwalk and winds along quiet and busy roads. Cycle, run or walk your dog along any of the 15-mile Gary Shell Cross City Trail. It's mostly away from traffic and links popular destinations citywide, from sweeping Intracoastal Waterway views at Heide Trask Drawbridge to UNC Wilmington to James E.L. Wade Park. And trails under picturesque Spanish moss-laden live oaks welcome you at the 250-acre Greenfield Lake Park and Gardens, where you also can fish from a dock or picnic at a shelter.
While you're taking photos and videos to share on social media, take a few more just for yourself. They'll help you remember all that's available in Wilmington and its nearby island beaches – including watersports, museums, tours and cruises, and kid-friendly attractions – so it'll be easy to plan your next unforgettable getaway or family vacation.
This article was produced in partnership with Wilmington and Beaches CVB.
Updated December 27, 2019