Choose Your Perfect North Carolina Beach Vacation
There's never a wrong time to plan summer adventures on the North Carolina coast. Whether you're planning a family reunion or a romantic getaway, you can have your pick of quiet beaches and coastal communities, history, lighthouses, outdoor activities, golf and, of course, fresh seafood.
While each region offers plenty to see and do during your trip to the beach, you can also match your vacation style and interests to specific spots along our 300 miles of shoreline.
1

History and Lighthouses
1

History and Lighthouses

Outer Banks

See on map
Known as a classic NC beach destination, OBX provides great places to explore our state's coastal past. History can be found at the Wright Brothers National Memorial, Fort Raleigh National Historic Site, the Chicamacomico Life-Saving Station, Roanoke Island Festival Park and even the wild horses that still roam the beaches of Currituck after 500+ years.
Four of North Carolina's seven lighthouses are also situated on the Outer Banks, lighting the way for boats and ships for over a century. From north to south, you can visit Currituck Beach Light Station, Bodie Island Lighthouse, Cape Hatteras Lighthouse and Ocracoke Lighthouse.
2

Fresh Seafood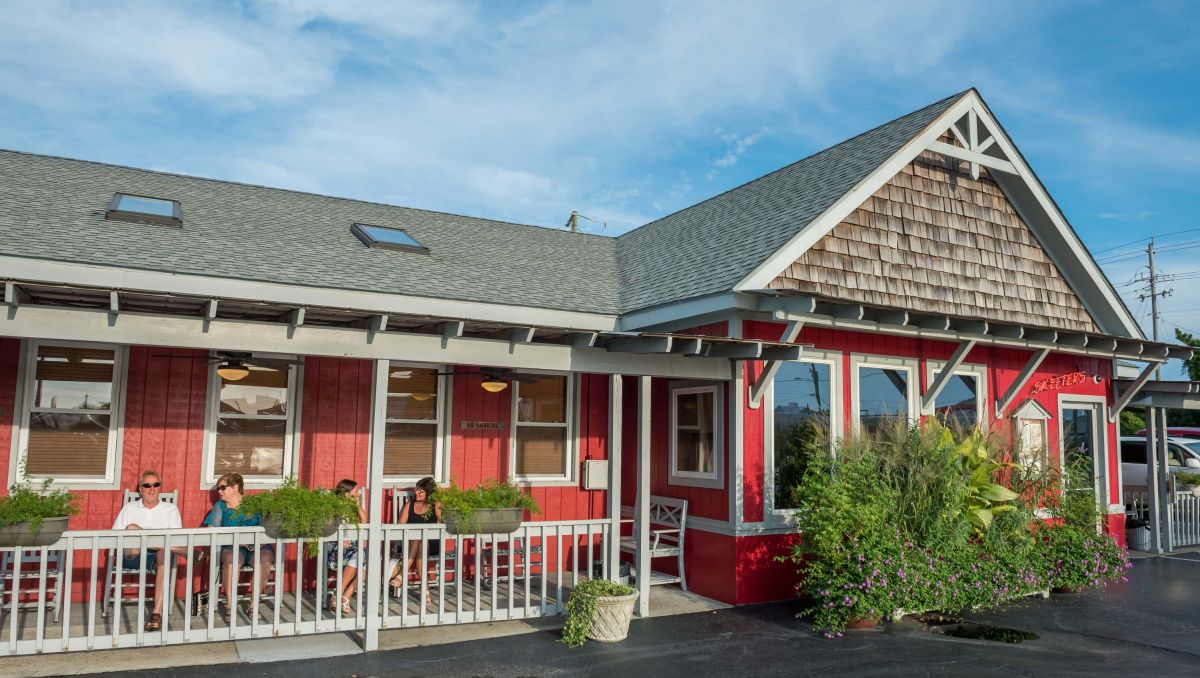 2

Fresh Seafood

The Crystal Coast

See on map
The Crystal Coast is a great place for learning maritime history, fishing or eating fresh seafood. Those hungry for history will want to head to the North Carolina Maritime Museum in Beaufort, which explores shipwrecks along the coast.
Seafood is on the menu at many restaurants along the Crystal Coast, including favorites such as Amos Mosquito's and Circa 81, as well as at several seafood shops with a loyal following with both locals and veteran visitors, like the Shark Shack. Whether you're perusing menus at a restaurant or the laundry list of seafood sold at local shops and grocery stores, your best bet is to look for the Carteret Catch logo. That way you'll know it's fresh seafood from the Crystal Coast.
3

Keep it Quiet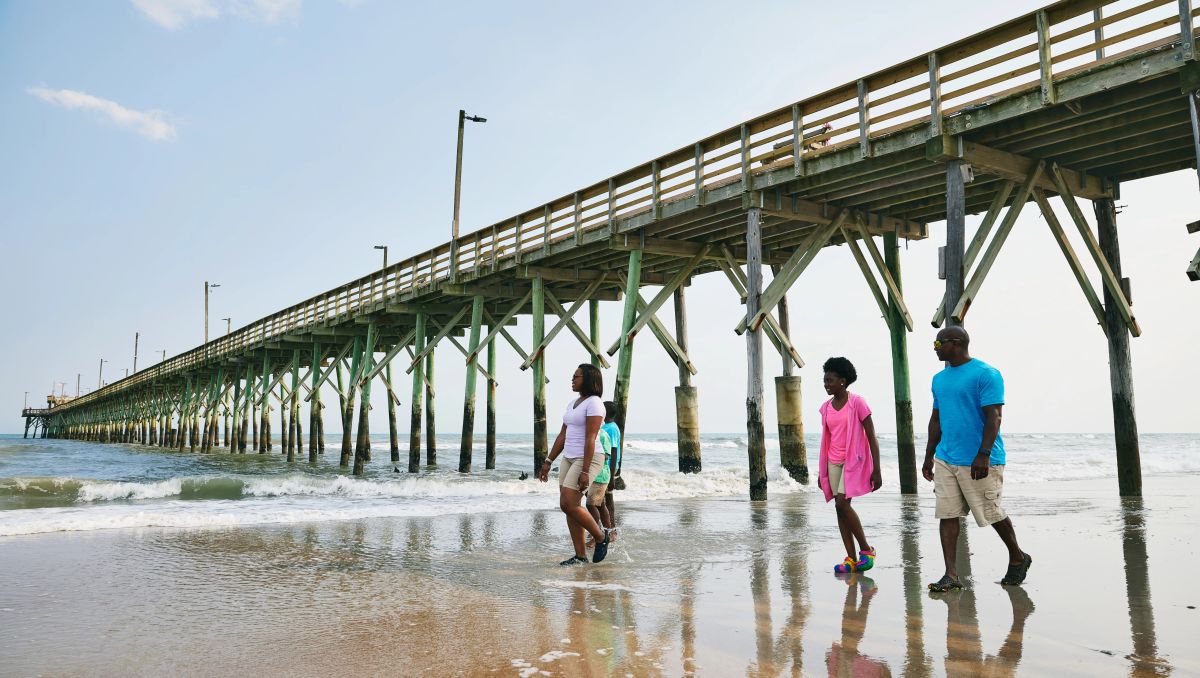 3

Keep it Quiet

Topsail Island

See on map
Topsail Island has long been known as one of North Carolina's quieter coastal destinations. The island is a throwback to earlier times, when spending most of the day on the beach, playing a game of miniature golf and going out for ice cream provided all the activity needed.
Today, Topsail Island is still beloved as a quiet destination, both on the beach and inland. Even the turtles like how quiet it is, returning year after year to lay their eggs on the island's peaceful beaches. Those interested in gentle giants will definitely want to head to Topsail Island's Karen Beasley Sea Turtle Rescue and Rehabilitation Center.
4

Beaches + City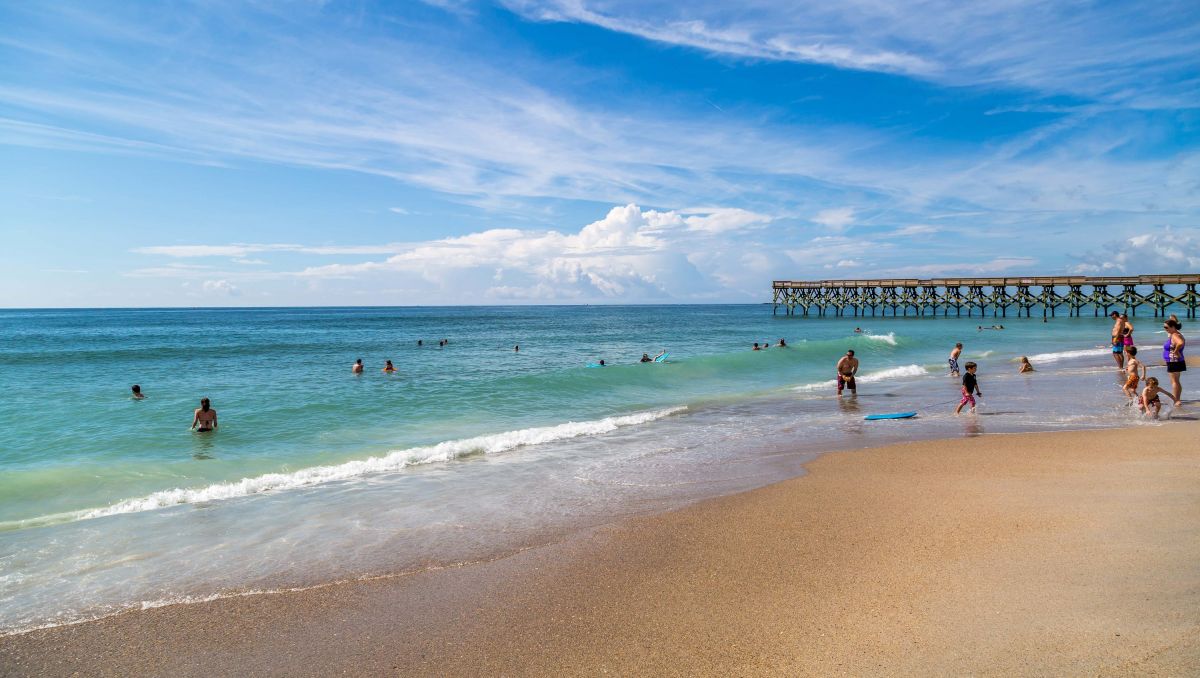 4

Beaches + City

Wilmington

See on map
The options for outdoor fun seem almost endless on beaches such as Carolina, Kure and Wrightsville. Experience surfing, stand-up paddleboarding (SUP), kitesurfing, kayaking and other boating options; deep sea, surf and inland fishing; scuba diving and more. Dog owners who enjoy adventures with their best friends will be happy to know the area's beaches are especially dog-friendly from October to March.
Enjoy this beach vacation, plus a city too. Fronting the Cape Fear River, Wilmington offers historic places and timeless character: Wander the Riverwalk or museum mansions in the 230-block National Register Historic District, visit Battleship North Carolina and revel in varied movie tours around town to see backdrops for blockbuster hits and TV shows.
5

Golf
5

Golf

Brunswick Islands

See on map
The Brunswick Islands has several championship courses with warm-weather tee times, beautiful views and challenges for golfers in search of top coastal play. Book a round at Tiger's Eye or Leopard's Chase, two of the Big Cats Golf Courses of Ocean Ridge Plantation. Both are public and regularly make the North Carolina Golf Panel's annual list of top 100 courses.
After one or two rounds, many duffers and their non-golfing family and friends head to Calabash, where you have the pick of restaurants offering Calabash-style fried seafood.
Updated May 15, 2023