15 Ways to Celebrate Year of the Trail in NC
Get outside to celebrate the 50th anniversary of the 1973 North Carolina Trails System Act, which created NC's Trails Program. Plan a family rafting trip through the mountains. A roller coaster of a mountain bike ride with your besties. A sandy trek through sand dunes with your loved one. No matter who you bring or which route you choose, these 15 trails are simply unforgettable.
Paddling Trails
Scenic blueways invite you to launch your journey on the water, following flowing streams as they wind their way across North Carolina.
Mountain Biking Trails
Gear up for mile-high downhill runs, lakeside loops and rugged rides that'll give you the two-wheeled time of your life.
6

Beech Mountain Resort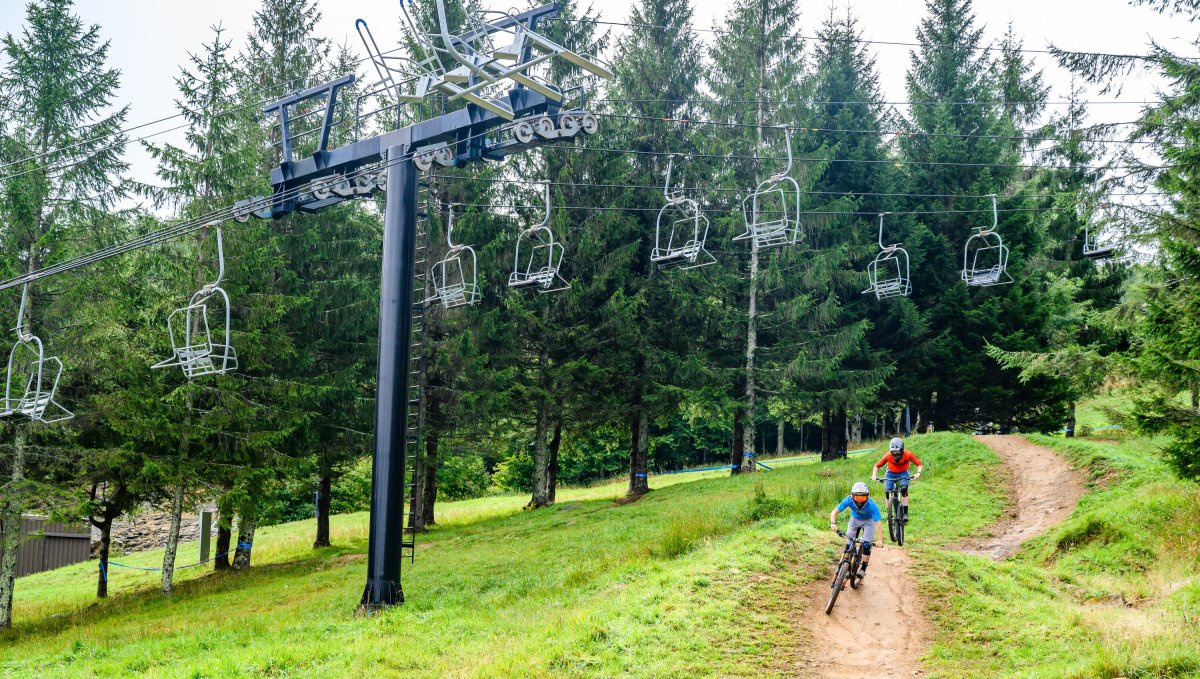 6

Beech Mountain Resort

Beech Mountain

See on map
In winter, the mile-high mountain tests skiers and snowboarders. The rest of the year, the ski runs belong to bikers. Ride the lift to the top and bomb it downhill, flying over berms and jumps – and sneaking a peek at those High Country vistas – as you race to the bottom.
7

Chestnut Mountain Nature Park
7

Chestnut Mountain Nature Park

Canton

See on map
Chain Whip. Click Bait. On the Fly. These trails and others make Chestnut Mountain's Berm Park a choice spot for bikers. Beginner rides perfect for skill-building join expert-level runs that are rich with jumps, speed and adrenaline-pumping drops.
8

DuPont State Recreational Forest
8

DuPont State Recreational Forest

Cedar Mountain

See on map
More than 80 miles of trails crisscross this woodsy paradise, so come ready to pedal. The 7-mile Ridgeline Loop is a favorite. From the Lake Imaging Access Area, make a counterclockwise loop along connecting trails to finish with the fast, flowing Ridgeline Trail.
9

Lake Norman State Park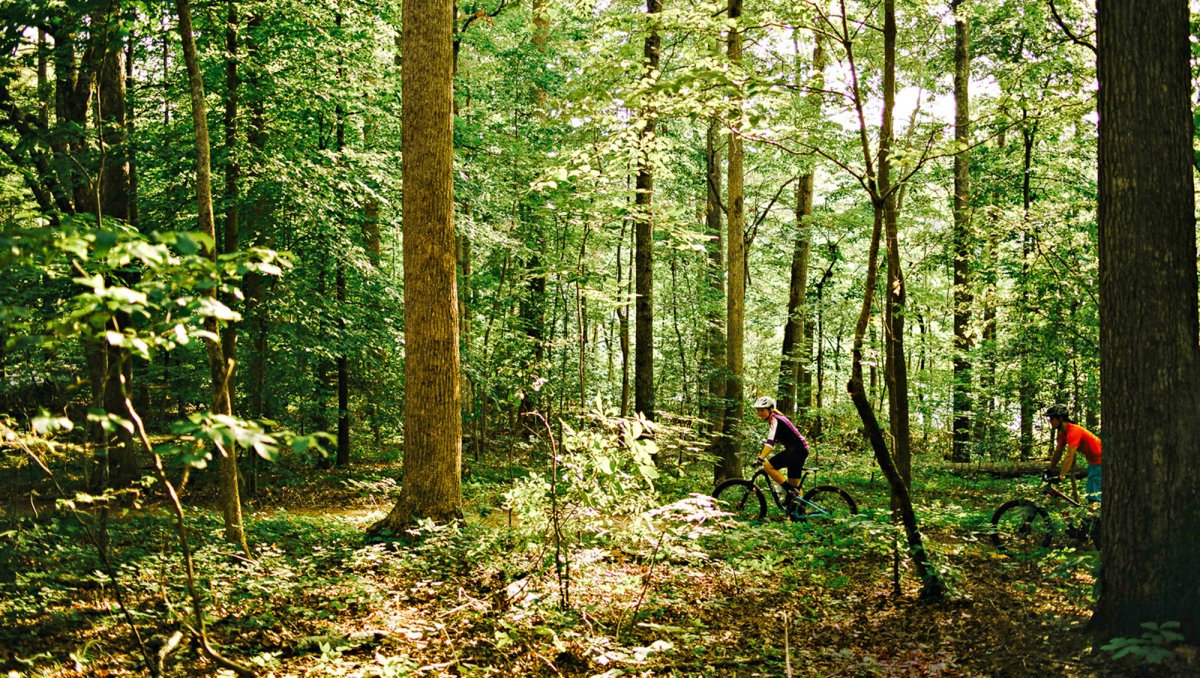 9

Lake Norman State Park

Troutman

See on map
You'll deserve a dip in Lake Norman after you've done a few spins around the 30-plus miles of singletrack here. Once you've cooled off, try another one of the eight loops. Itusi Trail loops range from 1 to nearly 10 miles, so you can string together a day of riding with ease.
10

Tsali Recreation Area

Robbinsville

See on map
Four huge loops give you 40 exhilarating miles of trail to ride. Between runs on the singletrack and former logging roads, catch your breath and admire the spectacular scenery: Fontana Lake and Great Smoky Mountains National Park dominate the views from the trails.
Whether you're a pro or a first-time rider, before pedaling through North Carolina, be sure to review these helpful guidelines to keep our trails enjoyable for generations to come.
Hiking Trails
Soaring peaks. Endless forests. Vast coastal plains. Welcome to one of the world's most diverse playgrounds for memorable treks.
11

Mountains-to-Sea Trail
11

Mountains-to-Sea Trail

Statewide

See on map
From atop Clingmans Dome – the highest peak in Great Smoky Mountains National Park – it's impossible to see the towering sand dunes of Jockey's Ridge State Park on the Outer Banks, but that's where this 1,175-mile mega trek ends. Trails and waterways take you from the most visited national park to the first national seashore, crossing tribal lands and small towns; hardwood and maritime forests; and more parks, preserves, greenways and footpaths than you can count as you make your way across the state. Day-hike options abound as well.
12

Bearwallow Mountain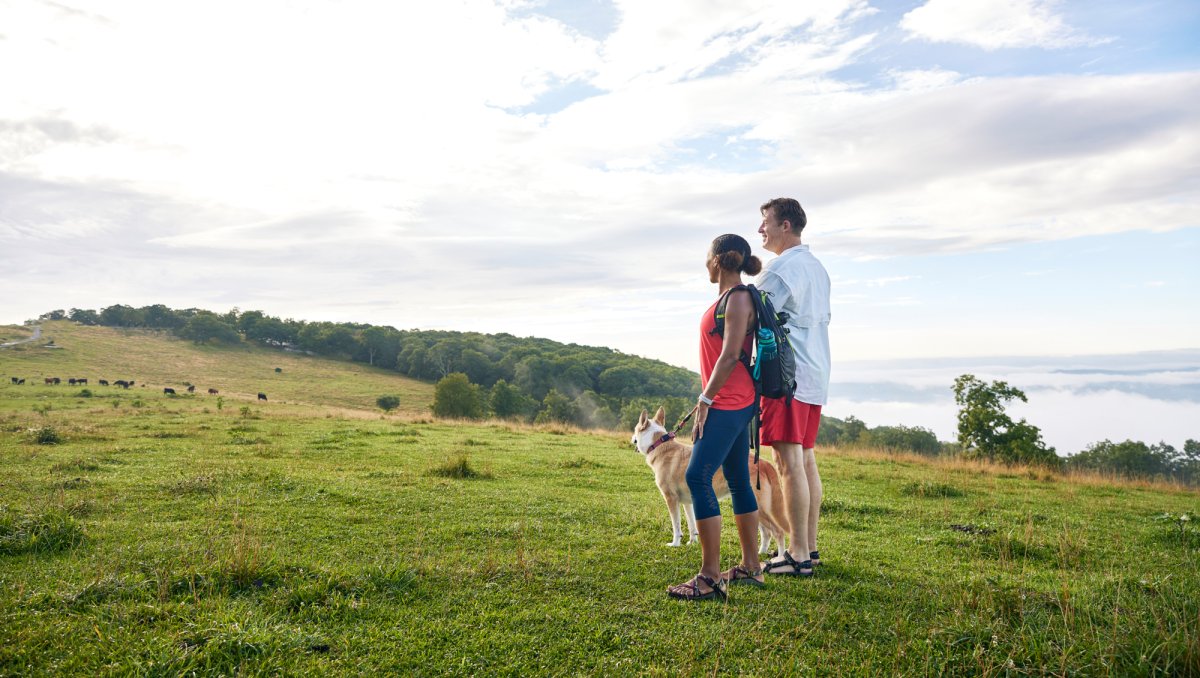 12

Bearwallow Mountain

Gerton

See on map
A pair of relatively short, moderate trails leads to the summit, showcasing stunning views of Hickory Nut Gorge, Hendersonville and the Blue Ridge Mountains. Pass through an active cow pasture, then take in the 360-degree vista from the shadow of a historic fire tower and see if you can spot Mount Mitchell among the other peaks.
13

Howell Woods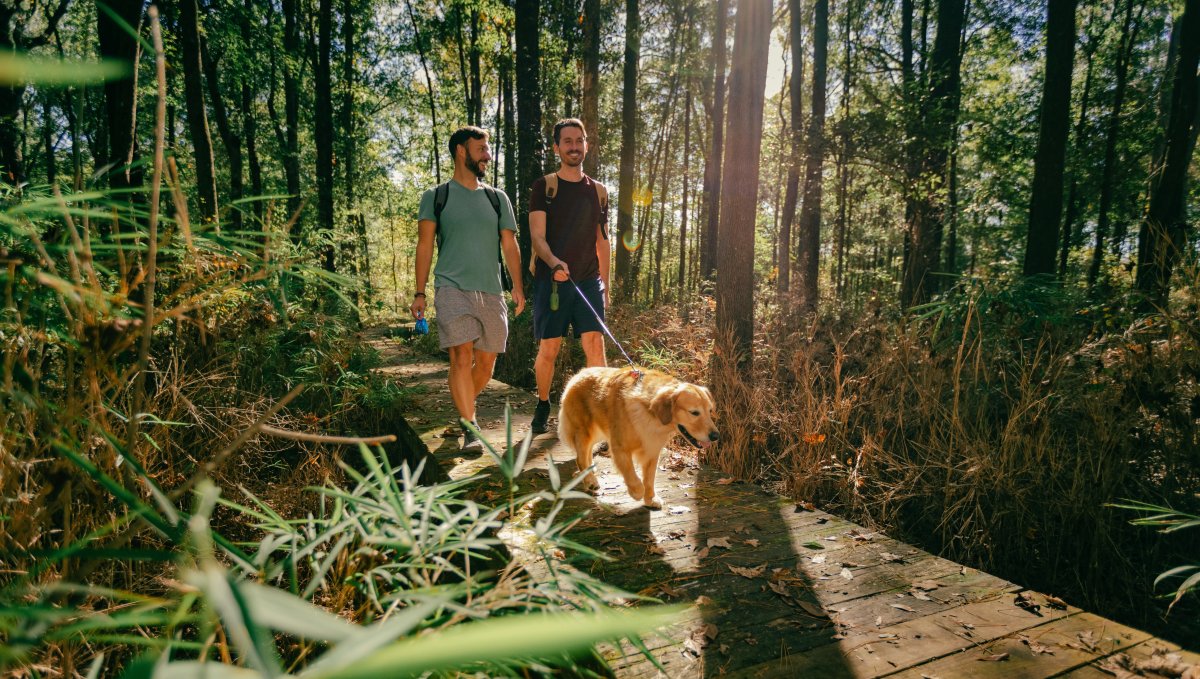 13

Howell Woods

Four Oaks

See on map
Several trails thread this quiet 2,800-acre patch of woods, where visitors hike, bike and ride horses through the forest and fields. Throughout the year, meteor shower campouts, citizen scientist workshops, interactive talks and other programs provide bonus experiences after a day on the trails.
14

Halifax Underground Railroad Trail
14

Halifax Underground Railroad Trail

Halifax

See on map
Enslaved people found refuge via the Underground Railroad, and this network of sites sheds light on their courage. A ¼-mile interpretive trail leading to the Roanoke River reveals secret paths and the stories of sympathetic boatmen who smuggled freedom seekers to safety.
15

Snakeroot Ecotours

Burnsville

See on map
Fireflies, waterfalls, hidden swimming holes and bioluminescent fungi are just a few secrets unveiled by guides during hikes in the lush Blue Ridge Mountains. Join them for a daytime hike, night walk or a custom-designed camping trip, and you're guaranteed to experience the woods like never before.
More Hidden Gem Trails to Explore

Exploring lesser-known areas helps limit disturbance of NC's varied outdoor spaces – and it also helps you discover new favorite hikes and paddles.
Mountains
Fonta Flora State Trail
Morganton area
Walk or bike through 20 miles of trails around Lake James State Park, and keep your eye out for additions that will eventually link Morganton to Asheville.
French Broad River Paddle Trail and Greenway
Western NC
Explore more than 100 miles of the French Broad River via kayak or canoe, and set up camp at paddle-in sites.
Jackrabbit Mountain Bike and Hike Trails
Near Hayesville
Get to know this relatively new trails system, which was built with mountain biking in mind but also welcomes hikers, along the shores of Lake Chatuge.
Oconaluftee River Trail
Cherokee
Learn a bit of 19th-century Smoky Mountains history at the Oconaluftee Visitor Center and Mountain Farm Museum before heading out for an easy 3-mile walk or ride along the river.
Rocky Knob Mountain Bike Park
Boone
Mountain bike or hike through 8 miles of recently repurposed trails.
Piedmont
East Coast Greenway
Triangle area
Tour a section of the country's longest biking and walking route as it weaves through Durham and Raleigh, including on the American Tobacco Trail and through William B. Umstead State Park.
Haw River Trail
Greensboro area
Hike, walk, picnic or fish over 20 miles of trails, or hit the water from one of 14 paddle access points. The trail is expected to extend more than 80 miles once complete.
Sandy Pines Preserve
Wendell
Walk or ride your horse through 6.5 miles of trails and 563 acres of forests and fields at this ADA-accessible location.
Uwharrie National Recreation Trail
Troy
Pick your own adventure thanks to several access points, offering short or longer options for day hikes in one of North Carolina's four national forests.
Yadkin River Park
Linwood
Enjoy the 1.25-mile stroll or bike ride that includes crossing the Wil-Cox Bridge, one of only eight bridges of its kind in the country.
Coast
Buxton Woods
Hatteras Island
Hike through the 1,000-acre reserve, which contains the only occurrence of maritime shrub swamp (dogwood subtype) community in the world.
Dismal Swamp Canal Trail and Paddle Trail
South Mills
Hike, paddle and bird-watch in this park offering more than 100,000 acres of forested wetlands. The trail is also a part of the NC Birding Trail and the East Coast Greenway.
Gary Shell Cross City Trail
Wilmington
Cycle or walk to numerous Wilmington attractions on this 15-mile multiuse trail, which is part of a developing city-wide greenway system.
Neusiok Trail in Croatan National Forest
Havelock
Walk this 20-mile section of the Mountains-to-Sea Trail that includes passing sandy beaches and salt marshes.
Roanoke River State Trail
Weldon
Paddle among tons of wildlife and underneath ancient bald cypress trees as you make your way to the Albemarle Sound.
Visit Outdoor NC for additional tips on how to connect with nature and help preserve the natural beauty of our state.
Updated December 2, 2022