Aerial Adventure: Hang Gliding, Zip Lining & Hiking Trip
Visitors to North Carolina can enjoy high-flying thrills and majestic views from our mountains to our coast. To reach some of the highest spots throughout our state, you'll want to plan on getting away for at least a few days. So bring a healthy sense of adventure, pack the car and get going on this 4-day trip.
Day 1: Climbing Coastal Giants
Begin your journey at sea level on the Outer Banks. Your first stop will be Kitty Hawk Kites, where you can decide between flying kites or flying a hang glider. Across the street at Jockey's Ridge State Park, you'll climb to the top of the tallest active sand dune on the East Coast and strap yourself to a hang glider for instructor-led training flights. Or, if you're not feeling so adventurous, buy or rent a kite and let it play on the ocean breeze.
Shake the sand from your shoes and head south to Sam and Omie's Restaurant for lunch local-style (try the marinated tuna steak sandwich or fresh-made crab cakes). Once you've had your fill, cross Oregon Inlet to the Bodie Island Lighthouse. You can climb the 214 steps to the top of this black-and-white-striped lighthouse for a stunning coastal view from more than 150 feet in the air.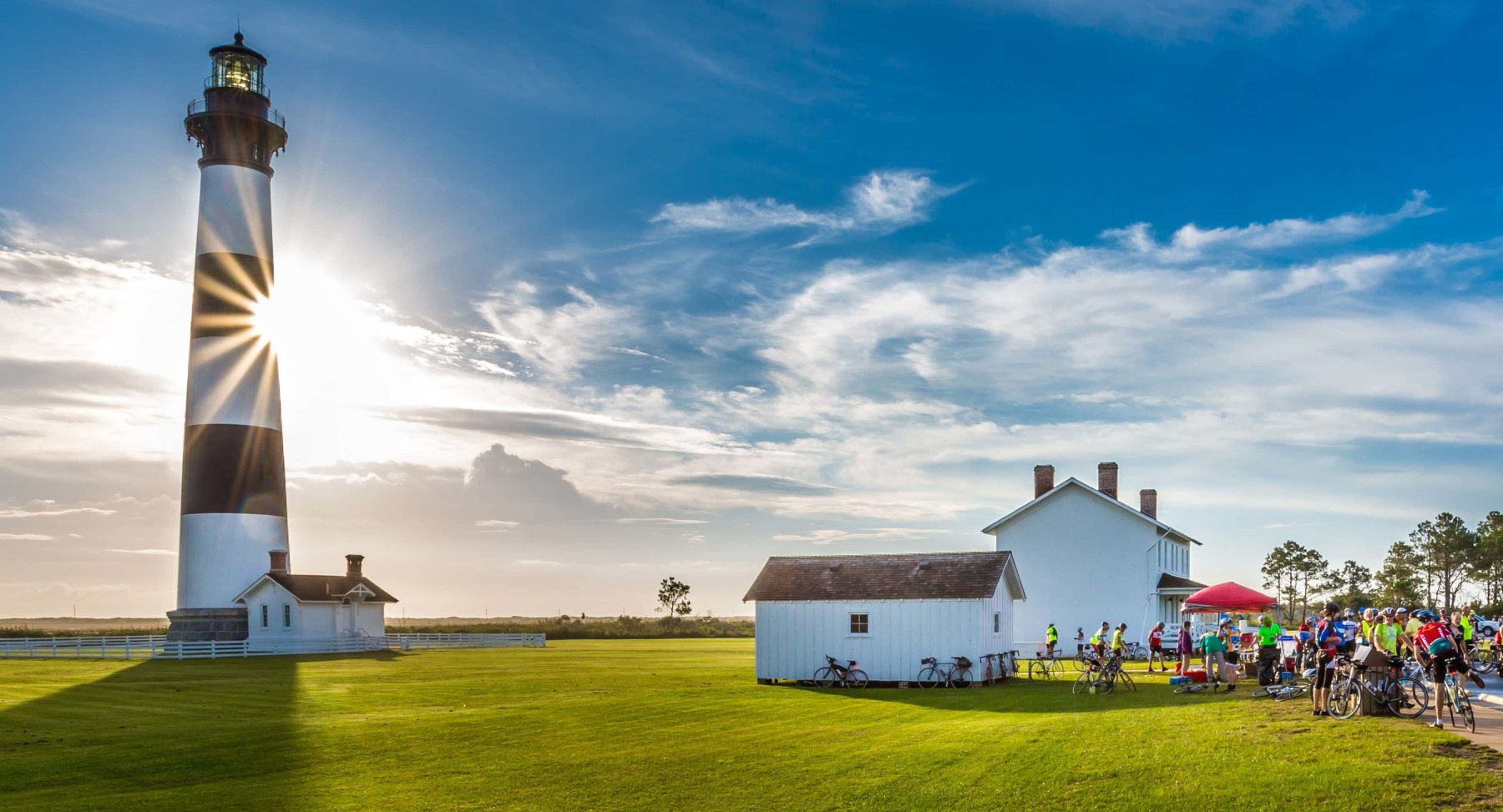 Once you're back on terra firma, head west to Durham and spend the night at the 21c Museum Hotel Durham, housed in the only skyscraper in town. Dine at Vin Rouge for some French bistro cuisine, or keep it simple with a burger at Bull City Burger and Brewery.
Day 2: Mile-High Adventures
Head to the High Country today and make your way to the town of Blowing Rock. Here, on the crest of the Blue Ridge Mountains, you'll visit The Blowing Rock, North Carolina's oldest tourist attraction. From here, you'll have awe-inspiring views of the mountains, and you'll even get a peek at your next stop: Grandfather Mountain.
First, you'll want to stop by Bistro Roca for lunch; then check in to the quaint Blowing Rock Inn or the elegant Inn at Ragged Gardens. Once you've dropped off your bags, head to the Blue Ridge Parkway for a short ride south to Grandfather Mountain.
At Grandfather Mountain, you'll have incredible views of the peaks of the Blue Ridge Mountains as you walk across the Mile High Swinging Bridge to Linville Peak. America's highest suspension footbridge looks more daring than it actually is, so this one's an adventure everyone can enjoy.
While you're at Grandfather Mountain, take the time to visit the wildlife habitats, where you can see a cougar, bears, deer, otters and more. Or go for a hike on one of the many miles of trails – from easy strolls to backcountry expeditions – that crisscross the mountain.
For dinner tonight, try Chestnut Grille, which sits astride the Eastern Continental Divide.
Day 3: Soar Through the Trees
Before you leave town, grab a picnic lunch and a cup of coffee at Blowing Rock Market, then venture south on the Blue Ridge Parkway. You'll pass the high-flying Lynn Cove Viaduct in the shadow of Grandfather Mountain, and then come to Mount Mitchell, the highest point in North Carolina at 6,684 feet. Continue down the Parkway to Craggy Gardens, where you'll stop for lunch and a short hike on one of the rhododendron-lined trails.
After lunch, continue on to Barnardsville, where you'll stop at Navitat for an afternoon of zip line adventures. Choose one of two zips: high and higher. The Moody Cove Adventure has been called one of the best in the nation, and with 10 zip lines that put you more than 200 feet in the air, a pair of sky bridges and two chances to rappel – plus those killer mountain views – you'll realize why. Or, go for the higher, faster Blue Ridge Experience, which has three zip lines that send you soaring at speeds of 50 miles per hour or more at heights in excess of 300 feet.
When your heart has stopped pounding, drive south to Asheville and spend the night at The Omni Grove Park Inn, perched on the mountain high above town. For dinner, keep it simple with a visit to White Duck Taco Shop or grab a slice at Barley's Taproom and Pizzeria. Grab a pint at Hi-Wire Brewing before calling it a night.
Day 4: Conquer the Coaster
Leave Asheville on the early side and make your way to the end of your journey: Carowinds, the amusement park on the Carolinas border in Charlotte. But first, along the way, stop by Chimney Rock, the iconic stone tower overlooking the town of Lake Lure. Climb to the top of Chimney Rock for a view of Rumbling Bald and the namesake Lake Lure, then hit the road for Charlotte.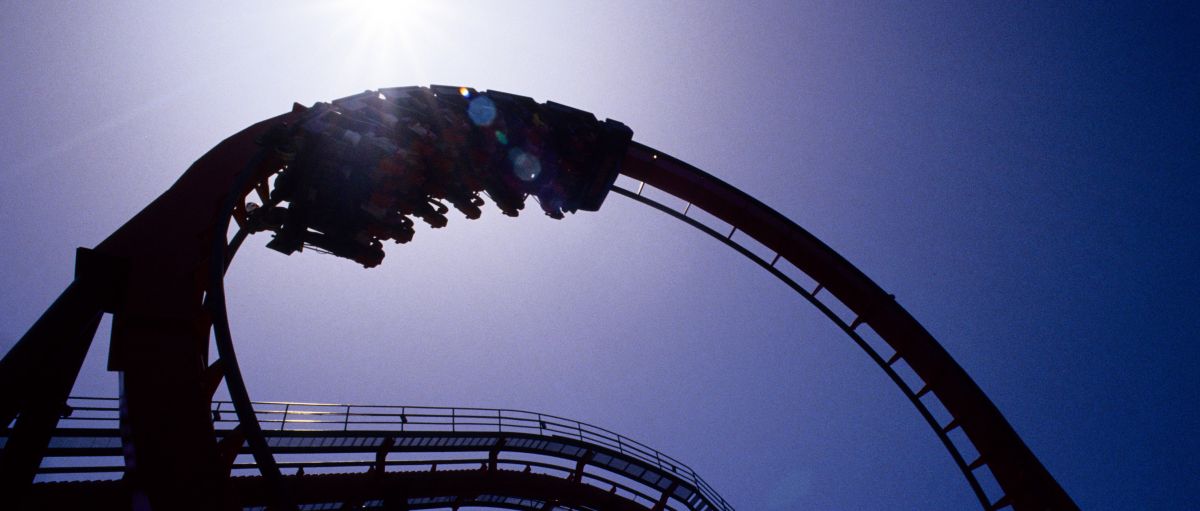 When you arrive at Carowinds, get in line for Fury 325, the world's tallest and fastest giga coaster, which reaches heights of 325 feet and speeds of 95 miles per hour. This ride is long, high, fast and thrilling. Once you've ridden it, hop back in line or go grab lunch. While you're at Carowinds, try the Slingshot, a two-person capsule that hurls you nearly 300 feet into the air before sending you zooming back down to rotate, tumble and bounce around until you finally come to rest. These two rides are high-flying and not for the faint of heart.
Updated March 21, 2019