Glide Through North Carolina's Great Smoky Mountains on Motorcycle
The roads in and through the Great Smoky Mountains feature all the elements that make for a great motorcycle tour: spectacular vistas, uncrowded roads, sweeping curves and an abundance of roadside attractions. It doesn't matter if you're just out for an afternoon spin or in for a longer haul, the mountain roads of Western North Carolina are made to order.
1

Wheels Through Time Museum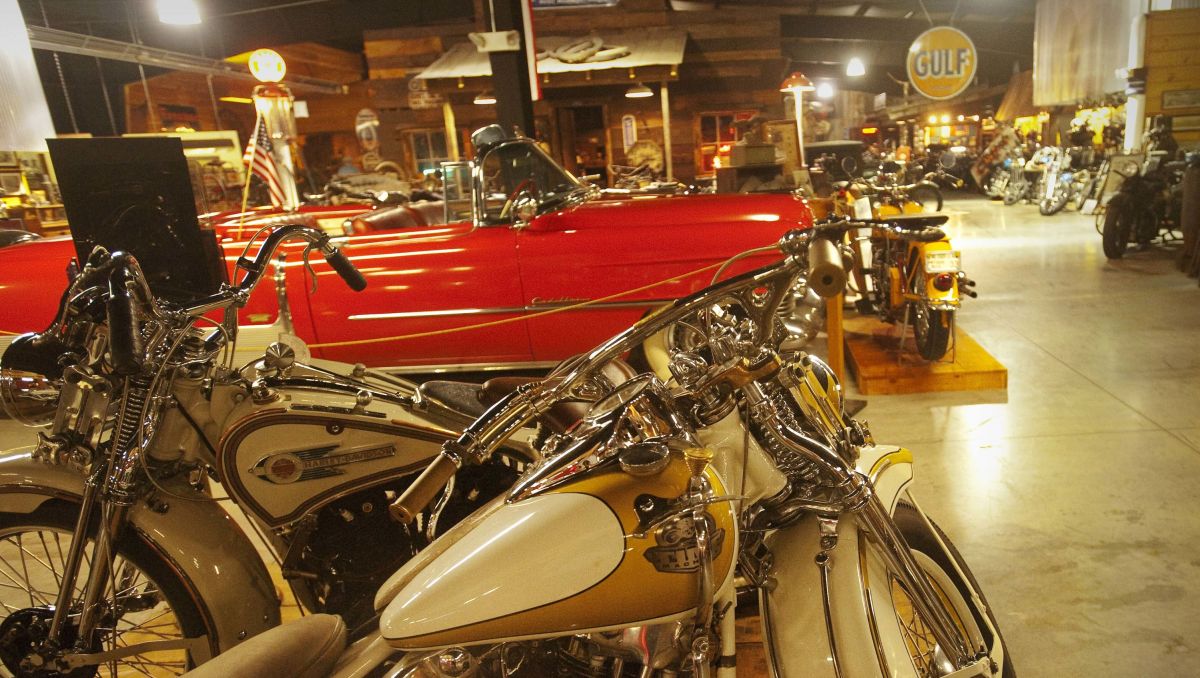 1

Wheels Through Time Museum

Maggie Valley

See on map
A perfect starting – or ending – point for any motorcycle aficionado is the Wheels Through Time Museum, home to what's generally considered the premier collection of rare and vintage American motorcycles. You'll find such fabled names as Indian, Excelsior, Crocker, Henderson and Harley-Davidson represented among the more than 300 classic road, racing and one-of-a-kind bikes, as well as thousands of photos and artifacts. The museum is open March through December, and is conveniently situated just five miles off the Blue Ridge Parkway in Maggie Valley, which has numerous motorcycle-friendly lodging venues and also hosts several special rallies.
2

Blue Ridge Parkway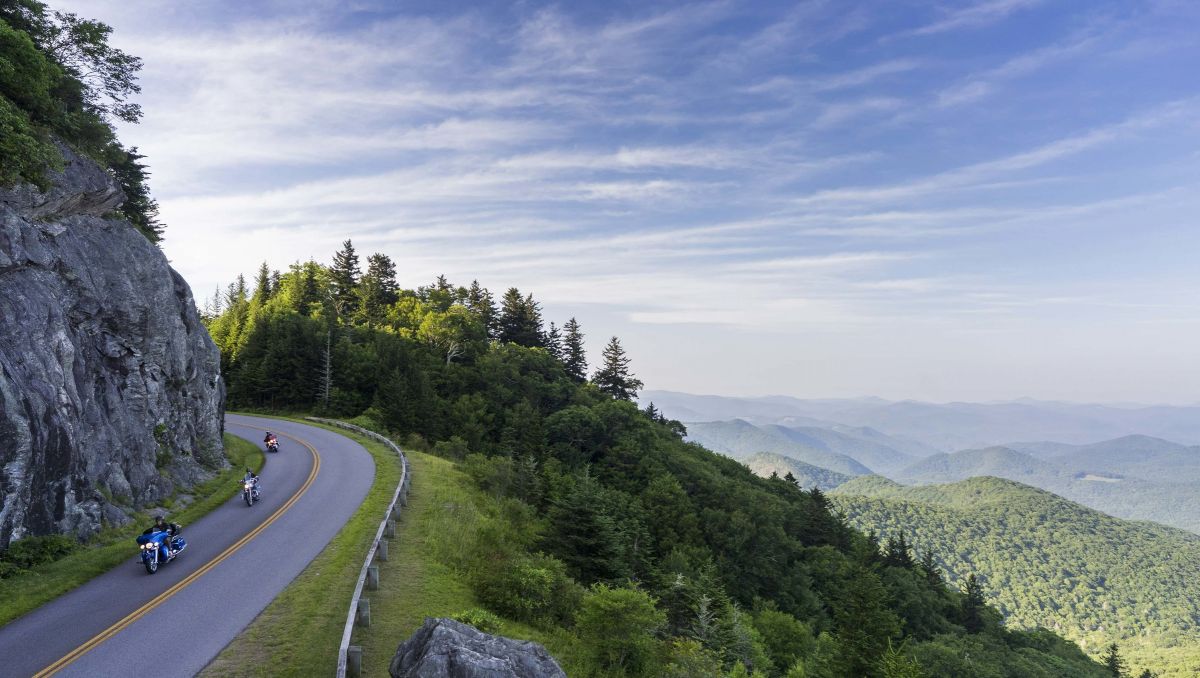 2

Blue Ridge Parkway

252 miles in Western North Carolina

See on map
This historic treasure is a consistent favorite of motorcyclists with gorgeous scenery, virtually no stoplights or stop signs, and plenty of places to stop, hike, picnic or just relax. You can kick off a ride in Cherokee where the Parkway begins, head east toward Asheville and find plenty of highlights along the way, including the highest point on the Parkway (6,053 feet) as it passes over Richland Balsam's southwestern slope. An ideal stopping point is Waterrock Knob where a short hike presents a 50-mile view and an ideal spot to enjoy a sunset.
Keep in mind there's often substantial distance on the Parkway between gas, food and rest areas, so it's wise to plan your route. Wearing a helmet is required and the maximum speed limit is 45 miles per hour. Parkway officials also warn riders to be vigilant of loose gravel after rain, slippery wet leaves in the fall, the tunnels and wildlife.
3

"The Rattler"

Waynesville to Hot Springs

See on map
For riders seeking a less-traveled path, there are numerous other routes combining pleasure and adventure through the Great Smoky Mountains. Consider a jaunt on twisting N.C. 209, aptly nicknamed "The Rattler" for its 234 snaky turns that take you through Pisgah National Forest north of Maggie Valley and Waynesville to quaint Hot Springs. Along the way, wheel into the Trust General Store & Café and take a break in the rocking chairs on the porch. Hot Springs, situated on the French Broad River, offers plenty of places to eat and drink, and a range of outdoor activities, from trout fishing to kayaking to a refreshing soak in the springs for which the town is famous.
4

"Moonshiner 28"

Deals Gap to Highlands

See on map
Tales abound in the North Carolina mountains about the moonshine industry, and you can follow the route used by many liquor-laden hot rods when you venture onto N.C. 28, now known affectionately by riders as "Moonshiner 28." Described as boasting "great twisties, wide sweepers and unsurpassed scenery," the favored stretch runs from Deals Gap to Highlands, making an ideal day-trip. Along the way you'll cross Fontana Dam – check out the view from the top – and can swing into Franklin, known as the "Gem Capital of the World," for a taste of small-town charm. Another popular stop is Dry Falls, where a short hike lets you actually walk beneath the 75-foot waterfall. A bit farther on you can cruise under the 120-foot Bridal Veil Falls before ending up in the resort town of Highlands, with its eclectic mix of shops, restaurants and inns.
5

"Tail of the Dragon"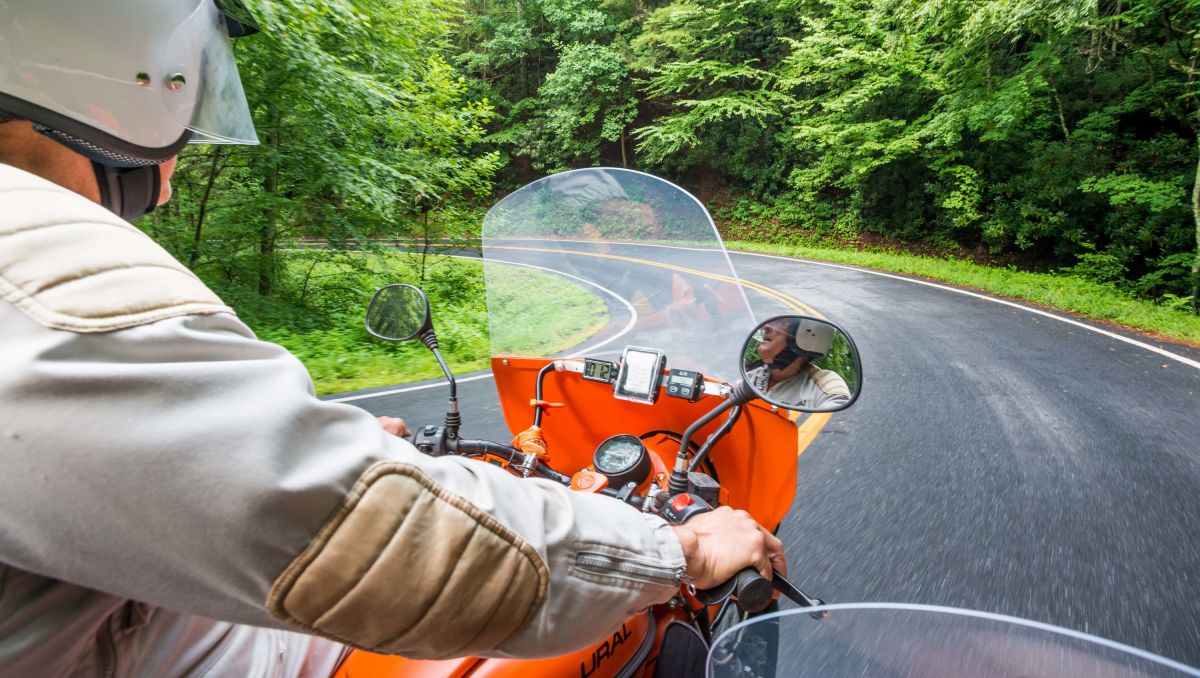 5

"Tail of the Dragon"

Deals Gap

See on map
The fabled "Tail of the Dragon" needs no introduction since it's deemed one of the world's foremost motorcycling roads. It is, however, not for the inexperienced or fainthearted with more than 300 curves over its 11 miles. A popular loop starts in Deals Gap where you hit U.S. 129 and encounter the "Tail." After that, things calm down in terms of both traffic and curves as the road rolls along the Cheoah River. At the Fugitive Bridge, you get a view of the Cheoah Dam from which Harrison Ford leaped in The Fugitive.
At Robbinsville, you can take N.C. 143 for a pleasant journey to its intersection with N.C. 28. From that point you can elect to head back up the "Moonshiner 28" route to Fontana Village and Deals Gap, or travel toward Cherokee and the Parkway.
6

Cherohala Skyway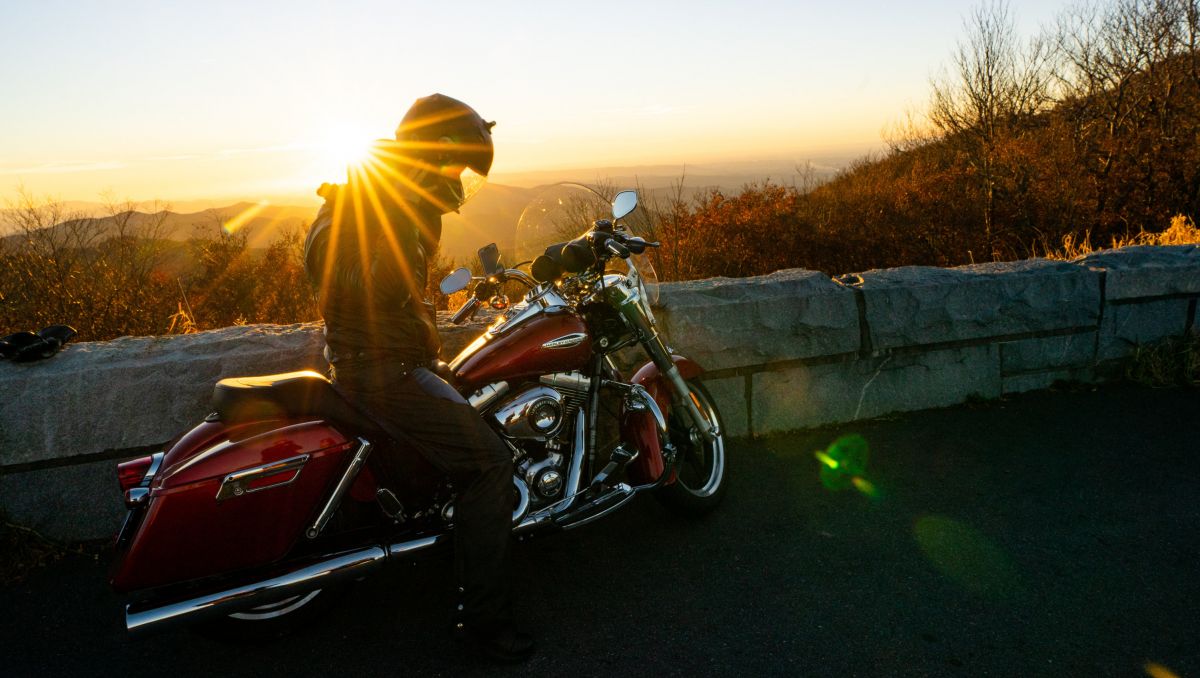 6

Cherohala Skyway

Robbinsville

See on map
Another enjoyable option off U.S. 129 is the Cherohala Skyway, which was completed in 1996 and has since become well-known in motorcycling circles for its mile-high sweep through the Cherokee and Nantahala National Forests. For a nature break, check out the ancient trees in the Joyce Kilmer Memorial Forest.
If you're not traveling with your own bike, there are several local companies that offer rentals and tours, including guided outings. Experienced riders advise to be prepared for a variety of weather conditions, which can even mean rainy and cold in the middle of summer at higher elevations. They also stress that while the scenery is beautiful, mountain roads require constant attention due to sharp curves, loose gravel, other traffic, occasional fog and even wildlife – but they're quick to add there's no better place to enjoy your motorcycle than gliding through the mountains of North Carolina.
Updated March 6, 2018