Sea Breeze: Golf Courses on the North Carolina Coast
Sailing, fishing and water sports are popular along the North Carolina coast, but golfers have also discovered it as a desirable destination from the Brunswick Islands – known as "North Carolina's Golf Coast" – all the way up to the Outer Banks. Water flows through courses abutting the beach or bounded by marshes and maritime forests, and an ocean breeze is a constant and often unforgiving playing companion.
Take a swing at any one of these nine coastal golf courses.
1

Bald Head Island Club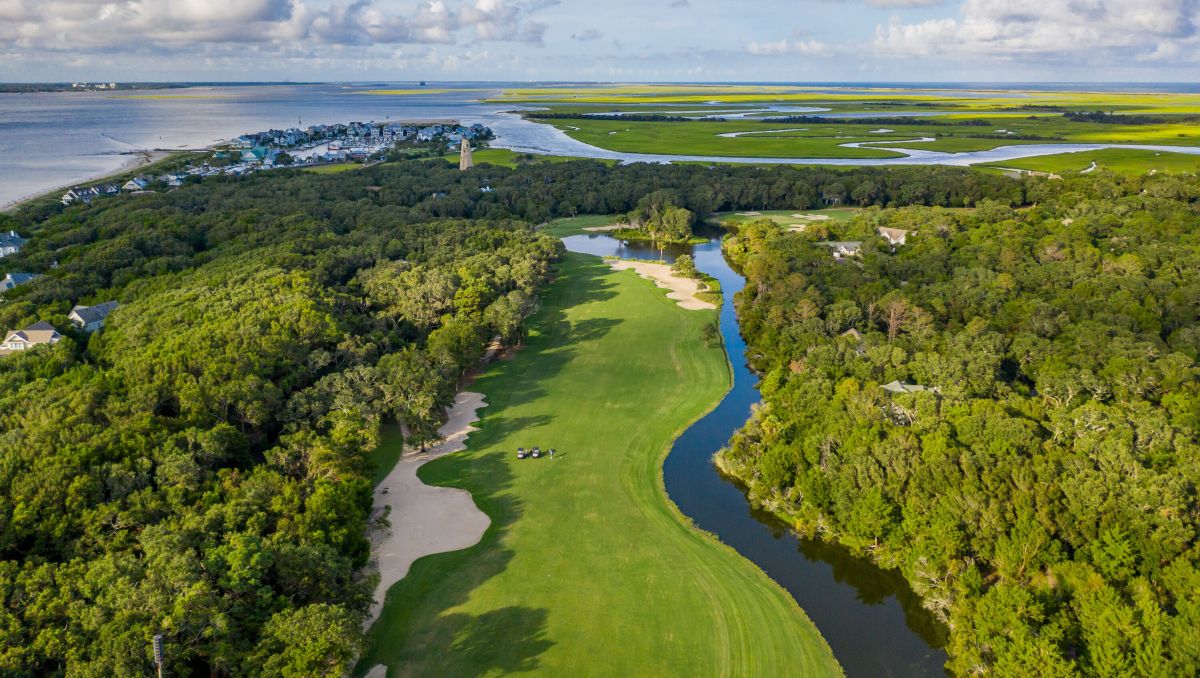 1

Bald Head Island Club

Bald Head Island

See on map
Mounds, waving native grasses and massive waste bunkers dynamically frame a Tim Cate creation that is visually stunning and delivers a resounding golf experience. Cate's extensive reworking of the original George Cobb design was honored as one of America's top five renovations in 2011 by LINKS magazine.
2

Nags Head Golf Links

Nags Head

See on map
Like any good Scottish-influenced links course, this Outer Banks favorite lets its prickly edges show, and it relies on the steady wind off the ocean and sound for protection. The windswept holes along the Roanoke Sound have been singled out as among the most beautiful on the East Coast – but beauty can also be a beast with tees and greens often separated by dunes, water and sea grass that require well-executed shots.
3

The Sound Golf Links at Albemarle Plantation
3

The Sound Golf Links at Albemarle Plantation

Hertford

See on map
Both Dan Maples and Mother Nature are given credit for this coastal gem on the shores of the Albemarle Sound near historic Edenton. Winding fairways run along marshes and through groves of moss-draped cypress, with greens carefully tucked into strategic spots. The three finishing holes are not for the faint-hearted, with the entire stretch bordered by open water and swept by the wind.
4

Lockwood Folly Country Club
4

Lockwood Folly Country Club

Supply

See on map
Built on a former hunting preserve by respected architect Willard Byrd, the meandering links-style layout is bordered by Lockwood Folly River and the Intracoastal Waterway, and close enough to the ocean to hear the surf. The club's off-the-beaten-path location also contributes to a pleasurable and peaceful outing.
5

Beaufort Club

Beaufort

See on map
This local favorite was designed by Bob Moore and claims some of the best greens in the eastern part of North Carolina. Broad, pine-lined fairways beckon, but lurking always are water and fingered bunkers.
6

Sea Trail Golf Resort (Dan Maples Course)
6

Sea Trail Golf Resort (Dan Maples Course)

Sunset Beach

See on map
Twisted ancient oaks and tall pines frame what many players consider one of Dan Maples' finest efforts. Though only medium in length by today's standards, the layout demands accuracy for good scoring with well-bunkered, undulating greens the last line of defense. One testy stretch of five holes stretches along scenic Calabash Creek.
7

The Currituck Club

Corolla

See on map
Carved out by designer Rees Jones along the Currituck Sound, this rambling layout draws rave reviews from players and high rankings from influential golf pubs. This design combines a traditional approach with links-style features as it winds across coastal terrain and through a maritime forest.
8

Leopard's Chase at Ocean Ridge Plantation
8

Leopard's Chase at Ocean Ridge Plantation

Sunset Beach

See on map
Both Golf Digest and GOLF magazine named Leopard's Chase one of their "Top 10 Best New Public Courses" when it opened in 2007. The course design has made believers out of visiting players with its masterful use of natural and man-made water features, including a dramatic waterfall that fronts the steeply sloped 18th green.
Updated August 27, 2020