Take in Fall 'Blue Views' in Brevard and the Crystal Coast with Insiders Karen and Matthew
Happy fall! I'm Karen Gould, and after being born and raised on the Crystal Coast, I left for about 10 years but always knew I'd return to raise a family. Living by the ocean gives me life, and our barrier islands create a unique coastal experience great for boating, ecoadventures, fishing and watersports.
On the other hand, Matthew's "blue views" come not in waves but in peaks with all the mountain adventures he goes on with his family in Transylvania County. So much blue to see, so little time! Check out some of our favorite spots, hikes and tips when visiting our blue-soaked destinations.
Our Favorite 'Blue Views'
Karen's recos on the Crystal Coast
Find a beach spot at the 20th street sound access and watch the sunset. Beach spots on the sound are perfect for kids as the water stays pretty shallow, plus there are never really any waves like what you can experience on the ocean side.
Camping on any of our many barrier islands or national seashore is magnificent in the fall months! Cape Lookout has cabins to book and houseboats to rent, plus old-school tent camping. The mild temperatures provide the perfect camping backdrop.
Matthew's Recos in Brevard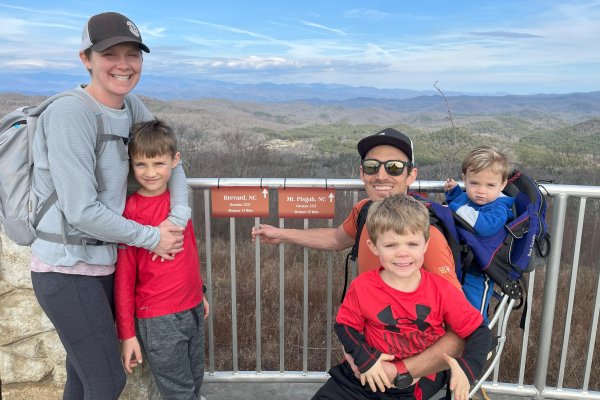 We never tire of driving up to and along the Blue Ridge Parkway, picking blueberries, and stopping at the various overlooks to breathe the fresh air and soak in the views.
Oskar Blues has a great outdoor seating area and a huge selection of craft beers. That area is kid-friendly too, which is nice for families.
Outdoor Adventures
Karen's recos on the Crystal Coast
Hiking the 3.2-mile Elliott Coues Trail at Fort Macon State Park is my absolute favorite in fall. Walking through the differing terrain and vegetation from the ocean to sound side is breathtaking, as are the various vistas along the way.
We have tons of great kayaking and paddleboarding trails here too. There's nothing like kayaking through the marsh while catching a gorgeous fall sunset on the horizon of Bogue Sound.
Matthew's recos in Brevard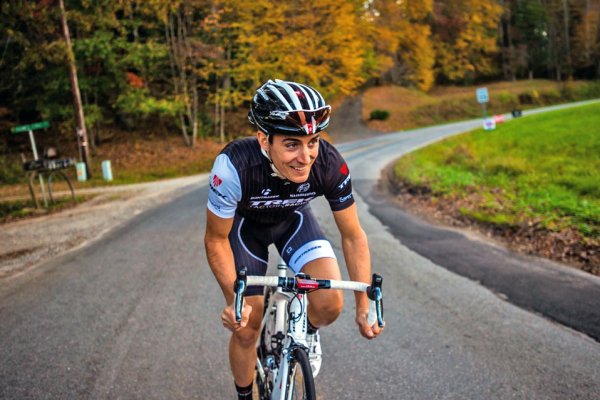 The colorful leaves bring a special atmosphere to the many waterfalls in our area. Looking Glass in Pisgah National Forest is probably the most popular, but there is a hike in Dupont State Recreational Forest that visits three waterfalls within a couple of miles. Parking at Hooker Falls or the High Falls parking areas gives you the best opportunity to see those in one shot. A less popular, but arguably better, hike is John Rock from the Fish Hatchery in Pisgah National Forest. From the lookout you can see across a large valley looking onto Looking Glass Rock and the Blue Ridge Parkway.
Another favorite is going up onto Big Rock in Dupont State Forest as it provides a picturesque view over the area. Just a little farther along the trail is Cedar Rock, which provides amazing views south. If you're not into hiking, you can ride the Big Rock/Cedar Rock loop on a mountain bike too. The Big Rock hike is also a good distance for kids.
Food and Events
Karen's recos on the Crystal Coast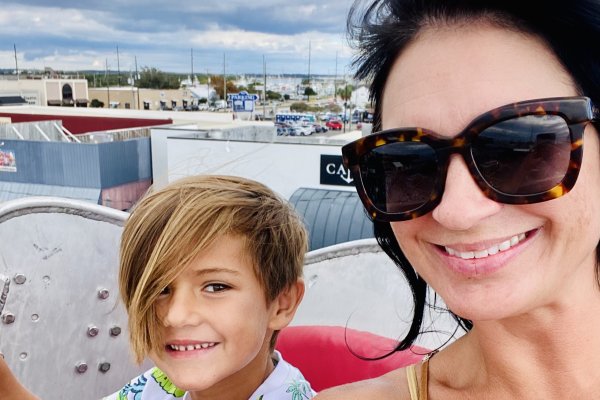 Sitting with your toes in the sand at Idle Hour in Atlantic Beach, sipping a spicy margarita with the sound of crashing waves in the background is absolutely perfect in fall. You can usually catch live music under the stars and gather with friends at one of the large picnic tables in the beach garden.
The NC Seafood Festival, the largest three-day festival in the state, takes place right here the first weekend of October. There's also the Crystal Coast Highland Games, Carolina Kite Festival and the Cape Lookout National Seashore Dark Sky Astronomy Nights, just to name a few more.
During the fall and winter months, family-owned Marshallberg Farm starts hosting its tours and tastings again. The farm is the largest producer of Russian Sturgeon Osetra Caviar in North America, and tastings include caviar, champagne, local vodka and smoke sturgeon products. Sign me up!
Matthew's recos in Brevard
If I had a daily "menu" I had to adhere to, it'd probably be this:
Start the day by stopping at Cup and Saucer for a coffee, then walk to Bracken Mountain Bakery and grab a croissant. There's a good reason they're on Southern Living's list of "Top 20 Bakeries in the South."
When lunchtime rolls around, I enjoy the menu at Love Eat Thai. I'm a huge fan of any of the curry dishes, so if that is your flavor, definitely give that a shot. They also have a nice outdoor seating area in a good location just on the end of Main Street.
For dinner, my preference would be Square Root or Jordan Street Café. They're in the heart of downtown, just slightly removed from the hustle and bustle. My favorites at Square Root are the Tuna Five Ways and the Indian curry dish. Tread lightly with the curry – it can be pretty spicy! At Jordan Street, I've found one of my favorite things is the fish 'n' chips. It just hits the spot.
For more fall inspo, see what insider Jen Vogelsberg is up to this month, and get to know Hickory thanks to insiders Sarah Jones and Elizabeth Clark. And let insiders Dana Grimstead and Veda Gilbert help you start planning your spring trips to NC.
Updated September 21, 2023