Untamed Beauty: Discover North Carolina's National Seashores
Two national seashores along the North Carolina coast provide a refuge for wildlife and ample outdoor adventure opportunities for visitors. Four lighthouses, a herd of wild horses, and hundreds of miles of beaches and shoreline to explore await on the Outer Banks and Crystal Coast.
Cape Hatteras National Seashore
Stretching more than 70 miles and encompassing more than 30,000 acres, Cape Hatteras was designated the country's first national seashore in 1937. It includes natural areas, three lighthouses and other historic attractions, picturesque communities and plenty of opportunities to explore the flora, fauna, history and landscape on your own terms.
Signature Sights
Three lighthouses – Bodie Island Lighthouse (pronounced "body"), Cape Hatteras Lighthouse and the Ocracoke Lighthouse – guard the shores, and visitors are welcome to tour the grounds of all three and even climb to the top of Bodie Island Lighthouse. The 156-foot Bodie Island Light Station underwent extensive renovation and preservation efforts starting in 2009 and again in 2012, and it opened for visitors in spring 2013. The Cape Hatteras Light Station – the tallest lighthouse in North America, easily recognizable by its distinctive black and white spiral – stands 210 feet high and is typically open daily from the third Friday in April through Columbus Day, though it may not be available for climbs in 2023 due to ongoing restoration efforts. On Ocracoke Island, it's easy to take a gorgeous picture of the lighthouse, which is one of the oldest still-active lighthouses in the United States.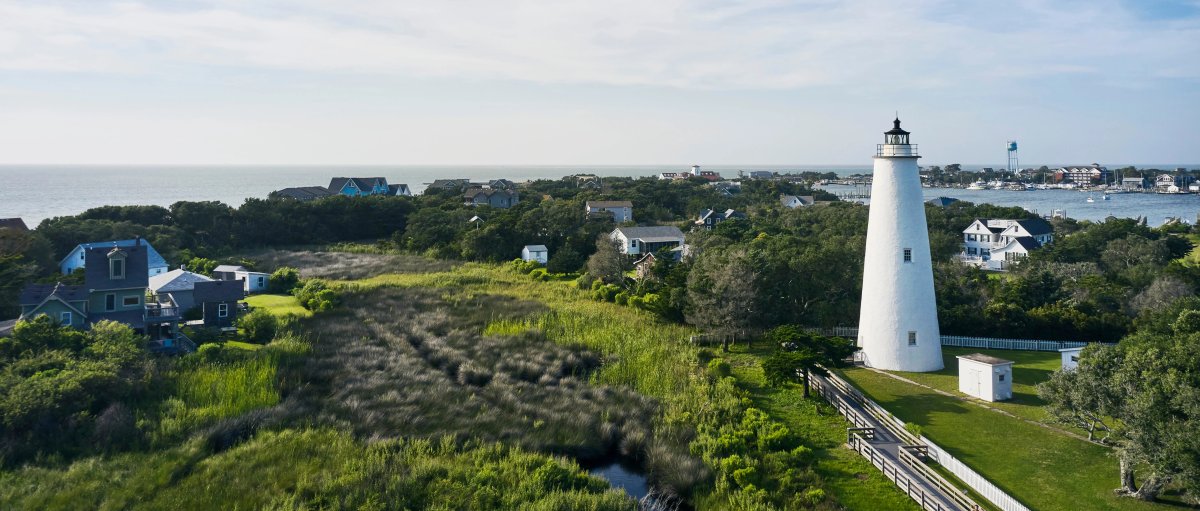 For wildlife lovers, the number of bird species (more than 400), sea turtle nests, fish, and other seaside animals present great opportunities for birding or to conduct your own "seaside safari." Download our Guide to Birding in NC to help lead the way. Outdoor enthusiasts will have plenty to do on the Cape Hatteras National Seashore, including camping, fishing, kayaking, surfing, windsurfing and even waterfowl hunting.
Plan Your Visit
Three visitor centers tell the history of the area and include ranger-guided programs throughout the year. At the north entrance, the Bodie Island Visitor Center is located in the Bodie Island Lighthouse Double Keepers' Quarters and includes detailed displays about the lighthouse's history and importance. Some 50 miles south of the park's northern entrance, you'll find the Hatteras Island Visitor Center and Museum of the Sea in Buxton. Nearby, a nature trail leads you into the woods, while at the visitor center and museum, displays provide more information on the lighthouse. On Ocracoke Island, near the seashore's southernmost point, the Ocracoke Island Visitor Center focuses extensively on Ocracoke's history but also provides an overview of the entire park for the benefit of visitors entering from the south.
Cape Lookout National Seashore
Along the Crystal Coast, Cape Lookout National Seashore includes the North Core, South Core and Shackleford Banks. The park includes 56 miles of undeveloped beach stretching from Ocracoke Inlet to the north to Beaufort Inlet to the southwest. Open to camping, kayaking and other paddle sports, surfing, fishing, exploring, lighthouse viewing and wildlife watching, if nature and solitude are your things, you'll find plenty of both here.
Signature Sights
On Shackleford Banks, you'll see the Colonial Spanish Mustangs, a herd of more than 100 wild horses that have lived here for about 500 years. South Core Banks is home to Cape Lookout Lighthouse (also closed to climbers until 2025 due to extensive renovations) and the Light Station Visitor Center. On North Core Sound, you'll find the Theodore and Annie Salter House and what remains of Portsmouth Village, a fishing village established in the 1750s and abandoned in the 1970s.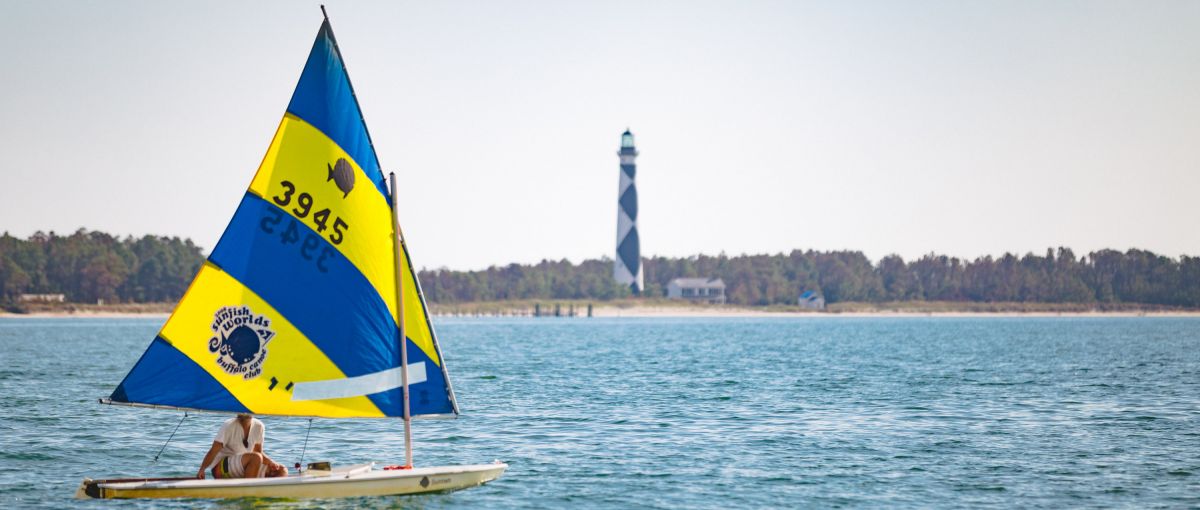 Kayakers and standup paddleboarders have more than 112 miles of shoreline and countless miles of winding marsh creeks to paddle. Make a day trip of exploring the sound and marshes, plan for a night or two of beach camping, or stay in one of the cabins available on the North and South Core Banks. Many anglers stay overnight and surf fish or hire charters for inshore or offshore fishing.
Plan Your Visit
Most of Cape Lookout National Seashore is accessible only by boat or ferry, but the Harkers Island Visitor Center is located on the eastern edge of Harkers Island and is accessible by car. The visitor center includes interactive maps, a film on the park, a gift shop, information on the Junior Ranger and Ranger programs, and introduces you to what you'll find on the islands just a couple of miles offshore.
Visit Outdoor NC for additional tips on how to connect with nature and help preserve the natural beauty of our state, plus fishing information for keeping NC's waters pristine and wildlife safe.
Updated March 22, 2023